That's So Raven
Season 1
That's So Raven
Season 1
First Air Date: January 17, 2003

| | | |
| --- | --- | --- |
| First Aired on | : | 2003 |
| Episodes | : | 21 episodes |
The season introduces the Baxter family, Raven, Cory, Tanya Baxter and Victor Baxter as they manage with Raven and her ability to see into the future.
Episodes
1x21 To See or Not to See (March 05, 2004)
---
Raven's 2 visions prompt her friends to hate her. Meanwhile Raven's Grandma Viv comes to visit and Raven realizes they have more in common than she thinks.
---
1x20 Separation Anxiety (December 19, 2003)
---
Raven has a vision of her parents arguing and takes it as a signal that they will be getting a divorce, especially when she foresees her father telling her mother that it is ""best if they both split up"".
---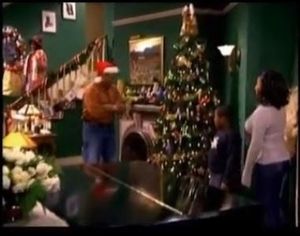 1x19 Escape Claus (December 05, 2003)
---
When Raven has a vision of getting a necklace for Christmas, she decides to wear it to school. It ends up falling out a window and breaking, thus leaving Chelsea, Eddie, and Raven to go to the mall and get a new one. Meanwhile, Cory gets Victor&Tanya to both pay him to wear a elf suit.
---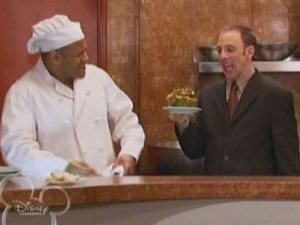 1x18 If I Only Had a Job (September 12, 2003)
---
Raven has a vision that her father Victor, will be fired from his job.
---
1x17 Psychics Wanted (August 22, 2003)
---
Raven is broke and decides to get a job at a cheesy fake psychic hotline. Meanwhile,Tanya&Victor try to take money from Cory's room,but it doesn't work.
---
1x16 A Fight at the Opera (August 08, 2003)
---
Raven and Chelsea try their best to perform in an opera together. When Raven takes the lead in planning their performance, Chelsea starts feeling as though her ideas are never heard. Meanwhile, Tanya and Victor get manipulated by Cory to keep making him sweets for his Class Cookbook.
---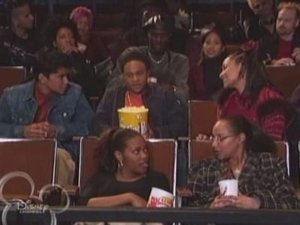 1x15 Saturday Afternoon Fever (July 11, 2003)
---
Raven's mother wants to spend quality time with her at the movies. Meanwhile,Cory&Victor has to see a G-rated movie,which turns out to be boring.
---
1x14 A Dog By Any Other Name (June 20, 2003)
---
Raven and Chelsea are invited to Amber's party, but they have no one to go with. Raven likes a guy and plans to go with him, and Chelsea likes a guy but when she finds out his name is Sam, she is reluctant because thats the name of her dog. Meanwhile,Eddie tries to avoid ""The Seat"".
---
1x13 Driven to Insanity (May 30, 2003)
---
Raven disobeys her parents by going out with an older boy, who turns out to be very immature and she soon regrets going out with him. Meanwhile, Chelsea&Eddie babysit Cory and all Cory wants to do is to get rid of Eddie.
---
1x12 Teach Your Children Well (May 02, 2003)
---
Raven has a vision of her mother, Tonya, becoming their teacher and sure enough her vision comes true.
---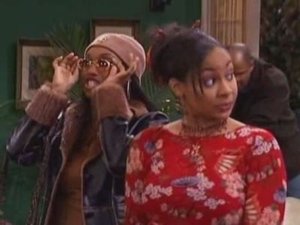 1x11 Dissin' Cousins (April 10, 2003)
---
Raven's privaleged and seemingly perfect cousin visits. Meanwhile, Cory sleeps with his parents cause he is scared of""The Closet Door"".
---
1x10 Ye Olde Dating Game (March 28, 2003)
---
Raven predicts that a boy she likes will ask her out to the school's renaissance dance, but she has to drop major hints to even get noticed. Meanwhile, Chelsea and Eddie set up the for renaissance dance, with Chelsea as the queen, but she easily lets the power get to her head.
---
1x09 The Parties (February 28, 2003)
---
Raven is fed up when her more popular enemy decides to throw a party the same night as Raven but when she has a vision that everybody comes to her party, she isnt't worried by the competition. But this only leads to her being publicly humiliated.
---
1x08 Saving Psychic Raven (February 21, 2003)
---
Raven blows off Eddie and Chelsea to meet other psychic and telekinetic teens, but her decision causes some tension between the three friends. Meanwhile, Corey seaches for a mate for his pet rat, Lionel.
---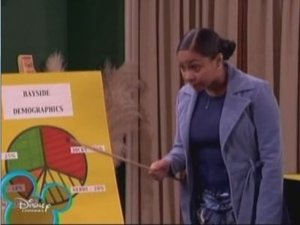 1x07 Campaign in the Neck (February 07, 2003)
---
Raven bribes students to vote for Chelsea as class president after she has a vision of Chelsea losing to Ben Sturky, the stinkest boy in the school.
---
1x06 Smell of Victory (January 31, 2003)
---
Raven becomes annoyed when her assigned partner, Ben Sturky, with whom she is working on a project for science class, is concerned more with studying than with his own personal hygiene. Meanwhile, Eddie attempts to win the heart of his latest crush, Crystal.
---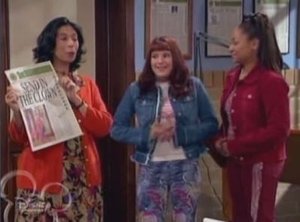 1x05 A Fish Called Raven (January 24, 2003)
---
Raven's psychic ability is threatend to be exposed in a newspaper by Serena,an Editor who's jealous because Raven had a vision of Eddie making the winning shot and she already printed it. Meanwhile,Tanya and Victor try to fix up Cory's project.
---
1x04 Wake Up, Victor (January 17, 2003)
---
When Victor gets to be on TV Raven has a vision that its gonna go wrong,and her vision comes true wen Miles and Cory hypnotize victor now they've gotta work to wake him up before his career is over.
---
1x03 Party Animal (January 17, 2003)
---
Raven's decides to throw a big birthday party for Cory, when she has a vision that he say's he hates her.
---
1x02 Mother Dearest (January 17, 2003)
---
Raven gets into trouble when she tells off a spiteful teacher and then tries to impersonate her mom when the teacher demands to meet with Raven's parents. Meanwhile,a bully takes over Eddie's locker.
---
1x01 Test Of Friendship (January 17, 2003)
---
After Raven has a vision of Eddie failing a Spanish test, which gets him kicked off the basketball team, she tries her best to keep it from happening. When Eddie finds out that Raven knows the answers there is a true test of friendship.
---