Scrubs
Season 4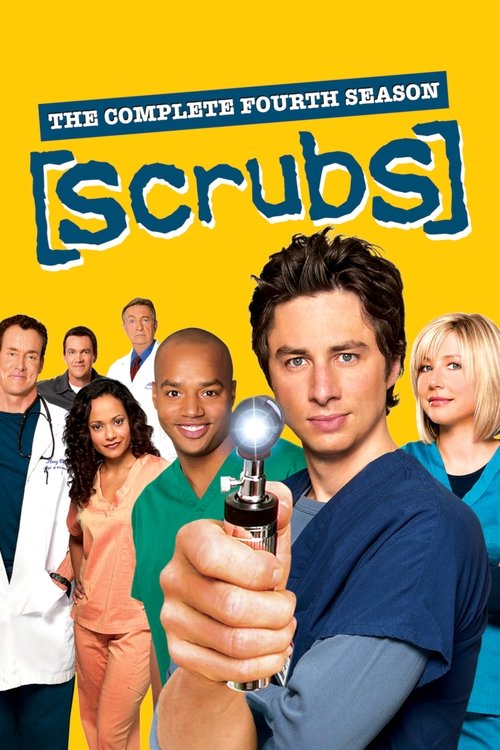 Scrubs
Season 4
First Air Date: August 31, 2004

| | | |
| --- | --- | --- |
| First Aired on | : | 2004 |
| Episodes | : | 25 episodes |
Episodes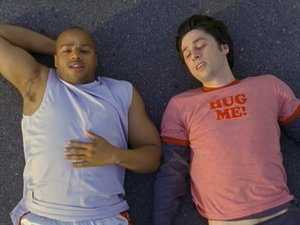 4x25 My Changing Ways (May 10, 2005)
---
With their residencies over, there are big changes at Sacred Heart. J.D. moves out to live on his own, while Turk and Carla consider a family change, creating another rift in their long friendship. Jordan is hired to handle some paperwork for Kelso, which annoys Cox. Elliot has a job interview at a different hospital thanks to her boyfriend Jake.
---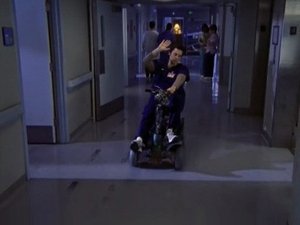 4x24 My Drive-By (April 26, 2005)
---
Elliot is torn between moving too quickly and ruining her new relationship with Jake. Dr. Cox teaches Turk about having a healthy ego and Dr. Kelso and the Janitor fight over who gets to use the motorized cart.
---
4x23 My Faith in Humanity (April 19, 2005)
---
Turk won't open up at couples therapy. Elliot refuses Dr. Cox's romantic advice, when a very attractive man saunters into the hospital. J.D. learns a lesson in humanity from a dying old woman. The Janitor accidently lets a bunch of rats run around Sacred Heart.
---
4x22 My Big Move (April 12, 2005)
---
J.D. and Carla get the silent treatment from Turk, who can't seem to control his emotions, after learning about their kiss. Dr. Cox reluctantly seeks the help of Elliot, when an epileptic patient won't listen to him. The Janitor feels emasculated by his new uniform. Jordan trys Botox.
---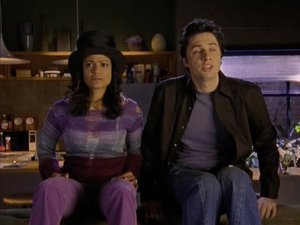 4x21 My Lips Are Sealed (April 05, 2005)
---
When Carla and J.D. go out to let Carla have some fun, they get drunk and end up accidentally kissing. Dr. Cox gets the hammer dropped by Jordan, when Jack has to get stitches under Perry's watch. Elliot has trouble with a male patient, who has taken enhancement pills.
---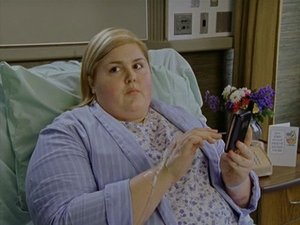 4x20 My Boss' Free Haircut (March 29, 2005)
---
Dr. Kelso dons scrubs to prove a point to Dr. Cox, only to watch it backfire, when an obnoxious patient refuses to listen to him. J.D. and Turk party, while Carla struggles to find solace in Elliot.
---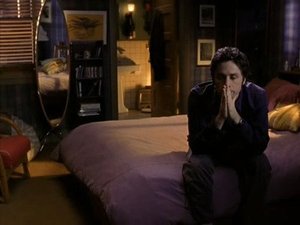 4x19 My Best Laid Plans (March 01, 2005)
---
J.D. ditches a seemingly uninterested Kylie for Dr. Molly Clock, who just returned from Milwaukee. Carla fumes over Turk's frequent phone calls to an ex-girlfriend. The Janitor and Dr. Cox make a wager over Elliot.
---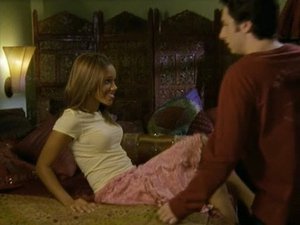 4x18 My Roommates (February 22, 2005)
---
J.D. is thrown out of the apartment. Turk and Carla continue to struggle to keep the romance alive. Dr. Cox has reason to believe that the son of an old buddy is autistic.
---
4x17 My Life in Four Cameras (February 15, 2005)
---
When J.D. meets a former writer from his all time favorite TV show "Cheers," he begins to picture his life at the hospital as a bland, multiple camera sitcom, where everything is perfect and wraps up nicely. Back in reality, Cox is relunctant to fire an amiable cafeteria worker, while Turk and Carla struggle to keep their promise of constant romantic affection afloat.
---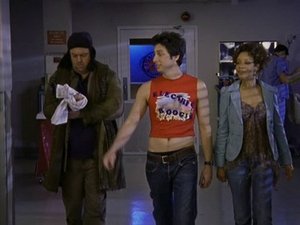 4x16 My Quarantine (February 08, 2005)
---
J.D. tries to impress Kylie by paying a hobo in the hospital to fake a heart attack, when everything becomes boring due to a quarantine that he caused. Turk learns, that Carla dated Cox and gets mad at her for not telling him. The Janitor makes a bet with Dr. Kelso, who is starving, that will make him pay $700, unless the Janitor is able to get a "face cake," in order to satisfy him, from Laverne. Also, Danni Sullivan returns to annoy everyone, causing a constant fight between Ted and Doug.
---
4x15 My Hypocritical Oath (February 01, 2005)
---
J.D. has a crush on a girl, who he met at a club, and he's torn about telling her, that her boyfriend has gonorrhea. Elliot decides to take a stand against Dr. Kelso with one of her patients. And Dr. Cox is blackmailed by the Janitor for a basketball game's score, after he spoils the end of "The Sixth Sense."
---
4x14 My Lucky Charm (January 25, 2005)
---
A man injured in a bar fight teaches Turk and J.D. a lesson about living life to the fullest.
---
4x13 My Ocardial Infarction (January 18, 2005)
---
Elliot starts showing J.D. up as the calmer, more competent doctor. A date with the Janitor leads to an a capella sing-off between his "group" and Ted's band. Turk starts taking his diabetes more serious, when he realizes the dire consequences of the disease.
---
4x12 My Best Moment (December 07, 2004)
---
When J.D. has to address a bunch of pre-med students about what it's like to be a doctor, he strays off the beaten path and chooses to discuss his best moments as a doctor instead. When he challenges the rest of the staff to do so, they all remember their best memories in the medical field. Meanwhile, Elliot is forced to face her fear of children, when she must befriend a ten year old boy, whose father is being treated in the I.C.U.
---
4x11 My Unicorn (November 23, 2004)
---
J.D. takes matters into his own hands, when searching for a relative for his favorite patient. Meanwhile, Elliot is fed up with coworkers not taking her serious and discovers, that she can get her way by flaunting her femininity with some help from Carla and Jordan.
---
4x10 My Female Trouble (November 16, 2004)
---
With the case against Turk on his mind, J.D. attempts to end it with Neena, but she won't take "no" for an answer and keeps him wrapped around her finger. Carla tries her own way of persuading Mr. Corman to drop the lawsuit. Elliot sets out to prove she isn't the doctor she was four years ago and doesn't need to rely on anyone anymore.
---
4x09 My Malpractical Decision (November 09, 2004)
---
J.D. is approached by a malpractice attorney, asking him to do a risky procedure on her father. Meanwhile, Elliot guides Doug to a new career path and Turk struggles to avoid a hypochondriac patient.
---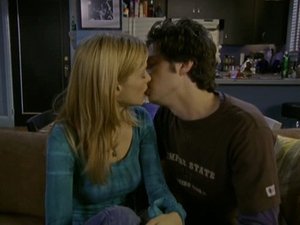 4x08 My Last Chance (October 26, 2004)
---
When Molly takes a job at a different city, she and J.D. end up having a night of kissing, and he tries to rush to sleep with her before she leaves. Dr. Cox goes on ambulance duty with a maniac, who he eventually finds out is a woman who has lost her son to an accident.
---
4x07 My Common Enemy (October 19, 2004)
---
When J.D. finds Dan with Elliot, Turk tells him to use the hurt brother excuse to get them to break up, just like Turk uses his diabetes to get stuff from Carla. But then J.D. realizes he wasn't hurt at all... Dr. Cox and Dr. Kelso unite to try and torment their common enemy: Dr. Clock.
---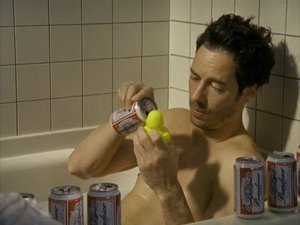 4x06 My Cake (October 12, 2004)
---
When Dan resurfaces, J.D. is shocked to learn his father has passed away. The reactions from his co-workers help J.D. a little, but the one person, Dr. Cox, who he wanted to be there for him is too busy with J.D.'s patients. Meanwhile, Dan sits drunk in the bath tub the whole day and Turk finds out he has Type II Diabetes.
---
4x05 Her Story (September 28, 2004)
---
Elliot becomes unsure, if she wants Molly as her mentor, when she finds out that Molly doesn't have a perfect home life. J.D. is tested in leadership skills when Dr. Cox yells at him in front of his interns. Carla and Turk try to come to an agreement when Turk continuously wakes Carla up every night.
---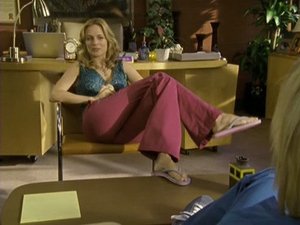 4x04 My First Kill (September 21, 2004)
---
J.D. is shocked to hear Dr. Cox tell his interns that eventually, they will screw up and kill a patient. J.D. fears his first time killing someone will soon be upon him. Elliot is upset with Molly, after she disagrees about a patient's promise to attend drug rehab. Carla loses Rowdy and she and the Janitor go looking for him.
---
4x03 My New Game (September 14, 2004)
---
Dr. Cox is having issues with Jordan, since Ted revealed that they are still technically married due to some filing problems. J.D. has problems of his own as he can't shake off the tag of Co-Chief Resident the Janitor assigned to him, while Elliot keeps the Chief Resident tag. Elsewhere, Turk begins to doubt his abilities after letting a patient die and isn't helped, when he finds out J.D. has no confidence in him either. Dr. Cox and Molly spar about her involvement in his patients.
---
4x02 My Office (September 07, 2004)
---
Dr. Clock tries to reconcile J.D. and Eliot, while waiting to see which one Dr. Cox will give the Chief Resident position to. Molly and Carla are experiencing some subtle conflict and Elliot and J.D. begin to come together after long bouts of conflict of their own. Meanwhile, Dr. Cox, Turk and the Janitor are forced to work together to help a patient.
---
4x01 My Old Friend's New Friend (August 31, 2004)
---
Turk and Carla start to have issues when Carla tries to change everything about her new husband. Molly Clock (Heather Graham), the hospital's new psychiatrist, becomes friends with Elliot because she believes Turk, J.D. and Carla are shutting her out. Also, when Turk and J.D.'s car blows up, Carla lets him pick out the new ride only to find that instead of a car, he buys three scooters for them, further proving Carla's point that she needs to always be in control. The episode guest stars the Sugarhill Gang.
---