Scrubs
Season 2
Scrubs
Season 2
First Air Date: September 26, 2002

| | | |
| --- | --- | --- |
| First Aired on | : | 2002 |
| Episodes | : | 22 episodes |
Episodes
2x22 My Dream Job (April 17, 2003)
---
J.D. and Turk's college buddy, Spence, drops by for a visit, and accidentally tells Dr. Cox a secret. Too much partying with successful Spence causes Turk and J.D. to show up late and drunk for work, which Dr. Kelso fully reprehends them for. Elliot's feeling low since she can't measure up to Dr. Kelso's standards, and the Janitor starts another feud – this time over paychecks – with J.D.
---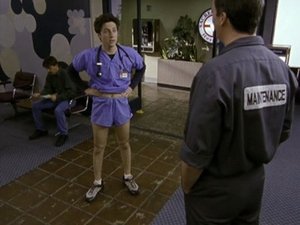 2x21 My Drama Queen (April 10, 2003)
---
J.D. carries on with his romance with Jamie, but finds himself at a dead end after realizing she's a drama queen. Dr. Kelso makes Dr. Cox give a class on how to approach the patients nicely in order to prevent possible law suits. Carla's mother dies and she wants to get married.
---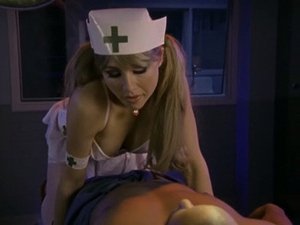 2x20 My Interpretation (April 03, 2003)
---
Jamie's (T.C.W.) husband died, and J.D. struggles with the ethical issues involved in starting a relationship with her. Dr. Cox babysits his son, whom Jordan still hasn't chosen a name for, and is disturbed that he feels nothing for the baby. Turk is haunted by erotic dreams about Elliot, which gets him into hot water with Carla.
---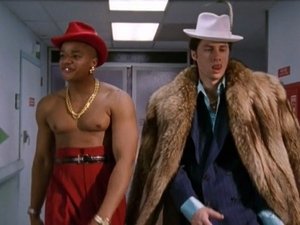 2x19 My Kingdom (March 27, 2003)
---
Turk takes J.D. up to surgery, and right from the start J.D. steps all over Turk when trying not to be the geek among the surgeons. Paul hears Elliot say "I love U2" while she was rearranging her CDs and thinks she said "I love you too." Dr. Cox decides to get even with Dr. Kelso by telling everyone he's dead, revealing what people really think of him.
---
2x18 My T.C.W. (March 20, 2003)
---
J.D. flirts with the wife of a patient who's been in a coma for the past two years, whom they all call T.C.W. (Tasty Coma Wife). He feels guilty for doing that, even though she wants to go ahead with it. Meanwhile, he can't stand listening to any more relationship problems, as everybody dumps their issues on his ears: Elliot, sabotaging her relationship with Paul over beef jerky, Carla, finding out her engagement ring passed through a patient's digestive system and Dr. Cox's unsucessful attempts to get some attention from Jordan, who can only think about her baby right now.
---
2x17 My Own Private Practice Guy (March 13, 2003)
---
A personal secret of Dr. Cox is revealed during hospital visitations by a cocky MD (Jay Mohr), who establishes a rapport with J.D.
---
2x16 My Karma (February 20, 2003)
---
J.D. and Turk think they've got bad karma after hitting a car and causing an accident, while playing golf on the hospital roof. Dr. Cox bends over backwards to give Jordan as much comfort as possible on her labor day, and she confesses to J.D. that Dr. Cox is the real father. Elliot seeks advice from Carla on how to tell Paul that she's crazy, because they're getting more intimate and she can't hide it anymore. But Carla is feeling too crazy herself with the upcoming wedding.
---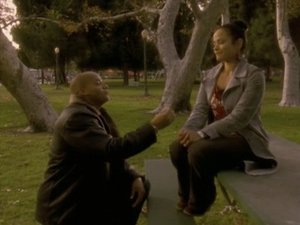 2x15 His Story (January 30, 2003)
---
Elliot meets a nice guy at the bar, but freaks out when she finds out he's a male nurse at Sacred Heart. Turk keeps asking Carla to marry him, but she still won't give an answer. Dr. Cox feels the pressure he puts on himself everyday: His psychiatrist, his subordination to Dr. Kelso and his paternal feelings for J.D.
---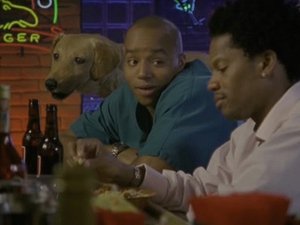 2x14 My Brother, My Keeper (January 23, 2003)
---
Turk is still waiting for Carla to answer his proposal and asks his brother to stay over a few days to help him deal with it. Dr. Townshend, an old friend of Dr. Kelso and one of the nicest doctors around befriends J.D. Elliot accidentally finds out the sex of Jordan's baby, becoming the object of Dr. Cox's anxiety.
---
2x13 My Philosophy (January 16, 2003)
---
J.D. bonds with a patient, who is waiting for a heart transplant and discusses with her their idea of what death must be like. Elliot puts her foot down and demands a feminine locker room from Dr. Kelso. Turk decides it's time to propose to Carla, but a kid swallows the engagement ring.
---
2x12 My New Old Friend (January 09, 2003)
---
Comeuppances are in store for Dr. Cox, Dr. Kelso and J.D. from a hypochondriac, a surgical patient and Elliot, who wants more than just sex from J.D.
---
2x11 My Sex Buddy (January 02, 2003)
---
Renewed sex with J.D. calms Elliot, who's facing personal and professional dilemmas: She's broke, and patients are bailing out on her.
---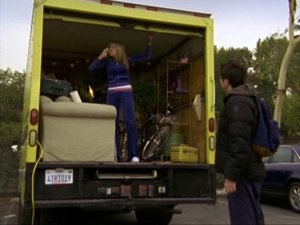 2x10 My Monster (December 12, 2002)
---
Elliot still doesn't have a place to live. J.D. think he's lost his mojo when he can't even kiss the giftshop girl while they go out on a date. Turk and Carla are having romance problems, because she feels he's not being as generous to her as she is to him. And Dr. Cox freaks out when he lets Jordan move in to his place due to her pregnancy.
---
2x09 My Lucky Day (December 05, 2002)
---
Ever since her father cut her off financially, Elliot's been feeling the weight of the world on her back. While having to find a new affordable place to live, she also has to face the threat of being sued by a patient whom she told he had only eight months to live. Carla and Jordan hit a sore spot when Carla gives her opinion on Jordan and Perry's relationship. Meanwhile, J.D. has a fight with Dr. Cox and the two dispute over who gets to give the better treatment to two patients with the same prognosis.
---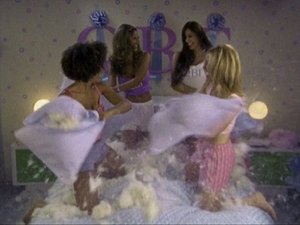 2x08 My Fruit Cups (November 14, 2002)
---
When an expectant Jordan shows up unexpectedly, Cox is forced to choose between her and his new love, Julie. Meanwhile, J.D. and Turk take advantage of the hospital's supply closet for sleep, when they take on extra shifts at a free clinic to supplement their income. Carla encourages Elliot to stand up to her father, when he pressures her to pick a specialty more "suitable for a woman."
---
2x07 My First Step (November 07, 2002)
---
All of the male doctors are euphoric due to the visit of Julie Keaton, the pharmaceutical sales rep, except for Dr. Cox, who still believes in treating patients for their best health, instead of trying to get some attention from the hot Ms. Keaton. Meanwhile, J.D. and Elliot argue over a risky decision regarding one of Elliot's patients. Turk tries to talk Carla into entering a practitioner nurse course, so she won't be so underestimated by the doctor's staff.
---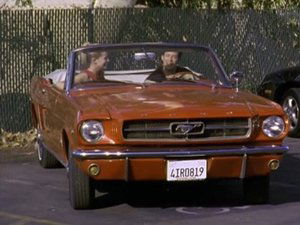 2x06 My Big Brother (October 31, 2002)
---
J.D.'s brother is in town. Turk is thrown out of a patient's funeral for not knowing his name and feels even worse because earlier he made a bet with Dr. Cox over another patient's life.
---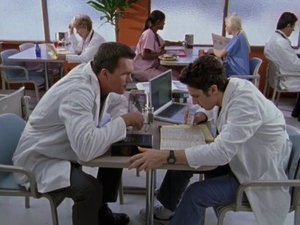 2x05 My New Coat (October 24, 2002)
---
Elliot sleeps with a handsome doctor she hardly knew and soon becomes the hospital tramp. Turk suffers from his back after operating with Dr. Amato, a very short surgeon. J.D. finds out that wearing a white coat doesn't make him a better doctor, but is upset by having Dr. Cox throw in his face that he made another mistake. And Dr. Kelso is just dying for an opportunity to lash out his anger on Dr. Cox.
---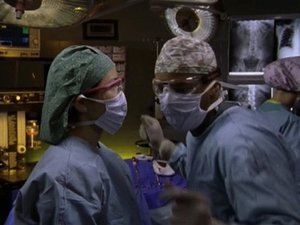 2x04 My Big Mouth (October 17, 2002)
---
J.D. insists that Carla should open up to him. When she finally starts to do that, J.D. screws it up by telling Turk. Elliot is desperate for attention from Dr. Cox. Turk sees himself in an ethical dilemma when Dr. Kelso picks him over a female surgeon to spend a weekend in Mexico.
---
2x03 My Case Study (October 10, 2002)
---
When Dr. Kelso challenges the residents by offering a trip to a medical conference in Reno as a reward to the individual, who presents the most interesting case study, J.D. refuses to play along, earning him the respect of Dr. Cox. In the meantime, Turk misses his opportunity to ask for a new laser on the one day of the year, that Dr. Kelso grants favors, so he is forced to find another way to come up with the goods.
---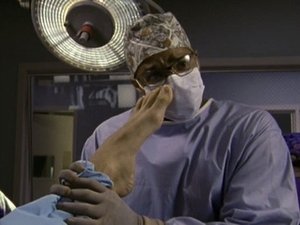 2x02 My Nightingale (October 03, 2002)
---
J.D., Elliot and Turk find themselves alone in the hospital night shift and face responsibilities without supervision for the first time. Luckily, they have Carla there to support and guide them through the night. Meanwhile, Dr. Cox doesn't know what to do, when he realizes that he has feelings for his ex-wife Jordan and is asked (forced actually) to introduce Dr. Kelso at a social event, where he will be receiving an award from the medical board.
---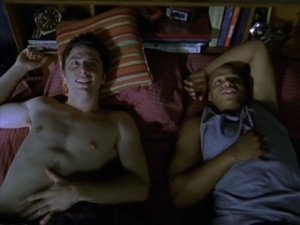 2x01 My Overkill (September 26, 2002)
---
Relationships between the staff of Sacred Heart Hospital have been shaken since Jordan's revelations. Turk is sleeping on J.D.'s bed, after Carla kicked him out of his own. Elliot is having a hard time facing J.D. every day at work. J.D. desperately tries to get Dr. Cox's attention back, unsuccessfully.
---