Will & Grace
Season 6
Will & Grace
Season 6
First Air Date: September 25, 2003

| | | |
| --- | --- | --- |
| First Aired on | : | 2003 |
| Episodes | : | 24 episodes |
Episodes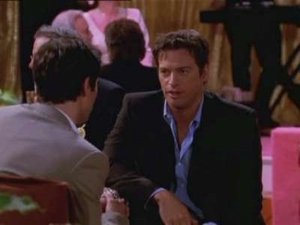 6x24 Oh, No, You Di-In't (2) (April 29, 2004)
---
Opting to forego a picturesque fall wedding and elope in Las Vegas, Karen hops a plane to ""Sin City"" with fiance Lyle and faithful friends Will and Jack. After arriving, they bump into superstar Jennifer Lopez who is vacationing and agrees on behalf of Rosario to sing at the ceremony. Meanwhile, Leo returns from Cambodia to meet up with Grace at the wedding, but their reunion is delayed by a freak design accident.
---
6x23 I Do (1) (April 29, 2004)
---
Opting to forgo a picturesque fall wedding to elope in Las Vegas, Karen hops a plane to ""Sin City"" with fiance Lyle and faithful friends Will and Jack but when she bumps into vacationing superstar Jennifer Lopez, she asks J-Lo to sing at the ceremony. Meanwhile, Leo returns from Cambodia to meet up with Grace at the wedding, but their reunion is delayed by a freak design accident.
---
6x22 Speechless (April 22, 2004)
---
On the eve of his graduation from nursing school, a nervous Jack turns to Will for help writing his commencement address. Reconnecting with his past dreams of being an accomplished playwright, Will over-analyzes the speech, searching for the life experience that sent Jack to nursing school as a source of inspiration.
---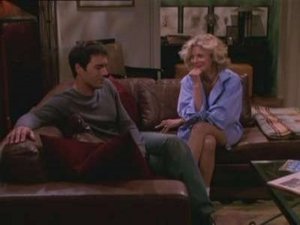 6x21 I Never Cheered For My Father (April 08, 2004)
---
Responding to the pleas of his father's mistress-turned-girlfriend Tina, Will attempts to discover whether there is a new woman in his dad's life. However, when his father's new mistress turns out to be his mother, Will must find a way to break the shocking truth to Tina. Meanwhile, Elliot's decision to try out for his high school cheerleading squad has Jack all smiles as he is determined to help his son make the team.
---
6x20 Fred Astaire and Ginger Chicken (April 01, 2004)
---
Smitten with his new boyfriend Vince, Will puts his relationship to the test introducing him to the overly critical Grace for her approval. However, when Grace abruptly cuts the introduction short, Will is convinced of her disapproval of Vince and thus begins to question his own feelings. Meanwhile, Karen drops a bombshell on Jack, revealing that after her upcoming wedding their friendship will be forever changed, forcing him to begin casting calls for her replacement.
---
6x19 No Sex 'N' The City (March 25, 2004)
---
Tip-toeing through his budding relationship, an apprehensive Will makes the mistake of taking Grace's advice on love, playing hard-to-get with his new pseudo-boyfriend. However, when his game playing causes a rift in this budding romance, Will is left questioning Grace's wisdom in matters of the heart. Meanwhile, a distraught Jack and Karen bravely attempt to soldier on after learning their favorite television show will be going off the air forcing them to say goodbye to their six favorite Friends and a psychiatrist named Frasier Crane.
---
6x18 Courting Disaster (March 18, 2004)
---
Searching for a movie-watching pal after Stuart opts out, Jack invites Grace for an afternoon at the theatre. However, when the duo discovers Stuart and a mystery man secretly catching a matinee, Jack is left questioning their relationship. Elsewhere, Will attempts to teach Karen the skills of driving, but the road warriors have a run in with the law their first trip behind the wheel, prompting Will to fight the ticket in traffic court.
---
6x17 East Side Story (March 11, 2004)
---
Will and Grace ride the success of their recent real-estate venture to expand to the East Side but clash with the reigning champs of ""apartment flippers"" lesbians Deirdre and Monet. Fighting against their new competition's intimidation tactics, the enterprising duo must rely on Will's masculine sex appeal in the hopes of dividing the same-sex real-estate moguls. Meanwhile, Karen seeks the spiritual guidance of John Edward in order to comfort her guilt over her recent engagement.
---
6x16 Flip-Flop (2) (March 04, 2004)
---
Enjoying the success of their new business venture, entrepreneurs Will and Grace help their apartment buyers Jack and Stuart settle into their new life under one roof. However, when Grace receives a higher offer on the apartment, the ""friendly flippers"" attempt to break up the happy couple by encouraging Jack's cold feet as they see a chance to make a quick buck. Meanwhile, Karen demands that Lyle finally discipline his unruly daughter Lorraine, nearly shattering the couple's budding romance.
---
6x15 Flip-Flop (1) (February 26, 2004)
---
Dynamic enterprisers Will and Grace begin a new business venture as they buy old apartments to refurbish and re-sell for a tidy profit. When budding ""student nurse"" Jack bumps into his former acting mentor Zandra, the pair of entrepreneurs finds their first project apartment. Meanwhile, Karen renews her romance with Lyle Finster, but the couple's bliss is interrupted by an unfortunate houseguest when Lorraine moves in.
---
6x14 Looking For Mr. Good Enough (February 19, 2004)
---
Will decides to further his cooking skills by taking a class and invites Jack to join him in the kitchen but when Jack decides to include his new boyfriend, the gourmet attorney finds himself a sad single in a cooking class full of couples. Elsewhere, Karen's mother Lois returns to town, slightly unnerving her daughter and calling on Grace's thrifty design talents to help decorate her new apartment.
---
6x13 Ice Cream Balls (February 10, 2004)
---
Love is in the air as Will's slightly eccentric new client falls for Jack after he interrupts their meeting, but when Jack refuses to accept the romantic offer, Will sinks to bribing him in the hopes of furthering his career. Elsewhere, Grace and Karen take a trip to Leo's cabin in Vermont in order to fix the plumbing – and uncover a secret pile of cash in the master bed.
---
6x12 A Gay/December Romance (January 22, 2004)
---
Attending a local gallery opening, Will catches the eye of a rich plastic surgeon, who uses his vast fortune to provide the modest lawyer with a new level of material possessions. However, when Will realizes that he has become a ""lady of leisure,"" he decides to confront his sugar daddy/boyfriend. Meanwhile, Grace's thirst for delectable noodles sends her to a new local restaurant, but an argument with the owner prompts her to launch a boycott of the establishment.
---
6x11 The Accidental Tsuris (January 15, 2004)
---
When Grace's rebellious, free-loading older sister Janet comes to town to launch her new jewelry enterprise/folding table subway stand, Grace decides to put her foot down casting her sibling away. However, when her tough love prompts Janet to go corporate by taking a 9-5 job and studio apartment, Grace can't seem to handle her new image. Meanwhile, Karen continues to spurn Lyle's proposals of marriage, only to have a change of heart after Lorraine stops by for an impromptu visit, to declare her disapproval over Karen's ""relationship"" with her father.
---
6x10 Fanilow (December 11, 2003)
---
Opting out of the annual Grace Adler Design Christmas party, ultimate ""Fanilow"" Will spends the night waiting in line for tickets to a special Barry Manilow concert only to have his weak bladder force him to make a quick pit stop and entrust Grace to hold his place. However, Will's snubbing of an overweight man in the bathroom line leaves his chances of meeting his idol in doubt. Meanwhile, a distraught Grace discovers her mother has cancelled on their annual Hanukkah shopping spree to have dinner with Jack. And Karen is embraced by the inspiring music of Manilow waiting in line with a Fanilow named Cheryl.
---
6x09 Strangers With Candice (December 04, 2003)
---
Hoping to cheer up Grace, a well-dressed Will takes his best friend with him on a dinner date. When the date stands him up, Will catches the eye of a female patron while Grace bumps into a guy with whom she once shared an ordinary, forgettable romantic encounter. Meanwhile, Karen takes student nurse Jack out to celebrate his school ""success"" but the evening turns sour when Karen runs into her ultimate nemesis, Candice Bergen. The meeting sparks yet another round in the Bergen/Walker Prank War of 2003.
---
6x08 Swimming From Cambodia (November 20, 2003)
---
When Grace returns back to New York for her mother's birthday, Will tries to coerce her into staying in town a bit longer so the two can spend some quality time together. Meanwhile, Jack struggles with his new nursing teacher, Nurse Carver so Karen threatens her into letting Jack skip class and still make the grade. But, to everyone's surprise Jack discovers that he really misses nursing school and learning.
---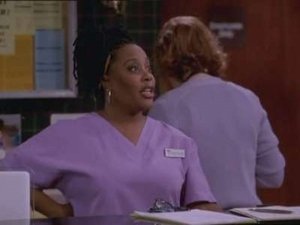 6x07 Nice In White Satin (November 13, 2003)
---
Will learns that Karen missed her physical, so he takes her to one of the finest doctors in the city. It is not until after the doctor does a demonstration on Will that Karen obliges. While at the office, Jack flirts with a male nurse, and he later announces that he's going to be a nurse himself. The problem is, training costs $2,700, and Will and Karen are reluctant to give him the money. Once they pay the fees, Jack, fickle as ever, announces that he's taken up surfing, and that he needs $1,600 for lessons. Will and Karen are about to let the nursing school know of his decision to drop out until Jack comes up with an inventive way to feed Karen her calcium pills.
---
6x06 Heart Like A Wheelchair (November 06, 2003)
---
Continuing his new role as caretaker for a disabled Marilyn, a resentful Will takes his wheelchair-bound mother for an afternoon roll in the park and bumps into an attractive bachelor Tom wheeling an invalid of his own. Using his mother as a reason for a daily rendezvous in the park, Will attempts to build up the courage to ask Tom out. Elsewhere, Karen continues her lifelong quest to hunt down hubby-stealing Lorraine tracking her to a room at the Peninsula hotel only to discover occupant to be her father Lester.
---
6x05 A-Story, Bee-Story (October 30, 2003)
---
Depressed over his decision to leave Doctors Without Borders, Leo turns to a motivated Will to rekindle his love for New York. However, when Will's version of ""the best of New York"" filled with long shopping trips and high tea doesn't do the trick, Leo decides to move in a different direction. Meanwhile, Jack teams up with his new coach Karen as they prepare for the annual gay spelling bee.
---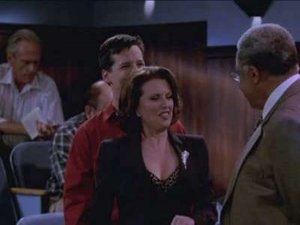 6x04 Me and Mr. Jones (October 23, 2003)
---
Earning a brief speaking role in an off Broadway play, Jack shares the stage with legendary actor James Earl Jones. However, when the play's director rejects James' performance in favor of Jack's one-line triumph, the award-winning actor looks to his co-star for instruction - enrolling in the McFarland acting school. Meanwhile, new roommates Will and his mother Marilyn continue their living arrangement, despite a secret desire to part ways.
---
6x03 Home Court Disadvantage (October 09, 2003)
---
When Grace and Leo join Karen for a friendly game of tennis at her exclusive club, her fierce playing style sends Grace fleeing the court. However, when the reason for her angry play is her hatred for Leo, Grace is determined to find a way for them to get along. Elsewhere, a nervous Will suckers Jack into visiting his depressed mother in Connecticut hoping they can cheer her up.
---
6x02 Last Ex To Brooklyn (October 02, 2003)
---
When Leo invites his hip and trendy ex-girlfriend to a friendly dinner party, Grace turns to Will, Jack and Karen to round out the guest list and keep the night running smoothly. However, when Leo's ex turns out to be the only girl Will ever slept with, Grace's jealousy gets the better of her. Meanwhile, Karen discovers Lorraine's dog Chompers hiding in Stan's closet and searches for a new owner for the puppy.
---
6x01 Dames At Sea (September 25, 2003)
---
Will and Jack awake in a precarious position - sharing a bed in the nude - while at sea. Unable to remember every detail from the night before, the two alleged bedfellows deny the possibility that anything happened, but each grow concerned as to how to dump the other. Meanwhile, Grace's discovery of a love letter in Leo's bag from a female colleague prompts her to doubt his fidelity and Karen survives a night fighting for her life while afloat in the forbidding night sea and a freighter full of russian sailors, and must honor a pact with savior Rosario.
---