Will & Grace
Season 5
Will & Grace
Season 5
First Air Date: September 26, 2002

| | | |
| --- | --- | --- |
| First Aired on | : | 2002 |
| Episodes | : | 24 episodes |
Episodes
5x24 24 (May 15, 2003)
---
Karen, Will, Jack, and Grace go on a trip in Karen's yacht to sprinkle Stan's ashes into the Caribbean while Leo is flying to Guatamala with an atractive co-worker. While Karen sprinkles Stan's ashes she finds Lorraine has been stowing on board. While Karen and Loraiinne fight, Will and Jack get drunk. Lorainne pushes Karen off the board and Rosairo jumps off after her. The next morning Grace finds Leo's bag with a letter from his co-worker Danni saying that she wants Leo. Will wakes up in bed naked with a hangover and a naked Jack in the bed with him. Meanwhile Karen and Rosairo are stuck on a cargo boat.
---
5x23 23 (May 08, 2003)
---
In the middle of her divorce proceedings, Karen learns that ex-husband Stan has suddenly passed away, and the funeral becomes a contest of wills between Karen and her British rival, and a free-for-all when the will is read for everyone who ever felt deserving, such as Will. Meanwhile, Grace is shocked when recently returned husband Leo is called back into service by Doctors Without Borders and asks her to make the trip with him to Guatemala.
---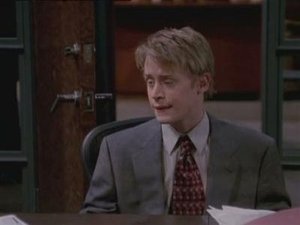 5x22 May Divorce Be With You (May 01, 2003)
---
The divorce proceedings begin, and Karen is shocked to learn that Will is Stan's lawyer, not hers. On a whim, she hires Soupie, a wet-behind-the-ears lawyer with a child's mentality. Meanwhile, Grace is caught in a social faux pas when her biggest client ever has an on-again, off-again relationship with Jack.
---
5x21 Dolls and Dolls (April 24, 2003)
---
Karen looks for a place to live, and succeeds in finding an apartment with a gal named Liz. Liz turns to be just as self-important and skanky as Karen, so it's a perfect match. Meanwhile, Grace and Jack are concerned about Will when he gets injured and relies heavily on painkillers.
---
5x20 Leo Unwrapped (April 17, 2003)
---
Will attempts to sneak Leo back from Africa to surprise Grace for her birthday. But things don't quite go as planed. All starting with when Grace runs into Leo who arrived a little too soon. But, to spare Will's feelings, they agree to act like they never saw each other. Grace asks Karen and Jack to keep Leo busy until her ""birthday surprise."" Unfortunately, the duo takes their mission too seriously.
---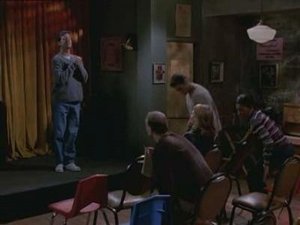 5x19 Sex, Losers, & Videotape (April 03, 2003)
---
Will, Karen and Will's boss Mr. Stein (Gene Wilder) form an anti-romance club thanks to Will and his recent break-up with Barry. The three hold two meetings claiming that ""love stinks"" until Karen and Mr. Stein form a budding relationship. The two carry on having sex and dating behind Wills back not wanting to hurt him. Will breaks up the club after he finds out claiming that ""If you're going to form a club for people who are alone and bitter, you have to at least stay bitter."" Meanwhile, Grace decides to make a sexy video for Leo who is away in Africa. Jack wakes up to the sound of her singing and tells her that that's not sexy at all. He invites her to his acting class where the students are supposed to be very open to each other. Grace attends one class, but finds that it isn't helping one bit. Jack films her taking a shower without her knowing it. When she sees the tape, she agrees that it is very sexy only to find out that Jack has been sharing it with his class.
---
5x18 Fagmalion Part Four: The Guy Who Loved Me (March 13, 2003)
---
While Jack and Barry have their first date, Will interrupts to confess that he has feelings for Barry. Then Jack and Will give Barry an ultimatum: he must choose which one he would like to date. The decision is made - Will. At her hotel, Karen mocks Rosario by putting on a maid's apron. She is then mistaken for an actual maid by a very handsome maintenance man who has a disliking for the rich. In order to be near him, she and Rosario switch roles. After a week of perfect dates, Will tells Barry that he wants their relationship to be exclusive. However, Barry claims that he needs to play the field more and see what's out there before he settles down.
---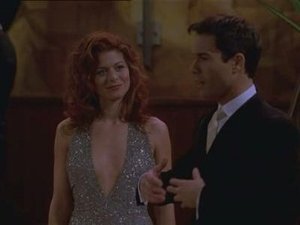 5x17 Fagmalion Part Three: Bye, Bye, Beardy (February 20, 2003)
---
Will finds a guy that he's interested in.
---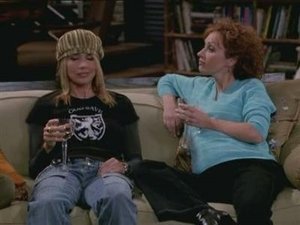 5x16 Women & Children First (February 13, 2003)
---
Demi Moore plays Sissy Palmer-Ginsburg, Jack's babysitter who now becomes his roomate. On the other hand, Will hates her.Grace faces an identity crisis as a wife.
---
5x15 Homojo (February 06, 2003)
---
Jack suffers Karen's wrath when he is seduced into friendship with her manipulative British romantic rival, who has set up house with Karen's ex-husband. Meanwhile, Will and Grace try to re-connect their lagging friendship with a competitive night of board games with their friends.
---
5x14 Fagmalion Part Two: Attack Of The Clones (January 30, 2003)
---
Will and Jack continue their campaign to adapt Karen's awkward cousin Barry to his new lifestyle but their flamboyant efforts to help him only remind Will of his own clumsy experiences when he came out in 1986. Elsewhere, Grace feels abandoned by Leo when he leaves for three weeks to offer his medical services to the needy in Africa.
---
5x13 Fagmalion Part One: Gay It Forward (January 16, 2003)
---
New relationships discomfit Will and Grace. For starters, Karen fixes up Will with her cousin Barry, who, according to his matchmaker, is ""handsome [and] hot."" So imagine Will's surpise when he goes on a blind date with Barry and finds he's actually a self-conscious, dreadfully dressed geek who admits at thirtysomething that he's just coming out of the closet. Back in Brooklyn in her new digs, Grace entertains her interesting new neighbor: an extroverted masseuse named Julie, who Grace suspects may be too interested in her.
---
5x12 Field Of Queens (January 09, 2003)
---
Alternately flirty and shy, and acting "incredibly" like a schoolgirl, Karen falls for a suave and sexy restaurateur. The two of them seemed to hit it off on their first date, but then, he hasn't called her in three days. So buttinsky Grace makes it her mission to confront Prince Charming and find out why. Elsewhere, Will and Jack join a gay men's soccer team, and Will, for one, is hardly having a ball. "They were running and kicking and pushing each other down." he says. "It was supposed to be gay sports. Where were the lingering hugs?"
---
5x11 All About Christmas Eve (December 12, 2002)
---
On Christmas Eve, Grace is torn when she has only two tickets to ""The Nutcracker"" and can't take both her best friend Will and new husband Leo, but her back-and-forth indecision leaves Will spinning like a Hanukkah dreidel between a dithering Grace and his previous holiday plans with Jack and Karen.
---
5x10 The Honeymoon's Over (December 05, 2002)
---
After a displaced Karen is booted from her Palace Hotel digs, a sympathetic Will agrees to let her move in with him at least until she turns his apartment into a federal disaster zone with her exorbitant lifestyle, forcing Will to try and unload her onto Grace's shoulders. Meanwhile, Jack loses style points when he poses incognito out of fear that the ""Gay Mafia"" has it out for him.
---
5x09 Marry Me A Little More (2) (November 21, 2002)
---
Grace's wedding to Leo leaves Will feeling upset over losing his best friend.
---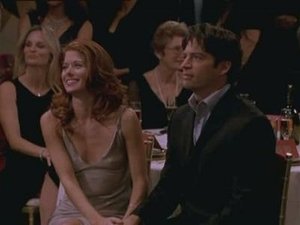 5x08 Marry Me A Little (1) (November 21, 2002)
---
Grace and Leo impetuously take their vows at a Central Park wedding that is a ratings stunt hosted by Today's Katie Couric. Grace's pals, especially Will, are hurt that they weren't invited, but all seems forgiven when everyone including Grace's outspoken mom and the subdued Mrs. Marcus gather days later for a swank reception. It should be a festive bash, but the emergence of unsettling details about Leo and about the park nuptials give Grace reason to wonder whether she has made a mistake.
---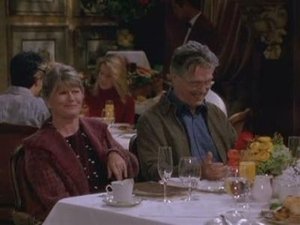 5x07 The Needle & Omelet's Done (November 14, 2002)
---
When Grace accompanies Leo to dinner with some ""friends,"" she doesn't realize that he's tricked her and instead introduced her to his real parents and she soon regrets her earlier salty dialogue and suggestive attitude. Elsewhere, Jack is again confronted by Zandra his gruff acting teacher when he tries to showcase his meager talent in a class while a willing Will joins Karen in subjecting to a Botox facial injection.
---
5x06 Boardroom & A Parked Place (November 07, 2002)
---
Gene Wilder plays Mr. Stein, the long-absent senior partner of Will's firm, who shows up unexpectedly to reassume command. He just might succeed if he weren't such a frantic, neurotic mess. What he needs is a smart, attentive lieutenant who can make decisions and do some of the dirty work (like firing people). Enter Will. Meanwhile, Grace and Jack are shocked to discover that their highfalutin' pal Karen is now poorer than a church mouse and living in her limo.
---
5x05 It's The Gay Pumpkin, Charlie Brown (October 31, 2002)
---
A bicycling adventure tests Will and Grace up in the Catskills with Leo and his pal in a quest for Halloween pumpkins.
---
5x04 Humongous Growth (October 17, 2002)
---
While Will and Grace are feuding, Karen and Jack hatch a wobbly plan to patch up their differences about co-parenting a baby by tricking each one into attending the same child's birthday party. After arguing over who brought the better gift, the feathers continue to fly as the best friends fuss over their conflicting agendas.
---
5x03 The Kid Stays Out Of The Picture (October 10, 2002)
---
Grace is so entranced by her budding romantic relationship with a handsome doctor that she asks an impatient Will for an extra month to re-consider her commitment to conceiving their child through artificial insemination resulting in verbal sparring match.
---
5x02 Bacon And Eggs (October 03, 2002)
---
After stalking actor Kevin Bacon, Jack lands his dream job when the unsuspecting celebrity hires him as his personal assistant and immediately assigns him to find out who's been harassing him. Elsewhere, while Will and Grace wait for the right color to appear on their home pregnancy test, Grace is visited by a handsome doctor who makes her a tempting offer. In addition, Karen looks for a way out of her on-again, off-again relationship with the courtly and irresistible suitor Lionel.
---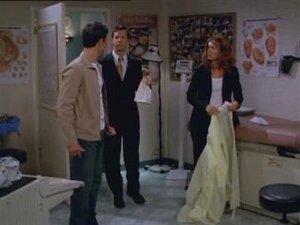 5x01 ...And the Horse He Rode In On (September 26, 2002)
---
A dazed Grace is rescued by a handsome Jewish doctor who pulls her up on his horse and delivers her just in time for her insemination with an impatient Will. But their new relationship as expectant parents puts a strain on Will and Grace's relationship when they agree not to date until their baby is born. Meanwhile, a restless Karen can't make up her mind about cheating on her imprisoned husband with the genteel but ardent suitor Lionel.
---