JAG
Season 1
JAG
Season 1
First Air Date: September 23, 1995

| | | |
| --- | --- | --- |
| First Aired on | : | 1995 |
| Episodes | : | 22 episodes |
Episodes
1x22 Skeleton Crew (May 29, 1996)
---
A murdered female lieutenant turns out to be Lt. Schonke, a friend with whom Harm attended Academy, but neither Cdr. Krennick nor Agent Turque, an abrasive civilian investigator, buys Harm's claim that his relationship was strictly platonic. After the primary suspect of the murder is also found dead - a more than dubious suicide - Harm finds himself being the number one suspect for both murders ... Locations: US Naval Base Norfolk, Va.; Washington D.C.
---
1x21 Ares (May 22, 1996)
---
A killed Navy officer working at a destroyer's new defensive system is investigated by Harm with help from Lt. Pike and Cdr. Brockman. Later, during the testing of this system, a malfunction occurs and the system takes over the ship. Without any chance to navigate it, the ship drifts directly to North Korea where the North Korean Navy is already awaiting them. Meg, who came in later, tries with other technicians to break the lockout to regain control over the sabotaged system. Locations: Okinawa, Japan; Japanese Sea
---
1x20 The Prisoner (May 08, 1996)
---
On a sailing trip near Hong Kong, Harm is captured by the Chinese military. They want him to reveal the United States' position in case the Chinese should take two islands (which are claimed by Taiwan) by force. To get this information, the Chinese employ various mind games including placing Harm's father in a adjacent cell. Cdr. Krennick and Lt. Austin are offered a deal which includes Harm's freedom and asylum for a Chinese military person. Locations: Hong Kong; Nantou, China
---
1x19 Recovery (May 01, 1996)
---
An evacuation training for a Space Shuttle team ends with a dead pilot caused by a broken cable. Harm and Meg investigate and soon determine that the cable was sabotaged. Harm's first suspect is promoted pilot Lt.Cdr. Lowry. As this is an important mission (repairing a spy satellite monitoring Southwest Asia) it can't be canceled. And since there isn't another eligible pilot, Lowry cannot be removed from the team. A training flight with Lowry and Harm on board has a fatal system malfunction - again sabotage. Lowrey can now be crossed out but the person responsible for these incidents must be found as the scheduled mission must proceed as planned. It is highly possible that there will be another 'unpleasant surprise' to stop this mission. Locations: AFB Vandenberg; Space
---
1x18 Survivors (April 17, 1996)
---
Harm represents the divorced Marine colonel Anderson who has overextended his custody agreement when attempting to spend time with his son before his mother moves him far away. But a warrant goes out to for Anderson, on whom the Vietnam war left its marks. After a local deputy attempts to arrest him without success, a strong police force goes after him. Harm learns what Anderson is really up to and helps him to reach a lodge, the place where he promised to bury an old pal who died back in Vietnam, but was left behind. Locations: Vietnam (1972); California (Tustin, Santa Ana,Big Pine, Bishop)
---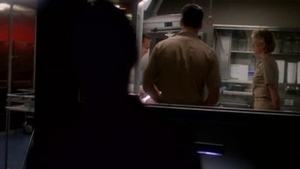 1x17 Black Ops (April 10, 1996)
---
Harm is called in to probe the death of Navy pilot Lt. Marion, son of US Senator Grace Marion, while training with the Navy SEALS. As he was there only for two days, it seems that the death was due to gross negligence. With the reports given by his superior and comrades, combined with the results of how how he died, it seems that the actual incident is a cover-up. Analyzing his equipment and learning that it was a combat mission (and not a training mission as stated), the facts then point at murder. The key to all this could be General Behnke. Locations: Washington D.C.; NAS Roosevelt Roads, Puerto Rico; Carribean Sea; Colombia
---
1x16 High Ground (April 03, 1996)
---
GSgt. Crockett, instructor for snipers at the Boot Camp in Quantico, should be transferred to Bosnia. But there's a deal existing between him and his former commanding officers which says he won't be used in combat missions any longer. After shooting at the colonel 'to get his attention,' he is arrested. Since Crockett once saved Adm. Chegwidden's life, the Admiral orders an investigation to help him. But GSgt. Crockett escapes from the brig and hides in the mountains. Some marines, accompanied by Harm, go out to find Crockett, who's a well-trained and experienced sniper. Locations: Quantico, Va.; Washington D.C.
---
1x15 Hemlock (March 27, 1996)
---
Due to the transposition of two digits of a phone number, Lt. Austin receives a fax with the itinerary for a person with the codename 'Shepherd'. Later, a Commander from the Royal Navy shows up demanding that paper. After receiving it he shoots Meg, seriouly wounding her. Trying to find out who this 'Shepherd' is and why this document is so important, they end up chasing an assassin named 'Hemlock' apparently working for Russian hardliners and trying to kill the man behind 'Shepherd' - Boris Yeltsin who is due in the US for a secret treaty signing. Locations: Washington, D.C.; Bethesda; Leesburg, Va.
---
1x14 Smoked (March 20, 1996)
---
After a lightning strike, a damaged Tomcat flying over Cuba is forced to land by the Cuban air force. Harm and Meg, accompanied by Cdr. Krennick and undersecretary of state Bair go to Cuba to negotiate the return of the pilot and aircraft. The main goal is to prevent the download of the Tomcat's classified software. But the CIA's actual plans are totally different ... Locations: Washington,D.C.; Cuba
---
1x13 Defensive Action (March 13, 1996)
---
Harmon Rabb is promoted and his first assignment as Lt. Commander is to defend Capt. 'CAG' Boone in a court-martial. During a mission over Bosnia, one aircraft goes down due to a system malfunction. A Serbian helicopter shoots at the parachuting crew and, to protect them, the CAG shoots down the helicopter. Is CAG, indeed, defending the crew from a hostile helicopter, or is he acting out of revenge, violating a cease-fire, and risking a war? Locations: Bosnia; Naples, Italy; USS Seahawk/Adriatic Sea; Washington D.C.
---
1x12 The Brotherhood (February 03, 1996)
---
During a simulated attack a seriously wounded Marine is found on the beach. JAG is called in to investigate. Harm and Meg follow two ways: An executed Code Red or a brawl. Locations: Camp Pendleton and area; Los Angeles
---
1x11 Sightings (January 13, 1996)
---
While searching for a girl who disappeared near an abandoned Naval Air Station, Harm and Meg watch the same mysterious lights and hear the same painful sound which also took place during Kathy's disappearance. Though it looks like alien movement, neither Austin nor Rabb believe in UFOs. While looking for the young girl on the base, they nearly get caught but thanks to Kathy they manage to escape, but are trapped on the base. Locations: Del Rio, Texas
---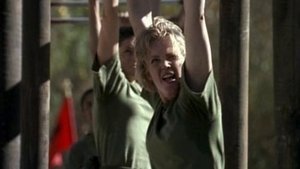 1x10 Boot (January 06, 1996)
---
Meg goes under cover as a Marine recruit in order to investigate the mysterious death of a female private in a boot camp. The facts point at the two drill instructors SSgt. Carrington and Sgt. Gonzales. But a newspaper clipping found by Lt. Austin changes the situation completely. Locations: Parris Island; Washington D.C.
---
1x09 Scimitar (December 09, 1995)
---
Cpls. Ednar and Anderson mistakenly cross the Iraqi border. Trying to escape an Iraqi patrol, Cpl. Ednar is killed and Cpl. Anderson is taken prisoner. The Iraqi government invite the United States to send advocates to defend the Marine who's facing the death penalty for espionage. Harm and Meg are assigned to travel to Iraq to act as his lawyers as well as attempt to free the Corporal with the help of an undercover agent called 'Scimitar'.
---
1x08 Brig Break (December 02, 1995)
---
Harm and Meg investigate the theft of stolen missiles at the SEATAC Naval Base. While interrogating PO1 Quinn of the theft, a prison-break takes place and Lt. Austin is taken hostage. Contrary to the Major in charge, Lt. Rabb thinks that this is a well-planned breakout with a big goal. Locations: SEATAC Island Naval Base and surrounding areas
---
1x07 War Cries (November 11, 1995)
---
Cpl. Parr shoots at an intruder, who he believes shot at him first, at the United States Embassy in Lima, Peru. The intruder, an unarmed 15-year-old teen, is killed. But he wasn't just any boy. He was the brother of Cpl. Parr's girlfriend who (according to her) is pregnant. Harm and Meg are tasked to determine if the teenager was, in fact, unarmed, or if this was an attempt to kill the ambassador. Locations: Lima, Peru
---
1x06 Pilot Error (November 04, 1995)
---
During a test flight Lt. Pendry has a deadly crash with his Tomcat. Harm and Meg are ordered to probe this case and the facts point to a pilot error, not at a system malfunction. Though Pendry was a risk-taking pilot, Harm doesn't think he has gone too far based on his knowledge from his flying days with Pendry. Locations: Miramar Naval Air Station; San Diego/area and off-coast
---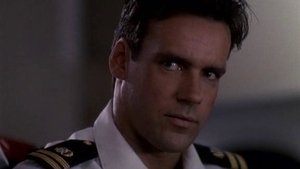 1x05 Deja Vu (October 21, 1995)
---
Harm and Meg are investigating the death of a Navy officer at the Arlington Cemetary, where during the months before, other Navy officers have been murdered, too. This murder happened after a reception at the French embassy and the trail leads to the Thai ambassador and his wife. Harm is attracted to her as she reminds him of a girlfriend back in Vietnam who was killed. Also, Colonel Patano (the ambassador's guard), is one of the suspects. Locations: Washington D.C.; McLean, Va.; Bethesda, Md.
---
1x04 Desert Son (October 07, 1995)
---
During a maneuver, transposed digits lead to a fatal bombing of a unit's own men. This causes several seriously wounded and eventually one dead soldier. Lt. Rabb and Lt. Austin are assigned to investigate this case because the responsible man is none other than Jay Williams, the son of Gen. Williams. But it seems the case is clear since Jay confesses that this mistake was his fault. Locations: MCB Twenty-Nine Palms
---
1x03 Shadow (September 30, 1995)
---
The test of a new torpedo is carried out on board the submarine, the USS Tiger Shark. The test is overseen by the civilian software developer, Dirk Grover. This torpedo is designed to approach and then ""shadow"" its target until it is necessary to hit & destroy. But something goes wrong and the torpedo disappears. Grover then tells the captain that the torpedo is under his control and he will destroy a luxury cruise ship if he is not paid $40 million in gold.Lt. Rabb and Lt.(j.g.)Austin, are sent to the Tiger Shark to assess the seriousness of the threat and if necessary, negotiate with Grover to avoid loss of life.Once on board, Grover insists that he must periodically send commands to the torpedo and to demonstrate, sets off an explosive charge flooding a compartment. In the course of the invesigation, the torpedo is located shadowing a British Liner; Rabb learns that Grover really isn't in control of the torpedo unless the ship is within 4000 yds of it, so Rabb steals Grover's lapt
---
1x02 A New Life (2) (September 23, 1995)
---
Harm & Kate continue to investigate the death of Lt. Angela Arutti, all the while the carrier remaining on combat status.
---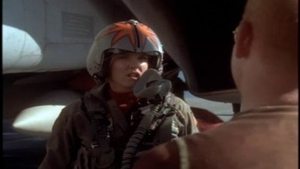 1x01 A New Life (1) (September 23, 1995)
---
Lt. Harmon "Harm" Rabb, a JG Lawyer who investigates and litigates crimes committed by Navy and Marine personnel, looks into the mysterious death of a female pilot aboard an aircraft carrier. Harm is convinced the female pilot who fell overboard didn't commit suicide, but was actually pushed, with all the suspects aboard the aircraft carrier.
---