Comedy Bang! Bang!
Season 3
Comedy Bang! Bang!
Season 3
First Air Date: May 08, 2014

| | | |
| --- | --- | --- |
| First Aired on | : | 2014 |
| Episodes | : | 20 episodes |
Episodes
3x20 The Lonely Island Wear Holiday Sweaters & White Pants (December 19, 2014)
---
People take drastic measures to get the hottest holiday toy; The Lonely Island provides Christmas spirit.
---
3x19 Eric Andre Wears a Cat Collage Shirt & Sneakers (December 12, 2014)
---
Scott tries to pull off the perfect episode with a scientist's invention.
---
3x18 Rob Corddry Wears Tan Dress Shoes & Red Socks (December 05, 2014)
---
A goodbye to a cast member; a poet stops by to share his latest works.
---
3x17 Kevin Smith Wears a Hockey Jersey & Jean Shorts (November 28, 2014)
---
Kevin Smith helps Scott celebrate his birthday; Reggie tries to create a special episode for Scott; a college student with an attitude.
---
3x16 Amber Tamblyn Wears a Leather Jacket & Black Booties (November 21, 2014)
---
Amber Tamblyn helps celebrate Thanksgiving; Reggie invites some of his favorite comics over for dinner; an orphan returns.
---
3x15 Chris Hardwick Wears a Black Polo & Weathered Boots (November 14, 2014)
---
The new "Comedy Bang! Bang!" secretary; Reggie stars in a new commercial; a visit from the aspiring Honorary Mayor of Hollywood.
---
3x14 Dane Cook Wears a Black Blazer & Tailored Pants (November 07, 2014)
---
Scott debuts a new character; what's new with Reggie.
---
3x13 Wayne Coyne Wears a Halloween Costume (October 31, 2014)
---
Wayne Coyne of Flaming Lips fame joins Scott as they are visited by the show's accountant, a creepy couple and the scariest of all: the ghost of Scott's former career.
---
3x12 Steven Yeun Wears Rolled Up Black Jeans & No Socks (October 24, 2014)
---
Activist Victor Ramos shamelessly plugs some community program he's heading; Steven Yeun shares his preparations for the inevitable zombie apocalypse; plus, there is compiled footage of Reggie's entire life.
---
3x11 Ellie Kemper Wears a Purple Ruffled Sleeveless Top & Lavender Flats (October 17, 2014)
---
Ellie Kemper is the guest of Scott's dreams but he may blow his chance; feeling altruistic, Scott fixes a neglected school; Jesse Ventura has an important announcement.
---
3x10 Josh Groban Wears a Suit & Striped Socks (July 10, 2014)
---
The discovery that Reggie's dad had a shot at the big-time; Scott goes back to the 1960's to try and change history; Josh Groban gives Scott some constructive criticism; a plate-spinning novelty act is hiding a game-changing secret.
---
3x09 Alison Brie Wears a Black Mesh Top & Mini-Skirt (July 03, 2014)
---
"Comedy Bang! Bang!" gets a talk show makeover; Reggie's favorite baseball team; Alison Brie reveals the secrets of her acting process; a German film director discusses his plans to make another film.
---
3x08 Tony Hawk Wears a Plaid Shirt & a Silver Watch (June 26, 2014)
---
"Comedy Bang! Bang!" gets a new boss; Tony Hawk gives crew members some advice; a personal tragedy in Scott's life.
---
3x07 Lizzy Caplan Wears All Black & Powder Blue Espadrilles (June 19, 2014)
---
Scott and Reggie share their favorite moments from the show; Lizzy Caplan has an important question on her mind; a seedy photographer describes his process; Scott might be getting Catfished.
---
3x06 Nick Offerman Wears a Green Flannel Shirt & Brown Boots (June 12, 2014)
---
A major disaster forces Scott and Reggie to conserve air in hopes of a last-minute rescue; Nick Offerman transfixes Scott with his mustache; a mysterious woman gives tips on how to be a friendly neighbor.
---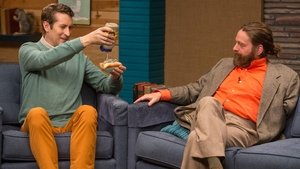 3x05 Zach Galifianakis Wears a One-Armed Jacket (June 05, 2014)
---
A flash forward to the final episode; Zach Galifianakis makes his first appearance since his big accident; characters from past seasons come back to say goodbye; ongoing storylines get resolved; a surprise wedding.
---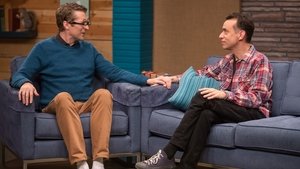 3x04 Fred Armisen Wears Black Jeans & Glasses (May 29, 2014)
---
Fred Armisen and Scott are up for the same late night talk show hosting job; Reggie's ultimate fantasy is revealed.
---
3x03 Jenna Fischer Wears a Floral Blouse & Black Heels (May 22, 2014)
---
An inspector narrows down the suspects of a murder that occurred in the studio; Jenna Fischer shares a clip from her appearance on the British version of "Comedy Bang! Bang!"
---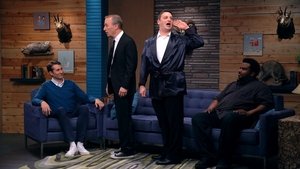 3x02 Craig Robinson Wears a Bordeaux Button Down & Dark Jeans (May 15, 2014)
---
Craig Robinson has a question on his mind; Reggie is taken up to space to battle an alien race; Scott helps renovate homes; a comedy team hides a deadly secret.
---
3x01 Patton Oswalt Wears a Black Blazer and Dress Shoes (May 08, 2014)
---
Patton Oswalt and Scott compete for the same acting role, while a turtle expert is going through an emotional breakdown. We find out Reggie's real name and witness what unsuspecting bystanders do with an unprotected laptop.
---