Friday Night Lights
Season 1
Friday Night Lights
Season 1
First Air Date: October 03, 2006

| | | |
| --- | --- | --- |
| First Aired on | : | 2006 |
| Episodes | : | 22 episodes |
Coach Eric Taylor is under intense pressure from the entire town to lead the high-school football team to the championship. Wife Tami provides loving support as the school's counselor. The young people face their own challenges: the former-star fighting to overcome a tragic injury; the cheerleader torn by conflicting emotional loyalties to two players; the quarterback overwhelmed with responsibilities on and off the field (while dating the coach's daughter); the cocky running back who's turned to performance enhancers. All this and more come together in season one.
Want to see ?
Trailer: Friday Night Lights Season 1 DVD Trailer
Episodes
1x22 State (April 11, 2007)
---
The rumors about Coach Taylor leaving the team at the end of the season get a boost when an inside source decides to speak up. Meanwhile, the Panthers are preparing themselves for the state championship.
---
1x21 Best Laid Plans (April 04, 2007)
---
Coach Taylor buckles under the pressure from Texas Methodist University. The news of his decision is not taken lightly by his family. Riggins faces the impending consequences of his relationship. Landry wonders whether he should tell someone about Tyra's situation.
---
1x20 Mud Bowl (March 28, 2007)
---
An chemical spill near Dillon High School forces Coach Taylor and the Panthers to seek another facility in which to play the crucial State Semi-Final game.
---
1x19 Ch-Ch-Ch-Ch-Changes (March 21, 2007)
---
With TMU trying to recruit Coach Taylor, Julie insists that she will not be moved away from Matt and Dillon. The quad rugby recruiters in Austin deliver some bad news to Jason. Riggins becomes friends with a single mother and her son.
---
1x18 Extended Families (February 28, 2007)
---
Lyla makes a surprise visit to the quad rugby camp where Jason is playing at, but she doesn't find the comfort she came looking for.Buddy Garrity's affair with Tyra's mother comes out. Consequently, Buddy decides to move in with the Taylors.Smash becomes suspicious about Waverly when she goes for a midnight swim with him.
---
1x17 I Think We Should Have Sex (February 21, 2007)
---
After Julie reveals to Matt that she wants to have sex with him, Matt feels the need to put together something special. Tim clashes with his father.The Panthers are into the next round of the playoffs and looking solid.
---
1x16 Black Eyes & Broken Hearts (February 14, 2007)
---
Due to racial comments from Coach Mac, the black players on the team refuse to play unless he is sacked.Julie is sucked deeper into the vortex as her friendship with Tyra develops. Matt tries to win Julie back.
---
1x15 Blinders (February 07, 2007)
---
The Panthers savor their crucial playoff-win-until race issues emerge and sorely test their bond after Mac makes racial statements.Tami frowns upon Julie's newfound friendship with Tyra. The girls play a powder-puff football game.
---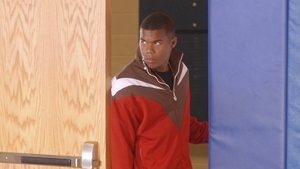 1x14 Upping the Ante (January 31, 2007)
---
The Panthers prepare for their first playoff game.Coach Taylor gets distracted as he has to come up with a solution to Smash's use of drugs. Tyra and Julie befriend while Riggins bonds with his alienated father.Buddy learns about Jason and Lyla's engagement.
---
1x13 Little Girl I Wanna Marry You (January 24, 2007)
---
The Panthers have only one more game to win in order to qualify for the play-offs. Smash's mother discovers something that could end his football dreams.
---
1x12 What to Do While You're Waiting (January 10, 2007)
---
The Panther's fate is hung up on the result of a game between two other teams and there is nothing they can do about it.Meanwhile, there is tension at the Street's house because of the lawsuit they introduced against Coach Taylor.Matt's father has a hard time adjusting back to real life.
---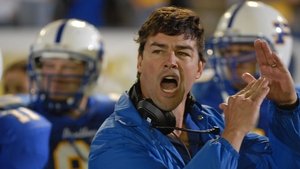 1x11 Nevermind (January 03, 2007)
---
The Panthers are preparing for another game they can't lose. Matt's father comes back from Iraq but his mother's condition is difficult to take in.Tami Taylor sees Tim Riggins regarding his grades. She believes he's not doing his homework by himself and asks Landry to tutor him for his next oral exam. If he doesn't pass, he won't play in the football team.
---
1x10 It's Different for Girls (December 12, 2006)
---
The cheerleaders prepare for Championship Classic. Lyla is picked on when people find out about her and Riggins. Coach Taylor tries to keep Matt and Julie apart. Jason goes home after being released from rehab.
---
1x09 Full Hearts (December 05, 2006)
---
Smash continues to go the extreme to improve his performance. Rumors begin to spread about Tim and Lyla's relationship. Julie and Matt attempt to go out on a date but it is cursed from the beginning.The Panthers are in much anticipation for their upcoming game against the Gatling High.
---
1x08 Crossing the Line (November 28, 2006)
---
Julie thinks about going on a date with Matt. A discouraged Smash turns to foul play to improve his on-pitch performance. Cheered by Lyla and Tim, Jason has his first quad rugby game. A dinner turns into a fight for Coach Taylor, Tami, Riggins and his brother.
---
1x07 Homecoming (November 14, 2006)
---
As the Panthers get ready to face the dominating Laribee Lions, the 2000 State Champ quarterback, Lucas Mize is set to join the team.Smash catches his chance to convince a college scout of his talents. A focused Tim quits drinking. Jason's suspicions of Lyla and Tim's affair grow. Tyra and Billy set up an after game homecoming party.
---
1x06 El Accidente (November 07, 2006)
---
Ray Tatum faces the blame of his team mates after Panthers' win in the game last week might be overturned. Defensive tackle Bobby Reyes is arrested by the police during a practice for beating a student. Coach Taylor and Buddy Garrity are questioned by the Texas High School athletic administration.Lyla and Tim surprise Jason by taking him to the lake.
---
1x05 Git 'Er Done (October 30, 2006)
---
The big game against the Tigers drawing closer, Coach Taylor must decide between Matt and the self-assured recruit Ray "Voodoo" Tatum for the starting quarterback. The feelings between Tim and Lyla grow stronger. Jason's newly-found motivation strives him to begin the rehab.
---
1x04 Who's Your Daddy (October 24, 2006)
---
As the Panthers prepare for a match against the Tigers, who are their biggest rival, Jason's new roommate tries to help him understand the potential he has for recovery.Lyla tells Tim of her regrets about what happened between them, and Matt hits an all-time low.
---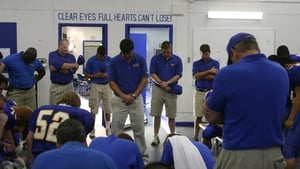 1x03 Wind Sprints (October 17, 2006)
---
The situation in town begins to get ugly as Coach Taylor and his family is forced to endure heat from a difficult loss against the San Marco HS Rattlers.Tim and Tyra break up after he confronts her about Smash, and Lyla, after having an argument with Jason, vents her anger onto Tim.
---
1x02 Eyes Wide Open (October 10, 2006)
---
As the team pulls together and tries to help Matt get used to his new role as quarterback after Jason's injury, Lyla offers her support to Tim.Jason learns about the extent of his injury, and Tami gets a job as the school guidance counselor.
---
1x01 Pilot (October 03, 2006)
---
A newcomer coach Eric Taylor finds himself helming a promising high school football team, the Dillon Panthers, that has a real chance to make it to the top.
---