The King of Queens
Season 7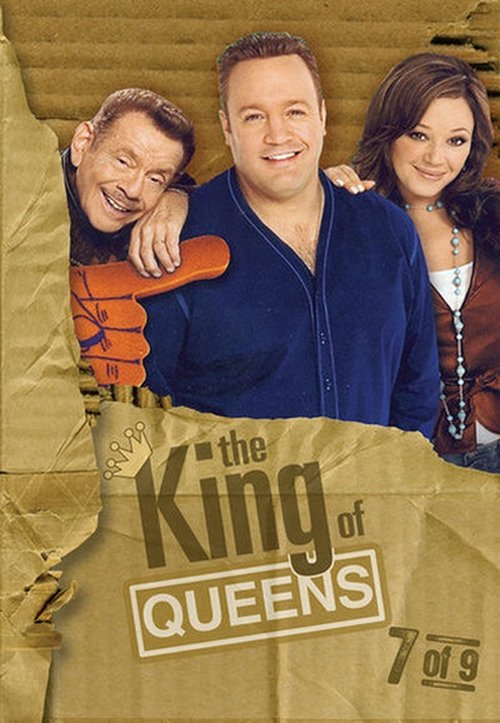 The King of Queens
Season 7
First Air Date: October 27, 2004

| | | |
| --- | --- | --- |
| First Aired on | : | 2004 |
| Episodes | : | 22 episodes |
Episodes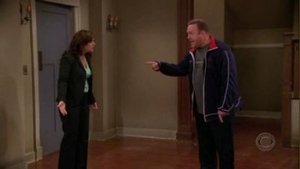 7x22 Buy Curious (May 18, 2005)
---
When Doug and Carrie's neighbor passes away, their grief is quickly replaced by hope when they realize his empty residence could prove to be a profitable investment. In their dash to close escrow, they become wary of another neighbor, Lou, who's neighborly way of upkeeping the bereaved lawn raises their suspicions.
---
7x21 Slippery Slope (May 09, 2005)
---
Doug lures Carrie to a timeshare sales ski weekend where the strength of their relationship is tested under the intense sales pressure. On the same excursion, Spence and Danny feel the sting of intolerance when they assume the role of a "couple" to enjoy the weekend.
---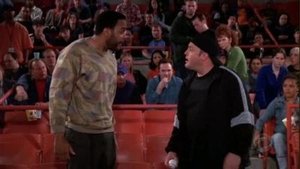 7x20 Catching Hell (April 20, 2005)
---
A work event in a ballpark skybox leads Carrie, Doug and his buddies out to the game - but when an important client finds fault with Doug, Spence has to step in as the devoted husband. At Arthur's dinner party, guest Bernard, turns the table against him.
---
7x19 Ice Cubed (April 13, 2005)
---
As the snow falls in Queens, Carrie heads out to buy an iPod - but instead of achieving musical nirvana, she finds herself stranded on a cold street and in a moral dilemma. Meanwhile, when a couple invites Doug in from the cold, he manages to quickly use up his welcome when he dispenses very un-welcome relationship advice.
---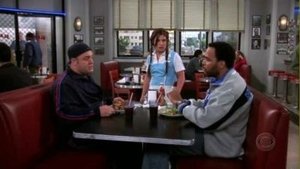 7x18 Van, Go (April 06, 2005)
---
While eating at a new cafe with Deacon, Doug manages to agitate their waitress so much that she demands they fight once her shift ends. Meanwhile, Carrie asks Holly to go shopping with her, only so that she can use her van.
---
7x17 Wish Boned (March 30, 2005)
---
When Doug wins a trip to St. Louis to see the Final Four, he is reluctant to bring Arthur. However, Carrie tells him that if he does this, he never has to take him to the senior center or see his naked back again. However, the plane gets delayed & Doug & Arthur go to Pittsburgh. Then, things go downhill with Doug missing the Final Four by being stuck in Dayton.
---
7x16 Black List (March 16, 2005)
---
When Deacon snubs his usual boys for a new African-American friend, Doug desperately tries to find his own "roots" in an attempt to win him back. Meanwhile, Carrie runs her cuticles ragged to find out why her manicurist will no longer schedule her appointments.
---
7x15 Deconstructing Carrie (March 02, 2005)
---
Carrie is discouraged about her looks as she faces her 35th birthday so Doug gets construction workers to hoot and holler at her as she passes by in hopes of cheering her up. Also, Arthur tries to come up with a perfect gift for his daughter.
---
7x14 Hi, School (February 23, 2005)
---
When delivering a package to his old high school, Doug meets his old football coach, and against Carrie's wishes, begins to return to the school on a regular basis as the football hero. Meanwhile, after losing his eye drops, Arthur manages to lose his sense of hearing, sight, and speech in one day and becomes completely reliant on Holly.
---
7x13 Gorilla Warfare (February 16, 2005)
---
Carrie recalls what Doug said to her when they were dating that made her want to marry him, but then she learns a horrifying truth about that night; Danny falls for Holly after his girlfriend breaks up with him
---
7x12 Gym Neighbors (February 09, 2005)
---
When the Heffernans begin working out with the Ferrigno's, Doug secretly makes a pact with Lou so he can sit around instead of working out.
---
7x11 Pour Judgment (January 26, 2005)
---
Doug decides to pursue a long-abandoned dream to become a bartender, much to Carrie's angst. Although she starts to warm up the the idea, Doug soon realizes that dreams are not always what they are cracked up to be. Meanwhile Arthur enters the dangerous world of politics.
---
7x10 Domestic Disturbance (January 19, 2005)
---
Carrie uses her extra income to hire a maid, but Doug feels left out and decides to hire his own help in the form of Spence's mom, Veronica. Soon, Veronica proves to make more messes than she cleans, especially when her newly subordinate position makes Arthur pine for her.
---
7x09 Cologne Ranger (January 12, 2005)
---
After ten years of marriage, Doug finds a new love – in the form of designer cologne that Carrie can't stand, but his scent-ual affair forces Carrie to demonstrate bad behaviors of her own. Meanwhile, Arthur attempts to show Spence and Holly the finer points of movie hopping.
---
7x08 Awed Couple (December 15, 2004)
---
When a fight causes a rift in the Palmer/Heffernan relationship, Doug and Carrie attempt to get back at the Palmers by getting a new couple as friends. When their search yields nothing, they resort to two friends they really don't enjoy. But while dining with them, they meet another couple who are in a book club with their increasingly annoying friends. Now Doug and Carrie love them ... at least until they finish the search to find the new couple's phone number.
---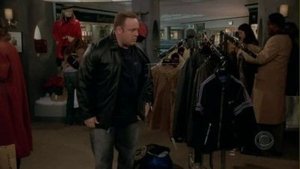 7x07 Silent Mite (December 15, 2004)
---
While Christmas shopping at the mall, Doug loses his wallet and begins a quest to find the wallet and the culprit who may have stolen it. But with no help from Carrie or the cops, he requests the help of Arthur.
---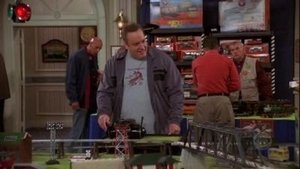 7x06 Offtrack... Bedding (December 08, 2004)
---
Doug's parents pay a visit to the Heffernan household, where Doug surprises them with theater tickets. However, Joe Heffernan is distracted by his Train Fair, which causes Janet to develop a friendship with Arthur.
---
7x05 Name Dropper (December 01, 2004)
---
Doug digs a deeper hole for himself when he fakes a heart attack to avoid angering Carrie for not knowing her friend's name.
---
7x04 Entertainment Weakly (November 24, 2004)
---
Doug's position as the "Funny Guy" is threatened, when IPS' new employee wins over the workforce with his impersonations. Meanwhile, an assistant is hired to work for Carrie, and ends up performing more work than expected.
---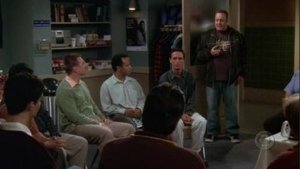 7x03 Furious Gorge (November 10, 2004)
---
On the way to a overeating support group, Doug notices an abusive relationship group, and decides to join them instead. Although, Carrie becomes suspicious when he not only gains weight, but begins to cower in her presence.
---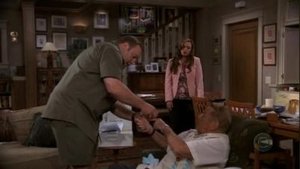 7x02 Dugan Groupie (November 03, 2004)
---
Carrie and Doug have a conflict of interest when Carrie begins to stay late every night at work but it leaves Doug to feel neglected.
---
7x01 Lost Vegas (October 27, 2004)
---
In an attempt to go to Las Vegas for a weekend with the guys, Doug begins to build up credit by taking Carrie to a spa. Meanwhile, after hearing about Las Vegas, Arthur trains Spence on how to count cards, before visiting a small casino, being held for orphans.
---