The King of Queens
Season 5
The King of Queens
Season 5
First Air Date: September 23, 2002

| | | |
| --- | --- | --- |
| First Aired on | : | 2002 |
| Episodes | : | 25 episodes |
Episodes
5x25 Bed Spread (May 19, 2003)
---
Doug breaks the bed, and when Carrie and Doug find a new one that they like, it has to be ordered, thus leaving them with nothing, until they borrow two twin beds for the time being. Quickly the two realize that having their own space at night is making major improvements in their marriage. Arthur discovers that their sweet neighbor, Lou Ferrigno, is actually quite a gossip, when he overhears him through a peep hole in the basement that looks right into his yard. Arthur makes it his mission not to get tangled up in that mess by protecting what information Lou gets.
---
5x24 Taste Buds (May 12, 2003)
---
Since Doug never gets what he wants from Carrie, he uses Arthur to ask Carrie for them, so he gets what he wants. Meanwhile, Spence is first on line to see a new movie.
---
5x23 Dog Shelter (May 05, 2003)
---
Carrie learns from Janet that Doug had a dog when he was 11, that they still have today, and Doug is 38! Janet admits to Carrie that the dog died, and they replaced it without Doug knowing.
---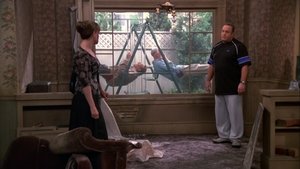 5x22 Queens'bro Bridge (April 28, 2003)
---
Arthur and his half-brother Skitch are reunited when Doug sets it up for them to meet again at the tollbooth Skitch works at on the freeway. When Doug realizes they own a house together, he sees the possibility of getting his personal life back when he envisions the basement empty and he and Carrie having some personal time. Arthur moves in with Skitch until all hell breaks loose when the two are reminded that they should indeed live apart.
---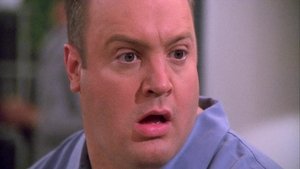 5x21 Clothes Encounter (April 21, 2003)
---
Carrie can't stop buying expensive clothes, and then returning them within a few days. Spence's new girlfriend is afraid of his dog and tells him to decide who he wants, the dog or her.
---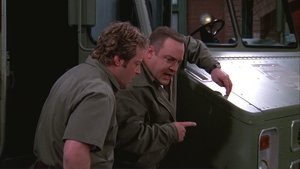 5x20 Driving Reign (April 14, 2003)
---
Danny asks Doug for a letter of recommendation at IPS so he can move up to being a driver like Doug. Since this idea does not appeal to Doug, Carrie decides she will write the letter and have Doug sign it. Danny ends up getting the job and puts Doug's skills to the test, and his job on the line, when his ability to beat Doug's delivery time has the boss giving Danny Doug's route.
---
5x19 Cowardly Lyin' (March 31, 2003)
---
Carrie gets tickets to an opera but Doug doesn't want to go so he has Deacon help him lie to get out of it. Carrie catches him in the lie which prompts Doug to confess to a series of lies he's been hiding. Doug then tells Carrie that the reason he's been lying is because she's too overbearing. They both agree to be "supportive" of one another but this only leads to more problems.
---
5x18 Steve Moscow (March 10, 2003)
---
Doug and Carrie try to get the Russian workers to repair their house, by going to extreme lengths of giving them vodka.
---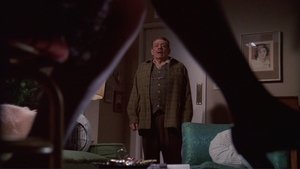 5x17 S'Poor House (February 24, 2003)
---
The mold problem in the Heffernan household grows and Doug and Carrie find out to fix the problem will cost them $12,000! Doug, with his tail between his legs, goes to his father to ask for the money, but hits a wall when he wants to know why he and Carrie don't have it in the bank. When Doug has to admit they have no savings, his dad wants to comb through their financial books to see where all the money is going. This prompts Doug to limit Carrie on her "wild spending," which does not go over well with her.
---
5x16 Golden Moldy (February 17, 2003)
---
Doug and Carrie are having fun on their vacation with their neighbors in St. Croix, but once Arthur calls with a quote on the current mold problem in the house, all is not so fun.
---
5x15 Animal Attraction (February 10, 2003)
---
Doug cannot spend time with Carrie on Valentines Day, because he has to deliver penguins, with Deacon, from one zoo to another. Yet, along the way, they run into some mishaps. Meanwhile, Carrie and Holly go out and give her tips with men to look for a man for Hall. However, Carrie inadvertently fixes her up with her boss. Also when Arthur and Spence go to up a pick a date for the holiday, he accidentally gets himself a date that is old enough to be his grandmother.
---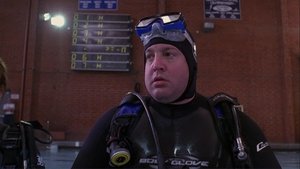 5x14 Prints Charming (February 03, 2003)
---
Doug and Carrie photos get mixed up with another couples. When Doug and Carrie look at the other couples photos, they find out that their lives aren't as good as the others, so they try to do what are seen in the photos. Arthur's new cellphone is in no use when no one calls him.
---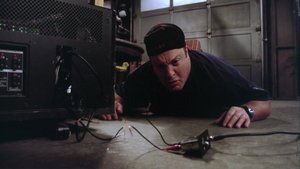 5x13 Attention Deficit (January 20, 2003)
---
Doug becomes obsessed with his own Super Bowl party after learning that many of his friends will be attending a party thrown by a new co-worker. While Doug is focused on winning back as many guests as possible, Carrie complains that Doug doesn't think about her enough during the day. Problems arise when Doug tries to throw the ultimate Super Bowl party and prove to Carrie he's an attentive husband.
---
5x12 Jung Frankenstein (January 06, 2003)
---
Carrie thinks Doug needs professional help to control his excessive eating habits, so she persuades him to see a therapist. When Carrie sees Doug's great inprovements, she asks the therapist to work on Doug's other issues. Meanwhile, Arthur believes he's addicted to nasal spray and fights to stay off of it.
---
5x11 Mentalo Case (December 16, 2002)
---
A toy from their childhood leads to a rift between Deacon and Doug. Meanwhile, Carrie tries to give her father a great Christmas gift, but this proves hard to do when everyone thinks of the wrong gifts they are receiving, altering their original gift choices.
---
5x10 Loaner Car (November 25, 2002)
---
Doug loans Carrie to Deacon to help prepare Thanksgiving dinner. When Deacon ditches her for Holly's services, his web of lies soon gets out of control. Trying to cover it up, Doug continues to dig a hole for himself.
---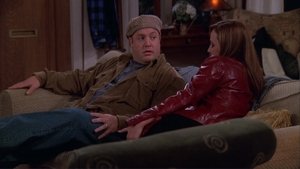 5x09 Connect Four (November 18, 2002)
---
Carrie wins 4 company seats to Knicks games, but insists on taking a couple over Doug's friends. But when they realize Carrie's favored couple doesn't work for Doug, and Doug's favored couple doesn't work for Carrie, they decide on playing cupid. Meanwhile, Arthur digs himself a hole by pretending he can "fix" parking tickets.
---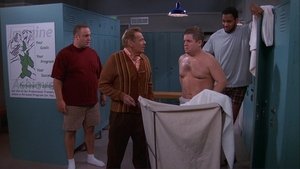 5x08 Flash Photography (November 11, 2002)
---
At a wedding, Doug takes a naughty picture with a disposable camera supplied by the bride and groom. After letting Danny take the blame, and after confessing to a priest, he has the dreaded task of coming forward with the truth.
---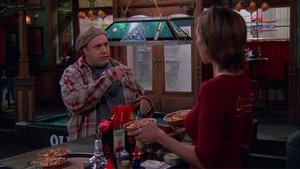 5x07 Flame Resistant (November 04, 2002)
---
Doug and Carrie run into Doug's high school girlfriend, Margie, at his favorite sports bar. Carrie gets jealous when she discovers that Doug's mother would rather spend time with his ex-girlfriend than her. Margie and Doug fight over the song that Doug was meant to write for her back in high school. Doug, intent on redeeming himself attempts to write the song with help from Danny.
---
5x06 Business Affairs (October 28, 2002)
---
Doug stops by Carrie's office, and is introduced to her work-husband Curt. Although Carrie assures him that he has nothing to worry about since Curt is gay, Doug is threatened by just how close the two are. They go to lunch together, share work secrets, and are very tight. He raises his concerns to Carrie, but she tells him that he has the same relationship with Deacon. Doug is not happy with her comparison, and the two than try to make each other jealous by spending more time with their "work spouses" than with each other. Meanwhile, Arthur is jealous of a new dog that Holly has added to her route.
---
5x05 Mammary Lane (October 21, 2002)
---
Doug's bowling team prepares for a tournament, while Carrie agrees to babysit Mr. Kaplan's son, in hopes of furthering her career. But when Doug throws out a mercy flirt and Carrie runs into an awkward set of hands, all goes downhill.
---
5x04 Kirbed Enthusiasm (October 14, 2002)
---
Deacon asks Doug to help him coach his 8-year-old son's football team and the boy challenges Doug to try out for a semi-pro team, but Carrie isn't thrilled with the idea until she sees an interesting photo of him.
---
5x03 Holy Mackerel (October 07, 2002)
---
Doug and Carrie run into Father McAndrew at the fish market. They exchange pleasantries and as they are parting ways, Father McAndrew tells them that he would love to see them in church sometime. Unsure of how to decline politely, the Heffernans instead agree to attend Sunday's services. During the service, Carrie reflects on the one thing that she really needs help with – a raise. Miraculously, the following day, Carrie receives word that her prayers have been answered and that she is getting her raise. Much to Doug's dismay, Carrie's prayers turn to more frivolous things – like shoe sales. He does his best to convince her that God would never approve of her prayers, but soon enough Carrie catches Doug praying for the Jets to win their latest football game. Meanwhile, Arthur hosts an open house in order to sell the house. Unfortunately, he hasn't mentioned a word of his efforts to Doug or Carrie, the homeowners.
---
5x02 Window Pain (September 30, 2002)
---
Mike and Debi, a bright young couple, move in next door to Doug and Carrie. The Heffernans don't make the greatest first impression as an argument they're having can be heard throughout the neighborhood. Carrie feels that her job, as a legal secretary, and Doug's, as a truck driver, are insignificant next to her neighbors, who both hold professional jobs. She tries desperately to make a good impression on her new neighbors by inviting them over for dinner, but Doug thwarts her plan. Meanwhile, Arthur takes advantage of Spence's job at the subway by insisting on free rides.
---
5x01 Arthur, Spooner (September 23, 2002)
---
Carrie has been put in charge of overseeing a group of people who will be organizing and distributing legal documents for one of her firm's big cases. The catch is that her team will have to work the night shift, and they're "not the sharpest tools in the shed." Doug is disappointed by her new appointment because this means that they won't be spending any time together, but then decides to use her time away as an opportunity to do whatever he wants – eat in bed, not brush his teeth before he goes to sleep, etc. Unfortunately, he starts to get a little lonely but soon discovers that Arthur makes a suitable companion to keep him company.
---