Silk Stalkings
Season 8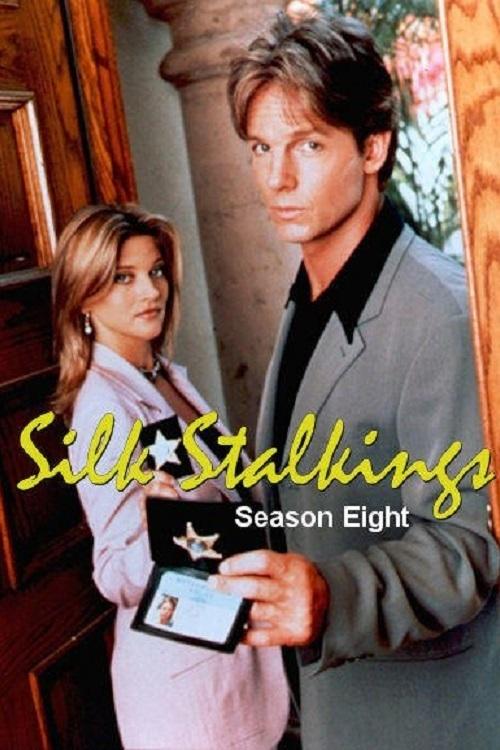 Silk Stalkings
Season 8
First Air Date: July 26, 1998

| | | |
| --- | --- | --- |
| First Aired on | : | 1998 |
| Episodes | : | 22 episodes |
Episodes
8x22 Noir (2) (April 18, 1999)
---
Tom finds he's been set up as he struggles to clear his name in a murder investigation.
---
8x21 Noir (1) (April 18, 1999)
---
As things between Tom and his girlfriend heat up, they begin looking for a new place to live together. While out shopping, Tom spots an armed man running from a department store and gives chase. After he narrowly misses being shot, Tom returns fire and kills the suspect. Once a search fails to uncover either the gun or bullets, the case is turned over to an Internal Affairs cop whose corrupt partner Tom helped send to prison.
---
8x20 Dream Weavers (April 11, 1999)
---
A group of determined young college graduates extort wealthy businessman through promises to fulfill their wildest sexual fantasies.
---
8x19 A Clockwork Florida Orange (April 04, 1999)
---
Tom and Cassy's investigation into the murder of convenience store owner exposes a power hungry high school student's vengeful scheme.
---
8x18 Where & When (March 28, 1999)
---
As she and Tom investigate the murder of a famous race car driver's wife, Cassy recalls memories of a past life.
---
8x17 Cook's Tour (March 21, 1999)
---
A chef's sudden death on the eve of a lucrative cooking contest lead Tom and Cassy to investigate.
---
8x16 Dance Fever (March 07, 1999)
---
The investigation into the murder of a Latin dance champion points to his girlfriend and ex-partner.
---
8x15 Killer App (February 28, 1999)
---
The investigation into a software developer's murder leads Tom and Cassy to a ruthless brother and sister team of venture capitalists.
---
8x14 It's the Great Pumpkin, Harry (January 24, 1999)
---
Harry tries to avoid his wife's annual Halloween costume party, only to end up in deep trouble himself.
---
8x13 Strange Bedfellows (January 17, 1999)
---
Cassy's investigation into a hit and run death leads to a U. S. Senator's suicide.
---
8x12 Honor Among Thieves (December 13, 1998)
---
A local artist is murdered during the theft of an Old Master's priceless drawing.
---
8x11 Behind the Music (December 06, 1998)
---
Tom and Cassy investigate a series of murder attempts on a pair of controversial vee-jays.
---
8x10 Dead Again...And Again (November 29, 1998)
---
After saving a mystery woman from an attack, Tom is drawn into a plot to kill her wealthy husband.
---
8x09 The Loneliest Number (October 18, 1998)
---
An investigation of a wanted killer's suicide leads Cassy to uncover the dead man's relationship with her mother.
---
8x08 Fear and Loathing in Palm Beach (October 11, 1998)
---
A suicide investigation exposes a noted therapist's conspiracy to murder his wife.
---
8x07 Sins of the Mother (October 04, 1998)
---
Tom and Cassy expose an IRS agent's apparent suicide as murder.
---
8x06 Hidden Agenda (August 30, 1998)
---
Lipschitz's first love turns up dead after asking him for protection from an aging mobster.
---
8x05 Forever (August 23, 1998)
---
When Tom is shot to keep him from testifying in a murder trial, Cassy goes undercover to catch the man who ordered it.
---
8x04 All the World's A Stage (August 16, 1998)
---
A popular actress. who Tom and Cassy are told to help study for a new film role, interferes with their investigation of an immigrant' s murder
---
8x03 Passion and the Palm Beach Detectives (August 09, 1998)
---
Tom and Cassy pursue a well known romance novelist who they suspect in a string of murders.
---
8x02 If the Shoe Fits (August 02, 1998)
---
Tom and Cassy' s investigation into the murder of a TV news director leads them to suspect both a prominent reporter and her assistant.
---
8x01 Do You Believe In Magic? (July 26, 1998)
---
A woman's split personality gives life to a murderous ventriloquist's dummy.
---