Silk Stalkings
Season 4
Silk Stalkings
Season 4
First Air Date: September 18, 1994

| | | |
| --- | --- | --- |
| First Aired on | : | 1994 |
| Episodes | : | 22 episodes |
Episodes
4x22 Into The Fire (March 19, 1995)
---
Eric calls Chris in the middle of the night, desperately needing his help. When Chris arrives, he sees Eric get shot to death, and chases after the killers as they drive away--but when he returns to the spot where Eric was shot, the body is gone. The next morning, Special Agent Pete Santos of the BATF shows up in the captain's office, and tells Chris and Rita that Eric was selling arms to a cartel run by Lena Correll; he also says that Eric was working with Johnny Almendarez--the man Chris witnessed shooting Eric. While Rita is too emotional to think straight enough to be effective, she still wants to actively pursue Eric's killer, and so she tags along with Chris. Meanwhile, Rita thinks she may be pregnant with Eric's baby.
---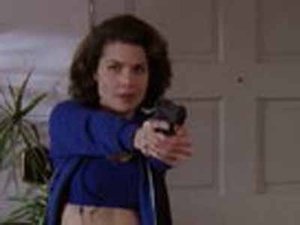 4x21 Cadillac Jack (March 12, 1995)
---
When Rita's friend Gina washes ashore in Margaritaville she decides to join the two local officers assigned to the case--Jack Duvall and Savannah Smith. While Savannah doesn't like the idea of Rita tagging along, Jack is smitten by Rita. After some investigating, they discover that Gina must have been out on a boat the night she was murdered. The two main suspects are Davis Lee--a fishing guide with a sketchy past, and Steve Bolton--a polo player, and husband of the Senator--whose boat they suspect was used. Savannah, who's had a few relationships with Davis in the past, believes his innocence but is afraid Bolton will be able to pin the murder on him. Meanwhile, Jillian wants Chris to move to Boston with her after she is offered Chief of Surgery at Mercy Hospital.
---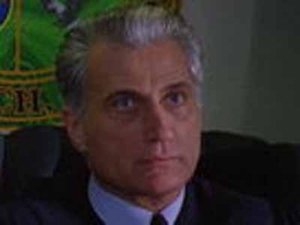 4x20 Community Service (March 05, 1995)
---
A woman is found dead in a hotel room. As Chris and Rita investigate, they soon discover that the woman was named Susan Kemper, and that she was involved in some sort of deal to get her arrested husband a sentence of Community Service rather than jail time. When another felon, Mr. Fuller, is surprisingly given a sentence of Community Service by the same judge who sentenced Mr. Kemper, Chris and Rita begin to suspect that the judge--"Flip-A-Coin" Moyne--might be offering the wives of his felons a way to "earn" their husbands' freedom--by having sex with him. Donovan wants more proof before he will stick his neck out to attack the judge, so Rita talks to Mrs. Fuller to see if their suspicions are correct. Meanwhile, Atticus Dunn has a string of parking problems while peddling his fresh shrimp, including a run-in with Officer Grodenchick.
---
4x19 New Blood (February 26, 1995)
---
Chris is assigned an ambitious detective trainee, Lisa Hann, to help him investigate the murder of Itsy Bitsy Magazine model Shelly Hunter. As they investigate, Chris often finds himself warning Lisa about her negative use of force. Finally, when Lisa physically attacks one of the models--who won't give her the information she wants--Chris tells Lisa he is going to write her up. The next morning, the captain tells Chris that Lisa is suing him and the department for sexual discrimination and harassment. Soon, Chris finds that Donovan has turned on him; he tells Chris to admit to the harassment, and strike a deal. Chris refuses to bargain, and decides to investigate Lisa. Along with Rita's help they may just uncover the truth about Lisa. Meanwhile, Rita is loaned out to vice to work undercover as a prostitute in a sting operation.
---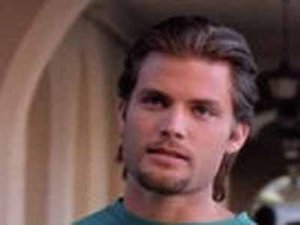 4x18 I Know What Scares You (February 19, 1995)
---
Tina and Alexa, two college roommates, go to the police station after continuously receiving harassing phone calls. Chris tells them that he is from Homicide and cannot help them. The next day, Tina shows up dead in her car, and Alexa says it is all Chris' fault. Later that night, while Alexa and her boyfriend Jeff are in bed together, Jeff whispers to Alexa, "I know what scares you"--the same thing the killer used to say to Tina. Alexa locks herself in the bathroom, and once Jeff leaves, she goes to the police station and tells them what happened. So Chris and the Captain decide to investigate Jeff Chadwick's past. Meanwhile Rita is busy with the Costanzo Case; and Chris tries to smooth things out between his friends Rick and Liz Faraday--who are arguing over the same salary issues Chris and Jillian argued about.
---
4x17 Champagne On Ice (January 29, 1995)
---
A New York Private Investigator, Jerry Banning, is found shot to death in his hotel room. The only evidence the two Sams have to work with is the six telephone calls Banning made while in Palm Beach--five of which were to the Hamilton residence. So Chris and Rita decide to call Meridian Security and ask Banning's boss, "Champagne" Tony Morella, what Banning was doing in Palm Beach. Tony had not known where Banning had disappeared to, so he comes to Palm Beach--where he discovers that his old friend Harry Lipschitz is now working for the Palm Beach Police Department. Meanwhile Morella uses his friendship with Lipschitz to get info on the case, and then uses this knowledge for his own personal gain. Also: Keisha brings her daughter's exotic flu to the office; and Chris' long-planned Caribbean Fantasy Vacation with Jillian is ruined when he catches it.
---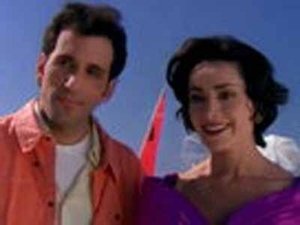 4x16 Brother's Keeper (January 22, 1995)
---
When Lorraina Garvey is found stabbed to death, the only clue Chris and Rita have is a call placed to the station reporting a red corvette leaving the murder site just about the time of the murder. At the crime scene, Rita finds an appointment book with the name Michael written in it many times. Upon talking to Lorraina's personal assistant, Rita discovers that the man in the book is Michael Ferraro--one of her old foster brothers. When Rita talks to Michael, he gives her a bogus alibi; and as he leaves, Rita notices that he owns a red corvette. While Donovan and everyone else just want to convict Michael, Rita believes that he is really innocent, and wants to help him. Meanwhile, Chris must nurse his aching back back to health after he his fall from a ladder while helping Rita paint her house.
---
4x15 Mrs. Carlisle (January 15, 1995)
---
Chris and Rita investigate the death of Dan Carslisle, the owner of an extravagant country club. When they talk to the wife, Valerie, she says that they heard someone breaking into the house, and her husband went down to see who it was. While he was downstairs, Mr. Carslisle was shot by the intruder. She also tells them that a teenager at the club, Carter Ward, has a big crush on her, writes her love notes, and could have been the person who killed her husband, out of jealousy. When Chris and Rita question Cart, he says that he and Mrs. Carslisle really do have a relationship, and that Mrs. Carslisle told him that he had killed Mr. Carslisle while stopping him from beating her--Cart was drunk from champagne at the time. Lance and Lorenzo head back to Mrs. Carslisle's house to investigate further, to see who is telling the truth. Meanwhile, Rita and Eric try to work out their problems, but Eric's past may come back to haunt him.
---
4x14 Pas de Deux (January 08, 1995)
---
Steven Kincaid, a famous ballet star, is stabbed in the back while getting some food from the refrigerator. When Lance and Lorenzo investigate, they discover that Kincaid was sleeping with his wife Camilla's twin sister, Priscilla Meadows. Camilla and Priscilla were seen fighting in a bar a few days earlier for this same reason. While Rita talks to Catherine Walden--the woman who was funding Kincaid's troupe, Chris talks to Kincaid's director Gene, Priscilla's husband. Gene says that he knew about his wife's infidelity, and didn't care. Meanwhile, Lance and Lorenzo search for the murder weapon which is nowhere in sight; and Rita is worried that Eric is spending his limited money supply too extravagantly, and that he may have a drinking problem.
---
4x13 Ghosts of the Past (December 11, 1994)
---
Jack Keith, a Private Investigator whom Chris knew, is found murdered. While investigating, Chris and Rita discover that he was working on a case for Paul Ricker, a wealthy computer programmer; Ricker had hired Keith to see if his wife was having an affair. When Ricker also shows up dead, Lance and Lorenzo talk to Ricker's wife Suzanne, a friend of Rita's. With some more investingating, they discover that Suzanne was once a prostitute, and testified against her pimp, Bobby. They believe Bobby, now out of jail, was blackmailing Suzanne--but she denies everything to Rita. Meanwhile, Chris has a problem with allowing Jillian to pay for things.
---
4x12 Vengeance (December 04, 1994)
---
Tamara Atkins, an ex-employee of Donnie Dogs' "Dream Girls," is found dead from an apparent suicide in front of a hotel building. In talking to the staff of the hotel, Chris and Rita discover that Tamara and another girl were at a reception for the Martco company the previous night--perhaps as the entertainment. When Lance and Lorenzo talk to Wayne Thornton, the owner of Martco, he denies everything. So Chris and Rita decide to search for the other girl who was at the party, in hopes that she may be able to shed some light on the case. When Christine, the other party-goer--and an employee of Donnie's club--winds up dead, Donnie Dogs threatens Lance and Lorenzo that they have 24 hrs. before he will get revenge on the guy who killed Christine. Meanwhile, Harry moves out of his house because Fran is "too controlling," and moves in with Chris.
---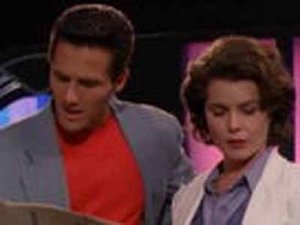 4x11 Time Share (November 20, 1994)
---
A rich old man, Bart Crowley, is stabbed to death in a sauna by his young girlfriend, Audrey Lowe. The body is found in a sand trap at Bay Sands Country Club by Chris, who was playing a round of golf with Donovan at the time. The two Sam's soon discover that the killer must have used a golf cart to move the body to the sand trap--and, coincidentally, a cart is found to be missing from the pro shop. As they investigate, Lance and Lorenzo find a diamond from a tennis bracelet, and the victim's blood, in a sauna at the Country Club. Meanwhile, Chris' father, Benny Lorenzo, flies in to meet Jillian and her mother; and George is happy dating a young college student--but is upset to discover that Chris and Rita have put the young lady at the top of their suspect list.
---
4x10 School of Hard Rocks (November 13, 1994)
---
A girl, Kelly Anderson, walks into the police station and tells Chris and Rita that she thinks her singer boyfriend, Brian Fairchild, has been shot at rock star Shana Rose's home. When they get to the house, Malcolm Rose, Shana's husband, says that he shot warning shots--but that Brian climbed over the gate and ran away. The next day Malcolm shows up dead in his pool, and all evidence points to Brian--who went to the house earlier that day to pick up some demo tapes he left there. When Brian tells Lance and Lorenzo that he didn't do it, they believe him, since the alarm at the house was professionally cut. Meanwhile, on a bet with Rita, Chris tries to make a list of all his past girlfriends.
---
4x09 The Mud-Queen Murders (November 06, 1994)
---
When a mud wrestler named Tanya is murdered, a voice witness, Joey Mellman, talks to Chris and Rita and says that he can help them catch the killer. Soon, Lance and Lorenzo find Joey tagging along throughout their entire investigation, interrupting them, and causing problems. When the two Sams go to Tanya's house, they find Cindi Dann, the woman Tanya shared a dressing room with, already there. They find out that Tanya had many boyfriends, as well as a husband, and a big drug problem. They talk to the husband, Paul Yeager, and get his alibi, but when it doesn't check out, he is first on the suspect list. Meanwhile, the captain must take Joey into his home under protective custody when someone tries to run him over.
---
4x08 Ask The Dust (October 30, 1994)
---
Winston Krane is murdered, and it appears to be two S&M people who did it. So Rita goes undercover to a club called Floggers, where she is immediately recognized as a cop. The people there say they had nothing to do with the killings, but they will contact Rita with any further information they find. The rest of the Krane family is a highly disfunctional bunch: There is the grandson Dell and his girlfriend Schoo, Dell's mother Caroline--who's husband committed suicide--and Winston's sister Karen. Donna, the maid, overheard Winston and Caroline fighting two nights before the murder; Caroline was upset that Winston was going to change his will, and no longer make her the sole beneficiary. So Lance and Lorenzo begin to investigate Carloine--much to Dell's displeasure. Meanwhile, Karen tells Rita she remembers her, and that her father used to bring her to the mansion when she was little.
---
4x07 Red Flag (October 23, 1994)
---
A woman, Heather Sinclaire, is found dead in her apartment by her roommate/lover Marci Fuller; she was killed by a blow to the head from a baseball bat. Lance and Lorenzo investigate to find that Heather and Marci worked for a service run by Atticus Dunn, called Red Flag. This service sends women on missions to test the fidelity of married or soon-to-be-married men. The two Sam's get a list of Heather's past assignments and start investigating them. Soon, they come across an open case that involved a father hiring Atticus to test the fidelity of his daughter Shannon's fiancee, Jonathan Sharp. Chris and Rita think Heather may have gotten the evidence to close the case, and was bribing Jonathan with it. Meanwhile, Eric tells Rita that he's thinking of moving to Palm Beach, and that he's falling in love with her.
---
4x06 Where There's A Will... (October 16, 1994)
---
Chris and Rita investigate the death of Roland Ballentine. After talking to the deceased's doctor, they discover that the man was murdered; Roland had taken amal nitrate--something he would not have done on his own since he knew he had heart problems. Lance and Lorenzo talk to Roland's son Junior, a constant drunk, and his niece Claire. They find that Junior and Roland were sleeping with the same woman, Eve Kinsley--a stripper who worked for Donnie Dog's "Dream Girls". Chris and Rita also discover that Junior has a gambling problem, and that he needed the inheritance he got to pay off his debts--so all the evidence points to Junior. Meanwhile, Chris and Jillian discover some problems with their relationship when Chris over-reacts to Jillian's colleague's comments about their doctor-patient relationship; and the captain reveals his hobby of collecting baseball cards.
---
4x05 Carrie & Jessie (October 09, 1994)
---
The young daughter of a wealthy family has a split personality, and when the tyrant mother is found dead, she seems to be the obvious target of the police investigation.
---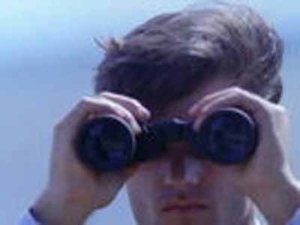 4x04 Maid Service (October 02, 1994)
---
Some Cuban girls are in big trouble in USA where rich people forces them to deliver a 'maid service' that includes sex.
---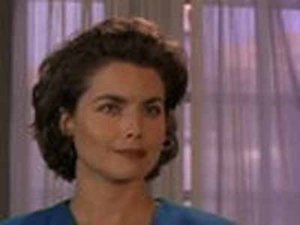 4x03 Reluctant Witness (September 26, 1994)
---
The local leader of the Mob, Donnie 'Dogs' DiBarto, asks Rita Lance to have dinner with him and his father as his fiancée to make his death-sick and law-abiding father a happy man.
---
4x02 Natural Selection (2) (September 19, 1994)
---
Even if the leader of the serial killer has lost his very most active gang member he cannot stop his urge to kill.
---
4x01 Natural Selection (1) (September 18, 1994)
---
A small gang of serial killers catches and kills very young and lonely women, records the actual killing on video-tape, and posts these videos to snuff-addicts.
---