Law & Order: Special Victims Unit
Season 12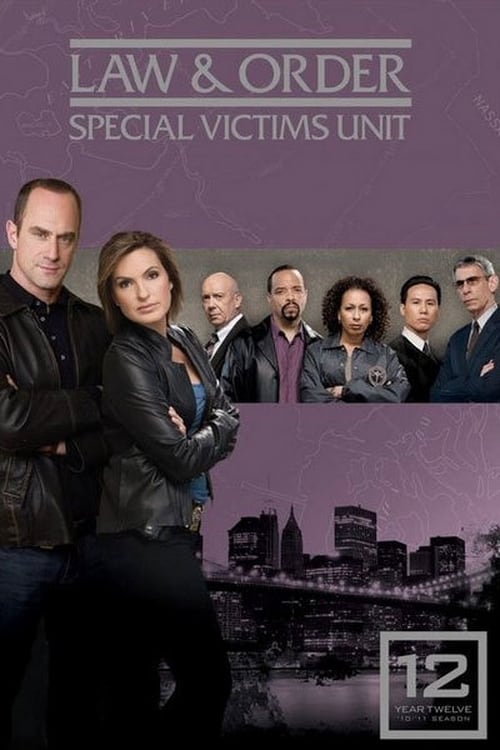 Law & Order: Special Victims Unit
Season 12
First Air Date: September 22, 2010

| | | |
| --- | --- | --- |
| First Aired on | : | 2010 |
| Episodes | : | 24 episodes |
The 12th season of Law & Order: Special Victims Unit premiered in the United States on the National Broadcasting Company on September 22, 2010, and concluded on May 18, 2011. This was the first season that the show did not air alongside the original Law & Order. Episodes initially aired on Wednesdays between 9 and 10 p.m. Eastern except for the season premiere which aired from 9 to 11. After the winter hiatus, SVU returned with another two-hour showing on January 5, 2011, before the broadcast time switched to the 10 p.m. time slot the following week. At the end of the season, Neal Baer resigned his position as showrunner. After the season finale, Christopher Meloni and B.D. Wong both left the cast.
Episodes
12x24 Smoked (May 18, 2011)
---
When a woman is murdered during an afternoon shopping trip with her daughter, Detectives Benson and Stabler are called in because she was scheduled to testify in their high-profile rape case. As the detectives continue to investigate the correlation between the murder and their case, they discover unlikely friendships that will lead them to the truth.
---
12x23 Delinquent (May 11, 2011)
---
When a young woman finds a teenage boy asleep and naked in her bedroom, his mother, Bree Walsh, is quick to defend him. While Detective Benson and Detective Stabler try to figure out what truly happened, they also have to manage the sneaky teenager and his naive mother. As the detectives dig deeper, they discover how deceptive appearances can be.
---
12x22 Bang (May 04, 2011)
---
When an abandoned baby is found on playground, Detectives Benson and Stabler go in search of the child's caregiver. Upon meeting the nanny and her boyfriend, Ken Turner, they soon realize that he is also engaged to the baby's adoptive mother, Dede Aston. As the detectives dig deeper into Turner's malevolent past, they realize that the law may be on his side.
---
12x21 Reparations (April 06, 2011)
---
Two high-powered attorneys face each other across the aisle when Casey Novak returns to the team, and Joe Dekker takes a leave of absence from his Los Angeles duties after his cousin is charged with rape. Dekker's unwavering belief in his cousin's innocence, and a court disturbance make Novak and Benson take another look at the evidence, which leads them to someone playing a very long game in the name of hatred.
---
12x20 Totem (March 30, 2011)
---
When a young girl is found dead with a doll that is believed to have been left as a totem, detectives Benson and Stabler team up with Captain Jackson, a psychologist who assisted them with a recent case, to investigate her murder. Jackson joins the detectives as they retrace the girl's last steps and go to meet with her piano teacher June Frye. Jackson's skills prove to be invaluable in deciphering the meaning of the totem and ultimately finding her killer.
---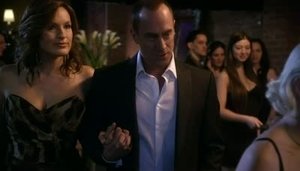 12x19 Bombshell (March 23, 2011)
---
A grifter named Cassandra strikes swinging men who frequent sex clubs.
---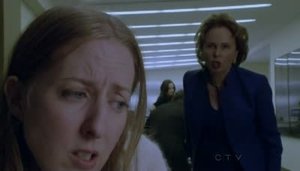 12x18 Bully (February 23, 2011)
---
An art patron (LuAnn de Lesseps) finds a body, and when detectives question the murdered woman's good friend (Kate Burton) and associates, they uncover an antagonistic work environment filled with grown-up bullies.
---
12x17 Pursuit (February 16, 2011)
---
The TV host of a show that spotlights predators receives threats to her safety, and this reawakens her hunt for her sister's abductor. An ADA with connections to the TV host then assists detectives in their investigation.
---
12x16 Spectacle (February 09, 2011)
---
After the sexual assault of a young woman is videotaped and featured on a campus-wide intranet feed, detectives Elliot Stabler and Odafin "Fin" Tutuola go in search of the victim and her attacker. As they delve into the investigation, it becomes clear that the perpetrator created a spectacle to draw attention to his own issues.
---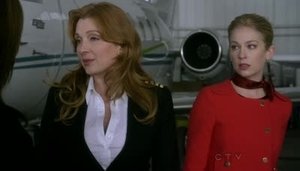 12x15 Flight (February 02, 2011)
---
When it is discovered that a teenage girl is suffering from Post Traumatic Stress Disorder due to sexual abuse, all leads point to billionaire Jordan Kress. As Detectives Benson and Stabler continue to investigate, Kress involves his lawyer, Dwight Stanitch, who throws the whole case awry.
---
12x14 Dirty (January 19, 2011)
---
Detective Saliyah "Sunny" Qadri goes in search of Brooklyn District Attorney Page Ferguson, who she fears may be in danger. Qadri finds Ferguson just in time to witness her fall from the top of a parking garage. When Benson arrives, she discovers that the crime scene has been tampered with. Benson turns to an old friend, Assistant U.S. Attorney Christine Danielson for help. As the investigation progresses, Benson begins to question Ferguson's suspicious past and Qadri's involvement in the case.
---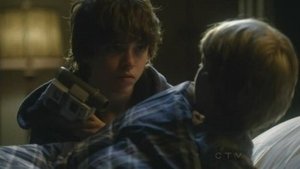 12x13 Mask (January 12, 2011)
---
Debbie Shields comes home to find her partner Ann Jackson being raped by a man wearing a haunting mask. Shields contacts Ann's father to notify him of her critical condition. As detectives Benson and Stabler interrogate Ann's father, Captain Jackson, his sordid past is revealed filled with sexual and alcohol addiction. Jackson's new role as a sex therapist is hindering the detectives from getting the information they need to solve the case and if Jackson won't comply, the detectives are going to have to get creative.
---
12x12 Possessed (January 05, 2011)
---
A young man finds that his girlfriend Larissa Welsh has been attacked in her apartment with evidence that points to her buried past. Detectives Benson and Stabler go in search of her attacker and discover that an elderly man, Orville Underwood, may have been involved in traumatic events of Welsh's past. For the detectives, solving the case comes down to who was in possession of the evidence.
---
12x11 Pop (January 05, 2011)
---
A young boy is found dead on a park carousel after being dropped off by his uncle Joe Gilbert. When Detectives Benson and Stabler learn that the boy was beaten to death they suspect that it could be the result of a bully at school. The investigation leads to an unsettling gambling ring. Detectives suspect that Gilbert's acquaintance, Joe Roberts is beating his wife Sandra and the case takes a horrifying turn.
---
12x10 Rescue (December 01, 2010)
---
With young Calvin in her care, Detective Benson continues the search for his drug-addict mother, Vivian, but Detective Stabler notices a strong bond forming between Benson and the boy. When Vivian's name comes up during a rape investigation, Captain Cragen assigns Detectives Fin and Munch to the case instead. However, it will take more than Cragen' s orders to keep Benson away.
---
12x09 Gray (November 17, 2010)
---
Stabler's participation in a Take Back the Night rally at Kathleen's campus results in an extra case for him and Benson when a student claims she was raped. Unfortunately, the case turns out to be a "he said-she said" type with little evidence. Enter Sonya Paxton, and it can only get more complicated.
---
12x08 Penetration (November 10, 2010)
---
Undercover FBI agent Dana Lewis returns to help the detectives with a case.
---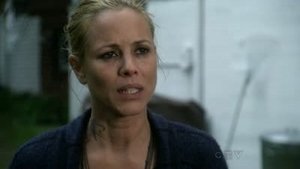 12x07 Trophy (November 03, 2010)
---
A rape and murder investigation puts the detectives lives at risk.
---
12x06 Branded (October 20, 2010)
---
Two men have been branded and sodomised by someone. Is there a connection between these men, and what nut case is on the loose?
---
12x05 Wet (October 13, 2010)
---
Detectives Benson and Stabler arrive on the scene where a woman is found dead in Bethesda Fountain. When her squeaky clean image doesn't match up with her promiscuous actions on the night of her murder, ADA Mikka Von encourages the cops to dig deeper into her past.
---
12x04 Merchandise (October 06, 2010)
---
A teenage girl's death exposes a human trafficking ring and leads detectives Olivia Benson and Elliot Stabler to team up with an old friend at the U.S. Attorney's office.
---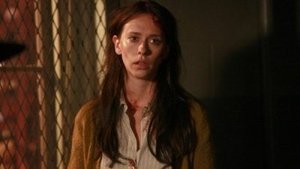 12x03 Behave (September 29, 2010)
---
A woman who has been raped multiple times is afraid to leave her house. The issue of unopened rape kits will see Detective Olivia Benson travel from New York City to Los Angeles.
---
12x02 Bullseye (September 22, 2010)
---
Detectives Olivia Benson and Elliot Stabler enlist the help of a suspect from a previous case to crack a new one. The rape of a 10-year-old girl is so brutal it leaves her unable to recall her own name. Unfortunately, once Fin assists with the ID, the detectives find that she's not the only one with memory impairment, and Dr. Huang is brought in to assess her home situation.
---
12x01 Locum (September 22, 2010)
---
Benson and Stabler are called to investigate when a little girl goes missing. They soon find out that the mother had another daughter who disappeared some years earlier and she becomes the focus of the investigation.
---