I Love Lucy
Season 5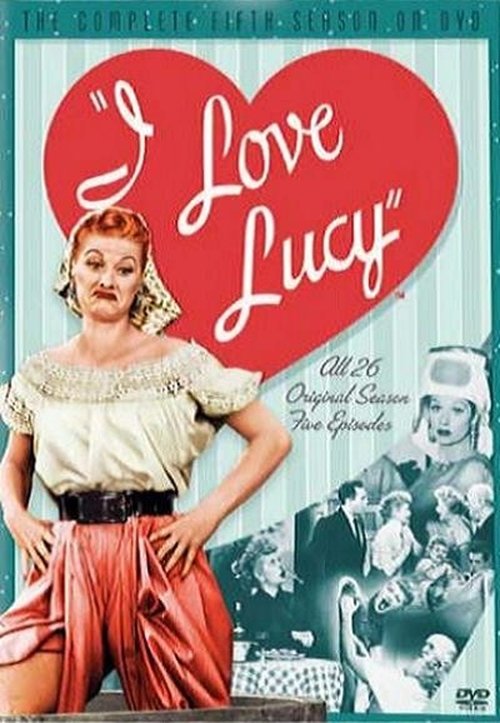 I Love Lucy
Season 5
First Air Date: October 03, 1955

| | | |
| --- | --- | --- |
| First Aired on | : | 1955 |
| Episodes | : | 26 episodes |
Episodes
5x26 Return Home from Europe (May 14, 1956)
---
The Ricardos and Mertzes need to return to the U.S. by plane instead of ship. The 60-pound-per-person baggage limit taxes Lucy's ingenuity: she has bought lots of clothes and souvenirs, including a 30-pound cheese. She boards the plane wearing all the clothes at once and carrying the cheese as a "baby."
---
5x25 Lucy Goes to Monte Carlo (May 07, 1956)
---
Ricky is working in Monte Carlo, but Fred goofs and negotiates too little money for the engagement. Lucy and Ethel go to the casino to watch, and Lucy finds a chip that someone dropped. She picks it up and puts it on the table. The chip wins, and continues to do so, all by accident. Since Ricky warned Lucy to stay away from the casino, she hides the money in Ethel's trunk. Ricky finds it and thinks Fred has been holding out on him.
---
5x24 Lucy's Bicycle Trip (April 23, 1956)
---
The Ricardos and Mertzes pedal their way from Italy to the French Riviera. It's a bumpy ride, thanks (of course) to Lucy, who left her passport in her purse, which she locked in a suitcase, which she sent ahead to their hotel in Nice. That presents problems when they get to the Italian-French border.
---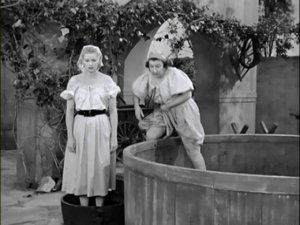 5x23 Lucy's Italian Movie (April 16, 1956)
---
En route to Rome by train, Lucy is spotted by a famous Italian cinema director and chosen to play a part in his new movie "Bitter Grapes." Lucy sets out to immerse herself in the role. When she nonchalantly wanders into a vineyard inhabited by a motley assortment of Italian-speaking women, she is dispatched to the wine-making area to crush grapes with her feet.
---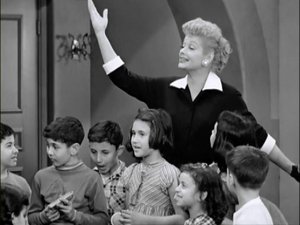 5x22 Lucy Gets Homesick in Italy (April 09, 1956)
---
Fred is conscience-stricken about the expense involved when he misrouted Ricky's band. He books second-class train passage for their overnight trip to Florence and a fourth-class hotel for their stay. Lucy wants to call home to see if Little Ricky has received the birthday presents she sent him from London, but the difficulties of calling from a fourth-class room almost prove too much for her. In the end, Lucy invites an Italian shoeshine boy and his friends to celebrate Little Ricky's birthday.
---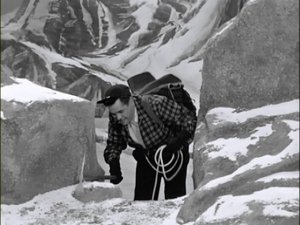 5x21 Lucy in the Swiss Alps (March 26, 1956)
---
In Switzerland, the Ricardos and Mertzes are caught in an abandoned cabin during an avalanche. It's one of Lucy's own making (of course), and it leads to some soul-searching and confessions. But not by Ricky: "We might be saved!" They are — by an oompah band playing "La Cucaracha."
---
5x20 Lucy Gets a Paris Gown (March 19, 1956)
---
Lucy decides to go on a hunger strike until Ricky agrees to buy her a designer dress. The plan works perfectly (even though Ethel has been smuggling food to Lucy) and Ricky finally gives in and buys her an expensive outfit. But when Ricky discovers what Lucy has been up to, he puts together a crazy outfit made of burlap and passes it off as a Paris original.
---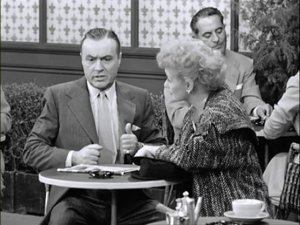 5x19 Lucy Meets Charles Boyer (March 05, 1956)
---
Charles Boyer deals with a star-crazed Lucy in this guest appearance. The setting: Paris, where the Ricardos and Mertzes are lunching at a sidewalk cafe. Boyer is at a nearby table, and when Lucy and Ethel spot him they immediately repair to the ladies room to plot their approach. Ricky tries to stop the assault but nobody can defend against the star-struck Lucy.
---
5x18 Paris at Last (February 27, 1956)
---
Equipped with an English-French dictionary, Lucy sets out to see Paris and "discover" an artist whose paintings will become very valuable -- she knows she has "the eye." Lucy's first encounter is indeed with an artist -- a con artist who changes her American money for French. Lucy's adventures land Lucy, Ethel, and Fred in jail.
---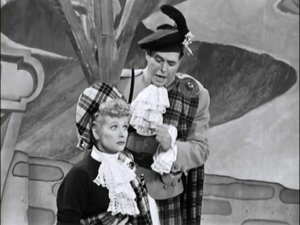 5x17 Lucy Goes to Scotland (February 20, 1956)
---
The Ricardos and Mertzes are on their way to Paris, but first Lucy wants to go to Scotland to seek members of the McGillicuddy family into which she was born. In a classic dream sequence, Ricky appears as Scotty MacTavish MacDougal MacCardo.
---
5x16 The Fox Hunt (February 06, 1956)
---
Tally ho! In England, Lucy hounds a movie producer (Walter Kingsford) about her riding prowess and ends up on a fox hunt.
---
5x15 Lucy Meets the Queen (January 30, 1956)
---
Lucy is thrilled at being in London and desperate to see the Queen. She misses the Queen at Buckingham Palace, where she gets involved in the changing of the guard. Ricky is invited to meet the Royal Family when they attend a special performance at the Palladium. Lucy is not included in the invitation, but she has no intention of letting it go at that.
---
5x14 Second Honeymoon (January 23, 1956)
---
Lucy schemes to tear Ricky away for a second honeymoon aboard the ocean liner taking them to Europe. The trouble is, Ricky's too busy with his band.
---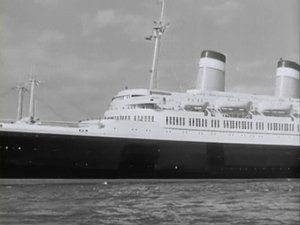 5x13 Bon Voyage (January 16, 1956)
---
Ricky, Ethel, and Fred are aboard their ship to Europe when Lucy rushes down the gangplank for one last goodbye to Little Ricky, who will be in Lucy's mother's care while she is in Europe. The ship heads out to sea, leaving Lucy frantically trying to catch up with it.
---
5x12 Staten Island Ferry (January 02, 1956)
---
Fred's fear of becoming seasick threatens the Mertzes and Ricardos' plans for Ricky's European band tour. To prove that Fred won't get seasick, Ricky takes him down to the ship, which is anchored in the harbor. But Fred turns green and becomes more firm about his not going. Lucy and Ethel test some new, improved seasickness remedies on the Staten Island Ferry. The trial run leads to unexpected complications when Lucy gets seasick.
---
5x11 The Passports (December 19, 1955)
---
It's Lucy vs. bureaucrats (bureaucrats: watch out) when she can't find her birth certificate, which she needs for a passport so she can go on Ricky's European tour.
---
5x10 Ricky's European Booking (December 12, 1955)
---
Ricky's band is going on a European tour but he can't afford to take Lucy — who's not about to take this lying down. Her plan: raffle off a TV set to benefit "Ladies Overseas Aid." "We're ladies," Lucy tells Ethel (who's scheming to go, too). "We want to go overseas. And, boy, do we need aid." The Pied Pipers perform the theme from Ball and Arnaz's 1956 movie Forever Darling.
---
5x09 Nursery School (December 05, 1955)
---
Lucy's objects, but Ricky insists that Little Ricky go to nursery school. All goes well until the boy gets sick. Then it's hospital frolics — starring Nurse Lucy.
---
5x08 Lucy Goes to a Rodeo (November 28, 1955)
---
Fred has a Western-themed show coming up at his lodge and he wants Ricky to perform in it. He can't — but Lucy and Ethel volunteer (Lucy yodels "Home on the Range"). The reason Ricky can't appear is that he has a "radio" show that night. Or is it a "rodeo" show?
---
5x07 Face to Face (November 14, 1955)
---
Ricky Ricardo's new fame leads to an invitation to appear on the popular interview program "Face to Face", and Lucy and Ricky consider moving. Ricky's agent arranges an appearance for him and suggests that they stage a fight so Lucy and Ricky won't have to stay. In the end the scheme falls flat while "Face to Face" is on the air.
---
5x06 Homecoming (November 07, 1955)
---
Ricky returns from Hollywood as a celebrity, and even Lucy gets in on the hero worship. Can Ricky stand her brand of hero worship?
---
5x05 The Great Train Robbery (October 31, 1955)
---
Lucy gets mixed up with a jewel thief on a cross-country rail trip that marks the end of the series' Hollywood sojourn. That's not the only reason it's a bumpy ride. Another is that Lucy keeps pulling the emergency-brake cord.
---
5x04 Ricky Sells The Car (October 24, 1955)
---
Ricky sells his car, and the Mertzes think they are being stranded in California. Ricky buys train tickets for everyone, but a reservations mixup puts Lucy in an apparently compromising position with Fred Mertz. Watch for Fred and Ethel decked out in motorcycle gear and riding on a Harley.
---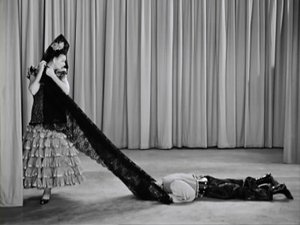 5x03 Lucy and the Dummy (October 17, 1955)
---
Lucy thinks she may have finally gotten her big break in Hollywood. It all centers on a posh party attended by studio execs. Ricky was invited to attend but begged off. But Lucy will fool 'em. She has a lifelike rubber replica of Ricky's head, which she'll attach to a dummy body — and she'll dance her way to stardom with "Raggedy Ricky."
---
5x02 Lucy and John Wayne (October 10, 1955)
---
Lucy is spotted while attempting to "collect" a cement block with John Wayne's footprints from Grauman's Chinese Theater. To avoid publicity and keep Lucy out of jail, Ricky enlists John Wayne's help in replacing the block. One mishap leads to another, and the plot thickens -- as does the cement. John Wayne guest-stars.
---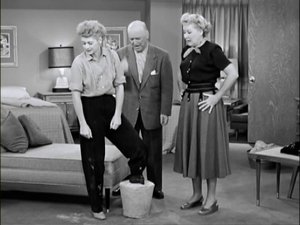 5x01 Lucy Visits Grauman's (October 03, 1955)
---
With only a week left in Hollywood, Lucy weeps about her lack of souvenirs. Her collection already includes a tin can run over by Cary Grant's rear tire, a napkin boasting Lana Turner's lip-prints, and a few other goodies. But when Lucy discovers that John Wayne's concrete block at Grauman's Chinese Theatre is loose, she decides to take home a souvenir to end all souvenirs.
---