Touched by an Angel
Season 9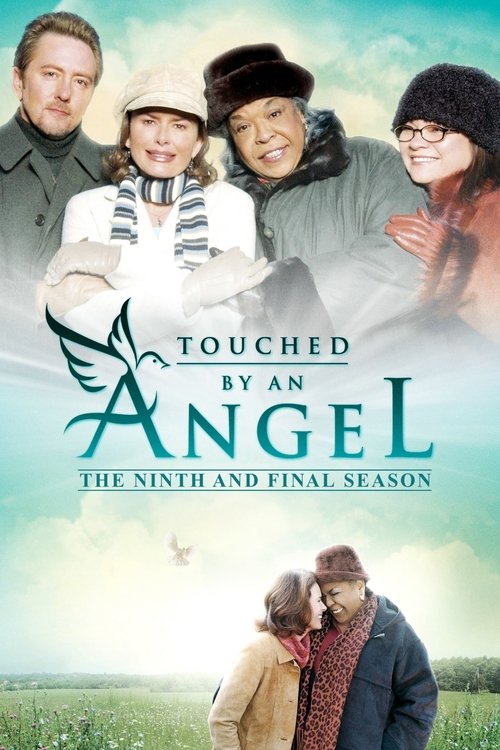 Touched by an Angel
Season 9
First Air Date: September 28, 2002

| | | |
| --- | --- | --- |
| First Aired on | : | 2002 |
| Episodes | : | 22 episodes |
Episodes
9x22 I Will Walk With You (2) (April 27, 2003)
---
Monica attempts to bring healing to a small town devastated by a tragedy in which 48 children were killed when their school exploded, but her efforts are put to the test when Satan himself shows up to make sure her plans fail.
---
9x21 I Will Walk With You (1) (April 26, 2003)
---
Monica is up for a promotion, but if she is to get it she must first prove herself by helping the citizens of a small town devastated by a tragedy in which 48 children were killed when their school exploded.
---
9x20 At the End of the Aisle (April 19, 2003)
---
Monica, Tess and Andrew are invited by an old friend to attend her wedding, but when the angels arrive on the eve of the big day they learn she is marrying an agnostic man and worry that she is making a mistake.
---
9x19 The Show Must Not Go On (April 12, 2003)
---
A company of actors plans a show to commemorate their local theater's 50th anniversary, but constant bickering among themselves and harassment from a group of teenagers outside threaten to disrupt the celebration, so the angels intervene and help everyone see how much they need each other.
---
9x18 Virtual Reality (March 15, 2003)
---
A 17-year-old boy is accused of intentionally running down a prostitute with a car in an effort to extend the thrill of playing a violent videogame in which he committed a similar crime. Tess is the judge in the case, Andrew is the boy's defense attorney and Rafael is the prosecutor.
---
9x17 The Good Earth (March 01, 2003)
---
The angels try to persuade an elderly inventor, who is working on a device that will produce electricity directly from water, to join forces with an energy company that could make his invention a reality, thus making a tremendous impact on the global environment.
---
9x16 Song For My Father (February 22, 2003)
---
A promising 17-year-old singer who smokes cigarettes is diagnosed with throat cancer and fears she may never perform again. The discovery leads to a rift between the girl's parents, one of whom is also a smoker. Richard: Geoff Pierson.
---
9x15 As It Is In Heaven (February 15, 2003)
---
The angels try to restore the faith of a fellow celestial being who has become all too human over the past 14 years caring for an orphaned boy in a crime-ridden section of Chicago.
---
9x14 And a Nightingale Sang (February 08, 2003)
---
The angels teach the true meaning of love to three couples gathered in a Denver restaurant on Valentine's Day. They are assisted in their assignment by an elderly pair who are celebrating their 49th wedding anniversary.
---
9x13 A Time for Every Purpose (February 01, 2003)
---
When a man becomes gravely ill and needs someone to care for him, the angels try to reunite him with his estranged brother, to whom he hasn't spoken in 12 years.
---
9x12 The Root of All Evil (January 25, 2003)
---
An elderly priest tries to stop a planned bank robbery after learning of the impending crime from the would-be thief during confession. Helping the priest is Gloria, who is assigned to the case.
---
9x11 Private Eyes (January 11, 2003)
---
The angels must persuade a lonely private investigator to return a runaway girl—who's like a daughter to him—to her real father.
---
9x10 The Christmas Watch (December 21, 2002)
---
The angels attempt to bring hope to a group of workers at a small Manhattan watchmaker's shop, who learn on Christmas Eve that they are losing their jobs. Their final project is to repair a broken pocket watch found in the World Trade Center on Sept. 11, 2001, and return it to the owner's widow by Christmas morning.
---
9x09 Remembering Me (2) (November 23, 2002)
---
Conclusion. Tess's condition worsens as she struggles with Alzheimer's disease. Meanwhile, the other angels try to help a man adopt his foster son, but the adoption is contested by a woman who claims she is the boy's estranged mother.
---
9x08 Remembering Me (1) (November 16, 2002)
---
Tess is stricken with Alzheimer's disease while on assignment to help a workaholic who is ignoring his family and his ailing mother, who's in a nursing home. Part 1 of 2.
---
9x07 Bring On the Rain (November 09, 2002)
---
A struggling single mom, a cocktail waitress who lives in a trailer park, learns that her 16-year-old daughter, Natalie, is ashamed of her. The daughter lies to her wealthy school friends about her home life, claiming she's from a rich, Harvard-educated family.
---
9x06 Jump! (November 02, 2002)
---
A 15-year-old boy who recently lost a friend to suicide contemplates ending his own life, perching himself on a ledge several stories up on a high-rise apartment building. His situation is soon exploited by a shock-jock radio personality who puts the boy on the air via telephone.
---
9x05 A Feather on the Breath of God (October 26, 2002)
---
A poor, single woman dying from an inoperable brain tumor searches for a home for her 12-year-old daughter and goes to work for a bitter funeral-home director to cover the cost of her impending burial.
---
9x04 The Word (October 19, 2002)
---
The angels assist a 17-year-old girl with obsessive-compulsive disorder who is in danger of not graduating from high school because her anxieties prevent her from completing a written assignment and her illiterate dad is unable to help her.
---
9x03 Two Sides to Every Angel (October 12, 2002)
---
Monica's evil twin, Monique, tricks Gloria into helping her break up a newlywed couple's marriage, thrusting the young bride into the arms of a potential killer.
---
9x02 The Sixteenth Minute (October 05, 2002)
---
A downtrodden man turns into an instant celebrity after he helps rescue a woman trapped in an abandoned mine, but the sudden fame goes to his head and he's alienated from his wife and friends.
---
9x01 A Rock and a Hard Place (September 28, 2002)
---
An asteroid threatens to strike the western U.S., where a father is attempting to mend his relationship with his 16-year-old son, who is a recovering drug addict.
---