Birds of a Feather
Series 2
Birds of a Feather
Series 2
First Air Date: September 06, 1990

| | | |
| --- | --- | --- |
| First Aired on | : | 1990 |
| Episodes | : | 16 episodes |
Episodes
2x16 Falling In Love Again (December 25, 1990)
---
Chris owes two fellow prisoners £3000 and their wives threaten Sharon and Tracey. Chris has a plan to raise the money which involves Sharon going to Germany to pick up a collectable car that he had while in Germany with the Army during the Cold War. Sharon manages to win a week in Berlin on the game show Second Time Lucky presented by Leslie Crowther. She is accompanied by Barry, the show's other winner and Tracey. Sharon and Barry don't get on well and try to keep separate as they tour the city with the cameras while Tracey tracks down the car, with the help of mechanic Manfred. Tracey and Manfred soon start to fall in love with each other. Back in England, Tracey ends their relationship over the telephone when she realises how much she loves Darryl. However, Manfred still sends the car over. Meanwhile, Luke dumps Dorien and she tries to get more romantic with Marcus, who she soon discovers is having an affair with a younger woman.
---
2x15 Someone Else's Baby (December 13, 1990)
---
With the Antiques Roadshow coming to Chigwell, Sharon, Dorien and Tracey go into Tracey and Sharon's loft. Sharon discovers some letters written by her mother suggesting either she or Tracey were adopted. After some arguing between Sharon and Tracey, Sharon invites round their mother's sister, Auntie Sylvie, who finally tells them that they were both adopted but they are still biological sisters. Meanwhile, Dorien goes to the Antiques Roadshow with a family heirloom, but to her horror discovers the Russian Empire vase is in fact a mid-20th century East End fake.
---
2x14 Jobs For The Girls (December 06, 1990)
---
In order to make money for Christmas, Sharon becomes a dog-walker and cat-sitter and soon comes up against stiff competition from Dorien's 13-year-old friend Adrian Gold. Meanwhile, Tracey becomes a typist and, after having problems with the typewriter, uses a word processor. She agrees to type up a manuscript for a novel that Dorien has written. Sharon later notices that Dorien's manuscript is largely copied from The French Lieutenant's Woman and Dorien admits she just wanted Sharon and Tracey to think she had a talent.
---
2x13 Parting (November 29, 1990)
---
Chris begs Sharon to visit him, but she tells him that she plans to sell her wedding ring and forget she ever met him. Then Chris reveals that one of his testicles is expanding, but Sharon doesn't believe him. He is soon diagnosed with a malignant tumor in the testicle. She goes to see him in hospital and Chris says he still loves her, but Sharon still wants their relationship to end. Tracey is annoyed by this, but Sharon wants to move on with her life. She does agree to continue seeing Chris on occasion.
---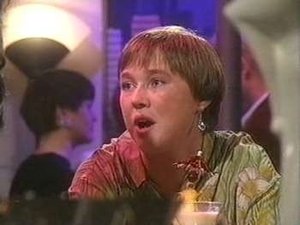 2x12 Old Friends (November 22, 1990)
---
While out shopping, Tracey runs into Trish Taylor, her best friend from school and invites her to stay, as Trish has recently left her husband. Sharon feels left out and also worried that when Darryl gets out of prison, Tracey will make her move out. After taking Dorien's advice, Sharon goes out with Trish and they get on well. Meanwhile, Tracey is annoyed with both Sharon and Trish - Trish for constantly talking about the old days and Sharon for not cleaning a saucepan that has been in the sink for several days. Trish soon leaves and goes back to her husband.
---
2x11 Love On The Run (November 15, 1990)
---
Darryl is in hospital and plans to escape for one night so he can be with Tracey. With the help of a nurse, the police guard is drugged and Darryl and Tracey go to a hotel. Meanwhile, Sharon is spending the night with Martin, an artist she recently met. The following morning, the taxi Darryl and Tracey are in is stopped by the police and the driver is arrested for drink-driving. Tracey rings Sharon, who then drives with Dorien to pick Darryl and Tracey up and take them back to the hospital. They get back just after the guard wakes up and doesn't realise Darryl escaped.
---
2x10 Thirty Something (November 08, 1990)
---
As Sharon approaches her 30th birthday, she looks back on her life and regrets her lack of education. She pays a visit to her Edmonton council flat, where she meets Lisa, whose criminal partner is in the property business and Sharon considers buying the flat. Tracey disapproves of the idea. Dorien, however, is more encouraging and goes with Sharon to the flat. However, Lisa's partner is soon sent to prison and Sharon then takes his place on a holiday with Lisa to Benidorm with Club 18-30.
---
2x09 Trust (November 01, 1990)
---
Tracey is doing her best to quit smoking and is undergoing psychotherapy, where she develops a crush on the psychotherapist, Gerald. Darryl suspects she is having an affair and forbids her to see Gerald again. Nonetheless, Tracey soon meets him in a wine bar. She tells Gerald of her feelings and he says they should not see each other again, as she has developed an emotional dependency. Sharon and Dorien then persuade Tracey not to tell Darryl the feelings she had for Gerald and before long she is back on the cigarettes.
---
2x08 You Pays Yer Money (October 25, 1990)
---
With an upcoming parliamentary by-election, Sharon discovers that Tracey did not register her to vote in Chigwell. However she did register Darryl, not wanting to admit he was in prison. Darryl agrees that Sharon can buy his vote for £350. Meanwhile, Dorien is backing the Green Party as she fancies the party's agent. While Sharon avidly votes Labour, Tracey is unsure whom to vote for, so she arranges for each candidate to pay her a visit. At the polling station, Tracey votes Labour, as does Dorien when she finds out the agent is having a relationship with the Green candidate.
---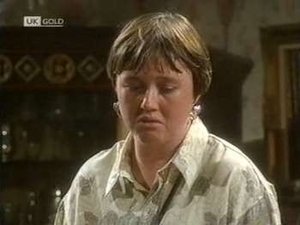 2x07 Brief Encounter (October 18, 1990)
---
Sharon goes to the aid of 53-year-old Don Sheridan who is mugged at Chigwell tube station. That evening, they accidentally meet at a bar and he says he is in Chigwell on business as financial adviser to Marcus, who is apparently near to going under. They go out several times and sleep together, despite him being married. On his final night before going home, they plan to re-live the 1960s by taking drugs, which Sharon had been given to pass to Chris in prison. The police arrive to return Don's wallet, leading Don to flush the drugs down the toilet. Meanwhile, Dorien pays £2000 to have her telephone number changed to 071, as she sees it as more exclusive.
---
2x06 Mice (October 11, 1990)
---
Tracey is disgusted by the state of Sharon's bedroom and it also appears Sharon's poor levels of hygiene have spread throughout the house when Tracey discovers they have mice. After cleaning the house and buying poison, Sharon buys a cat, but it does not seem to have any effect. Eventually, Sharon rings pest control, who reveals that he has been at Dorien's house trying to get rid of a major mice infestation and the mice have come from her.
---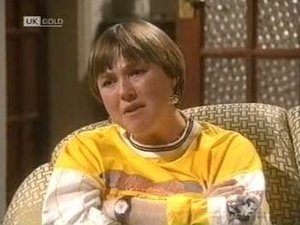 2x05 Keep Off The Grass (October 04, 1990)
---
Sharon and Tracey witness a friend of their husbands', Vinny Hutchins, making a speedy getaway from a post office raid in which a pensioner has been injured. While Tracey wants to turn him in, Sharon vehemently disagrees as it's against criminal ethics. After visiting Darryl and Chris, they change their minds. When Dorien is round, they see an appeal on 'Crime Busters' and Dorien recognises Vinny. Sharon and Tracey, after hearing about the reward money, decide to tell the police but Dorien rings first and uses the money to buy a kitchen from her toyboy Luke, who has been threatened with a move to Northern England unless he sells more kitchens. Tracey, however, blackmails Dorien to give her the kitchen so Vinny's wife can sell it to fund a new life abroad.
---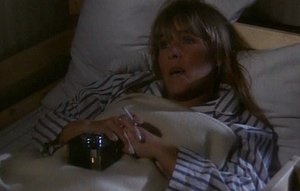 2x04 Muesli (September 27, 1990)
---
The release of a fellow inmate plunges Darryl into depression. The anguish rubs off on Tracey, who decides that in an attempt to understand what Darryl is going through, she will live like a prisoner for the weekend. Sharon decides to join her and they set up the spare bedroom like a prison cell. When Dorien gets locked out of the house while Marcus is away, she stays at Tracey and Sharon's and acts like a prison officer. On Sunday, Dorien returns to her house to find that it has been burgled and forgets to unlock Tracey and Sharon. After a short while, they climb out of the window and throw roof tiles in an attempt to get Dorien's attention. However, when one tile ends up going through the car of a police officer investigating Dorien's burglary, they end up in a real prison cell. Meanwhile, Darryl's cell mate, Gary, cheers him up by trying to relive how Darryl spent his weekends before being sent to prison.
---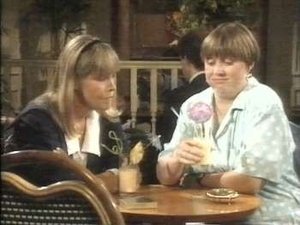 2x03 Young Guns (September 20, 1990)
---
Garth brings home a 17-year-old handsome school friend, Richard, for the holidays. Sharon and Tracey suspect Garth is gay and Dorien tells them she thinks Richard is also gay. When Tracey tells Darryl, he is concerned about the effects of people finding out that his son could be gay. Soon after, Tracey and Sharon speak to Garth, who says he is not gay. Moments later, Dorien says she was wrong about Richard being gay, as she has just slept with him.
---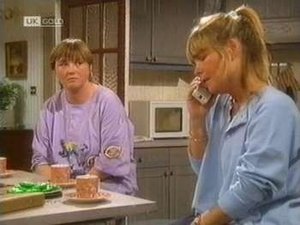 2x02 Sweet Smell Of Success (September 13, 1990)
---
Sharon's former neighbour, Lisa, has made a fortune selling a cheap perfume called 'Aromantique', around town. Sharon and Tracey jump on the bandwagon, as they are in desperate need of money. However, when this proves unsuccessful, Tracey decides to sell Darryl's Jaguar for money. When a prospective buyer comes to view it, he drives it away. Tracey is later told it has been repossessed as Darryl never kept up the payments. At the next prison visit, Darryl tells her he hid £25,000 in the car's spare wheel. When Tracey tries to buy the car back, Dorien buys it first to save Tracey's embarrassment at having the car repossessed.
---
2x01 Getting A Grip (September 06, 1990)
---
Tracey is shocked to receive overdue bills. There is also a letter from Garth, telling Tracey he has had a fight at school and she will have to pay for half the damage. To top it all off, the central heating breaks down and they hire two female plumbers, Alison and Gloria. Shortly after they leave, the tank starts leaking.
---