Birds of a Feather
Series 1
Birds of a Feather
Series 1
First Air Date: October 16, 1989

| | | |
| --- | --- | --- |
| First Aired on | : | 1989 |
| Episodes | : | 7 episodes |
Episodes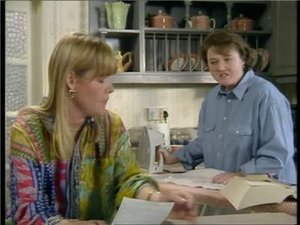 1x07 Sailing (December 26, 1989)
---
Tracey receives two tickets for a "Christmas Cruise" in the post - a romantic surprise planned by Darryl before being sent to prison. He booked two tickets as he wanted it to be just Tracey and him, thinking Garth would be on a school trip. Tracey decides to take Garth, annoying Sharon who wanted to go. When Garth telephones to say he will not be home for Christmas, Tracey refuses to go at all. However, Dorien devises a plan to get Tracey and Sharon to go on the cruise.
---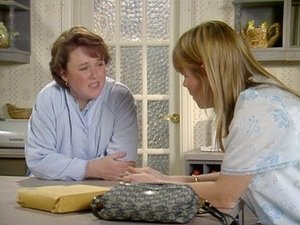 1x06 Substitute (November 20, 1989)
---
Sharon is considering divorcing Chris and Dorien has football hero Patsy Edwards temporarily living in her house, who becomes very fond of Tracey. She doesn't want to be unfaithful to Darryl, however she suspects him of having an affair with a mysterious woman called Juliet.
---
1x05 Cheat! (November 13, 1989)
---
Sharon is indignant on discovering that 'Fat Stan', to whom she's sublet the flat in Edmonton, is using the property to store goods, as well as prostitutes. Nevertheless, it does bring about a money-making scheme. Tracey, meanwhile, is still suffering from a combination of depression and financial problems. She and Dorien go out to a dinner-and-dance, where Tracey gets hit on by Dorien's husband Marcus.
---
1x04 Women's Troubles (November 06, 1989)
---
Tracey thinks she might be pregnant. However, on visiting the doctor, Sharon is horrified to discover she is pregnant by Dave, a man she has only recently met. Tracey can't stop herself telling Dave, who is delighted and immediately phones his mother with the good news. Sharon then confesses to Tracey that she has had an abortion.
---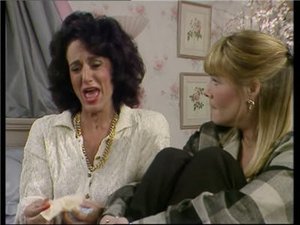 1x03 Shift! (October 30, 1989)
---
Sharon's day hasn't started well. She accidentally breaks a mug and spills coffee everywhere and then Tracey accuses her of not paying her way. Tracey is having problems with money, so she and Dorien try to sell some clothes. Meanwhile, Sharon has to go back to her job at the supermarket, but she isn't feeling welcome.
---
1x02 Just Visiting (October 23, 1989)
---
While Sharon is ecstatic that her no-good husband Chris has been sent to prison, Tracey is desperately missing her beloved Darryl and is on tranquilizers. Now she faces another hurdle - trying to find a way to tell her son, Garth, that his father is in prison.
---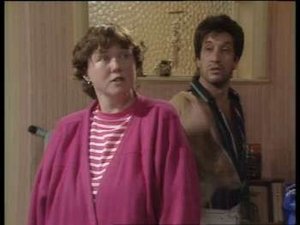 1x01 Nicked (October 16, 1989)
---
Sharon visits Tracey's luxury house, 'Dalentrace', in Chigwell and meets Dorien for the first time. Meanwhile, their husbands, Chris and Darryl, take part in an armed robbery and are later jailed for twelve years. Sharon moves from her high-rise Edmonton flat to stay at Dalentrace with her sister.
---