Beverly Hills, 90210
Season 5
Beverly Hills, 90210
Season 5
First Air Date: September 07, 1994

| | | |
| --- | --- | --- |
| First Aired on | : | 1994 |
| Episodes | : | 31 episodes |
Season five of Beverly Hills, 90210, an American teen drama television series, began airing on September 7, 1994 on Fox television network. The season concluded on May 24, 1995 after 32 episodes. This season follows the gang during their sophomore year in college as they deal with issues that young adults face such as relationships, financial problems, sexual assault, parenthood, drug abuse, alcoholism, racism, politics, death, antisemitism, suicide, and cults. The fifth season aired Wednesday nights at 8/9c in the United States averaging 14.7 million viewers a week. The season was released on DVD as an eight disc boxed set under the title of Beverly Hills, 90210: The Fifth Season on July 29, 2009 by CBS DVD. This is Tiffani Thiessen's first season as Valerie Malone and this is the last season for Gabrielle Carteris, Mark Damon Espinoza, Carol Potter and James Eckhouse as series regulars as their characters Andrea Zuckerman, Jesse Vasquez, Cindy Walsh and Jim Walsh, respectively.
Episodes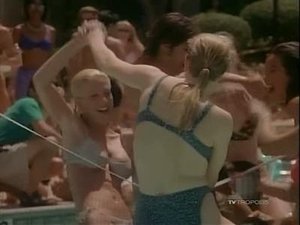 5x31 P.S. I Love You (May 24, 1995)
---
Jim and Cindy leave for Hong Kong. Kelly wants to continue her relationship with Brandon, but he cannot get over the rejected marriage proposal. Steve and Donna head to Palm Springs for an Alpha/KEG convention. A contrite Ray agrees to accompany Donna, who is making a speech at the event. He quickly becomes angry and possessive. Rush tries to set up Steve with a business associate's daughter. Steve is more interested in the Cadillac-driving ""goddess"" he keeps encountering. Brandon and Valerie decide to head to Palm Springs to avoid the caravan of potential buyers who have overrun the house. Brandon goes on a drinking binge and finds himself tempted by Valerie. He has a hallucination in which his parents appear and express their disappointment. Kelly postpones her trip to the convention to spend the day with Allison, but is very secretive. David and Clare see them together and get the wrong idea. Allison admits her love for Kelly, who is not interested.
---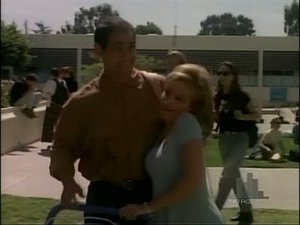 5x30 Hello Life, Goodbye Beverly Hills (May 17, 1995)
---
Dylan asks Kelly to join him on a trip around the world. Valerie sees the tickets in Kelly's room and tells Brandon. Brandon counters with a marriage proposal, and Kelly asks for time to think things over. She eventually rejects both men and proclaims, ""I choose me."" Andrea and Jesse prepare for their move to Connecticut. The gang surprises her by organizing a picnic lunch at West Beverly High (although Brandon and Dylan, still waiting for Kelly's decision, opt not to attend). Everyone meets Andrea and Jesse at the Peach Pit one last time to say goodbye. Ray lashes out at Donna for devoting time to her friends and studying for finals. He drags her away from Andrea's picnic and verbally berates her. Jim considers a possible move to Hong Kong as his company offers a promotion and substantial raise. He and Cindy decide to go through with the move. Music: ""I'll Stand by You"" by the Pretenders (#16, 1994); ""Remember"" by Harry Nilsson
---
5x29 The Real McKay (May 10, 1995)
---
While under hyponsis, Dylan recalls a past life as a gunslinger in the Wild West. He recognizes Kelly as the woman who convinced him to change his ways and become a family man. He later helped rescue a past love from hanging and was gunned down by the son of one of his victims. Dylan concludes that Kelly is his soulmate. He shows up on her doorstep when she returns from a trip to New York, and they share a passionate kiss. Brandon seeks re-election and is virtually unopposed. When the board of education mandates a tuition hike, Brandon is criticized for failing to look out for the students' interests. Alex Diaz runs for president as a write-in candidate and wins easily. Valerie concludes that Brandon is her perfect guy. Jim fears that his job is in jeopardy when his bosses hold meetings behind his back. Jesse is offered a teaching job at the Yale School of Law, but will only accept if Andrea's scholarship is reinstated. Music: ""I Know"" by Dionne Farris
---
5x28 Girls on the Side (May 03, 1995)
---
Kelly becomes depressed after making the cover of Seventeen, as she fears that she will never regain her past looks. Steve and Jackie try to convince her to continue her modeling career. Kelly has a chance meeting with Allison's girlfriend Dana, who gives her the brush-off. Kelly tries to visit Allison at the burn center, but she refuses to see her. Kelly talks to Dana's new girlfriend, who reveals that Allison dumped Dana because she is in love with Kelly. Allison calls Kelly and asks to see her after she is released from the hospital. Ray returns to town, and LuAnn gets drunk before his first performance. David and Clare take her home, and she babbles about Ray's affair with Valerie. David and Clare confront them, but decide not to tell Donna. Charley grows tired of seeing Dylan moon over Kelly; he encourages him to make a move. Jesse is offered a clerkship in Boise. Andrea offers her support, although she is less than thrilled by the move. Jesse turns down the offer because he doesn
---
5x27 Squash It (April 12, 1995)
---
Steve and David organize a hip-hop night at the club to boost the sagging gate receipts. David asks Willie's nephew Juwan, a talented DJ, to join him onstage. Steve backs out of the event because he is nervous about Juwan's criminal record (as if he should be one to pass judgment). Valerie tries to dodge a grimy Australian metal band that claims to have been booked. Although his tour is ending, Ray is unsure about returning to Los Angeles. Valerie goes to Reno to re-hire him, and claims to have changed her ways. While Val is gone, the Aussies crash the hip-hop night and trash the After Dark. Juwan and his friends are prepared to fight them, but decide to keep their cool. David and Clare get back together. Dylan allows Molly to hypnotize him and regresses to a past life as a hobo. Music: ""It's Your Thing"" by the Isley Brothers (#2, 1969); ""Here and Now"" by Letters to Cleo; ""1-2-Threz,"" per
---
5x26 A Song for My Mother (April 05, 1995)
---
Ray is unhappy that David has come to Portland. David panics when he discovers that his mother was fired, no longer lives at her last known address, and hasn't cashed her alimony checks for months. He turns to Donna for help, and Ray behaves like a total jerk. David and Donna cannot find Sheila at any of her favorite hangouts and learn that she was recently arrested. Donna misses Ray's concert; he explodes and shoves her against a wall in their hotel room. He later feels guilty and loans David his truck. Mel flies in from Los Angeles and tells David that Sheila has a long history of mental illness. They receive a tip that she is living on the streets and take her to the hospital. David realizes that Donna is happy with Ray and decides to back off. Dylan explores hypnotherapy in the hopes of understanding the main character in Charley's script. Valerie gets a tattoo. Music: ""Fever"" by Peggy Lee (#8, 1958); ""Why"" and ""The Comfort of Strangers,"" performed by Jamie Walters
---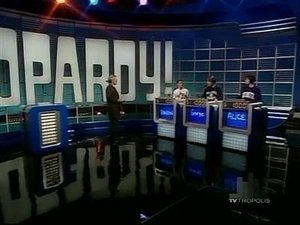 5x25 Double Jeopardy (March 29, 1995)
---
Jesse moves in with a reluctant Dylan and gets on his nerves. Valerie, unaware of Jesse's presence, drops by Dylan's house while babysitting Hannah. Jesse jumps to conclusions and assumes that Andrea is with Peter. Brandon and Clare become very competitive as they vie for a spot on College Jeopardy! Kelly invites Andrea to crash the duo's grudge match, and she wins easily. Andrea is shaken when Val tells her that Jesse was discussing the possibility of divorce. Brandon and Clare convince her to take her mind off things by trying out for Jeopardy! Dylan urges Jesse to stop being so defensive, and Jesse goes to the television studio with Hannah to ask Andrea for another chance. Andrea appears on the show and wins, and she and Jesse get back together. Donna has trouble getting in touch with Ray while he is on the road. Mel's reconciliation with Jackie gives David new hope of winning back Donna. When he learns that Donna is going to spend spring break in Portland with Ray, he decides to ta
---
5x24 Unreal World (March 15, 1995)
---
As a class project, David and Clare plan to film a documentary about an eclectic group of roommates. When the subjects back out, David and Clare decide to impersonate them, with help from Steve, Donna, Kelly and Brandon. A number of incidents cause the group to break character. Steve becomes depressed after learning that Celeste is engaged (not to the high school sweetheart she chose over Steve, but to an airman she just met). David consoles Donna, who is still traumatized by the rape attempt, and they end up kissing. Clare witnesses this on a monitor and responds by making a pass at Steve. Kelly gets drunk from spiked watermelon. She finds out that Jackie and Mel are moving in together and launches into a tirade about cheating men. This prompts the group to conduct a discussion about lost loves, in which David admits that he still loves Donna. David and Clare get into a spat while editing the video and decide to break up. Andrea and Jesse briefly share bliss. She tries to confess her
---
5x23 Love Hurts (March 01, 1995)
---
Lenny is released, as he has an alibi and the victim (an acquaintance) clears him. He confesses to David that he served time for sexual assault; he may have taken part in a rape while wandering the streets in a drunken stupor during his tour in the gulf. The outraged students try to run Lenny off campus, and Brandon agrees to help him transfer to another school. Valerie convinces Donna that David is to blame for Ray's departure. David and Donna get into a screaming match. Lenny reveals that Garrett Slan, a CU cafeteria worker, also spent time in a military prison. Brandon warns Clare that Garrett may be fixated on her, but he has moved on to Donna. Garrett breaks into the beach apartment, holds Donna at knifepoint, and tries to rape her. David interrupts as he comes over to apologize to Donna. She lets him know that something is amiss by calling him ""Dave,"" and he bursts in and hits Garrett in the head with a baseball bat.
---
5x22 Alone at the Top (February 22, 1995)
---
Valerie buys the Peach Pit After Dark from Rush. She threatens to fire Ray unless he resumes their relationship. Ray refuses to give in and decides to go on tour. Donna is furious with David for failing to defend Ray. Peter rents a motel room so that he and Andrea can have some privacy for their liaisons. Dylan rebuffs Valerie's advances; she tempts him by leaving a joint at his house. He tries to smoke it, but cannot light it due to heavy wind. The incident prompts Dylan to visit his friend Charley from rehab, who is now managing his family's motel. The student body demands action from Brandon following a rash of thefts on campus. Panic sweeps across the university after a woman is raped in broad daylight. David's roommate Lenny, a loner in his late twenties, is questioned about the crime. Music: ""Why"" and ""Hold On,"" performed by Jamie Walters
---
5x21 Stormy Weather (February 15, 1995)
---
Dylan feigns an interest in Professor Finley's teachings in order to infiltrate the operation. He and Kelly get carried away and kiss after attending a wedding. Dylan discovers that Finley arranges romantic pairings to secure wealthy benefactors. He promises to donate all of his money if Finley can convince Kelly to take him back. Kelly tries to seduce Dylan, but refuses to believe his allegations about Finley. Brandon brings in one of Finley's former lieutenants to convince Kelly that the evolution is a fraud. Kelly leaves the group and reunites with Brandon, leaving Dylan heartbroken. Ray ends his fling with Valerie, although she doesn't seem to get the message. Andrea takes a researcher position at the hospital and spends most of her time fooling around with Peter. Music: ""Hold On"" by Wilson Phillips (#1, 1990); ""House of Love"" by Amy Grant and Vince Gill (#37, 1995)
---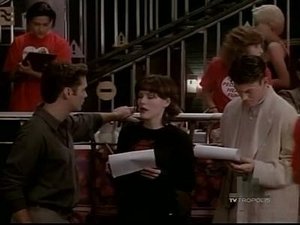 5x20 You Gotta Have Heart (February 08, 1995)
---
Finley pushes Kelly to end her relationship with Brandon, but she cannot go through with it. She later dumps him during a confrontation at Finley's new headquarters, and Brandon reluctantly turns to Dylan for help. Valerie uses her new windfall to move out of the Walsh house and into a luxurious hotel. She ignores Dylan's warnings about the loneliness associated with life at a hotel. Donna goes to bed with Ray but then cuts things off, leaving him very frustrated. Val pops the lighter in Ray's truck, draining the battery so that he has to seek a ride. She lures him back to her hotel room. Andrea becomes uncomfortable when she and Jesse run into Peter and his wife at the movies. Everyone pitches in as the After Dark hosts a telethon for pediatric heart patients. Music: ""You Gotta Have Heart,"" performed by barbershop quartet; ""Hold On,"" performed by Jamie Walters; ""You Never Get Enough"" and ""Every Day of the
---
5x19 Little Monsters (February 01, 1995)
---
Kelly alienates her friends as she becomes more deeply involved with Finley's cause. Brandon writes an editorial supporting Finley in the hopes of getting back into Kelly's good graces. The university elects to oust Finley, who vows to continue his teachings elsewhere. He urges Kelly to break it off with Brandon, as he feels that Brandon distracts her from the ""evolution."" A record company pursues Ray, and Ariel is the A&R representative who must seal the deal. Donna and David warn Ray to stay away from Ariel, but he insists that their relationship will remain strictly business. Ray rejects the contract because it would require him to surrender his publishing rights. After a visit to Hawaii to ensure that the two get along, Dylan decides to leave Erica with Iris. Valerie demands compensation for her role in retrieving Erica and the money, and finds Dylan's $10,000 offer unsatisfactory. Jonesy agrees to a much larger payoff if she promises to work with him again.
---
5x18 Hazardous to Your Health (January 18, 1995)
---
Dylan flies to Mexico, where Kevin and Suzanne have recently re-located their smuggling business. Jonesy's female partner has abandoned him, so Dylan enlists Valerie's help. She flirts with Kevin and tricks him into revealing the location of the couple's bank account. Jonesy wires the money into an FBI account. He wants to leave, and is furious when Dylan insists on rescuing Erica. He and Val are caught in the act, but Jonesy returns with the cops and saves them. The university denies tenure to Professor Finley, sending his followers into an uproar. Brandon tries to defuse the situation, and learns from Dean Whitmore that parents have accused Finley of trying to ""convert"" students. Finley lashes out at Brandon, creating a rift between Kelly and him. Music: ""Sherry"" by the Four Seasons (#1, 1962); ""I Know the Game"" by Jamie Walters
---
5x17 Sweating It Out (January 11, 1995)
---
Dylan asks Brandon to join him on a motorcycle road trip before he begins his probation and loses his driver's license. They constantly argue about Kelly and nearly call off the trip. They are caught going to the bathroom on a Native American burial ground, and must make amends by digging a hole for a special ceremony. The Native American sheriff invites Brandon and Dylan to join him in a sweat lodge, where they learn valuable lessons. Jonesy calls Dylan and tells him that he has found Kevin and Suzanne. Kelly and Valerie attend a psychology seminar conducted by Professor Patrick Finley. Val laughs off the philosophies and decides to leave. Kelly takes the professor's words to heart because of her experience with the fire. Steve is still bitter about being cut out of the Peach Pit After Dark. Rush apologizes for being insensitive to his feelings. Music: ""I Wonder Wh
---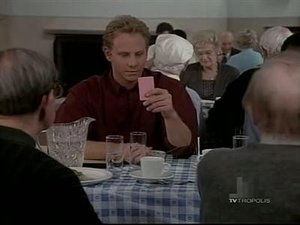 5x16 Sentenced to Life (January 04, 1995)
---
Steve succeeds in eluding his community service assignment at a retirement home; but reconsiders after encountering Saul Howard, a famous actor who worked on Samantha's sitcom. Saul is a vibrant and funny man who suffers from Alzheimer's Disease. Steve's friendship with Saul causes him to appreciate what he has and stop whining about his legal difficulties. Saul also encourages Steve to let go of his anger against Rush, as he relates his rocky relationship with the daughter he lost tragically. Dylan does not wish to contest the drunken driving charge against him, but Jesse urges him to plea bargain. He receives probation and a suspended license. Andrea has another meeting with Peter at the laundromat. They learn each other's marital status when Peter is on-call during Hannah's medical emergency, yet still seem attracted to one another. David and Clare take over as organizers of the Peach Pit After Dark. Ray balks at an opening night gig; he confesses to Donna that he has stage fright.
---
5x15 Christmas Comes This Time Each Year (December 21, 1994)
---
Jim and Cindy fly to London to spend Christmas with Brenda. Brandon stays in town with Kelly, who is reluctant to reveal her scars to him. Felice offers Ray $10,000 to stay away from Donna forever. Donna is mortified when Felice reveals that he accepted the check, but he had only taken it as evidence of her mother's actions. Ray and Donna use the money to send LuAnn on a cruise, as this has always been her dream. Dylan seeks the FBI's help in tracking down Kevin and Suzanne in Brazil. Christine tells him that the agency is too busy to assist him. She puts him in touch with a strange man named Jonesy, who will help him out in exchange for half of the money. Andrea and Jesse quarrel when Hannah does not enjoy her first Christmas. He claims that Andrea is to blame for her crying, ignoring the fact that Hannah is six months old and teething. The gang saves the day when it arrives dressed as Santas and elves, and Dylan meets Hannah for the first time. David feels slighted when Clare fails t
---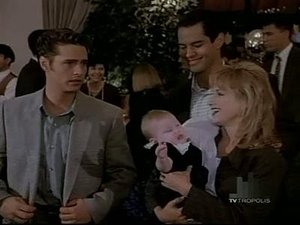 5x14 Injustice for All (December 14, 1994)
---
Kelly suffers burns on her wrist, ear, and the side of her neck. Allison's injuries are much more severe, but she maintains a positive attitude. Brandon is wracked with guilt because of his feelings for Emily. Kelly does not react well when she learns that Emily is still in town. She calls Dylan to discuss her insecurities, and Brandon visits him in search of advice. Kelly believes that Brandon is only staying with her out of guilt, but Emily eases her mind when she reveals that he expressed his love for Kelly before the fire. Griffin's father hires an accomplished attorney to keep Steve and Griffin out of jail. They receive probation and community service, and are forbidden from operating dance clubs or parties for two years. Steve is furious to learn of this provision, especially after he discovers that Griffin stole the keys to the house, rather than obtaining permission to use it for the rave. He physically attacks Griffin and orders him to leave the fraternity. Ray's perpetual bad
---
5x13 Up in Flames (November 30, 1994)
---
Emily flies back from Paris to attend a seminar at La Jolla. She asks Brandon to meet her at the airport, claiming to have just a four-hour layover. She actually has a week until the beginning of her seminar, but Brandon breaks her heart by revealing that he is dating Kelly. When he sees her back to her hotel room, they share a passionate kiss. Steve and Griffin organize a holiday rave at an abandoned house. Valerie helps them out in the hopes of getting back in Steve's good graces. David and Clare accidentally post the notice about the event on a computer bulletin board for lesbians, who constitute most of the guests. The house has very poor wiring and continually blows fuses. Griffin uses too much electricity, and the house catches on fire. Ray rescues Steve and Valerie, who were fooling around in one of the bedrooms. Kelly and a girl named Allison are trapped in a downstairs bathroom with no means of escape. The fire fighters try to reach them as they are engulfed by flames. Music:
---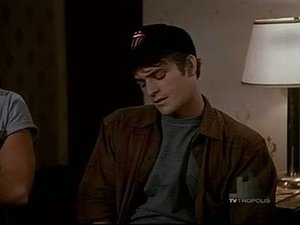 5x12 Rock of Ages (a.k.a. The Voodoo That You Do So Well) (November 23, 1994)
---
Jim gets Brandon tickets to the Rolling Stones' Rose Bowl concert, but a hearing to determine the legality of his presidency is moved to the night of the concert. Jesse argues that Brandon is already the legitimate president, as he has been calling senate meetings to order; the challenge to the presidency is denied. Brandon takes Andrea to the concert. Kelly gets backstage access through the magazine, while braggart Steve has trouble getting in at all after a hippie steals his wallet. Ray and Donna work as vendors and see the show free of charge. David and Clare go to the concert even though they claim to hate the group, but have to turn to a scalper when Mel lets them down. Steve and his father force Dylan out of the Peach Pit After Dark. He agrees to sell his shares when Steve, Nat and Willie (the cook) visit him in rehab. Dylan and Valerie agree to stop seeing each other, as he doesn't want to involve her in his problems. During group therapy, Dylan has a confrontation with Charley,
---
5x11 Hate Is Just a Four-Letter Word (November 16, 1994)
---
Controversy erupts when the university's Black Student Union arranges a speaking engagement for Roland Turner, a respected leader who has made anti-Semitic remarks. Jewish student leaders do not want to allow him to speak, as they believe this will encourage hatred and intolerance. Student senator Janice Williams insists that Turner's message actually centers on unity. Brandon endures criticism when he postpones the vote on the issue. Andrea joins the protest and accuses Brandon of selling out to salvage his political career. Jesse tells Andrea that he respects her passion for the cause, but accuses her of being narrow-minded. A bomb threat is called in to the school, and someone paints swastikas on the outside of the Jewish student union. Andrea's grandmother encourages her to listen to what Turner has to say, and they sit with Janice at the speech. A conversation with Andrea prompts David to reflect on his faith. He attends the candlelight protest outside the auditorium. Ke
---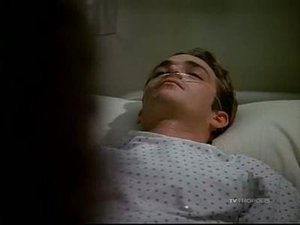 5x10 The Dreams of Dylan McKay (November 09, 1994)
---
Dylan experiences a number of bizarre dreams as he fights for his life. He has recurring nightmares about trying to save Erica from a speeding train as Suzanne, Kevin and his dealer attempt to kill him. A medical student takes a special interest in Dylan's condition; she describes the nightmares as a battle for his soul. Dylan takes a turn for the worse, but recovers following an inspiring conversation with his father. He awakes with his mother at his bedside. Steve and Brandon lead the KEG house team in a flag football tournament. They are distracted by news of Dylan's accident, and Steve bristles when his father appoints himself the unofficial coach. Steve makes a bid to take over the Peach Pit After Dark. Music: ""Doctor My Eyes"" by Jackson Browne (#8, 1972); ""Spirits in the Material World"" by The Police (#11, 1982)
---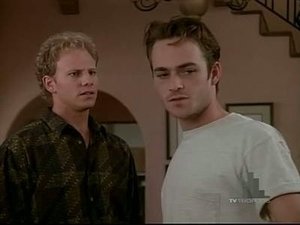 5x09 Intervention (November 02, 1994)
---
Cindy convinces Dylan to come over to the Walsh house, where he is confronted by an intervention. Valerie and Clare run into each other during a shopping excursion and discuss their exclusion from the event. Dylan reluctantly checks into a rehab clinic. He checks out during his first day and forces Valerie to drive him home. She walks out after he gets blitzed and contacts his dealer. Dylan begins shooting heroin. He rolls his car while trying to elude the police. Ray endures an uncomfortable dinner with Donna and her parents. Ray's mother, LuAnn, encourages him to capitalize on Donna's wealth. David and Clare make an X-rated video of themselves. The tape accidentally ends up in the hands of Dr. and Mrs. Martin. Music: ""Every Day of the Week"" by Jade (#20, 1995; from the 90210: The College Years soundtrack); ""Walk Like a Man"" by the Four Seasons (#1, 1963); ""It Keeps You Runnin'"" by the Doobie Brothers
---
5x08 Things That Go Bang in the Night (October 26, 1994)
---
Val wants to move back to Buffalo, but her mother has checked into a mental facility and cannot care for her. Brandon explains Valerie's situation to Steve and asks him to give her another chance. A pool hall acquaintance supplies Dylan with drugs. Brandon behaves coldly toward Valerie after she skips a party to go to Dylan's house. She reveals the gravity of Dylan's situation and pleads with Brandon for help. Dylan finds his gun and points it at brats who vandalize his house on Halloween. He shoots up his living room. Brandon confiscates Dylan's gun, ignoring his threats of legal action. After Dylan passes out, he stays to watch over him. Ray reacts angrily after seeing Griffin kiss Donna at a Halloween party. Donna finally tells Griffin about Ray; he responds rudely and gets slapped. Ray agrees to respect Donna's decision to remain a virgin. Andrea hestitates to take Hannah to a Día de los Muertos ceremony. She enjoys the experience, but expresses reservations when J
---
5x07 Who's Zoomin' Who? (October 19, 1994)
---
The fire marshal shuts down the Peach Pit After Dark for violating capacity. Steve tries to talk Dylan and Nat into buying out the carpet store next door and converting it into a club. Valerie tells the Walshes about Dylan's financial problems, but he angrily refuses Jim's assistance. Steve and David go to Dylan's house in the morning to discuss business, and find a half-naked Valerie. Steve punches Dylan in the face. Kelly objects when Jackie signs up Erin and herself for a mother-daughter photo shoot. Cindy reminds Kelly that her mother is much more responsible than she was during her modeling days. Kelly admits that she is hurt that she wasn't asked to join them, and Jackie confesses that she feared being mistaken for a grandmother. David handcuffs himself to Clare's bed, unaware that she does not have the key. They must think fast when Clare's father pays a surprise visit. Griffin surprises Donna by whisking her away to Catalina, but she is offended when he assumes she will stay th
---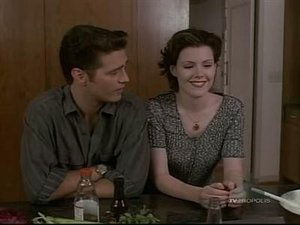 5x06 Homecoming (October 12, 1994)
---
Ferdinand Quintero, the president of Selanesia and a close friend of Clare's family, visits the campus to receive treatment for cancer. A student human rights group objects to his presence, and tells Brandon that Quintero has ordered the murders of thousands of citizens. After meeting a gardener who was tortured by the regime, Brandon agrees to serve Quintero with a subpeona. Steve, Kelly, Donna, Valerie, Griffin and Muntz plan to steal the mascot of rival Southern California University before the homecoming game. Donna does not show up, as she instead spends the day with Ray at his family pumpkin patch. Dylan fears that he and Valerie are becoming too close, so he cheats on her. Andrea meets a UCLA medical student at the laundromat. He believes that she is babysitting Hannah, and she doesn't tell him that she is married. Music: ""I Want Candy"" by the Strangeloves (#11, 1965); ""My Light"" by Big Mountain (from the 90210: The College Years soundtrack)
---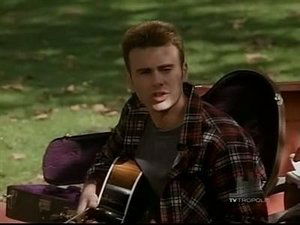 5x05 Rave On (October 05, 1994)
---
Kelly smells marijuana in Valerie's room, but Brandon asks her to give Val the benefit of the doubt. Steve convinces Nat and Dylan to let him organize a two-night rave at the Peach Pit. Valerie catches Dylan pocketing some of the evening's proceeds. Kelly finds Valerie making out with Dylan in a back room. When she tries to tell Steve, Valerie claims that Dylan came on to her. Dylan confesses to Val that his money was stolen. Donna meets Ray Pruit, a construction worker with musical aspirations, while making a video with Clare. She invites him to the Peach Pit and dances with him, much to Griffin's chagrin. The Walshes babysit Hannah so that Andrea can attend the rave. She tries to surprise Jesse at work, and finds him flirting with female bar patrons. Music: ""Pretend We're Dead"" by L7; ""All I Have to Do Is Dream"" by the Everly Brothers (#1, 1958); ""What Can You Do for Me?"" by Utah Saints; ""Hold On,"" performed by Jamie Walters (#16, 1995)
---
5x04 Life After Death (September 28, 1994)
---
Brandon has difficulty coming to grips with Josh's death. Kelly tries to support him, but fears that they are drifting apart. Alex tells Brandon that he is contesting his presidency. Brandon doesn't even want the job, but decides to fight for it after Josh's sister shows him a letter in which Josh spoke highly of Brandon and his ideals. Brandon gets Steve out of a jam when the cops break up a party at the KEG house. Clare takes a liking to David, unaware of his history with Donna. Donna objects when Felice sets her up with a friend's son, until he turns out to be the handsome and charming guy she had just met at a party. Donna declares that she is over David and agrees to help Clare and him with a video project. Valerie continues to spend her days with Steve and her nights with Dylan. Music: ""All I Wanna Do"" by Sheryl Crow (#2, 1994)
---
5x03 A Clean Slate (September 21, 1994)
---
Brandon must make a speech at the campus debates when Josh fails to show because of car trouble. He is such a success that the duo's campaign takes off. Alex Diaz, a student senator and manager of another campaign, tries to force them out of the race by threatening to expose an unpublished article in which Josh accused Brandon of taking tests for D'Shawn. Andrea fears that Brandon no longer values her opinion, but her advice proves crucial. D'Shawn defends Brandon's character at a senate meeting. As they await the results from the Peach Pit, a nervous Josh decides to go for a ride. He crashes his car into a delivery truck and dies, as Brandon looks on in horror. Kelly tells Brandon that they won the election. Valerie digs for info on Dylan and begins hanging around the pool hall. After sleeping with Val, Dylan is stunned to learn that she lives at the Walsh house. Music: ""Low Rider"" by War (#7, 1975); ""Celebr
---
5x02 Under the Influence (September 14, 1994)
---
Donna plans to take a semester off to become a debutante in Houston. Kelly realizes that Donna is hiding behind her mother to shield herself from David. Brandon tries to tell the drunken Dylan about Kelly and him, but chickens out. Nat inadvertently reveals the truth to Dylan. He shows up at an affair organized by Felice and gets into a scuffle with Brandon. Kelly goes to Dylan's house to talk with him; she finds him with a bimbo. Donna reconsiders becoming a debutante after her mother makes a big deal about her dancing with D'Shawn. Dylan apologizes to her and agrees to join her at registration, but never shows up. Andrea balks at entrusting Hannah to the campus day care center. Clare enrolls at California University (as a sophomore because of AP credit). Josh talks Brandon into being his running mate in the student body elections. Music: ""Faded Love,"" performed by band; ""Make It Right"" by Lisa Stansfield (from the 90210: The College Years soundtrack)
---
5x01 What I Did on My Summer Vacation and Other Stories (September 07, 1994)
---
Brenda decides to stay in London for the entire year. Valerie Malone, the daughter of the Walshes' good friends, comes to live with them. Her father has just committed suicide. Steve reveals that Celeste dumped him during their Hawaiian vacation when she ran into her high school boyfriend. He settles on Kelly as his true love, and is shocked to learn that she is with Brandon. Steve gets over his broken heart by spending time with Valerie. Valerie seems to be a nice girl, but smokes pot and insults everyone during a phone conversation with a friend. Dylan returns to Los Angeles after a two-month-long drinking binge in Mexico. David fills Kelly in on his summer, which found him receiving--then losing--a chance to tour with Babyface, and getting a venereal disease from Ariel. Donna tries to avoid David. Andrea and Jesse finally bring Hannah home from the hospital, after a nearly tragic mishap. Music: ""Back & Forth"" by Aaliyah (#5, 19
---