Beverly Hills, 90210
Season 2
Beverly Hills, 90210
Season 2
First Air Date: July 11, 1991

| | | |
| --- | --- | --- |
| First Aired on | : | 1991 |
| Episodes | : | 28 episodes |
Season two of Beverly Hills, 90210, an American teen drama television series, began airing on July 11, 1991 on Fox television network. The season concluded on May 7, 1992 after 28 episodes. This season follows the friends during the summer and their junior year of high school as they deal with everyday teenage issues such as sex, pregnancy scares, teenage rebellion, divorce, alcoholism, drug use, adoption, racial discrimination, sexual assault, mental disorders, and death. The second season was aired Thursdays at 9/8c in the United States averaging 17.6 million viewers a week. The season was released on DVD as an eight disc boxed set under the title of 'Beverly Hills, 90210: The Complete Second Season on May 14, 2007 by CBS DVD.
Episodes
2x28 Wedding Bell Blues (May 07, 1992)
---
A furious Jim goes to the Mexican border to retrieve Brenda. Jim bans Dylan from the Walsh house. Jackie learns that Kelly covered for Brenda, and embarrasses her by yelling at her in front of Jake. Music: ""Wedding Bell Blues"" by The Fifth Dimension (#1, 1969); ""Blue Moon"" (Glen Gray - #1, 1
---
2x27 Mexican Standoff (April 30, 1992)
---
Brenda upsets her father by consistently violating her curfew. She promises to demonstrate more mature behavior. Jim and Cindy agree to let Brenda join Dylan for a weekend in Mexico. Brenda falls asleep while watching a movie at Dylan's, and doesn't come home until 4 AM. Her parents forbid her from taking the trip. Dylan encourages Brenda to stand up for herself, but she instead tells Jim and Cindy that she is spending the weekend at Kelly's house. Brenda pushes Dylan away when she discovers that he took a girl to Baja during their summer separation. They soon make up, but run into problems with customs. Brenda does not have any identification because she has yet to replace her stolen license. In order to re-enter the country, she must call Jim and have him come vouch for her. Dylan's older friend, Jake Hanson, is hired to build a wedding canopy for Jackie. His presence cheers Kelly, who had been in a funk about the wedding and her new family. Jake and Kelly have dinner together and sh
---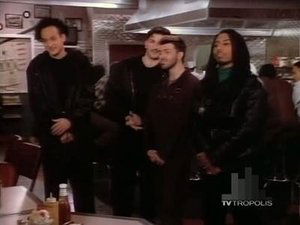 2x26 Things to Do on a Rainy Day (April 23, 1992)
---
On a rainy Saturday afternoon, Brenda, Kelly, Donna and David head to the Bel Age Hotel to meet Donna's favorite pop group, Color Me Badd. David rents a room so that the foursome can get into the hotel. Donna sees her mother, supposedly at the hotel for a conference, and fears that she will get in trouble. Kelly lifts a key to the penthouse and gets to hang out with the group. Donna, fearing reprisal, jumps out of the elevator on an earlier floor. She sees her mother come out of a room and kiss a man in the hallway. When Felice later confronts Donna about being at the hotel, Donna forces her to admit that she is having an affair. Donna is devastated, but Cindy explains that her parents' marital problems do not have anything to do with her. Kelly attends the Color Me Badd concert with a free pass, and brings the group to the Peach Pit to serenade Donna. Steve, Brandon and Dylan hire a stripper, but their plans are complicated when Andrea shows up at the house. The stripper turns out to
---
2x25 Meeting Mr. Pony (April 02, 1992)
---
The gang stays at the Peach Pit after hours to study for midterms. Brenda is left alone while Brandon and Dylan take out the recycling. A gunman enters through the unlocked door, holds a rifle to her head, and forces her to empty the cash register. Brenda puts on a brave front for family and friends, but suffers nightmares and behaves erratically. She has a flashback during a midterm, screams, and runs out of the classroom. A psychiatrist helps her begin to deal with her fears. Brenda reluctantly views a police line-up, resulting in the arrest of the 17-year-old gunman. Music: ""Let the Good Times Roll"" by Shirley & Lee (#20, 1956)
---
2x24 The Pit and the Pendulum (March 19, 1992)
---
Brandon participates in a teen review committee that provides input to one of Jim's clients, who is building a gigantic new mall. Marcie, the developer's college-age daughter, aggressively pursues Brandon. Brandon is incensed to learn that the project would require the demolition of the Peach Pit. He squares off with Jim, who promises to stand up for Nat's interests. Brandon takes Marcie to the Peach Pit in the hopes of gaining her support, but realizes that she only cares about her father and his business. The gang (except Brenda) tries to stage a rally, but Nat has already agreed to sell. Brandon becomes jaded, and refuses to listen when Jim explains the financial realities associated with adulthood. The deal eventually falls through, allowing Nat to keep the Peach Pit.
---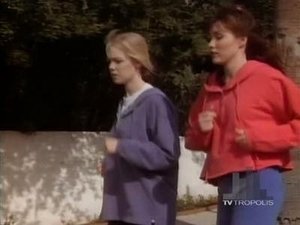 2x23 Cardio Funk (February 27, 1992)
---
Dylan's friend Sarah comes to an AA meeting. He offers his support, and she begins to rely on him. She seeks his help in throwing her abusive boyfriend out of the apartment. Music: ""We Want the Funk"" by Gerardo (#16, 1991); ""Do Wah Diddy Diddy"" (Manfred Mann - #1, 1964), performed by the cast; ""Your Cheatin' Heart"" (Hank Williams), performed by Patricia Michel; ""Be Bop-a-Lul
---
2x22 Baby Makes Five (February 13, 1992)
---
Kelly confides in Brenda and Donna about her mother's pregnancy, but they can't keep a secret. David tells Donna that Mel is planning to propose, then learns about the pregnancy. He doesn't share the news with his father, who is clueless about Jackie's condition. Jackie assumes that Mel only wants to marry her to fulfill his obligation, so she dumps him. Music: ""All 4 Love"" by Color Me Badd (#1, 1992);
---
2x21 Everybody's Talkin' `Bout It (February 06, 1992)
---
Andrea is outraged when the school refuses to allow students to take part in a health survey that includes questions about sex. She goes before the school board and introduces a proposal to distribute condoms at West Beverly.
---
2x20 A Competitive Edge (January 23, 1992)
---
Brandon joins the track team, bumping Steve from the sprint relay. Many of his teammates dislike Brandon because he wrote negative articles about the football team. Brandon considers quitting the paper because he is tired of tearing people apart. Several of the athletes are taking steroids to improve their performance. They ask Steve to participate in their ""program,"" which causes him to develop mood swings. Brandon and Andrea decide to conduct an investigation, and Kelly's friend Kyle provides them with details. The track coach cancels all practices until the steroid users come forward. The other guys suspect that Steve was Brandon's source, and threaten to beat him up unless he takes the rap. Brandon allows Brenda to drive his car, but she gets into an accident. The other driver claims to have developed whiplash, and files a lawsuit. Brenda foils her plans when she catches her dancing in her living room. Music: ""Dancing in the Street"" by The Mamas and the Papas (?)
---
2x19 Fire and Ice (January 09, 1992)
---
Jim coaches a hockey team that includes Brandon, Steve and Dylan. After a practice, Brandon meets aspiring figure skater Trisha Kinney. They take a liking to each other, and Brandon gets up at 5:00 every morning to come to her practices. Trisha considers giving up the sport after a poor showing in her sectional meet. Her coach shows up during her date with Brandon and announces that she was given an exemption to compete at nationals. She bars Brandon from practice because he was affecting her concentration. Brenda's boss, Deidre, encourages her to become a more persuasive salesperson. Brenda convinces David to buy Donna $190 perfume as a belated birthday present (her birthday was Christmas day). Deidre steals a large commission from Brenda, but Cindy helps Brenda plot revenge. Music: ""(I've Had) The Time of My Life"" by Bill Medley and Jennifer Warnes (#1, 1987)
---
2x18 A Walsh Family Christmas (December 19, 1991)
---
Steve arrives in Albuquerque and tracks down his grandfather, a diner owner. Al explains that his daughter gave up Steve because she was very young and wanted him to have a good home. He sadly reveals that Karen died in a car accident. Steve leaves flowers at her grave, and convinces an eccentric Santa-like charter pilot to fly him home for Christmas. Cindy is depressed about her first Christmas in Beverly Hills. She invites the kids' friends and their families for Christmas Eve dinner, but everyone has other plans. Brandon visits Emily in a psychiatric hospital, where she is doing very well. Brenda begins work at an upscale clothing store. She feels bad when her boss throws out a cheerful old man dressed as Santa Claus. She stops the police from harassing him and invites him over for dinner. Dylan goes to see his father in prison, and talks with the same Santa. Jackie is furious when Mel backs out of Christmas Eve plans because his estranged wife asked him to come over with David. Sam
---
2x17 Chuckie's Back (December 12, 1991)
---
Chuck Wilson, Samantha Sanders' old sitcom co-star and Steve's childhood nemesis, transfers to West Beverly after being kicked out of private school. Steve is depressed when Kelly agrees to go to a dance with Chuck. Samantha orders Steve to be nice to Chuck in the hopes of persuading him to appear in a reunion movie. Chuck taunts Steve about being adopted, and reveals that he knew about the adoption nine years before Steve. Steve punches him, but takes all the blame for the fight so that Chuck will sign the movie deal. He is hurt that his mother has again put her career ahead of him, and decides to search for his biological parents. Samantha backs out on the film after learning that her agent told Chuck about the adoption. Kelly stands up Chuck and brings Steve to the dance, but a teacher kicks him out because he is suspended. Steve's friends see him off as he catches a bus to Albuquerque to search for his mother, Karen Brown. Everyone teases Donna about going to the dance with David,
---
2x16 My Desperate Valentine (November 21, 1991)
---
Emily refuses to accept the fact that Brandon no longer wants to see her. She slashes her own tires and pretends that her parents are out of town so that Brandon will invite her to stay over. She sneaks into his bedroom and tries to seduce him. After he makes it clear that he is not interested, she begins to make crank phone calls. Andrea discovers that Emily is the person who has been sending menacing letters to the school paper. Emily shows up at Brandon's house and douses the gang's homecoming float with gasoline. Brenda and Dylan find her sitting on the float with a lighter, but Brenda is able to calm her. Emily agrees to seek help. Brenda and Dylan attend cultural events because she fears they spend too much time making out. Music: ""Baby I'm Yours"" by Barbara Lewis (#11, 1965)
---
2x15 U4EA (November 14, 1991)
---
Emily invites everyone to join her at an underground club. The location is a secret; the gang must exchange an egg at a convenience store for this information. The others leave without Steve and Andrea, who end up going to the wrong store and embarrassing themselves. Kelly is mortified when David drinks an entire bottle of whiskey, but Donna dances with him and has a good time. Emily slips a drug called U4EA into Brandon's drink to get him to loosen up. He is too wasted to drive, and vandals trash his car when he leaves it at the club overnight. Brandon does not expose Emily's deed to his parents, but breaks up with her because he no longer trusts her. Music: ""Hold on to Love"" by T'Pau
---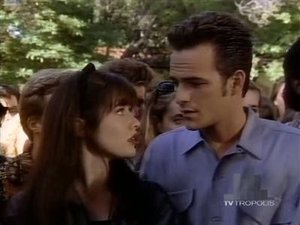 2x14 The Next 50 Years (November 07, 1991)
---
The students of West Beverly unearth a time capsule from 1941, and put together a capsule of their own. Mrs. Scanlon organizes a surprise party for Scott's birthday, and pushes David to round up the guests. Donna is the only person who wants to attend. Kelly, Steve, Brenda, Brandon and Emily reluctantly come to the party, but act like jerks and refuse to participate in the activities. David tries to save the party by getting everyone to dance, but Brandon and Emily sneak upstairs to make out in the bedroom of Scott's little brother. Mrs. Scanlon throws them out, and the others act really indignant and walk out on the party. Scott goes to his father's den to get matches for the cake, and finds a gun in a locked desk drawer. He tries to twirl it for David, but accidentally shoots himself in the stomach and dies. David's friends and teachers annoy him by constantly asking about his well-being, while Mrs. Scanlon keeps trying to give him Scott's belongings. Donna takes offense when David c
---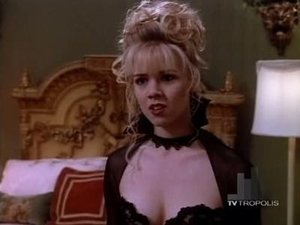 2x13 Halloween (October 31, 1991)
---
Brenda, Dylan, Steve, Donna and Kelly attend a Halloween party. Donna dresses as a mermaid; but her fins inhibit dancing, walking, and trips to the bathroom. Kelly's seductive costume catches the eye of a college student. She goes upstairs to talk with him, then becomes uncomfortable. The guy accuses her of leading him on and tries to rape her. Brenda and Donna enter in the nick of time, and Steve punches out the guy. Brandon stays home to hand out candy (actually raisins), but Emily comes to the door with her niece and nephew. Brandon joins them for trick-or-treating, but he and Emily get caught up in their conversation and temporarily lose the kids. David blows off the party and finds Scott hiding out in the bushes. They reminisce about the old days while waiting for an egg fight that never materializes. Music: ""Romantic"" by Karyn White; ""Lily Was Here"" by Candy Dulfer and Dave Stewart; ""The Monster Mash"" by Bobby ""Boris"" Pickett (#1, 1962)
---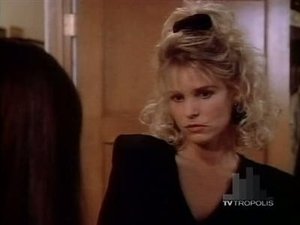 2x12 Down and Out of District in Beverly Hills (October 17, 1991)
---
Brandon submits one of Andrea's articles to a high school journalism contest. She wins the contest, but panics because a school district representative wants to conduct a home interview. Andrea asks her grandmother to say that she lives with her, but Rose does not want to play along. The school district initiates an investigation because they suspect that Andrea lives out of district. Andrea moves in with Rose, but decides to give up her fight because she cannot stand to be in the middle of the long-running feud between her parents and grandmother. Rose decides to let Andrea stay and agrees to talk to her daughter-in-law. Steve gets a girlfriend through a ""chance encounter"" at the Peach Pit, but Kelly suspects that the girl is only interested in his bank account. Music: ""Radio Song"" by R.E.M. featuring KRS-One; ""I'll Turn to Stone"" by The Four Tops; ""Shiny Happy People"" by R.E.M. featuring Kate Pierson (#10, 1991); ""Losing My Religion"" by R.E.M.
---
2x11 Leading From the Heart (October 10, 1991)
---
Brandon and Brenda's cousin Bobby visits, as he is considering transferring to UCLA. He is a paraplegic, the result of a skiing accident three years earlier. Bobby and Kelly develop a mutual interest, but Brenda fears that Kelly will break her cousin's heart. Although Bobby is extremely well-adjusted, he feels uncomfortable when he attends a party with the gang. After seeing Kelly dance with another guy, Bobby becomes depressed and asks to leave. He squelches his relationship with Kelly because he believes that she would lose interest in him. Brandon confesses his guilt about the accident to Bobby, who insists that Brandon should not blame himself for daring him to take the fateful ski jump. Brenda finally passes her driver's test, but is afraid to get behind the wheel. Emily joins the school paper. David asks Donna for a date. Music: ""Romantic"" by Karyn White (#1, 1991); ""Crazy"" by Seal (#7, 1991)
---
2x10 Necessity Is a Mother (September 26, 1991)
---
Dylan cannot stand the fact that his free-spirited mother, Iris, has moved in with him. He begins drinking, skips school, and spends all of his time at a pool hall. Brenda resents Iris for abandoning Dylan as a child, and for trying to step in and control his every move. Cindy, however, forms a bond with Iris and joins her for a number of new-age experiences. Brandon tries to watch over Dylan, who loses a lot of money in a pool game and is beaten when he can't pay off the debt. Although she wants to be a part of her son's life, Iris realizes that her presence is only hurting Dylan. She decides to return to Hawaii, and sets up a trust fund for Dylan with money Jack had once paid her to stay away. Brandon takes Dylan to an AA meeting. After Donna displays a knack for picking stocks in an economics assignment, Steve talks her into investing in the market with him. Music: ""Mother-in-Law"" by Ernie K-Doe (#1, 1961); ""Born Under a Bad Sign"" by Albert King
---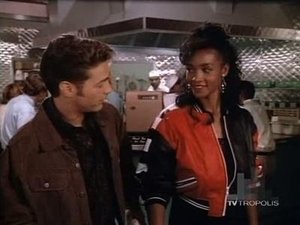 2x09 Ashes to Ashes (September 19, 1991)
---
The Walshes sign up for a neighborhood security patrol, but can't figure out how to work the alarm system. A wealthy African American family moves into the neighborhood. Brandon befriends freshman Robbie (who tries out for Blaze staff photographer), but gets into a car accident with his sister Charise. Charise commutes to her old school because she thinks that West Beverly is full of snobs. While Charise is having dinner with Brandon, her boyfriend Devo tries to visit her house and bring her flowers. He is harassed and beaten by the security patrol for no reason. Brandon wants to write a story about the incident, but initially receives little cooperation from Devo, Robbie and Charise. Music: ""These Are the People in Your Neighborhood"" (from Sesame Street), sung by Jason Priestley; ""All Right Now"" (Free - #4, 1970), performed by high school band
---
2x08 Wildfire (September 12, 1991)
---
On the first day of school, Dylan makes a date with Emily Valentine, a new student who plays guitar and rides a motorcycle. She also makes a date with Brandon, and all of the guys seem quite taken with her. Emily offers to help Brenda, Kelly and Donna put together an act for the hello assembly. Dylan and Emily park at a spot overlooking the bluff and share a kiss. Brandon takes her to the same place the next night, and they also kiss. Brenda becomes extremely jealous and possessive after learning of Emily's involvement with Dylan. She accuses her of being a tramp, and treats her terribly at a barbecue at the Walsh house. Brenda apologizes to Emily and pleads with her to stay in the act, so that they have someone with talent. Brenda realizes that she still loves Dylan, and they get back together. Scott returns from his summer vacation in Oklahoma sporting a cowboy hat, with sudden interests in country music, fireworks and guns. David freaks out and decides to distance himself from Scott
---
2x07 Camping Trip (August 29, 1991)
---
The gang takes off with plans to spend the weekend camping at Yosemite Park. A sudden monsoon forces the teens to seek refuge in a cramped one-bedroom cabin. Everyone quickly begins to get on each other's nerves. Steve and David go out for beer, but an elderly couple takes Steve's money and splits without buying him anything. The honeymooning couple in the next cabin supplies the kids with food and firewood, but gets into a huge argument. The gang tries to provide counsel, and learns that the husband had commented on waiting to have kids, but the wife is already pregnant. Dylan storms out following a fight with Brenda and has a drink. Dylan and Brandon go for a hike, but Brandon slips on the rocks. Dylan saves him from falling off the cliff, and they decide to keep the incident to themselves.
---
2x06 Pass/Not Pass (August 15, 1991)
---
Chris, the acting teacher, asks Brenda to perform a scene with Andrea to bring her out of her shell. Brenda admits her crush on Chris to Andrea, who soon develops her own interest in him. The girls take Chris on a tour of the city, and Brenda is devastated when he seems more impressed with Andrea. Chris and Andrea share a good-night kiss. A jealous Brenda slaps Andrea hard during their scene. She forgets about Chris when Dylan returns home from Hawaii. Chris decides to move to Los Angeles permanently, but reveals that he has a girlfriend. Brandon refuses Jim's help as he purchases his dream car. He ends up blowing all of his summer earnings on a lemon. Jim takes pity on him and pays for the necessary repairs. Kelly and Steve lament the imminent end of summer vacation. Music: ""Little Bitty Pretty One"" by Thurston Harris (#6, 1957); ""Joyride"" by Roxette (#1, 1991); ""The Hukilau""; ""A Summer Song"" by Chad & Jeremy (#7, 1964)
---
2x05 Play It Again, David (August 08, 1991)
---
Jackie breaks her tooth during lunch at the beach club, but a nearby dentist comes to her rescue. He asks her out, then reveals that he is Mel Silver--David's father. Kelly is mortified when the pair hits it off, and imagines life as David's step-sister. She determines that she must break up the couple, and behaves rudely during a dinner. Kelly breaks down in tears and explains that she is afraid of losing her mother. She apologizes to Mel and helps David deal with the realization that his parents won't reunite. Andrea goads Brandon into spending time with a fatherless boy from the youth center. Brandon develops a friendship with the boy, then discovers that his mother is beating him. He grapples over whether to report the abuse. Brenda cannot stop thinking about Dylan while he is away in Hawaii.
---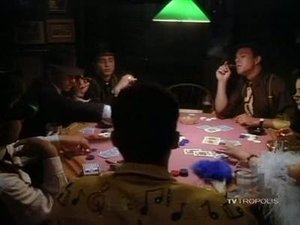 2x04 Anaconda (August 01, 1991)
---
Jim encourages Dylan to get in touch with his mother, but Dylan is too proud to ask her for financial help. Brandon, David, Steve and some friends hold an after-hours poker game at the beach club. Dylan joins them, and is furious when he loses a lot of money. The club suffers a break-in, and Brandon's boss is questioned because of a past (unjust) robbery conviction. In spite of Steve's objections, Brandon comes to Henry's defense by telling the police about the poker game. Dylan becomes the prime suspect after electronic equipment is found in his car. Brenda and her parents stand behind him, but Brandon becomes suspicious after finding pawn shop tickets. He wonders how cash-poor Dylan was able to afford a plane ticket to Hawaii. Dylan reveals that he has been forced to pawn his belongings from the family storage locker. He had finally called his mother, who paid for his ticket. The laundry service turns out to be the culprit. Dylan flies to Hawaii to visit his mother. Brenda suffers a
---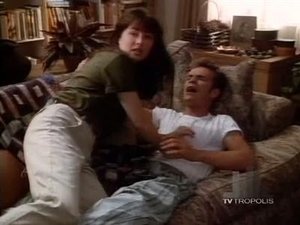 2x03 Summer Storm (July 25, 1991)
---
Dylan's father is taken into custody, and all his assets are frozen. Dylan refuses to spend the summer in Hawaii with his flaky mother. He is injured in a surfing accident, and Cindy agrees to take care of him during his recovery. Jim and Brenda are unhappy with this arrangement. Jim catches Brenda and Dylan kissing, and orders Dylan to leave in two days. He sneaks out in the middle of the night and sleeps in a cabana at the beach club. Brandon finds him and convinces him to return to the Walsh house, where Jim helps him deal with his feelings about his father. Kelly gets a date with an attractive classmate, but is stung when he won't make a move on her. He admits that he is confused about his sexuality. Donna and David must perform a scene from Romeo and Juliet for their acting class. Music: ""You Are the Everything"" by R.E.M.
---
2x02 The Party Fish (July 18, 1991)
---
Brandon befriends Jerry Rattinger, an influential sports promoter and member of the beach club. At the same time, he looks to romance Sandy, a beleaguered co-worker who is many years his senior. Dylan warns Brandon that Sandy is not the right woman for him. Jerry wishes to hire Brandon as his gopher and loan him money for a new car. Brandon does not understand why Jim disapproves. Jerry asks Brandon to drive his wife home; Mrs. Rattinger reveals that her husband wanted her out of the way so that he could spend time with his mistress, Sandy. Brandon severs all ties with Jerry, who tries to have him fired from the club. Sandy decides to leave town in the hopes of getting her life in order. As an acting class assignment, Brenda tries to recreate the experience of being lost in a mall as a child.
---
2x01 Beach Blanket Brandon (July 11, 1991)
---
After a home pregnancy test is inconclusive, Dylan and Kelly take Brenda to a gynecologist. The pregnancy scare turns out to be a false alarm, but Brenda is badly shaken by the experience. Cindy and Jim confront her after finding the pregnancy test box in the trash. Brenda breaks it off with Dylan because she is overwhelmed by the issues that their relationship has forced her to confront. Hoping to earn extra cash during the Peach Pit's summer lull, Brandon tries out for lifeguard at the Beverly Hills Beach Club. He fails, but is offered a cabana boy position. He feels guilty when he must quit the Peach Pit without leaving notice. Brenda, Donna, Andrea and David enroll in a summer school acting class. Music: ""Rockin' Robin"" by Bobby Day (#2, 1958); ""Tell It Like It Is"" by Aaron Neville (#2, 1967); ""Wake Up Little Susie"" by the Everly Brothers (#1, 1957); ""Losing My Religion"" by R.E.M. (#4, 1991)
---