Saturday Night Live
Season 9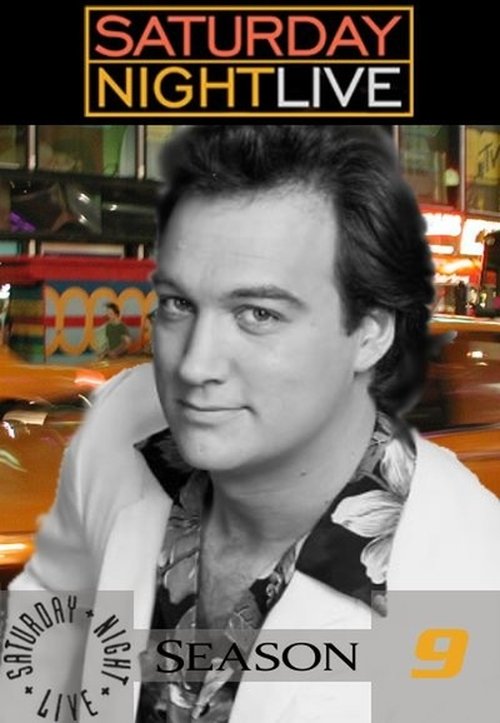 Saturday Night Live
Season 9
First Air Date: October 08, 1983

| | | |
| --- | --- | --- |
| First Aired on | : | 1983 |
| Episodes | : | 19 episodes |
Saturday Night Live aired its ninth season during the 1983–1984 television season on NBC. The ninth season started on October 8, 1983 and ended on May 12, 1984. Before the start of the season the entire cast returned for another season. The only change was the hiring of Jim Belushi. The notable moment of season was when Eddie Murphy left the show mid-season. After 48 Hours, Murphy's star began to eclipse that of Joe Piscopo's. From the start of season 7, Dick Ebersol made it clear that his strategy was to showcase Murphy and Piscopo as much as possible while all the other cast members would play mainly supporting roles and were treated with very little patience by the producers. When Murphy's 48 Hours co-star Nick Nolte dropped out of hosting at the last minute, Ebersol offered Murphy the chance to host — a move that Piscopo would perceive as a major slight. Piscopo would later claim Ebersol used Murphy's success to divide the two erstwhile friends and play them against one another. Others countered that Piscopo was simply being a prima donna; said one writer, "Eddie Murphy's fame went to Joe Piscopo's head."
Episodes
9x19 Billy Crystal, Ed Koch, Edwin Newman, Father Guido Sarducci, Betty Thomas/The Cars (May 12, 1984)
---
Sketches include ""Frank & Sammy,"" ""Sarducci & Nelson,"" ""Nose Guard,"" ""Hello, Trudy!,"" ""Needleman the Dentist,"" and ""Stooges Self-Defense."" The Cars perform ""Drive.""
---
9x18 Barry Bostwick/Spinal Tap (May 05, 1984)
---
Sketches are ""Simulated Cat Fight,"" ""Foldgers Crystals,"" ""Lie Detector Test,"" ""Spinal Tap Interview,"" ""Guest Performance: A. Whitney Brown,"" ""2 on the Town,"" and ""Texxon."" Spinal Tap perform ""Christmas with the Devil"" and ""Big Bottom.""
---
9x17 George McGovern/Madness (April 14, 1984)
---
Sketches include ""60 Minutes,"" ""Menage a Trois,"" ""Book Talk,"" and ""My Brother, The Loser.""
---
9x16 Michael Douglas/Deniece Williams (April 07, 1984)
---
Sketches include ""Lost Script,"" ""MTV News,"" ""Four Minutes to Live"" (film), ""TV's Foul-Ups, Bleeps, Blunders, Bloopers, Practical Jokes, And Political Debates,"" ""Sugar or Plain"" (film), and ""Footless."" Deniece Williams performs ""Let's Hear It for the Boy.""
---
9x15 Billy Crystal/Al Jarreau (March 17, 1984)
---
Sketches include ""St. Patrick's Day Party,"" ""Hung Like Me,"" ""Unexplained Questions of the Universe."" ""Family in the Attic,"" ""Bad Career Moves,"" ""Ronald Reagen and Sammy Davis, Jr.,"" ""God's Place,"" ""The Womb,"" and ""SNL's First Episode."" Al Jarreau sang ""Mornin'"" and ""Trouble In Paradise.""
---
9x14 Edwin Newman/Kool & the Gang (February 25, 1984)
---
Sketches include ""SNL Hairdressers,"" ""Edwin Newman and James Brown,"" and ""Prose and Cons."" Kool & the Gang perform ""Celebrate.""
---
9x13 Jamie Lee Curtis/The Fixx (February 18, 1984)
---
Sketches include ""Rappin' Jimmy B.,"" ""Semi-Competant Video Store Clerk,"" ""The Julia Show,"" ""Jimmy and Jamie Lee Rehearse,"" ""People Transit,"" and ""Texxon."" The Fixx performs ""One Thing Leads to Another.""
---
9x12 Robin Williams/Adam Ant (February 11, 1984)
---
Sketches include ""Olympic Coverage,"" ""Rock & Roll ...and then some,"" ""Gandhi & The Bandit,"" ""Firing Line,"" and ""MTV News."" Adam Ant performs ""Strip.""
---
9x11 Don Rickles/Billy Idol (January 28, 1984)
---
Live From New York, it's... Joe Piscopo! Sketches include ""TV President,"" ""Kannon AE-1,"" ""I Married A Monkey,"" ""The Hamlisch Maneuver,"" ""Fascinating People And Their Friends,"" ""Witness Protection,"" ""Romeo and Juilet,"" ""El Dorko and Becky,"" and ""This Is Your Afterlife."" Billy Idol performed ""White Wedding"" and ""Rebel Yell.""
---
9x10 Michael Palin, Mary Palin/The Motels (January 21, 1984)
---
Sketches include ""Donahue,"" ""Mr. Robinson's Neighborhood,"" and ""Powerful Living Snaps."" The Motels perform ""Suddenly Last Summer.""
---
9x09 Father Guido Sarducci/Huey Lewis and the News (January 14, 1984)
---
Sketches are ""National Phone-In Democratic Primary,"" ""Tasteless Choice,"" ""The Ghost of Buckwheat,"" ""Countdown '84: The Candidates,"" ""Nice Boys Don't Get Girls Pregnant,"" and ""Phone-In Results."" The News perform ""Heart & Soul"" and ""I Want a New Drug.""
---
9x08 Flip Wilson/Stevie Nicks (December 10, 1983)
---
---
9x07 The Smothers Brothers/Big Country (December 03, 1983)
---
---
9x06 Jerry Lewis/Loverboy (November 19, 1983)
---
---
9x05 Teri Garr/Mick Fleetwood's Zoo (November 12, 1983)
---
Sketches include ""Cheerleader Practice,"" ""Mister Robinson's Neighborhood,"" ""History: The Real Story,"" ""School Assembly,"" and ""Caffiene Achievers."" The Zoo (featuring Lindsey Buckingham) performs ""Tonight.""
---
9x04 Betty Thomas/Stray Cats (November 05, 1983)
---
---
9x03 John Candy/Men at Work (October 22, 1983)
---
Sketches include ""Jim and Mr. Mambo,"" ""Doc Edmund,"" ""Village of the Damned Little Rascals,"" ""Eddie Murphy in the Suburbs,"" ""Dr. Tongue's Offer,"" ""Candace's Fantasy Shack,"" and ""Prison for the Winter."" Men at Work perform ""Dr. Heckyl and Mr. Jive.""
---
9x02 Danny DeVito & Rhea Perlman/Eddy Grant (October 15, 1983)
---
Sketches are ""Calvin Klein Cream Pies,"" ""Mister Robinson's Neighborhood,"" ""Crazy Edelman,"" ""Book Beat,"" ""What Would Frank Do?"" ""Amos n' Andy,"" and ""Spanish Class."" Eddy Grant performs ""I Don't Wanna Dance,"" ""Electric Avenue,"" and ""Living on the Front Line.""
---
9x01 Brandon Tartikoff/John Cougar (October 08, 1983)
---
Sketches include ""In Brandon's Office,"" ""NBC Junket,"" ""Gumby's Rehearsal,"" ""Larry's Corner,"" and ""Whiner Show Ideas."" John Cougar Mellancamp performs ""Tumblin' Down"" and ""Pink Houses.""
---