Saturday Night Live
Season 13
Saturday Night Live
Season 13
First Air Date: October 17, 1987

| | | |
| --- | --- | --- |
| First Aired on | : | 1987 |
| Episodes | : | 13 episodes |
Saturday Night Live aired its thirteenth season during the 1987–1988 television season on NBC. Season 13 started on October 17, 1987 and ended on February 27, 1988. Before the start of the season few changes happened. Kevin Nealon was promoted to repertory status and Al Franken returned to the cast. Although the changes to the cast were minimal there were, however, major events that impeded the show's production. During production of the season premiere, a fire broke out near Studio 8H during dress rehearsal. Despite plans to cancel the show for the week, Steve Martin pushed the cast to perform, making the Steve Martin/Sting episode the only episode without a dress rehearsal. On March 7, 1988, the Writers Guild of America went on strike, cancelling many planned episodes, including one originally planned to be hosted by former "Not Ready for Primetime" player Gilda Radner. Radner, however, would never get the chance to host due to her death from ovarian cancer the following year. The host for the March 12, 1988 broadcast was never confirmed.
Episodes
13x13 Judge Reinhold/10,000 Maniacs (February 27, 1988)
---
Sketches include ""Pumping Up With Hans & Franz,"" ""Church Chat,"" ""Friendly Dictator,"" and ""Big Bird Pirates.""
---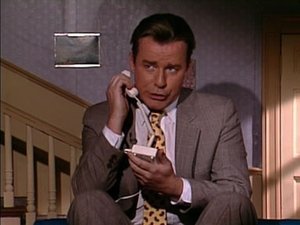 13x12 Tom Hanks/Randy Travis (February 20, 1988)
---
""A male figure skater's flawed perfomance in tight pants"", ""The Pat Stevens Show with Mrs. Bush and Mrs. Dole"", ""The Bean Cafe: We only serve beans"", ""On 49th and First: Two sad guys want to score with the ladies"", ""This is a stick up!, yelled the Psychotic Vietnam Vet with great acting skills"", ""Can't come up with an ending for a bad sketch"", ""Casey Kasem sings The Beatles"", ""Compulsion by Calveen Kleen: The World's Most Indulgent Disinfectant"", ""A Pawnshop That Pays Full Sentimental Value"".
---
13x11 Justine Bateman/Terrance Trent D'Arby (February 13, 1988)
---
""53rd. Debate of the 1988 Republican Presidential Candidates"", ""Learning to Feel with Denise Venetti, Ph.D."", ""Family Ties: If These Old Walls Could Talk (Flashback-Flashback Episode)"", ""Blocked songwriter Derek Stevens loses his Muse"", ""An older man, the bimbo girlfriend Linda and his Judgemental Friends"".
---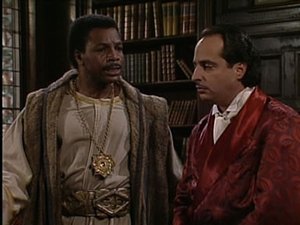 13x10 Carl Weathers/Robbie Robertson (January 30, 1988)
---
Sketches include ""Bush-Whacked,"" ""The NFL Today,"" ""Handi-Off,"" ""Democratic Debate '88,"" ""Helen and Cheri,"" ""TV Actress,"" ""Master Thespian,"" and ""The Garden"" (film). Robbie Robertson performed ""Testimony"" and ""Somewhere Down the Crazy River.""
---
13x09 Robin Williams/James Taylor (January 23, 1988)
---
Sketches include ""Pumping Up with Hans and Franz,"" ""Compulsion,"" ""Birthing Video,"" ""Cable ACE Awards,"" ""Hard to Say I Love You,"" ""Discover,"" and ""Robin's 60th Birthday.""
---
13x08 Paul Simon/Linda Ronstadt & the Mariachi Vargas (December 19, 1987)
---
Live From New York, it's...Jan Hooks Sketches include: Jesus's Surprise Party, Gary Hart Ad, Pumping Up With Hans and Franz, Christmas on a Desert Island, Master Thespian, The Sweeney Sisters, Subway Beggar, Succinctly Speaking, Seasons Greetings From Tonto, Frankenstein, and Tarzan, Educated Anita, and A Message To Future Viewers Linda Ronstadt and the Mariachi Vargas perform: ""Los Laureles, La Cigarra"" and ""Under African Skies""
---
13x07 Angie Dickinson/Buster Poindexter & David Gilmour (December 12, 1987)
---
Live From New York, it's...Kevin Nealon Sketches include: Amateur Translator, Docu-Fresh, Who Can Land The Plane?, Donahue, Wedgie Fever, Traumatic Memories Party, Police Women, The Assimilated Jew's Hannukah, and Drunk Man Buster Poindexter performs: ""Hot, Hot, Hot"" David Gilmour performs: ""Ah, Robertson, It's You""
---
13x06 Danny DeVito/Bryan Ferry (December 05, 1987)
---
ive from New York, it's... Danny Devito! Sketches include: "Gorbachev-Reagan," "Siskel & Ebert," "Church Chat," "Eddie Spimozo's Jungle Room," "White Trash Appraiser," "Ann Landers' Playhouse," and "Reminiscing with Doorman." Bryan Ferry performs "The Right Stuff" and "Kiss and Tell."
---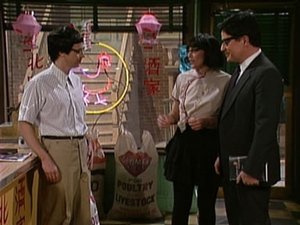 13x05 Candice Bergen/Cher (November 21, 1987)
---
Sketches include ""George Bush,"" ""Pumping Up with Hans & Franz,"" ""Anne Boleyn,"" ""The First Thanksgiving,"" and ""Having Sex by an Open Window."" ""PITMAN and BULLOCK: Put the Power of the PIT BULL to Work for You"".
---
13x04 Robert Mitchum/Simply Red (November 14, 1987)
---
---
13x03 Dabney Coleman/The Cars (October 31, 1987)
---
Live from New York, it's... Dana Carvey! Sketches include "Lifestyles of the Rich, Famous, and Scary," "Nature's Broom," "The Winning Spirit," "Don't Go Down To The Basement," "Scary Campfire Stories," "Marriage Counselor," "Count Dracula, Self-Taught Auto Mechanic," "The Pat Stevens Show," "New High School Mascot," and "Lambert & Fitch Securites." The Cars performs "Strap Me In" and "Double Trouble."
---
13x02 Sean Penn/L.L. Cool J., Michael Penn & the Pull (October 24, 1987)
---
Live from New York, it's... Sean Penn! Sketches include "Fatal Attraction 2," "Wall Street Week," "Church Chat," "Pitman & Bullock," "The Teeny Cafe," "Keister Family Talk," "Discover," "The Spimozo Brothers," and "Cat Dentist" (film). LL Cool J performs "Go Cut Creator Go." Michael Penn and The Pull performs "This & That."
---
13x01 Steve Martin/Sting (October 17, 1987)
---
Sketches include ""Ronald Reagan and George Bush,"" ""Gary Hart Ad,"" ""Common Knowledge,"" ""NFL Today,"" ""Slide Whistle Sound Effects,"" ""Bullets Aren't Cheap,"" ""Permission to Speak Freely,"" ""Adventures in the Lost Realm,"" and ""Pumping Up With Hans and Franz"".
---