Psych
Season 1
Psych
Season 1
First Air Date: July 07, 2006

| | | |
| --- | --- | --- |
| First Aired on | : | 2006 |
| Episodes | : | 15 episodes |
Episodes
1x15 Scary Sherry: Bianca's Toast (March 02, 2007)
---
Juliet asks Shawn and Gus for assistance on her undercover assignment. They're only too glad to help, since it involves sorority sisters. Unfortunately, what's supposed to be an easy case turns out to have ties to their past and may endanger Juliet. Meanwhile, Lassiter locks horns with the oldest rookie the departments has ever trained.
---
1x14 Poker? I Barely Know Her (February 23, 2007)
---
Henry's friend refuses to report his son, Brandon, missing after the son steals 30,000 dollars. Shawn agrees to help locate the son, and finds out that Brandon has been involved in some underground poker. Meanwhile, O'hara tries to surprise Lassiter on his birthday.
---
1x13 Game Set... Muuurder? (February 16, 2007)
---
Lonely and bored, Shawn convinces Juliet to give him a shot with a case involving a missing tennis star, but first he has to spring an unwilling Gus from a corporate retreat.
---
1x12 Cloudy... With a Chance of Murder (February 09, 2007)
---
A local weatherman is found dead the morning after a tryst and his lover is charged with his murder despite her claims of innocence. Shawn is intrigued and becomes a defense consultant in order to gain access to the case.
---
1x11 He Loves Me, He Loves Me Not, He Loves Me, Oops He's Dead (February 02, 2007)
---
The duo's latest case, a gag from Lassiter, turns from an alien abduction investigation to a murder case with the discovery of naked body. Between tanning salons, speed dating and Henry disagreeing with their prime suspects, it's possible Lassiter will solve the case before Shawn and Gus can.
---
1x10 From the Earth to Starbucks (January 26, 2007)
---
When Lassiter doubts his own crime-solving ability, Shawn tries to boost his confidence by helping him solve an astronomer's mysterious death.
---
1x09 Forget Me Not (January 19, 2007)
---
Henry's old captain believes he's solved a murder, but his Alzheimer's has caused him to forget the most important details: the crime, and who committed it. Henry calls in Shawn and Gus who find themselves investigating a murder that happened decades ago and only the faulty memory of the retired officer gives them any hope of closing the case.
---
1x08 Shawn vs. the Red Phantom (August 25, 2006)
---
Gus is ecstatic when it turns out the only real clue in his and Shawn's missing-person case is TriCon, the comic book and science fiction convention currently running in Santa Barbara. As bodies start turning up, they must balance their newly-scammed and increasingly onerous duties as George Takei's assistants with finding the killer and saving the teenager.
---
1x07 Who Ya Gonna Call? (August 18, 2006)
---
Shawn reluctantly settles for a private client who claims a ghost has it in for him after Lassiter kicks Gus and him off the much more interesting case of a murdered psychologist, but the two investigations seem to be running parallel and Shawn may still end up solving the police's case.
---
1x06 Weekend Warriors (August 11, 2006)
---
Shawn and Gus attend a Civil War reenactment rehearsal for the sheer pleasure of watching Lassiter have a nervous breakdown as he runs it, but when a scripted death turns real they end up donning uniforms themselves in order to find the murderer and perhaps prevent another.
---
1x05 9 Lives (August 04, 2006)
---
Shawn claims a psychic connection with a cat so he can continue his investigation into a what he believes is a murder, but that the police have labeled a suicide, and the link he finds to a hotline may involve one of SBPD's own officers.
---
1x04 Woman Seeking Dead Husband - Smokers Okay, No Pets (July 28, 2006)
---
Shawn and Gus land their first non-SBPD case when a widow hires them to find some cash that her husband stole from a bank. Shawn is asked to talk to a spirit and help the widow of the thief.
---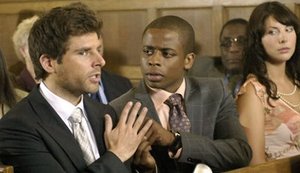 1x03 Speak Now or Forever Hold Your Piece (July 21, 2006)
---
Shawn and Gus become wedding crashers at a posh ceremony in order to retrieve a stolen antique engagement ring inexplicably taken from an inpenetrable vault under surveillance. And theft turns to murder when things start to come unraveled.
---
1x02 The Spellingg Bee (July 14, 2006)
---
When what begins as a little competitive sabotage in a regional spelling bee quickly escalates to murder. Shawn and Gus must investigate the mysterious death of the "Spellmaster" at the regional Spelling Bee.
---
1x01 Pilot (July 07, 2006)
---
When Shawn Spencer is arrested for calling in an accurate tip to the police because only the perpetrator would know the details, his only way out is pretending to be a psychic. It turns out Santa Barbara PD isn't done with him. They ask him to consult on a kidnapping case, and a business is born.
---