Castle
Season 4
Castle
Season 4
First Air Date: September 19, 2011

| | | |
| --- | --- | --- |
| First Aired on | : | 2011 |
| Episodes | : | 23 episodes |
Prepare for a season full of suspense as Castle works to identify Beckett's shooter while Beckett struggles with the aftermath of her near-death encounter. All the while, the duo tackles a new batch of New Your City's most interesting cases.
Episodes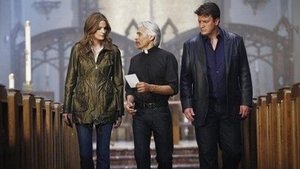 4x23 Always (May 07, 2012)
---
When the murder of an Army veteran puts Beckett on the trail of the man who shot her, Castle must decide how much he's willing to sacrifice to keep her safe. As secrets are revealed and feelings are put on the table, the lives of the detectives at the 12th Precinct may never be the same.
---
4x22 Undead Again (April 30, 2012)
---
When Castle and Beckett investigate the murder of a man with human bite marks on his body, Castle's wild theories start flying. But none are as wild as what their only witness insists happened - a Zombie attack. As the evidence pointing towards an undead assailant piles up, the team plunges into New York's Zombie subculture to find the killer and bring him in -- dead, undead or alive
---
4x21 Headhunters (April 16, 2012)
---
With tensions rising between Castle and Beckett, Castle finds himself a new partner -- Detective Ethan Slaughter (guest star Adam Baldwin, "Firefly"), a tough and colorful cop from the city's gang unit. But Castle gets more than he bargained for when Slaughter shows him a grittier side of police work that puts Castle in the line of fire like never before
---
4x20 The Limey (April 02, 2012)
---
A devilishly handsome detective from Scotland Yard, Simon Hunt, teams up with Castle & Beckett to find the person responsible for the murder of his friend's daughter. Also, Nigel Wyndham, the Deputy General at the British Consulate whom Castle & Beckett suspect is up to more than just ambassadorial balls and diplomatic luncheons. Meanwhile, Lanie convinces Beckett that she needs to make a move on Castle before it is too late.
---
4x19 47 Seconds (March 26, 2012)
---
When a bomb explodes at a protest rally killing five people, Castle and Beckett realize the key to solving the case is to reconstruct the 47 seconds prior to the explosion. Using video and witness accounts, they uncover the shocking truth about who planted the bomb.
---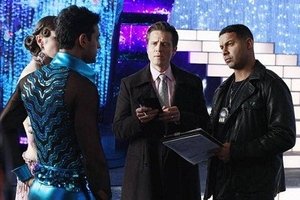 4x18 A Dance with Death (March 19, 2012)
---
When Odette Morton, a contestant on the hit competition show "A Night Of Dance," is found murdered in her dressing room, Castle and Beckett must navigate the case's many twists and twirls without stepping on each other's toes. But as they delve into Odette's past, they discover that this reality starlet was harboring a shocking secret that may have led to her death
---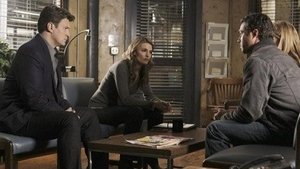 4x17 Once Upon a Crime (February 27, 2012)
---
When a woman dressed as Red Riding Hood is found dead in the woods with claw marks covering her body, and soon after a murdered Snow White is discovered with a poison apple in her hand, Castle & Beckett find themselves on a Grimm hunt to catch a fairytale killer before he kills again. But nothing is as it seems in a case filled with deceit, betrayal, secrets and murder
---
4x16 Linchpin (2) (February 20, 2012)
---
Castle & Beckett race to find the "Linchpin" in order to stop the first domino in a chain of events which will plunge the United States into war. Their efforts continue to put Castle in contact with Sophia Conrad - a smart, commanding and sexy CIA operative who was Castle's inspiration for Clara Strike in the "Derrick Storm" series of books; and intelligence officer Martin Danberg is back.
---
4x15 Pandora (1) (February 13, 2012)
---
Castle and Beckett pursue a ruthless killer who, they discover, is part of a sinister, international conspiracy. Castle and Beckett are joined on the case by Sophia Conrad, a smart, sexy CIA operative who has a complicated past with Castle.
---
4x14 The Blue Butterfly (February 06, 2012)
---
When Castle and Beckett investigate the killing of a treasure hunter, they discover the case is linked to a mysterious homicide from 1947 involving a hard-boiled private detective. Castle realizes the only way to solve the present-day murder is to solve the murder from the past. The 1947 case comes to life through stylized flashbacks, featuring Castle as the private eye and Beckett as a femme fatale.
---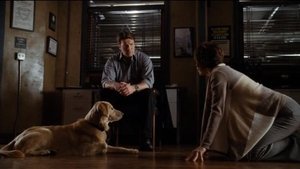 4x13 An Embarrassment of Bitches (January 23, 2012)
---
When a famous dog trainer is killed, the investigation keeps coming back to charismatic reality TV star Kay Cappuccio. Kay, a favorite of tabloids and gossip websites the world over, has achieved stardom without possessing any discernible skill or talent. But there seems to be more to her story than she is letting on -- does that include murder?
---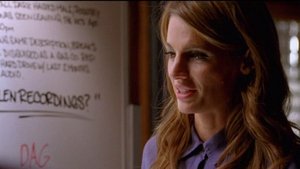 4x12 Dial M for Mayor (January 16, 2012)
---
It was longtime Castle friend Mayor Weldon's political clout that allowed Castle to partner up with Beckett. But now, when a woman is found dead in a car that traces back to the Mayor's motor pool, that partnership comes under fire as the scandal surrounding the investigation threatens to bring down Weldon's administration.
---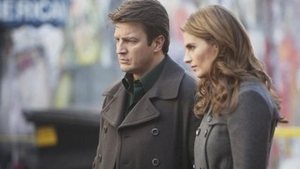 4x11 Till Death Do Us Part (January 09, 2012)
---
When a lothario is killed, Castle and Beckett suspect that the victim's mysterious double life holds the key to his murder. Their investigation leads to a shocking twist that threatens to disrupt Ryan's wedding with Jenny
---
4x10 Cuffed (December 05, 2011)
---
When Castle and Beckett wake up in bed, handcuffed together, in a locked room with no memory of how they got there, they must piece together the mystery of where they are and why, all while trying to escape. But as the two of them adjust to being shackled together, what's the biggest threat they face... the people who abducted them or each other? Meanwhile, Ryan, Esposito and Gates are left to investigate their disappearance in a case where all is not what it seems.
---
4x09 Kill Shot (November 21, 2011)
---
A sniper on a killing spree is terrorizing New York City. With the clock ticking down to the next murder and nothing to go on except a killer with no apparent motive but to instill terror, this could prove the team's toughest case yet. The hunt is made even more complicated when Beckett begins to experience increasingly strong moments of PTSD - moments she tries hard to hide from Castle and the detectives.
---
4x08 Heartbreak Hotel (November 07, 2011)
---
During the investigation of the murder of an Atlantic City casino owner at an abandoned warehouse, strong leads emerge for the team in both New York and Atlantic City. As Beckett and Capt. Gates work the New York leads together, Castle naturally chooses to join the detectives for the road trip to "America's Playground," hoping to help solve the case while throwing an impromptu bachelor party for Ryan.
---
4x07 Cops & Robbers (October 31, 2011)
---
A crew of bank robbers disguised as classic television doctors take hostages which include Castle and Martha. But things are complicated by the fact that Beckett's on the outside having her every move scrutinized by a hostage negotiator and Castle's on the inside with information that the hostages are just a distraction for a more ominous plan.
---
4x06 Demons (October 24, 2011)
---
While doing some investigative work at a New York mansion, a prominent ghost hunter is murdered. Castle and Beckett must figure out if paranormal activities are to blame.
---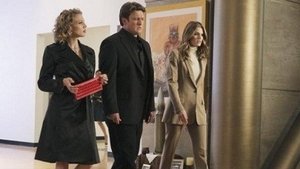 4x05 Eye of the Beholder (October 17, 2011)
---
A wealthy museum patron is a suspect when a valuable sculpture is stolen. Castle and Beckett investigate the theft with the help of an insurance investigator who sets her sights on Castle.
---
4x04 Kick the Ballistics (October 10, 2011)
---
A young woman will be murdered and the murder weapon will be Detective Ryan's old service piece. Castle, Beckett, Ryan and Esposito must rush against time to solve the murder, track down and retrieve Ryan's gun before the killer strikes again
---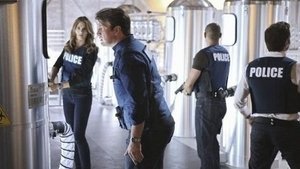 4x03 Head Case (October 03, 2011)
---
A murder scene complete with lots of blood but no victim and high tech life-extension science are all part of the investigation as Castle and Beckett try to solve a murder without a body. Meanwhile, Alexis waits to hear news about her application to Stanford
---
4x02 Heroes & Villains (September 26, 2011)
---
When an ex-con is mysteriously slain in an alley, Castle and Beckett believe a vigilante is behind the murder. But efforts to identify their suspect are thwarted when they discover that he roams the city in a Superhero costume – and may indeed be a Superhero. Can they capture and unmask the killer before he strikes again?
---
4x01 Rise (September 19, 2011)
---
Detective Beckett fights for her life as Castle, plagued by guilt over his role in the events, struggles to uncover who's behind her brutal shooting. Meanwhile, back at the precinct, Ryan and Esposito have to adjust, as Victoria "Iron" Gates becomes the precinct's new uncompromising Captain.
---