Castle
Season 3
Castle
Season 3
First Air Date: September 20, 2010

| | | |
| --- | --- | --- |
| First Aired on | : | 2010 |
| Episodes | : | 24 episodes |
She's still armed. He's still dangerous. And their chemistry is hotter than ever. Season three finds both Richard Castle and Detective Kate Beckett pursuing romantic options of their own. Their signals may be crossed, but this duo hasn't lost any of their spark. With Beckett's intrepid police work and Castle's uncanny insight, solving murder has never been so much fun.
Episodes
3x24 Knockout (May 16, 2011)
---
Kate Beckett's investigation into her mother's death is reactivated when Hal Lockwood - a professional hitman with knowledge of Beckett's mother's murder - stages a spectacular escape during a court hearing. As police launch a manhunt for Lockwood, Castle and the team uncover evidence of a deeper conspiracy involving a mysterious figure with law enforcement connections who is linked to both Lockwood's escape and the killing of Johanna Beckett. The search for Lockwood and the quest to identify his co-conspirator leads to a shocking and deadly conclusion.
---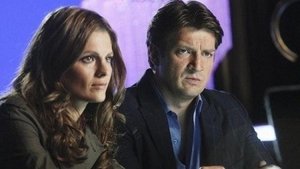 3x23 Pretty Dead (May 09, 2011)
---
During rehearsal for "Baron's All-American Beauty Pageant," the contestants are shocked to discover the body of Miss Illinois - strangled, but by whom? As Castle and Beckett delve into the cut-throat competition of the pageant world, they learn that a number suspects had motive for murder, including jealous fellow contestants, the pageant's larger-than-life millionaire sponsor, Victor Baron, and the show's host -- hedonistic TV personality, Bobby Stark.
---
3x22 To Love and Die in L.A. (May 02, 2011)
---
While investigating the shooting death of her ex-partner in New York, Beckett comes to believe the suspect has fled to Los Angeles. Against orders, she travels to L.A., going renegade to track down the killer, with Castle unexpectedly along for the ride. As they dig deeper into the motives, they uncover a trail that leads from a rooftop pool in Hollywood to the sandy beach of Santa Monica. Along the way, they visit the set of the "Heat Wave" movie (based on Castle's book) and enlist the cast to help break the case. But as they get closer to apprehending the killer, Castle begins to wonder whether Beckett is out for justice or revenge.
---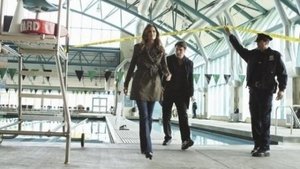 3x21 The Dead Pool (April 11, 2011)
---
When a champion swimmer and Olympic hopeful is found dead in a training pool, Castle & Beckett dive in to investigate his murder, and uncover myriad secrets that might have led to his death.
---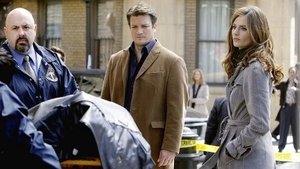 3x20 Slice of Death (April 04, 2011)
---
When a reporter is found dead inside a restaurant's pizza oven, Beckett and Castle go to work on solving the case. They must figure out if his story "The Pizza Wars" is what got him killed or if there's something more to the story.
---
3x19 Law & Murder (March 28, 2011)
---
During the high profile trial of a murdered socialite, a juror tumbles out of the jury box....dead.
---
3x18 One Life to Lose (March 21, 2011)
---
A murder has been committed on the set of "Temptation Lane", one of New York's longest running soap operas.
---
3x17 Countdown (2) (February 28, 2011)
---
With time running out, Castle and Beckett must put aside their differences with Agent Fallon to avert a city-wide catastrophe.
---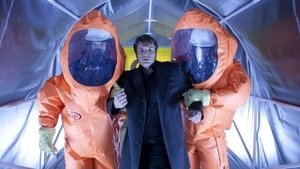 3x16 Setup (1) (February 21, 2011)
---
Castle and Beckett investigate the apparent robbery-homicide of a New York cab driver, only to discover that the victim was involved in a mysterious conspiracy with unimaginable consequences. As the stakes continue to rise, hard-charging federal agent Mark Fallon takes over the investigation. Together, Fallon, Beckett and Castle must race to unmask the truth about the victim before it's too late.
---
3x15 The Final Nail (February 14, 2011)
---
Castle and Beckett find themselves on opposite sides of the case when Castle's old school friend emerges as the prime suspect in his own wife's murder. As they work to solve the crime, Castle comes to realize that one of two terrible things must be true... Either Detective Beckett is about to arrest an innocent man for murder, or his old friend is a cold-blooded killer.
---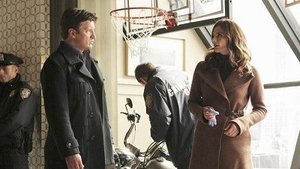 3x14 Lucky Stiff (February 07, 2011)
---
The brutal murder of a lottery winner has Castle and Beckett up to their eyeballs in suspects, envious and angered by the victim's sudden move from the poorhouse to the penthouse. As the precinct buzzes with fantasies of what our cops would do if they won the lottery, Martha struggles with the reality of such a decision when she suddenly inherits money she feels she doesn't deserve.
---
3x13 Knockdown (January 24, 2011)
---
When the detective who investigated Beckett's mother's murder is shot before Beckett's eyes before he can give her new evidence in the case, Beckett's old wounds are reopened. The investigation of the detective's death leads the team to an old scheme which may provide the answer to why Beckett's mother was murdered and who ordered it. Beckett and Castle's relationship takes a new turn.
---
3x12 Poof! You're Dead (January 10, 2011)
---
Castle and Beckett investigate the murder of the owner of a historic magic shop found dead in a Houdini's water torture tank.
---
3x11 Nikki Heat (January 03, 2011)
---
When Castle's novel ''Heat Wave'' becomes a movie, actress Natalie Rhodes accepts Beckett's invitation to visit and learn about the character she will play; Natalie observes Castle and Beckett's investigation of the murder of a matchmaker.
---
3x10 Last Call (December 06, 2010)
---
Castle and Beckett investigate the murder of a dockworker turned bar owner who's body is found floating in the East River. In the process of the investigation they uncover a secret buried since the days of Prohibition.
---
3x09 Close Encounters of the Murderous Kind (November 15, 2010)
---
Castle's latest theory is alien abduction after an astrophysicist's death is found to be from explosive decompression. A well know alien abduction expert gets involved in the case. To complicate things more, a government agent wants to shut down their investigation.
---
3x08 Murder Most Fowl (November 08, 2010)
---
Castle and Beckett investigate the murder of an NYC subway worker found shot in Central Park. But, while investigating the murder they uncover the abduction of a young boy as well. The team must determine the motives behind the high stakes kidnapping in order to save the young boy's life.
---
3x07 Almost Famous (November 01, 2010)
---
An "Officer Down" call turns out to be a male stripper dressed like a cop. Castle and Beckett explore the world of male strip clubs and struggling actors, all people in pursuit of fame. They need to determine if the murder was because of the victim's dreams of stardom or something more sinister.
---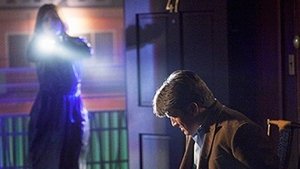 3x06 3XK (October 25, 2010)
---
When a beautiful woman is found dead in an alley, all clues point to her being a victim of the notorious Triple Killer. The Triple Killer, or 3XK, terrorized New York City four years ago, then mysteriously disappeared. Now he's back. In a deadly battle of wits, Castle and Beckett race against time to stop 3XK before he claims his next victims.
---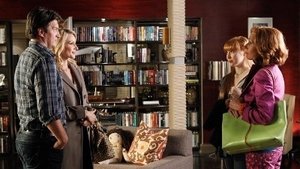 3x05 Anatomy of a Murder (October 18, 2010)
---
An unknown woman falls out of a casket along with the original deceased when pallbearers lose control of the casket at a funeral; the investigation takes Beckett and Castle into the world of amorous, bed-hopping physicians.
---
3x04 Punked (October 11, 2010)
---
Castle and Beckett look into the murder of a young mathematician gunned down with a 200-year-old bullet, sparking some wild theories by Castle about a time-traveling killer. When their investigation uncovers a tricked-out DeLorean and a suspect in Victorian clothing, is it possible Castle's crazy idea has some validity? This winding tale twists through the towers of Wall Street and into the world of a secret steampunk society that embraces the romance and simplicity of the past, while coupling it with the hope and promise of the future.
---
3x03 Under the Gun (October 04, 2010)
---
When a coded document attracts Castle's attention, Beckett must steer the case back to the violent felons who populated their victim's world; when Beckett's ex-partner arrives, Castle must watch the relationship become romantic.
---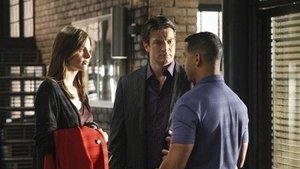 3x02 He's Dead, She's Dead (September 27, 2010)
---
Beckett and Castle search for a psychic's killer while debating the existence of extrasensory abilities.
---
3x01 A Deadly Affair (September 20, 2010)
---
When Beckett and her team burst into an apartment on a murderer's trail, they see Castle standing over a dead woman's body holding a gun; Beckett arrests Castle as he asserts his innocence.
---