The Graham Norton Show
Season 23
The Graham Norton Show
Season 23
First Air Date: April 06, 2018

| | | |
| --- | --- | --- |
| First Aired on | : | 2018 |
| Episodes | : | 13 episodes |
Episodes
23x13 Compilation Show (June 29, 2018)
---
A compilation of highlights from the current series featuring Chris Pratt, Emily Blunt, Ryan Reynolds, Sandra Bullock, David Beckham, Bryce Dallas Howard, Usain Bolt, Emilia Clarke, Channing Tatum, Kylie Minogue, Dwayne Johnson, Gloria Estefan, Jeff Goldblum, Vanessa Kirby, Mary Berry and Benedict Cumberbatch.
---
23x12 Cher, Christine Baranski, Rupert Everett, Natalie Dormer, Tom Odell (June 22, 2018)
---
The guests on Graham's sofa are Cher and Christine Baranski, who star in Mamma Mia! Here We Go Again; Rupert Everett, who talks about directing, writing and starring in his new film about Oscar Wilde, The Happy Prince; and Natalie Dormer, who discusses Picnic at Hanging Rock. With music from Tom Odell, performing his new single If You Wanna Love Somebody.
---
23x11 Sandra Bullock, Cate Blanchett, Helena Bonham Carter, Years and Years (June 15, 2018)
---
The guests on Graham's sofa are Hollywood star Sandra Bullock, double-Oscar-winner Cate Blanchett, superstar singer-songwriter Rihanna, brilliant British actress Helena Bonham Carter, and Emmy and Golden Globe winner Sarah Paulson, all starring in the comedy heist movie Ocean's 8. Plus music from Years & Years, who perform If You're Over Me.
---
23x10 Usain Bolt, Channing Tatum, Jennifer Saunders, Beattie Edmondson, Rob Brydon, Florence and the Machine (June 08, 2018)
---
The guests on Graham's sofa are Olympic and world champion sprinter Usain Bolt, taking part in Soccer Aid 2018, Channing Tatum, talking about his new stage show Magic Mike Live, comedian Jennifer Saunders and her actress daughter Beattie Edmondson, starring together in Disney film Patrick, and Rob Brydon, who is starring in new British comedy Swimming with Men. Plus music from Florence and the Machine, who perform Hunger.
---
23x09 Ethan Hawke, Toni Collette, Aidan Turner, Jo Brand, Liam Payne (June 01, 2018)
---
The guests on Graham's sofa are Ethan Hawke, who stars in First Reformed, Toni Collette, starring in Hereditary, and Aidan Turner, who is in the West End with The Lieutenant of Inishmore. Jo Brand talks about her new film The More You Ignore Me. Plus music from Liam Payne, who performs Familiar.
---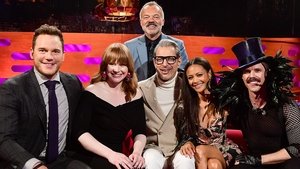 23x08 Chris Pratt, Bryce Dallas Howard, Jeff Goldblum, Jake Shears (May 25, 2018)
---
The guests on Graham's sofa are Chris Pratt, Bryce Dallas Howard and Jeff Goldblum, who star together in new sequel Jurassic World: Fallen Kingdom. Plus music from Jake Shears, who performs Creep City.
---
23x07 Emilia Clarke, Gloria Estefan, David Tennant, Miriam Margolyes, Leon Bridges (May 18, 2018)
---
The guests on Graham's sofa are Emilia Clarke, starring in Solo: A Star Wars Story, Gloria Estefan, who discusses a new show about her life and music called On Your Feet, former Doctor Who and star of Broadchurch David Tennant, and the irrepressible Miriam Margolyes, chatting about her role in Call the Midwife. Plus music from Leon Bridges, who performs his new single Beyond.
---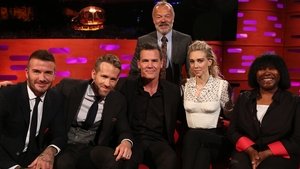 23x06 Ryan Reynolds, Josh Brolin, David Beckham, Vanessa Kirby, Joan Armatrading (May 11, 2018)
---
Among the guests on Graham's sofa are Hollywood stars Ryan Reynolds and Josh Brolin, starring together in irreverent superhero sequel Deadpool 2, sporting icon and Unicef ambassador David Beckham, Bafta-nominated actor Vanessa Kirby, appearing in Julie at the National Theatre, and music legend Joan Armatrading, chatting and performing I Like It When We're Together from her new album.
---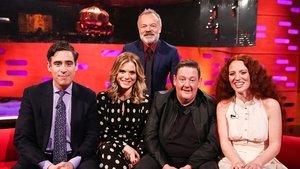 23x05 Stephen Mangan, Emilia Fox, Johnny Vegas, Jess Glynne (May 04, 2018)
---
The guests on Graham's sofa are Stephen Mangan, who talks about his new TV show Hang Ups, and Emilia Fox and Johnny Vegas, who talk about sitcom Home from Home. Plus music from Jess Glynne who performs her new single I'll Be There.
---
23x04 Orlando Bloom, Stephen Merchant, Tamsin Greig, SuRie (April 27, 2018)
---
Among the guests on Graham's sofa are Pirates and Lord of the Rings star Orlando Bloom, who is on the West End stage in Killer Joe, comedian Stephen Merchant who is voicing new animation Sherlock Gnomes and Episodes star Tamsin Greig. Plus music from SuRie, performing the UK's Eurovision entry Storm.
---
23x03 Benedict Cumberbatch, Matt LeBlanc, Maxine Peake, Mary Berry, Claudia Winkleman (April 20, 2018)
---
Graham is joined by Oscar nominee Benedict Cumberbatch, playing Dr Strange in Avengers: Infinity War, Matt LeBlanc, playing himself in the final series of Episodes, actress Maxine Peake, playing a 70s club comedian in Funny Cow and Mary Berry and Claudia Winkleman talking about new BBC1 show Britain's Best Cook. Plus music from Calvin Harris featuring Dua Lipa, performing new single One Kiss.
---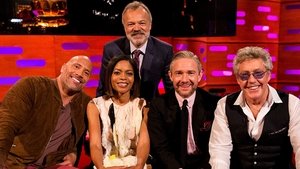 23x02 Dwayne 'The Rock' Johnson, Naomie Harris, Martin Freeman, Roger Daltrey (April 13, 2018)
---
Graham is joined by Dwayne 'The Rock' Johnson and Oscar-nominated star of Moonlight and James Bond Naomie Harris, starring together in monster movie Rampage, and Sherlock and The Hobbit star Martin Freeman, appearing in horror anthology Ghost Stories. Roger Daltrey performs his new single As Long as I Have You.
---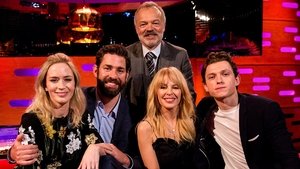 23x01 Emily Blunt, John Krasinski, Tom Holland, Kylie Minogue (April 06, 2018)
---
Graham is joined by The Devil Wears Prada and Girl on a Train star Emily Blunt and American Office star John Krasinski, who appear together in new horror movie A Quiet Place, and Tom Holland, who is reprising the role of Spider-Man in new Marvel film Avengers: Infinity War. Pop star and actress Kylie Minogue performs her new single Stop Me from Falling, from the album Golden.
---