The Graham Norton Show
Season 22
The Graham Norton Show
Season 22
First Air Date: September 28, 2017

| | | |
| --- | --- | --- |
| First Aired on | : | 2017 |
| Episodes | : | 19 episodes |
Episodes
22x19 Compilation Show (February 22, 2018)
---
A compilation of highlights from the current series, featuring a host of star guests: Will Smith, Judi Dench, Ryan Gosling, Helen Mirren, Tom Cruise, Kate Winslet, Hillary Clinton, Harrison Ford, Jane Fonda, Idris Elba, Margot Robbie, Hugh Jackman, Elton John, Emma Thompson and Tom Hanks.
---
22x18 Margot Robbie, Allison Janney, Daniel Kaluuya, Alicia Vikander, Camila Cabello (February 15, 2018)
---
Graham's guests include Margot Robbie and Allison Janney, both Oscar-nominated for their roles in the drama based on a true story, I, Tonya and Daniel Kaluuya, Oscar-nominated for Get Out and currently appearing in Marvel's Black Panther. Also joining Graham is Oscar-winner Alicia Vikander, who stars as Lara Croft in the new Tomb Raider movie. Plus music from singer-songwriter Camila Cabello, who performs Havana.
---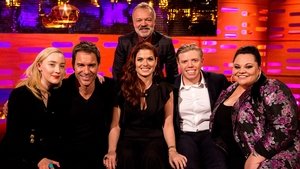 22x17 Saoirse Ronan, Eric McCormack, Debra Messing, Rob Beckett, Keala Settle (February 08, 2018)
---
Graham's guests include Saoirse Ronan, Oscar-nominated for her role in Lady Bird, Eric McCormack and Debra Messing, who are reunited in the new series of Will and Grace, and comedian and All Together Now host Rob Beckett. Plus music from Keala Settle, who performs the Oscar-nominated This is Me from The Greatest Showman.
---
22x16 Will.i.am, Imelda Staunton, Cuba Gooding Jr, George Ezra (February 01, 2018)
---
Graham's guests include musician, entrepreneur and The Voice judge will.i.am and stage and screen actor Imelda Staunton, who stars in the new romantic comedy Finding Your Feet. Plus Oscar winner Cuba Gooding Jr, taking the role of Billy Flynn in Chicago, and musical guest George Ezra performs Paradise.
---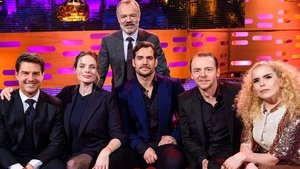 22x15 Tom Cruise, Rebecca Ferguson, Henry Cavill, Simon Pegg and Paloma Faith (January 25, 2018)
---
Graham Norton's guests include Tom Cruise, talking about his forthcoming blockbuster Mission: Impossible 6, with his co-stars Henry Cavill, Rebecca Ferguson and Simon Pegg. Plus music and chat from Paloma Faith, who performs 'Til I'm Done.
---
22x14 Helen Mirren, Liam Neeson, Jamie Dornan, Sigrid (January 18, 2018)
---
Graham Norton's guests are Dame Helen Mirren from the supernatural horror film Winchester, the Oscar-nominated actor Liam Neeson, who stars in the action thriller The Commuter, and Jamie Dornan, who stars in Fifty Shades Freed, the final part of the erotic trilogy. Singer-songwriter Sigrid performs her song Strangers.
---
22x13 Anthony Joshua, Tom Hanks, Maisie Williams, First Aid Kit (January 11, 2018)
---
Graham Norton's guests are the double-Oscar-winner Tom Hanks, who stars in Steven Spielberg's new political drama The Post, world heavyweight champion Anthony Joshua and Game of Thrones star Maisie Williams, who talks about her role in the upcoming Aardman animation Early Man. With music from First Aid Kit, performing It's a Shame.
---
22x12 Will Smith, Jenna Coleman, Jamie Oliver, Tom Chaplin (December 21, 2017)
---
Joining Graham Norton are Will Smith, starring in new sci-fi police drama Bright, Jenna Coleman, starring in the Victoria Christmas special, and celebrity chef and restaurateur Jamie Oliver, talking about his hit new book 5 Ingredients. With music from Keane frontman Tom Chaplin, who performs Midnight Mass from his album Twelve Tales of Christmas.
---
22x11 Daisy Ridley, John Boyega, Gwendoline Christie, Mark Hamill, Sam Smith (December 14, 2017)
---
Joining Graham Norton are the stars of Star Wars: The Last Jedi - Daisy Ridley, John Boyega, Gwendoline Christie and Luke Skywalker himself, Mark Hamill. And Sam Smith performs.
---
22x10 Jessica Chastain, Dawn French, Rebel Wilson, Dwayne Johnson, Kevin Hart, Jack Black, Noel Gallagher (December 07, 2017)
---
Together on Graham Norton's sofa are Jessica Chastain, Oscar-nominated star of The Help and Zero Dark Thirty, comedian and writer Dawn French, Pitch Perfect actress Rebel Wilson, and Dwayne Johnson, Kevin Hart and Jack Black, stars of Jumanji: Welcome to the Jungle. Plus music from Noel Gallagher's High Flying Birds, who perform Holy Mountain.
---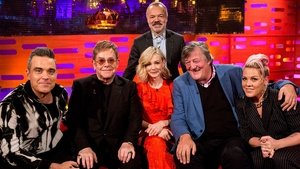 22x09 Sir Elton John, Stephen Fry, Carey Mulligan, Robbie Williams, Pink (November 30, 2017)
---
Together on Graham Norton's sofa are rock star Sir Elton John, actor and writer Stephen Fry, Oscar-nominated actress Carey Mulligan, pop star Robbie Williams and singer-songwriter Pink, who performs What About Us.
---
22x08 Mel Gibson, Will Ferrell, Mark Wahlberg, John Lithgow, Kesha (November 23, 2017)
---
Graham Norton is joined by actors Mel Gibson, Will Ferrell, Mark Wahlberg and John Lithgow, with music from Kesha, who performs Learn to Let Go.
---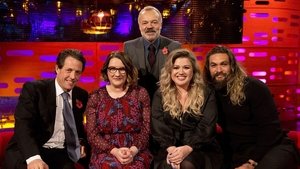 22x07 Hugh Grant, Jason Momoa, Sarah Millican, Kelly Clarkson (November 09, 2017)
---
Graham Norton is joined by actor Hugh Grant, appearing in Paddington 2, Jason Momoa, starring as Aquaman in Justice League, comedian and writer Sarah Millican and triple Grammy Award-winner Kelly Clarkson, who performs Love So Soft from her album Meaning of Life.
---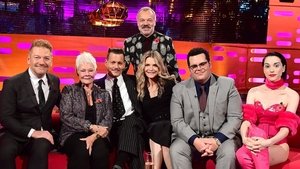 22x06 Kenneth Branagh, Michelle Preiffer, Judi Dench and Josh Gad (November 02, 2017)
---
Graham Norton is joined by Judi Dench, Kenneth Branagh, Johnny Depp, Michelle Pfeiffer and Josh Gad who all star in the new movie version of Murder on the Orient Express. Plus music from St. Vincent, who performs the single Los Ageless.
---
22x05 Emma Thompson, Adam Sandler, Claire Foy, Cara Delevingne (October 26, 2017)
---
Graham Norton is joined by Emma Thompson and Adam Sandler, who star in The Meyerowitz Stories (New and Selected), Claire Foy and Cara Delevingne. Plus music from Morrissey, who sings Spent the Day in Bed.
---
22x04 Hillary Clinton, Jeff Goldblum, Gerard Butler, Jack Whitehall (October 19, 2017)
---
Former US Secretary of State and Democrat presidential candidate Hillary Clinton joins Graham on the sofa this week. Following in the footsteps of Harriet Harman, who visited the studio back in February to promote her book on women in politics, Hillary discusses What Happened, her account of the 2016 presidential race. Also appearing this evening are Jeff Goldblum, who will be speaking about his appearance as the eccentric Grandmaster in Marvel's Thor: Ragnarok, Geostorm star Gerard Butler, and comedian Jack Whitehall.
---
22x03 Jane Fonda, Nicole Kidman, Colin Farrell, Bryan Cranston, Matt Lucas, Niall Horan (October 12, 2017)
---
With legendary actor and activist Jane Fonda; Hollywood stars Nicole Kidman and Colin Farrell, together in The Killing of a Sacred Deer; Breaking Bad star Bryan Cranston, performing at the National Theatre; and comedian Matt Lucas. With music from Niall Horan, who performs his latest single Too Much To Ask.
---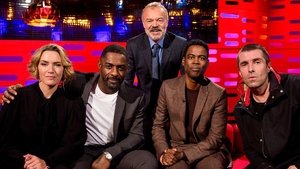 22x02 Kate Winslet, Idris Elba, Chris Rock, Liam Gallagher (October 05, 2017)
---
Graham is joined by Kate Winslet and Idris Elba, who star in the romance disaster movie The Mountain Between Us, and Chris Rock. Plus music and chat from Liam Gallagher, who performs his latest single For What It's Worth.
---
22x01 Harrison Ford, Ryan Gosling, Margot Robbie, Reese Witherspoon, Bananarama (September 28, 2017)
---
Graham is joined by Harrison Ford and Ryan Gosling, who star in Blade Runner 2049, Margot Robbie, starring in Goodbye Christopher Robin, and Reese Witherspoon, who stars in the romantic comedy Home Again. Plus music from Bananarama, who perform Cruel Summer.
---