The Graham Norton Show
Season 12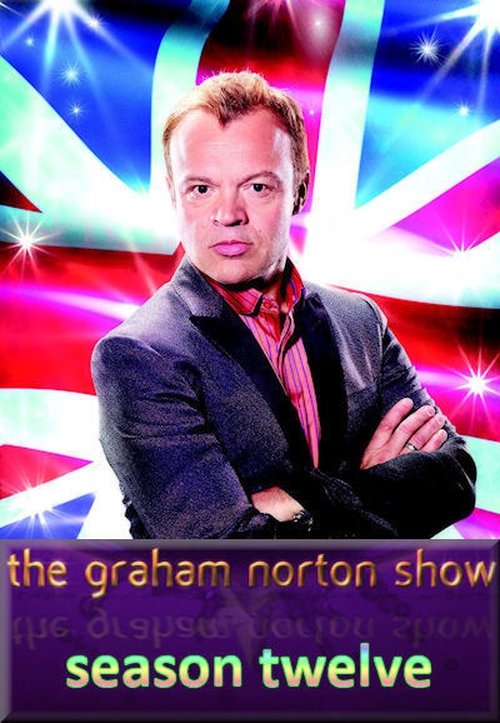 The Graham Norton Show
Season 12
First Air Date: October 19, 2012

| | | |
| --- | --- | --- |
| First Aired on | : | 2012 |
| Episodes | : | 20 episodes |
Episodes
12x21 Episode 21 (January 01, 0001)
---
---
12x19 Compilation Show (March 22, 2013)
---
Highlights from the latest series of the award-winning talk show featuring star guests including Mark Wahlberg, Richard Gere, Robbie Williams, Tom Cruise and Judi Dench.
---
12x18 Jude Law, Mila Kunis, Dame Judi Dench, Olly Murs (March 01, 2013)
---
Together on Graham's sofa are Sherlock Holmes star Jude Law, Ted and Family Guy actress Mila Kunis and the legendary Dame Judi Dench. With music from Olly Murs.
---
12x17 Richard Gere, John Malkovich, Saoirse Ronan, Taylor Swift (February 22, 2013)
---
The award-winning host continues his talk show. Graham is joined by Pretty Woman star Richard Gere, Hollywood great John Malkovich and rising Irish actress Saoirse Ronan, with music from Taylor Swift.
---
12x16 Jeremy Renner, Gemma Arterton, Matt Lucas, Delia Smith, Rita Ora (February 15, 2013)
---
Graham is joined by Hurt Locker and Avengers star Jeremy Renner and actress Gemma Arterton, talking about their new movie Hansel and Gretel - Witch Hunters. Plus comedian Matt Lucas, cooking legend Delia Smith, and music from Rita Ora.
---
12x15 Mark Wahlberg, Michael Fassbender, Sarah Silverman, Laura Mvula (February 08, 2013)
---
Graham is joined Hollywood star Mark Wahlberg, talking about his new movie Broken City; X Men and Prometheus actor Michael Fassbender; and outrageous US comic Sarah Silverman. Plus, there is music from Laura Mvula.
---
12x14 Dame Helen Mirren, Paul Rudd, Leslie Mann, Little Mix (February 01, 2013)
---
Graham is joined by Dame Helen Mirren, who is starring as the director's wife in Hitchcock, and actors Paul Rudd and Leslie Mann, stars of This Is Forty, the sequel to Knocked Up. Plus there's music from Little Mix.
---
12x13 Minnie Driver, Stephen Merchant, Clare Balding, The Script. (January 25, 2013)
---
Sharing Graham's sofa are Hollywood star Minnie Driver; gangly funnyman Stephen Merchant; national treasure Clare Balding; and Irish band the Script.
---
12x12 Denzel Washington, Nicholas Hoult, Bill Bailey, Conor Maynard (January 18, 2013)
---
Joining Graham on his sofa: double Oscar-winner Denzel Washington, talking about his new movie Flight; British actor Nicholas Hoult and comedian Bill Bailey, plus Conor Maynard performs his new single, Animal.
---
12x11 Quentin Tarantino, James McAvoy, Alan Davies, Emeli Sandé (January 11, 2013)
---
Graham is joined by film director Quentin Tarantino, actor James McAvoy, comedian Alan Davies and singing star Emeli Sandé.
---
12x10 Josh Groban, Billie Piper, Frank Skinner, Example (January 04, 2013)
---
Graham is joined by international singing star Josh Groban, acclaimed actress Billie Piper and comedian Frank Skinner, with music and chat from dance maestro Example.
---
12x09 Dustin Hoffman, Billy Connolly, Jennifer Saunders, Matt Smith, Amy Macdonald (December 21, 2012)
---
Graham is joined by actor Dustin Hoffman, comedian Billy Connolly, Ab Fab queen Jennifer Saunders and Time Lord Matt Smith, with music from Amy Macdonald.
---
12x08 Martin Freeman, Dawn French, Lee Mack, Girls Aloud (December 14, 2012)
---
Graham is joined by Martin Freeman, who stars in new film The Hobbit, comedian and writer Dawn French and top comic Lee Mack. Reformed pop princesses Girls Aloud perform.
---
12x07 Daniel Radcliffe, Jessica Ennis, Ricky Gervais, Bruno Mars (December 07, 2012)
---
Together on the sofa are ex-Harry Potter star Daniel Radcliffe, Olympic golden girl Jessica Ennis, comedy legend Ricky Gervais and singer Bruno Mars.
---
12x06 Jake Gyllenhaal, Joan Rivers, Jeremy Clarkson, James May, Ke$ha (November 30, 2012)
---
Graham is joined by Hollywood star Jake Gyllenhaal, legendary comedian Joan Rivers and petrol heads Jeremy Clarkson and James May. Plus music from chart-topping Ke$ha.
---
12x05 Helena Bonham Carter, Jack Whitehall, Michael Palin, Michael Buble (November 23, 2012)
---
The award-winning host continues his unique chat show. Together on the sofa are actress Helena Bonham Carter, currently starring in Great Expectations; comedian and actor Jack Whitehall; globe-trotting Brazil nut Michael Palin; and Michael Buble, who also performs in the studio.
---
12x04 Cameron Diaz, Sarah Millican, Rod Stewart (November 09, 2012)
---
Together on the sofa are Hollywood star Cameron Diaz, comedian Sarah Millican and singer Rod Stewart, who also performs.
---
12x03 Robbie Williams, Paul O'Grady, Darcey Bussell, Felix Baumgartner (November 02, 2012)
---
Graham is joined by Robbie Williams, chatting and performing his new single; comedian Paul O'Grady; Strictly judge Darcey Bussell and daredevil skydiver Felix Baumgartner.
---
12x02 Daniel Craig, Dame Judi Dench, Javier Bardem (October 26, 2012)
---
Together on the sofa in a James Bond special are 007 himself, Daniel Craig; M's alter ego, Dame Judi Dench; and Skyfall's villain, Oscar-winner Javier Bardem.
---
12x01 Arnold Schwarzenegger, Miranda Hart, Ronnie Corbett, Usher (October 19, 2012)
---
The award-winning host returns with a new series of his chat show. He is joined by Arnold Schwarzenegger, Miranda Hart and Ronnie Corbett, with music from singer-songwriter Usher.
---