Fear the Walking Dead
Season 2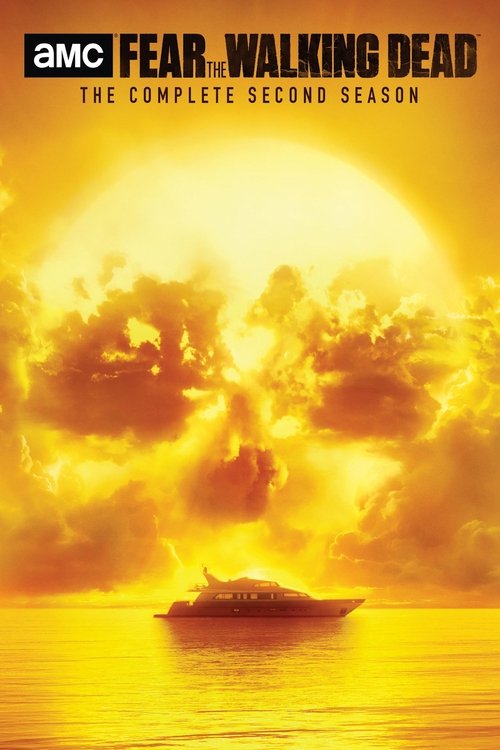 Fear the Walking Dead
Season 2
First Air Date: April 10, 2016

| | | |
| --- | --- | --- |
| First Aired on | : | 2016 |
| Episodes | : | 15 episodes |
Season two returns aboard the Abigail. Abandoning land, the group sets out for ports unknown, some place where Infection has not hit. They will discover that the water may be no safer than land.
Want to see ?
Teaser: FEAR THE WALKING DEAD Season 2
Trailer: Fear the Walking Dead - Season 2 Trailer
Episodes
2x15 North (October 02, 2016)
---
When Travis' rage causes unrest at the hotel, Madison has to choose whether or not she will stand by him; Nick becomes leader of the Colonia as Narcos close in.
---
2x14 Wrath (October 02, 2016)
---
Travis is thrown off by new refugees; Nick must decide if he's going to stay at the Colonia with Luciana or leave.
---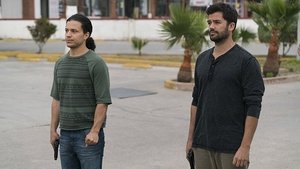 2x13 Date of Death (September 25, 2016)
---
Madison struggles to cope as a large number of refugees flood into the hotel, including someone familiar but unexpected.
---
2x12 Pillar of Salt (September 18, 2016)
---
At the Colonia, Alejandro reveals his darker side; a hotel resident becomes violent and Madison springs into action.
---
2x11 Pablo & Jessica (September 11, 2016)
---
Alicia and Madison try to bring two competing factions together; Nick uses skills from his past for his new role.
---
2x10 Do Not Disturb (September 04, 2016)
---
Travis has a hard time connecting with Chris while looking for shelter; Alicia meets a woman with a bloody past.
---
2x09 Los Muertos (August 28, 2016)
---
After the fall of the compound, Madison, Strand and others forge a tenuous path forward. Meanwhile, Nick is recruited for a perilous assignment.
---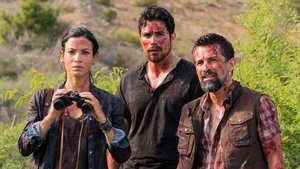 2x08 Grotesque (August 21, 2016)
---
Nick's search for answers leads him into a deadly dog-eat-dog landscape. A dark time from his past is uncovered.
---
2x07 Shiva (May 22, 2016)
---
The family faces their biggest test yet; Nick, Madison, Travis and others try to stay close to each other.
---
2x06 Sicut Cervus (May 15, 2016)
---
Conflict arises as the Abigail approaches its destination. Chris makes a staggering decision. Nick meets a new maternal figure.
---
2x05 Captive (May 08, 2016)
---
Alicia works toward reuniting with her family. Travis comes across a familiar face. Madison and Nick try to save their family against all odds.
---
2x04 Blood in the Streets (May 01, 2016)
---
A family in distress boards the Abigail. Strand branches off and his past begins to emerge. Nick searches for an associate of Strand's.
---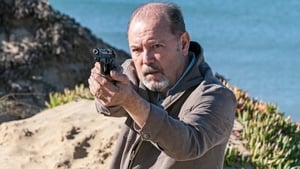 2x03 Ouroboros (April 24, 2016)
---
Madison confronts Strand about his mysterious destination. Meanwhile, Nick, Alicia and others inspect wreckage from a plane crash.
---
2x02 We All Fall Down (April 17, 2016)
---
The group seeks shelter with a survivalist family; and Madison tries to uncover the family's true motives. Meanwhile, Salazar works to discover Strand's intentions.
---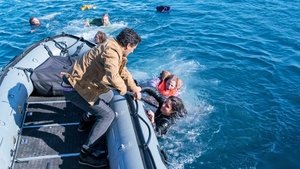 2x01 Monster (April 10, 2016)
---
After fleeing a burning Los Angeles on Strand's yacht, tensions arise among the group. Strand remains mysterious. Our group encounters danger at sea.
---