Pokémon
Advanced
Pokémon
Advanced
First Air Date: November 21, 2002

| | | |
| --- | --- | --- |
| First Aired on | : | 2002 |
| Episodes | : | 40 episodes |
Polishing off the Silver Conference, Ash heads toward his next challenge—the far-off Hoenn region! While he must say goodbye to old friends, he makes the acquaintance of May, a Trainer just starting out on her Pokémon journey. Along with her little brother Max and the ever-reliable Brock, this pack of Pokémon Trainers begin pursuing their dreams—with Ash racking up three Gym Badges, while May changes tack to follow the Contest path of a Pokémon Coordinator.
Episodes
6x40 Watt's with Wattson (August 28, 2003)
---
Ash and company are finally at the Mauville Gym. They have an electrifying introduction to Wattson, the Gym's leader, who specializes in Electric-type Pokémon. They discover that he seems to enjoy being a bit of a trickster. Upon entering the gym, they are sent through a type of electric slide/roller coaster ending in a mechanical Raikou, which Pikachu tries to attack. Elsewhere, Team Rocket is exploring the possibility of capturing a large array of Electric-type Pokémon they just found. Wattson decides on a three-on-three match. He uses his Magnemite, but Pikachu knocks it out in one hit. Next he sends in Voltorb, which Pikachu also KO's in one hit. Finally, Wattson sends in Magneton, which also falls to Pikachu. Everyone is shocked and amazed, but Wattson recovers and hands Ash the Dynamo Badge. Ash then rushes his Pikachu to the Pokémon Center to recover. There he finds out that it is overloaded with electricity; probably from the Raikou incident. Wattson decides to go to the mountainside to mull over his loss for a bit when he encounters Team Rocket stealing the Electric-type Pokémon. Ash and company arrive and they all help Wattson recover the Pokémon from Team Rocket before sending them blasting off again. Ash tries to give the Dynamo Badge back to Wattson because Pikachu won due to its being overcharged. Wattson tells him to keep it, though, because Ash deserves it.
---
6x39 A Poké-BLOCK Party (August 21, 2003)
---
After making it to Mauville City, Ash and the gang see a sign stating that whoever can make it through the trick house will win a lifetime supply of PokéBlocks. Ash and the gang decide to try their luck. When they arrive, they have three doors to choose from. Ash, May, and their new friend Alanna choose one door while Max and Brock choose another. Team Rocket is, of course, also trying to win and each one of them chooses a different door. Everyone ends up trying to navigate through a maze. James and Meowth meet and then see Ash, May, Alanna, and Alanna's Whismur and decide that they want to steal the Whismur. They are successful until everyone exits the maze at the same time and Alanna rushes up to Team Rocket and takes her Whismur back, thanking them for finding it. Team Rocket creates havoc for our heroes throughout the next few challenges and finally traps Pikachu and Whismur during the last challenge. A battle ensues and Team Rocket is sent blasting off. Ash and company may not have won the lifetime supply of PokéBlocks, but they did make some new friends and are ready to set off for the Mauville Gym.
---
6x38 A Different Kind of Misty! (August 14, 2003)
---
The foggy episode opens up with Team Rocket stealing a stone from a small boy near a lighthouse. Ash and his friends hear Team Rocket passing by in their balloon and Team Rocket, noticing them back, take the opportunity to try to capture Pikachu. They not only fail, but lose the stone when their balloon bursts. After Team Rocket blasts off again, the boy from the lighthouse, joined by his sister, meet up with Ash and company. The sister calls Ash a thief and tries to start a battle with him. She makes her brother help with his Plusle and Minun combination. Team Rocket reappears and the sister finally understands who the real thieves are. Team Rocket is quickly taken care of and then the sister explains that the stone is the source of light for the lighthouse and that it is charged by Electric-type Pokémon. Ash and the gang go back to the lighthouse to relax. When Ash puts on his vest, the siblings get very excited. They explain that Ash fits the description given in a prophecy and that he must be the one who is supposed to not only protect the stone from an attack, but also teach the stone's protector how to fight. The boy is completely convinced that Ash is the chosen one. Ash spends the rest of the day mentoring the boy until the fog starts rolling in and the lighthouse needs relighting. When they all reach the lighthouse to replace the stone, Team Rocket attempts to steal it and Pikachu using a Zapdos robot. They almost succeed before Ash and company catch up to them and send them blasting off again. The stone is recovered and replaced, and the boy truly believes that Ash is his mentor.
---
6x37 Jump for Joy! (August 07, 2003)
---
Ash and company arrive at the Pokémon Center, but Nurse Joy is nowhere to be found. Pikachu inspects the room where she was and suddenly falls asleep. Ash follows it and meets the same fate. Outside, Team Rocket is knocked out of their tree by the gust from a Shiftry who is carrying away Nurse Joy. They decide they should capture it for their boss. Back at the Pokémon Center, Ash, Brock, May, and Max are inspecting surveillance tapes to figure out why Nurse Joy is gone and why there is Sleep Powder in the room. They see the Shiftry taking Nurse Joy and decide to track it. They believe it is heading towards the largest tree in the forest. On their way, a number of Pokémon try to prevent their passage. Joy wakes up inside the top of the tree and is led to an ailing Nuzleaf. At this point Ash and the gang arrive at the tree and start to battle with Shiftry and the other Grass-type Pokémon. Brock, Max, and May head for the tree and find Joy, who explains that she doesn't need rescuing. Team Rocket tries to steal the Shiftry, but it sends them blasting off again. By morning, Nurse Joy heals the sick Nuzleaf and Ash and his friends set off again on their journey.
---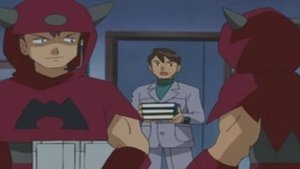 6x36 The Spheal of Approval (July 31, 2003)
---
Fresh out of the contest, our heroes are exploring the bustling city of Slateport. Ash and Max want to check out the Sea Museum but discover that it is not only closed, but sort of being guarded by a boy named Marius and his Spheal. After a failed attempt at attacking Ash's Pikachu, the boy recalls his Spheal. Captain Stern, the curator of the museum, appears and offers Ash, Max, and Marius a tour of the museum. Team Rocket is, of course, observing all this and devising a way to steal Pikachu. Captain Stern then shows them his latest discovery, a volcanic rock from the bottom of the ocean. He tells them about how it was believed in some cultures that a giant Pokémon caused volcanic eruptions. Team Rockets calls from outside, selling ice cream, and the boys decide to go out and get some. During this time, Team Magma members infiltrate the museum and steal the volcanic rock. At this point, Team Rocket captures Pikachu. When they see Team Magma running away, though, they divert their attention to attacking them. Team Magma sends them blasting off again. A battle breaks out between the Captain Stern, Ash, and Team Magma. Marius and Max escape by using the Marius' Spheal and they meet up with Brock and May. Ash tries to escape the battle with the rock, but it falls and the stone breaks in two. One of the Mightyena grabs half the stone and Team Magma retreats with their prize.
---
6x35 Win, Lose or Drew! (July 24, 2003)
---
May enters Beautifly in the beauty contest, but Team Rocket is too late to enter their Dustox. At the competitions, the person in line right before May is none other than her rival Drew. Drew's Roselia gives an excellent performance, netting him an extremely high score. May is more determined than ever to beat Drew. Meanwhile, Team Rocket is busy holding a "charity drive" scam for PokéBlocks. A little old man stops to talk to them about PokéBlocks. The contest is heating up with a Milotic stealing the show. May is up again in the contest and she and her Beautifly toss a disc back and forth, like they practiced before. In the next round, she has to battle Drew who defeats her. He then looses to the contestant with the Milotic. May and Drew part on good terms and the scene ends with the old man still intently talking to a slumbering Team Rocket about PokéBlocks.
---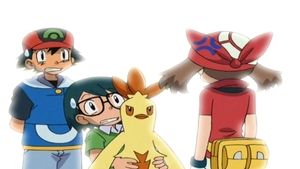 6x34 Having a Wailord of a Time (July 17, 2003)
---
May is eagerly preparing her Beautifly for the Pokémon Contest while Max watches her Torchic. He is debating which Pokémon he will begin with when he comes of age. May discovers a beached Wailord and contacts Nurse Joy at the Pokémon Center. Joy and Brock rush to help while Ash and Max are left to take care of the Pokémon Center. Team Rocket decides to try to steal the Wailord. At the Pokémon Center, Ash, Max and all the Pokémon are having a difficult time capturing a particularly troublesome Torchic. The Torchic evolves into a Combusken, which is an even bigger headache, especially because a new Trainer is coming to choose between a Torchic, Mudkip, or Treecko. Team Rocket tries to steal Wailord, but the newly evolved Combusken foils their plans and sends them blasting off again. The new Trainer chooses Mudkip and Combusken is invited to stay and guard the Pokémon Center.
---
6x33 Now That's Flower Power! (July 10, 2003)
---
Ash and the gang have arrived at Slateport City and May is busy getting her Beautifly ready for the Pokémon Contest. Beautifly is having some trouble using its Silver Wind attack. A boy starts heckling May saying that she has a long way to go to win contests. Team Rocket is nearby and Jessie is busy training her Dustox, which is equally unprepared for the contest. After May and Ash have a practice battle using Beautifly and Taillow, a man approaches Ash—not May—complimenting him on his battling style and introduces himself as a Pokémon Contest expert and also a berry expert. He goes into an explanation of PokéBlocks and their uses in contests. He even gives May a PokéBlock Case. He offers to show them how to make berry blocks. When they arrive at the building they discover that Torchic beat them there and ate all the Bluk berries, so they decide to go find some replacement Bluk berries. Team Rocket, meanwhile is devising a plan to steal the berries and the Pokémon. The gang ends up only finding one Bluk berry, which is also found by the boy who was heckling May earlier. May and the heckler, whose name she finds out is Drew, start a match only to have Team Rocket try to steal the berry. Drew's Roselia and Ash's Pikachu stop Team Rocket's getaway and they recover the berry. The episode ends with the entire group happily watching fireworks.
---
6x32 Abandon Ship! (July 03, 2003)
---
Ash and the gang are headed for Slateport City in a motorboat so that May can try her hand at a Pokémon Contest. Team Rocket is on board, disguised as sailors, and after a failed attempt at capturing Pikachu, they exit the scene in their normal fashion. Unfortunately, now the boat won't start up. Ash and company are drifting at sea when they discover a large, seemingly abandoned ship. They notice that a small boat is along side the ship, so at least one other person must be on board. They soon meet up with Tommy, who explains that he lost his Marshtomp on the ship a long time ago. He offers to give them a lift back to shore after he's done searching. Later on, Torchic suddenly disappears, and Team Rocket, who also arrived on the ship, find they are missing Meowth. Shortly afterwards, Max, James, May, Jessie, and Wobbuffet are also captured. They end up all tied up and hanging upside down thanks to some handy work by a Spinarak and a Swampert. Ash, Brock, Pikachu, and the boy are still looking for everyone when Swampert emerges and Tommy recognizes it as his Marshtomp. The Swampert runs away and they follow it, find the others and free them. The boy apologizes for losing Swampert and boy and Pokémon are happily reunited. Team Rocket makes another futile attempt at catching Pikachu and is sent blasting off again. The gang leaves in Tommy's boat, headed towards Slateport City.
---
6x31 Just One of the Geysers (June 26, 2003)
---
Ash is on his way to his second battle with Brawly. Team Rocket landed in Brawly's training area by accident and set about investigating his refrigerator. Brawly and the gang arrive to discover Team Rocket chowing down. Before they can battle, Brawly informs Team Rocket that they are standing on a geyser, which erupts, sending them blasting off again. Ash and Brawly begin their battle. Ash sends out Treecko first, who expertly dodges Machop's Karate Chops. Ash recalls Treecko and sends out Corphish, who knocks out Machop. Brawly sends out Hariyama who knocks out Corphish. Ash sends out Treecko again. This time, Treecko stays closer to the ground and eventually defeats Hariyama. Brawly presents Ash with the Knuckle Badge on Dewford Island. Now Ash can work towards his third Hoenn badge!
---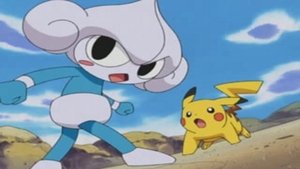 6x30 A Meditite Fight! (June 19, 2003)
---
The scene opens up with Ash training his Pokémon at the beach. A young female surfer comes to shore and challenges Ash to a battle, explaining that she trains with Brawly and that she is one of his best students. They decide to eat lunch first, though. Unknown to them, they're being spied on by Team Rocket in their Magikarp sub. Team Rocket goes into their usual scheming to steal all the Pokémon, including the new girl's. Brock notes that a storm must be coming because Pokémon are searching for safety and the sea is in turmoil. Ash and the girl start their match. She sends out Meditite, and Ash sends out Pikachu. Before anything can really happen, Brawly appears and orders that the match be called off due to the storm coming. The group begins heading back through the forest, collecting various fearful Pokémon along the way. While walking, they find out that the girl doesn't actually train with Brawly; she just studies at the Gym. Team Rocket's attempt to get back to their sub was cut short by a huge wave coming and sending them into the sky, only to land in front of Ash and the gang. They join the group in their trek to safety. Everyone spends the night in a cave. The following morning, things are back to normal with Team Rocket trying to steal Pikachu. Brawly sets Hariyama after them and sends them on their way. The girl and Ash have a battle and Pikachu wins. Ash challenges Brawly to another battle and Brawly accepts and begins to lead the group to his battling arena.
---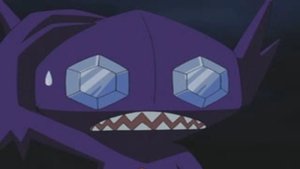 6x29 Ready, Willing, and Sableye (June 12, 2003)
---
It's another relaxing day at the beach for Ash and his friends. Ash's overzealous Corphish cuts lunch a little short when it dices everything to inedible bits. Meanwhile, Team Rocket happens upon an abandoned mine shaft and investigates, hoping to find forgotten riches inside. Once inside, they discover a mining cart and jump inside to see where it goes. They soon are met with two glowing eyes. Jessie and James flee, leaving Meowth to deal with what turns out to be a Sableye. Outside the mine, Jessie and James see Ash and company approaching and decide to hide. Ash spies the mine and wants to go in to play a trick on Corphish. Sableye befriends Meowth and shows him the control room in the mine from which the entire mine can be viewed. They can see Max and May preparing to act like ghosts to play the trick on Corphish. Meowth convinces Sableye to help him steal Pikachu. Max and May's trick backfires when Corphish panics, attacks May and Max and sends them on a cart speeding down the tunnel. Sableye startles the two and May sends Torchic to try to capture it. After May's failed attempt, Meowth appears and drops a net over her and Max. Ash retrieves Brock and they go back in the tunnel to find the siblings. Meowth and Sableye terrorize Ash and company when they arrive in the cave, capturing Corphish and Pikachu. May and Max, freed by Torchic, try to stop Sableye. Jessie and James arrive and Sableye realizes it was tricked into helping them. Ash sends Taillow to stop Team Rocket and Jessie throws a smoke bomb, causing the shaft to cave in. Sableye motions to Ash and the gang to follow it and it leads them out. Sableye sides with Ash and helps free the captured Pokémon and send Team Rocket blasting off again.
---
6x28 Seeing is Believing! (June 05, 2003)
---
Ash, May and Brock show off their Pokémon to Professor Birch who compliments them all. The group begins walking toward a forest where they discover three Seedot that seem to be very unhappy. After Birch explains how to make friends with the Seedot, which involves rubbing them with leaves and rolling on the ground with them, the group tries to put the Seedot back into the trees. The trees seem to be too dry for the Seedot, so the gang decides to help them. Meanwhile, Team Rocket is devising a plan to capture the Seedot. Jessie is gushing over how wonderful it's going to be when her Silcoon (which is actually a Cascoon) evolves into a Beautifly. James and Meowth shudder at the impending doom. Team Rocket meets up with the group and attacks them, trying to capture the Seedot. May then uses her Silcoon to attack Jessie's Cascoon. May's Silcoon then begins to glow and evolves into a Beautifly! May is overjoyed with her new Pokémon. Corphish sends Team Rocket blasting off again with its Crab Hammer attack. Jessie vows to make her Cascoon evolve. After trying to pit it against their own Pokémon, Team Rocket hunts down Ash and company to challenge them again. Jessie attacks May's Beautifly with her Cascoon and it begins to glow. Meowth and James try to hide the newly evolved Dustox, but Jessie pushes them out of the way. She shocks everyone by being ecstatic by her new Dustox because she thinks is looks so much more powerful than Beautifly. After more fighting, Corphish send Team Rocket on their way again and Ash and the gang part ways with Professor Birch.
---
6x27 A Three Team Scheme! (May 29, 2003)
---
The episode opens up with Brock helping Ash and his team train on the beach. They soon discover that Professor Birch is in the area doing research on Wingull. Professor Birch offers for Ash and the gang to join him in his research. They agree and soon come across a hidden doorway. They discover it is unlocked and it turns out to be someone's Secret Base. The owner of the base arrives and kicks them all out. They rush away before the boy's Nincada can attack them. Team Rocket sees all this and after Ash and company leave, they force the boy out of his base and claim both the base and his Nincada as their own. They contact their boss to gloat about their accomplishment only to be told that they should be doing a lot more. Outside, our heroes run into the boy again. The gang introduces themselves, and find out the boy's name is Keanu. They listen to his story and convince him, with their help, to go back and reclaim his base. In the meantime, some Team Magma grunts were dropped off nearby via helicopter and some Team Aqua grunts are somewhere near in a submarine. The Team Magma grunts reach the base and claim it for themselves using their Mightyena. Team Rocket then rushes from the base and the Magma grunts begin to drill. Eventually, the drilling leads to a secret cavern with some sort of shrine in it. Team Rocket is spying on them at this point, hoping to steal whatever it is Team Magma finds. Team Aqua suddenly arrives and a short battle and argument ensues between the rivals. Their bosses call them both back, claiming to have all the needed information. Team Rocket is marveling at how big their new base is when Ash and Keanu slide down a rope made by May's Silcoon to reclaim the base. Team Rocket is defeated again and the show ends with Keanu and Ash shaking hands as friends.
---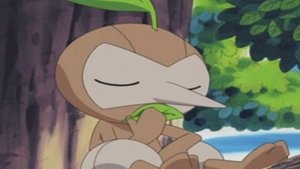 6x26 Turning Over a Nuzleaf (May 22, 2003)
---
Ash and the gang begin to head back through Granite Cave so Ash can have a re-match with Brawly. Along the way, Corphish startles the same Loudred that the group ran into before. While fleeing from the Loudred, Ash, Brock, Max, and May get separated from their Pokémon. Pikachu, Silcoon, Corphish, Treecko, Mudkip, Torchic, and Lotad end up falling into a river and landing at the bottom of a waterfall. Treecko and Corphish almost get in a fight, but are stopped by Mudkip and Pikachu. The Pokémon set off to find their owners. Throughout all this, Team Rocket ends up lost in the same cave and startles the same Loudred, which sends them blasting off again. While the Pokémon are trying to find their way back, they encounter a mischievous Nuzleaf. Corphish slashes its leaf and Nuzleaf retaliates by making a very loud noise. The Pokémon soon find out that the Nuzleaf was actually calling its friends who slowly capture and cage all the Pokémon except for Pikachu and Mudkip. Pikachu and Mudkip try to reason with the Nuzleaf group, but to no avail. Team Rocket appears again and, after observing all this, decides to capture all the Pokémon, including the Nuzleaf. Meanwhile Taillow is searching for the lost Pokémon and reports back to Ash and the gang when it sees them. Team Rocket captures the Pokémon using their balloon, but Ash and everyone arrive just in time to thwart their plans. Ash rescues the Nuzleaf group, who then hold a net for Ash to fall into from the balloon. Team Rocket is sent on their way by Corphish and Treecko teaming up. The episode ends with all the Pokémon happily playing with one another and their new Nuzleaf friends.
---
6x25 A Mudkip Mission (May 15, 2003)
---
As our heroes set out on their journey again, they encounter a waterfall. Brock ties a rope to a rock and, with Lotad's help, wraps it on a branch above the waterfall. After Brock helps everyone up the rope, they discover a lake filled with Mudkip. Brock notices a baby being washed away in the current and sends Lotad to help. Lotad gets caught as well and a larger Mudkip jumps in and saves them both. At this point an older man comes out, afraid that Ash and company are trying to steal the Mudkip. They explained what happened and are invited in for lunch. The man explains that he takes care of and raises the Mudkip in the lake. He even shows them a baby Mudkip hatching out of an egg. He explains that while most Mudkip leave to explore the world, the larger one stayed to protect the babies. Throughout lunch, Team Rocket is debating whether or not to enter the lake area. They of course, do so, knocking over some cans that the caretaker had set up as sort of a security system. The man hears the noise and goes to inspect what is going on. Team Rocket destroys the dam so that the Mudkip are washed away and they can catch them easier. Brock uses his Pokémon to save the Mudkip. The larger Mudkip jumps in the water to rescue a baby that was being washed away, only to get caught in the current itself. It clings to a rock on the side of the water fall and finally agrees to let Brock rescue it. Team Rocket arrives again, this time in a robot with scoops for hands, which they use to capture the baby Mudkip. Brock tells Lotad and Mudkip to use Water Gun at the base of the robot, which creates a mud pit and sinks Team Rocket. Pikachu then sends Team Rocket on their way. The show ends with the large Mudkip deciding to leave the lake with Brock.
---
6x24 A Corphish Out of Water (May 08, 2003)
---
Everyone is relaxing on the beach as the episode opens. Ash is taking care of his Poké Balls and May is worrying about why her Wurmple isn't eating. Corphish, Ash's new Pokémon, is nibbling on some seaweed and starts to eat some rope before Ash can stop it. Team Rocket appears and snatches Pikachu. Wurmple uses String Shot to try and stop their balloon while Ash and company pull on the string to stop Team Rocket's escape. When Corphish tries to help, though, it snaps the string with its claws. Ash and the gang hunt down the balloon and a fight ensues between the two groups to regain Pikachu. After Pikachu is back in Ash's arms, May and Jessie begin to argue (again) about whose Wurmple is better. To everyone's surprise, both Wurmple evolve. May's evolves into a Silcoon and Jessie's evolves into a Cascoon. Jessie thinks that hers is also a Silcoon, though. After another failed attempt at trying to catch Pikachu, Team Rocket is sent blasting off again. Corphish faints at this point and Ash realizes he has to rush it to the nearest Pokémon Center. Along the way, he must cross a large river guarded by a school of aggressive Carvanha. Seeing no other way to cross and with Corphish's condition worsening, Ash decides to wade across the river with his Pokémon just barely keeping the Carvanha at bay. While all this is going on, Max, May, Brock, and the rest of their Pokémon hear an Aron down the beach. They go to inspect the noise and end up trapped in a cage by Team Rocket. Team Rocket only has a moment to be upset about Pikachu not being in the cage before they fall into their own trap. Taillow, the only one not to get trapped, takes a tape-recorded message to Ash. Ash, with Nurse Joy's help, hurries back just in time to send Corphish to free his friends before the tide comes in and immerses the cages in water. Team Rocket fails again at catching Pikachu and everyone happily thanks Corphish for its help.
---
6x23 Gone Corphishin' (May 01, 2003)
---
The episode opens with Team Rocket lounging on the beach when suddenly a mysterious creature zooms along the beach and launches Team Rocket out of sight. Later on, Ash and his friends are relaxing and doing their laundry on the same beach. Ash is busy teaching his Pokémon how to meditate. The unnamed creature from before begins to carry off the gang's tent. Wurmple uses String Shot to try to stop it, but is unsuccessful and the creature escapes. Everyone is speculating what kind of Pokémon the creature could be and Ash decides he wants to catch it. Later on, Team Rocket sees the creature speeding down the beach again and try to go after it, but have a run-in with a Loudred. Ash and the gang set out Pokémon food to attract the elusive Pokémon and end up being chased by it instead. They get split up, but the attacker is thwarted by Pikachu's Thundershock. The next morning, Brock asks his Forretress to make a large hole so that they can catch the creature. The only thing they end up catching is Team Rocket. The mysterious Pokémon then emerges and sends Team Rocket blasting off again. Pikachu takes the opportunity to use Quick Attack on it and they discover that the troublesome Pokémon is a Corphish. Brock advises Ash to catch the Corphish to use against Brawly, but the Corphish is too strong for Pikachu. Treecko eventually saves the day and Ash gets to add Corphish to his team.
---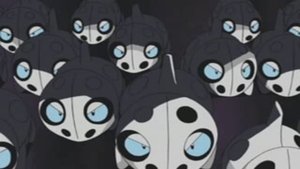 6x22 A Hole Lotta Trouble (April 24, 2003)
---
After all the Wurmple confusion, Ash and the gang finally arrive at Granite Cave. Team Rocket is already in the cave, perfecting their next attempt to capture Pikachu. Unknown to our heroes, Stephen and his Aron are busy digging in the cave. Ash, May, Max, and Brock begin exploring the dark cave, only to fall into a hole created by Team Rocket. Before Jessie and James can brag about their success, the floor caves in and everyone falls into the hole. To make matters worse, though, everyone falls into different tunnels and they all get separated from one another. Pikachu, Meowth, and Max end up together; Jessie falls on top of May; and Ash, James, and Brock get stuck together. As the various groups start wandering through the cave, James, Ash and Brock disturb a rather large group of irritable Aron. Meanwhile, Max, Meowth, and Pikachu have discovered an underground waterfall and pool with dangling vines they hope may lead to an escape from the cave. Everyone ends up meeting in the underground pool with the angered Aron on their tails. Stephen, already investigating the commotion, comes to the rescue and subdues all the Aron with his own Aron. Team Rocket then makes their usual attempt at stealing Pikachu, only to be sent blasting off again by Stephen and his Aggron. Stephen's Aron then finds the Fire Stone he had been looking for and everyone leaves the cave happy and ready for their next adventure.
---
6x21 Which Wurmple's Which? (April 17, 2003)
---
Everyone is getting up and getting ready for breakfast, but Ash is nowhere in sight. He is found outside the Pokémon Center, anxiously awaiting news on his Treecko. After breakfast, Ash and company head out to Granite Cave because they heard one of the elite Trainers is there. On their way, they pass an old man who says that this is the ultimate fishing spot where rare and unusual water Pokémon can be caught. The man then offers them some fishing poles to find out for themselves. What our heroes aren't aware of is that the old man is actually James and the other two Team Rocket hooligans are hiding in the bushes. After some time, May catches an Octillery. She tries to battle it with her Wurmple, but fails and the Octillery jumps back into the water. Ash has the same luck with the Corphish he caught. Throughout all this, Team Rocket is hiding in the water in their Magikarp sub, waiting for someone to snag their sub so that they can pull everyone, Poké Balls and all, into the water. May is the unlucky candidate, but instead of Team Rocket pulling her down, Ash, Max, Brock, and May pull them up and out of the water. After reciting their motto, Team Rocket jumps onto the shore and tries to steal all the Pokémon. When May defends her Wurmple, Jessie says she doesn't want May's Wurmple because Jessie's is better. A fight between the girls ensues over which one is better. Max concludes that the Wurmples are about the same. James tries to steal the Pokémon again and in the resulting confusion, the Wurmples get mixed up. Later, May realizes what happened when her Wurmple won't go back into its ball. Ash's Taillow helps the gang find Team Rocket to make the trade. When May and Jessie move to trade back, Jessie takes both Wurmples and tries to escape in Team Rocket's balloon. Ash sends Taillow to pop the balloon and a Pokémon battle results. The episode ends with May happily feeding her Wurmple.
---
6x20 Brave the Wave (April 10, 2003)
---
Ash charges out in the early morning, ready to challenge the Dewford Gym. He's followed by Max, May, and Brock who are all still wiping the sleep out of their eyes. Upon arriving at the door to the Gym, Ash is bowled over by a group of energetic surfers charging out of the door. The surfers are followed by a man who apologizes for the commotion and turns out to be none other than Brawly, the Dewford Gym Leader. Ash instantly asks for a match, but Brawly has plans to go surfing. Ash is irritated that Brawly won't accept the challenge, but he, May, Max, and Brock end up following Brawly and his surfer friends to the beach—much to his dismay. At the beach, Team Rocket is happily running a snack stand and they modify their motto to suit the service industry atmosphere. Of course, they see Ash and his friends arriving at the beach and begin devising a plot to steal Pikachu; although James is content to continue selling their frosty beverages. Brawly and his Makuhita begin surfing the waves. Ash charges out in the early morning, ready to challenge the Dewford Gym. He's followed by Max, May, and Brock who are all still wiping the sleep out of their eyes. Upon arriving at the door to the Gym, Ash is bowled over by a group of energetic surfers charging out of the door. The surfers are followed by a man who apologizes for the commotion and turns out to be none other than Brawly, the Dewford Gym Leader. Ash instantly asks for a match, but Brawly has plans to go surfing. Ash is irritated that Brawly won't accept the challenge, but he, May, Max, and Brock end up following Brawly and his surfer friends to the beach—much to his dismay. At the beach, Team Rocket is happily running a snack stand and they modify their motto to suit the service industry atmosphere. Of course, they see Ash and his friends arriving at the beach and begin devising a plot to steal Pikachu; although James is content to continue selling their frosty beverages. Brawly and his Makuhita begin surfing the waves. On shore, Pikachu is caught by Team Rocket. They try to get away in a motor boat, but they are tailed by Makuhita on its surfboard. Makuhita rams into the boat, sending Pikachu flying into the water. Ash has Pikachu do a Thunderbolt attack to send Team Rocket blasting off again. Brawly then agrees to a 2-on-2 match with Ash. Ash uses his Taillow against Brawly's Machop. Brawly's Machop knocks out Taillow with a Karate Chop. Next Ash sends out Treecko, which knocks out Machop. Brawly then releases Makuhita against the already tiring Treecko. Just when it seems like Treecko won't give up, Makuhita evolves into Hariyama and finishes off Treecko. Ash takes Treecko to the Pokémon Center to rest up and regrets the fact that he put Treecko through such a tough fight. The episode ends with Ash deciding to stay on the island to train some more.
---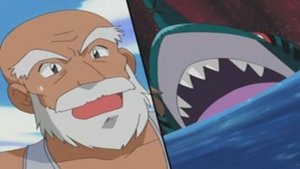 6x19 Sharpedo Attack! (April 03, 2003)
---
Ash and company are sailing toward Dewford Town, thanks to their new friends Mr. Briney and his Wingull, Peeko. Mr. Briney stops at a small island so that Max and May can enjoy a swim while everyone else and their Pokémon relaxes and soaks up the sun. All the while, Team Rocket is tailing the happy sea goers underwater in their Magikarp sub. Team Rocket is not the only thing following our heroes, though. A dark shadow is following the boat as it turns towards the island. When they get closer to the island, May and Max dive in the water and begin swimming and splashing around. Suddenly Ash and Brock hear May and Max scream. The boat is surrounded by a group of Sharpedo! Ash and Mr. Briney send Peeko and Taillow to help Max and May. Both Max and May were hurt by the rough skin of the Sharpedo. Pikachu uses its Thunderbolt attack to ward off the Sharpedo long enough for Mr. Briney to dock the boat on the island. While Ash and company set up camp for the night, Team Rocket surfaces, complaining of hunger. The Sharpedo begin attacking their sub and Jessie sends Seviper after them. After one successful strike, the Sharpedo retaliate and send Team Rocket blasting away. The following morning, Ash tries to lure the group of Sharpedo away from the island, but the leader is not tricked. Brock challenges the leader using his Lotad and wins after just two attacks. Brock realizes the Sharpedo is poisoned and begins nursing it back to health, only to discover that it was Jessie's Seviper that poisoned it. Team Rocket attempts to steal Pikachu again, but is warded off by the gang's new found group of Sharpedo friends. The episode ends with everyone swimming happily with the group of Sharpedo, which, they discover, only have rough skin when threatened or are around enemies. Now it's off to Dewford to compete for a second Hoenn badge!
---
6x18 On a Wingull and a Prayer! (March 27, 2003)
---
Ash enjoyed meeting the president of Devon Corp. and learning a little about Team Aqua, a dangerous group of evildoers, but now he really wants to get to Dewford Island. Unfortunately, May's map is about 10 years old and they end up in a deserted part of town that used to be the port. From there they can see the new port, but it looks very far away. May goes off to look for someone with a boat and runs into Briney, a retired sailor, and his Wingull, Peeko. Briney offers to take the gang over to Dewford Island, but when she returns with Ash and the gang, Briney seems very angry and says that he has no idea what she's talking about. It's like he doesn't even recognize her. Meanwhile, Officer Jenny swings by and she tells them that Team Aqua is planning to meet up somewhere in the area and to be careful. Brock and May realize quickly that Briney might actually be in trouble—and they're right. A Team Aqua thug—the same one who tried to steal from Devon Corp.—has kidnapped his Peeko and taken his boat. Luckily Briney has another boat that he kept hidden from the thug. They chase after the Team Aqua agent and catch up to him just a few seconds too late. He is able to meet up with a Team Aqua submarine and get away. Luckily, they manage to rescue Peeko and tomorrow they'll head out for Dewford Island.
---
6x17 Stairway to Devon (March 20, 2003)
---
Now that he's received a badge from the Rustboro City Gym, Ash is ready to leave Rustboro and head off to Dewford Island for his next gym battle. May has other ideas. She is thrilled to finally be in a big city and wants to do some shopping. Brock agrees, so they decide to stay. Meanwhile, Max is in a state of panic. He accidentally spilled his drink into May's PokéNav and it looks broken. He gets a tip from a strange old man to take the PokéNav to the Devon Corporation building. The man says that since they manufacture the device, they might be able to fix it. Desperate to avoid May's wrath, Max decides to go for it. Once inside, he learns that the strange old man is actually the president of Devon Corp! Max is really excited by all of the interesting projects the company is working on—but it soon becomes clear that there's in an intruder in the building who is after some of those experiments. Ash and crew arrive just in time to help Officer Jenny catch the intruder, but it's actually Team Rocket who end up saving the day!
---
6x16 The Winner by a Nosepass! (March 13, 2003)
---
Pikachu is getting pretty good at its Iron Tail attack and that's a good thing. Ash is finally about to take on Roxanne, the leader of the Rustboro City Gym. He's going to need all the help he can get to take down her Geodude. May, on the other hand, isn't really looking forward to the battle. In fact, she announces that she's not going to be a trainer anymore. She wants to become a Pokémon Coordinator and compete in contests instead. When the battle begins, it doesn't look like Ash has much of a chance. Roxanne's Geodude knocks out Treecko pretty quickly. It's all up to Pikachu. Electric attacks aren't going to help much against a strong Rock Type—but Ash is very clever and Pikachu not only brings down Geodude, but it wipes out Nosepass with its newly perfected Iron Tail Attack. Ash defeats Roxanne and receives his Stone Badge.
---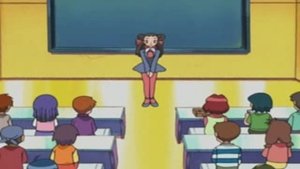 6x15 Gonna Rule the School! (March 06, 2003)
---
Rustboro City at last! Now that Ash and friends have arrived in Rustboro City, they're taking a moment to sightsee. They bump into a schoolteacher, Roxanne, and her class on a class trip. The kids are about Max's age and one of them, Kenny, is afraid of Pokémon. Roxanne invites the gang back to see the Pokémon Trainer's School. Ash is anxious to get to his gym battle, but Roxanne persuades him to wait. As it turns out, Ash would have had to wait anyway. Roxanne is the gym leader, too! The Pokémon Trainer's School is pretty big and has all kinds of different classes. May is especially interested in a class on Pokémon Contests. Max decides to attend the beginners' class that Kenny is in. He's in the middle of battling the class show-off, Tommy, when the principal comes running in to tell them that the school's Poké Balls have all been stolen. Team Rocket strikes again! Kenny steps in and saves the day by telling Max which attacks will work best, and Tommy cooperates, too. When they work together, the kids are able to defeat Team Rocket and save the Poké Balls. Just to be safe, Roxanne's Geodude sends Team Rocket blasting off again. Now that Ash has seen Roxanne and her Geodude in action, he's really ready for his gym battle!
---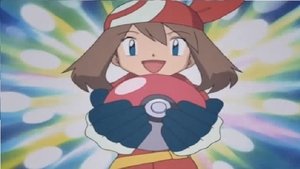 6x14 All in a Day's Wurmple (February 27, 2003)
---
As the gang continues to make their way towards Rustboro City, May spots a Wurmple that she's dying to catch—but she's not the only one with her eye on the cute little bug Pokémon. Jessie wants it, too. May ventures off on her own to catch her Wurmple, but Team Rocket follows and gives her trouble. Luckily, she gets some help from a trainer named Franklin. Meanwhile, Ash and Pikachu are practicing Pikachu's Iron Tail attack. A trainer named Franklin sees them practicing and challenges them to a battle. Franklin teaches Ash about double battles, which are common in the Hoenn region. With help from her new friend Franklin, May catches the Wurmple she wanted. When she and Franklin go to meet up with the gang, everyone is really surprised. The Franklins are actually identical twins—Forrest and Forrester Franklin! All is not lost for Team Rocket, however. Jessie manages to snag a Wurmple of her own before Team Rocket blasts off at the end of the episode.
---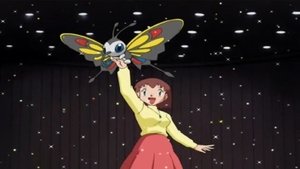 6x13 All Things Bright and Beautifly! (February 20, 2003)
---
Rustboro City is on the horizon, but they're not there yet. Ash, Brock, Max and May have just arrived at a Contest Hall. Janet and Chaz, two experienced Pokémon Coordinators, teach the gang all about Contests. Pokémon Contests are different from battles in that it's not the strength of the attack that matters, but the beauty of its execution. Winners get ribbons instead of badges. The gang decides that they want to try entering today's contest, but they're too late. All is not lost, however, because Chaz offers to teach Pikachu the Iron Tail attack. And Janet lets May assist her with during the contest. During the contest, Chaz and Janet both perform really well and make it to the final round. In the end, Janet's Beautifly steals the show! May is really impressed and she's determined to one day enter a contest herself.
---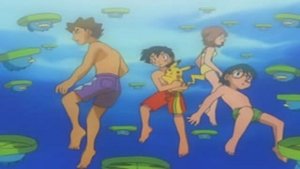 6x12 The Lotad Lowdown (February 13, 2003)
---
Ash, Pikachu, Brock, May and Max decide to cool off in a picturesque lake en route to Rustboro City. But they're not the only one's splashing around! The lake is actually home to a whole flock of Lotad. The Lotad seem to be having fun with their new friends, but a little girl named Natalie thinks that Ash and crew are out of line. She brings them back to the flower shop which her two older sisters run. There, Ash and the gang learn all about berries and the effects that different berries have on Pokémon. Brock promptly falls in love with the two older sisters, making little Natalie very jealous. In fact, Natalie isn't the only one smitten with Brock—a quirky little Lotad seems to have taken a liking to him as well. Natalie decides to win Brock's affection by finding a Sitrus Berry and she wanders off into the woods. She finds one, but a Beedrill wants it, too! Luckily, Brock arrives in time to save her from the Beedrill. Meanwhile, Team Rocket has decided to catch all the Lotad in the lake and it's up to Brock's quirky Lotad friend and Pikachu to save the day.
---
6x11 A Bite to Remember (February 06, 2003)
---
As our heroes travel on towards Rustboro City, they stumble into a forest filled with many different kinds of Pokémon. It turns out that the area is actually a Pokémon preserve, and it's looked after by a girl named Katrina. Katrina takes care of all of the Pokémon in the area and helps to nurse them back to health when they are sick. Max takes a particular liking to her Poochyena and he's determined to see it evolve before they leave the preserve. All of the Poochyena's companions who were born at the same time have already evolved, but this one Poochyena just doesn't seem ready. Max decides to coach the Pokémon and leads it out into the forest. Team Rocket has followed Max and they decide to play a trick on him to take the Poochyena. They claim to be researchers working on an evolution machine. Max is too smart too be fooled, but that doesn't stop Team Rocket from taking Poochyena. Luckily, Katrina and Ash show up just in time. This time Poochyena gets in on the action, too. That last battle turns out to be just what this little Poochyena needs—it evolves right before Max's eyes!
---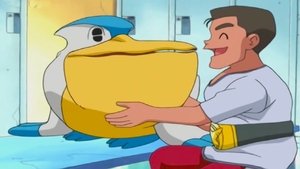 6x10 You Said a Mouthful! (January 30, 2003)
---
En route to Rustboro City, Ash and the gang pass by an unofficial gym boasting the world's most powerful Pokémon. Even though he can't win a badge there, Ash is intrigued and decides to battle the trainer named Anthony and this mysterious Pokémon. The world's most powerful Pokémon turns out to be a Pelipper. Pelipper attacks Ash's Treecko with a Vine Whip. It then attacks Taillow with Flame Thrower. Finally, it attacks Pikachu with a Thunder Attack. Ash and crew are amazed—Pelipper should only have Water and Flying type attacks, but somehow it knows Grass, Fire and Electric type attacks! That's not physically possible! Team Rocket decides that they must have this awesome Pokémon, so they, too, challenge Anthony. This time, however, Anthony panics and the truth comes out. Pelipper has been hiding Poké Balls inside its large beak. Rather than being disappointed, Team Rocket decides that this is an excellent opportunity. They blackmail Anthony and use his Pelipper for a new challenge. This time, trainers will lose their Pokémon if they lose to Pelipper. Team Rocket's latest hoax is very successful at first, and they con many trainers out of their Pokémon, but they soon get carried away. They fill Pelipper's beak up with so many Poké Balls that when Pelipper does a Water Gun attack, all of the Poké Balls spill out!
---
6x09 Taming of the Shroomish (January 23, 2003)
---
Ashes, May, Brock and Max have arrived at a small city on their way to Rustboro City. Brock decides to stock up on supplies, while Max is eager to go hunting for city dwelling Pokémon. Max soon stumbles upon a very frightened Shroomish who is hiding in an alleyway. Ash, Max, Pikachu and their new Shroomish friend head off to find a Pokémon Center. On their way they pass by a deserted mansion that is being torn down. There, the gang learns that not long ago most of the city was forest and that many, many Shroomish lived in the area. They also learn that strange things are going on at the mansion, and many people believe that it's haunted. A little investigation reveals that the mansion is actually inhabited by all of the Shroomish who used to live in the forest. When the forest was destroyed, they had nowhere else to go. All of the strange noises and smells that the construction workers were hearing were actually the Shroomish! The grandson of the owner decides to tear down the mansion as planned, but to convert all of that land into a forest for the Shroomish.
---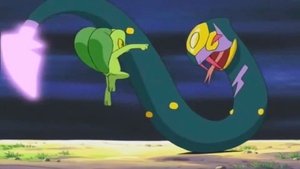 6x08 A Tail with a Twist (January 16, 2003)
---
Ash's newly caught Treecko may be a bit standoff-ish, but the little green Pokémon is quite a fighter. When Team Rocket sees Treecko knocked down and hurt by a Seviper, they decide that they must have that Seviper. Jessie is very impressed with its "sneaky, snakey ways." Meanwhile, Treecko escapes from the Pokémon Center where Ash brought it to recover. When the gang finds Treecko, it is practicing its attack moves. Again and again, Treecko jumps from the top of a waterfall and tries to break a rock at the bottom with its tail. Ash is very impressed with the rigor of its training. All of Treecko's hard work appears to have paid off—when Team Rocket attacks and catches Pikachu with the help of their new Seviper, Treecko is able to save the day.
---
6x07 Tree's a Crowd (January 09, 2003)
---
Deep in the woods, Ash spies a Treecko. He's wanted to catch a Treecko since he first saw one at Professor Birch's laboratory. He follows the Treecko to an enormous tree that seems to be dying. There, Ash's Treecko has an argument with all of the other Treecko. It seems that Ash's Treecko is very attached to the tree and wants to stay with it, while the rest of the clan wants to move on to a new tree. Ash watches as the lone Treecko struggles to save the tree. He and Pikachu feel badly for the Treecko and try to help. In the end, however, the tree dies and falls. Now that its home is gone, Treecko is ready to make a new home with Ash. He and Pikachu battle, and Ash catches his Treecko!
---
6x06 A Poached Ego! (December 26, 2002)
---
Our heroes are headed for Rustboro City, where Ash hopes to have his first real gym battle in Hoenn. Team Rocket is making their way along the same path when they stumble upon a cage full of Ekans. Jessie is delighted that their work has been done for them and orders Arbok to attack. Arbok can't manage to attack the helpless Ekans, however, because it remembers when it used to be an Ekans. Jessie is sympathetic. James soon makes a similar concession when they find a cage of Koffing that Wheezing will not hurt. The cages belong to a poacher named Rico who uses his Fearrow and Pupitar to chase off Team Rocket. Team Rocket returns to the scene, now hoping to free the Ekans and Koffing. Things turn dangerous when Rico's Pupitar evolves into a Tyrannitar, and Team Rocket is forced to make the ultimate sacrifice for the Pokémon that they love.
---
6x05 In the Knicker of Time! (December 19, 2002)
---
Brock is ready to travel again and has joined up with Ash, May and Max as the journey on towards Rustboro City. In the forest they encounter a giant Zigzagoon, which they soon realize is actually a trainer in a Zigzagoon suit. Nicholai the Knickerbocker is a trainer that believes in becoming one with Pokémon in order to understand them. While battling, he wears a costume of whichever Pokémon he is using. When not dressed as a Pokémon, he wears knickers in order to be closer to nature. Nicholai is very excited to learn that May is the daughter of the Petalburg Gym leader. He challenges her to a battle and quickly defeats her. Nicholai taunts her for losing, saying that he doesn't think her father will be difficult to beat since she is such an inexperienced trainer. Brock, Ash and May shrug off the defeat and continue on their way, but Max is furious. Without telling anyone, he goes off in search of Nicholai to defend his father's honor—but what will happen when he gets in trouble with a pack of angry Zigzagoon?
---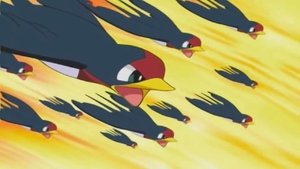 6x04 You Never Can Taillow! (December 12, 2002)
---
Ash, May and May's little brother Max are now en route to Rustboro City—and they're hungry! No one remembered to pack lunch. As they fight over one remaining cookie, Ash remembers how nice it was to have Brock cooking for him and Misty. He's quickly brought back to reality when a Taillow takes off with the cookie. The gang follows Taillow to a grove filled with apple trees. Ash and May eagerly shake the trees, hoping to make the apples drop to the ground. Instead of apples, Ash and May shake loose an angry flock of territorial Taillow. There's too many for Ash, Max, and May to handle alone. Out of nowhere, Brock appears and saves the day with his Forretress—and his incredible soup! They manage to defeat and feed all of the Taillow except the one who took the cookie. Taillow are naturally resilient, but this particular one is especially tough. Ash can't seem to defeat it, so instead he decides to catch it
---
6x03 There's No Place Like Hoenn (December 05, 2002)
---
Ash and May have made it all the way to Petalburg City—the first city with a gym. Ash is very excited to take on the gym leader. May seems a little uneasy—perhaps it's because she hasn't yet told Ash that her father, Norman, is the gym leader in Petalburg! When Ash first gets to the gym, he meets May's little brother, Max, who is pretending to be the gym leader. Max knows a lot about Pokémon and can't wait until he's old enough to become a trainer. Once Ash finally meets Norman, he learns that he will need three Pokémon in order to battle at the gym. He only has Pikachu with him. When Norman agrees to an unofficial battle, Ash encounters his first Vigoroth. Ash realizes that he will have to train hard in order to win a badge in Petalburg City. After a quick scuffle with Team Rocket, Ash and May are ready to hit the road again. Max has decided to tag along, too!
---
6x02 A Ruin with a View (November 28, 2002)
---
Now that Pikachu is feeling better, Ash is ready to head to Oldale Town to sign up for the Hoenn League. May has offered to show Ash the way in exchange for his company to Oldale Town—which is only fair, seeing as Pikachu destroyed May's bike when it was sick! In Oldale Town, May visits her first Pokémon Center and is amazed with all of its services, and by the ancient ruins next door. Things quickly turn sour when Team Magma, a mysterious band of criminals, shut down the electricity at the Pokémon Center and kidnap Professor Alden in order to invade the ruins. With no electricity, all of the Pokémon are in danger—including May's Torchic. It's up to Ash and May to save the day—and in doing so they uncover mysterious, ancient Pokémon.
---
6x01 Get the Show on the Road! (November 21, 2002)
---
Team Rocket's failed attempt to catch Pikachu has left the little yellow Pokémon dangerously ill. Littleroot Town has no Pokémon Center so Ash turns to Professor Birch for help. Professor Birch thinks that Pikachu can be cured—but first they'll have to catch it. Delirious with fever, Pikachu has run off into the forest. Meanwhile, a girl named May is also going to see Professor Birch in order to receive her first Pokémon. She arrives just in time to save the professor from a pack of mad Poochyena. Before he can explain why he's running around in woods, Professor Birch runs off in search of the missing Pikachu. Time is running out and Pikachu is in danger of exploding. In a twisted turn of events, Team Rocket's latest Pikachu-catching contraption ends up saving the day.
---