Pokémon
Master Quest
Pokémon
Master Quest
First Air Date: August 09, 2001

| | | |
| --- | --- | --- |
| First Aired on | : | 2001 |
| Episodes | : | 65 episodes |
With the Olivine City Gym temporarily out of commission, our heroes are off to the Whirl Cup Competition—and Misty wants in on the action! Resuming their journey, they find that Jessie, James, and Meowth aren't the only members of Team Rocket they need to worry about, though that dastardly trio still has a few tricks up their collective sleeve. After a heated battle with the final Gym Leader, Ash moves on to the Silver Conference, but does he have the mettle to take on his old rival, Gary?
Episodes
5x65 Hoenn Alone! (November 14, 2002)
---
Ash has left all of his Pokémon behind in Pallet Town—except Pikachu—and boarded a ship bound for Littleroot Town in Hoenn. Unfortunately, Team Rocket is on board as well, and they're cooking up a scheme to catch Pikachu once and for all. They nab Pikachu and hop off the boat just as it pulls into a port. Their plan quickly goes awry, and Meowth and Pikachu end up in a bad neighborhood. While Meowth and Pikachu team up to chase off a gang of territorial Haunter, Ash teams up with Officer Jenny to rescue Pikachu before the boat leaves.
---
5x64 Gotta Catch Ya Later! (November 07, 2002)
---
With the Johto League Silver Conference behind them, Ash, Brock and Misty head back to Viridian City to relax. Their vacation is cut short when Misty receives an urgent call beckoning her back to Cerulean City to run the gym while her sisters cruise the world. Brock, too, realizes that has things he has to do. After a teary goodbye, Ash returns home to Pallet Town—but soon grows restless for adventure. When his former rival Gary takes off on a new journey, leaving behind all of his Pokémon except Blastoise, Ash starts thinking about his next journey. Maybe it's time to check out the Hoenn region after all.
---
5x63 Johto Photo Finish (October 31, 2002)
---
Our hero is at the end of a tough battle with Harrison at the Johto League Silver Conference. The winner of this battle will go on to the semi-finals. Each trainer has battled hard and is down to their last Pokémon. Ash is using Charizard. Harrison is also using a high level fire type called Blaziken. Charizard flies up with Blaziken and is in position for a powerful Seismic Toss. After the impact, however, both Pokémon are standing! As Charizard tossed Blaziken down, Blaziken had directed a Flame Thrower attack towards the ground to propel it back up, softening the blow of the impact! Both Pokémon battle well, and it seems like neither will give in, but, in the end, Charizard faints. Harrison continues on into the semi-finals, but is defeated in the next round. After his battle, he tells Ash all about Hoenn and the amazing Pokémon there. As the Silver Conference comes to a close and the gang prepares to leave for Vermillion City, Gary makes a surprising announcement—he's giving up battling. He's decided to become a Pokémon Researcher.
---
5x62 Playing with Fire! (October 24, 2002)
---
Ash is battling Harrison from Hoenn at the Johto League Silver Conference. Pikachu is very excited to be battling, but Harrison's Kecleon knocks Pikachu out in Round 1. It's a close match the whole way through, but one by one Harrison knocks out Totodile, Snorlax, and Noctowl. Ash cleverly guides Bayleef through a rough battle with Harrison's Houndoom. Houndoom is a fire type Pokémon so it has the advantage, but Ash had Bayleef use its Vine Whip attack to close Houndoom's mouth. In the end, Bayleef is able to knock out Houndoom! But Bayleef is no match for Harrison's last Pokémon. Harrison's sixth Pokémon is one that Ash has never seen before—Blaziken. It's a fire type Pokémon and it's at a really high level. Ash has saved Charizard for last. With two strong fire types in the arena, it's hard to predict the outcome! (To be continued!)
---
5x61 Can't Beat the Heat! (October 17, 2002)
---
Our hero is in the middle of the first match of the championship tournament at the Johto League Silver Conference. His opponent is his long time rival—Gary Oak. Each trainer is down one Pokémon, with five to go. Gary's Blastoise is very strong and knocks out Ash's Heracross. Ash isn't surprised—that Blastoise was the Squirtle that Gary got when he first started out as a trainer! Gary recalls Blastoise and the battle continues. Finally, each trainer is down to their last Pokémon. Gary has saved Blastoise till the end—and Ash calls out Charizard! Blastoise has the advantage because it's a Water Type, but Ash is very clever. He uses Charizard's Flame Thrower attack to scorch the battle field, trapping Blastoise. Blastoise uses Hydro Pump to cool off the field, but it backfires. The field becomes all steamy and no one can see. Charizard finishes off the battle with a Seismic Toss. Ash is thrilled to have finally defeated his rival—but does he have what it takes to continue? His next opponent will be Harrison from Hoenn.
---
5x60 The Ties That Bind (October 10, 2002)
---
Ash is about to take on his long time rival, Gary Oak, in the next battle of the Johto League Silver Conference, and he's determined to do everything he can to win. He stays up all night researching strategies and trying to learn more about Gary's Pokémon. Gary has a lot of strong Pokémon, and he trains many different types, so Ash has to pick his team carefully. Gary starts out with Nidoqueen, and Ash uses Tauros. Gary wins the first round, but Ash takes the second. It's going to be a very close match! In round three, it's Ash's Heracross versus Gary's Blastoise. Who will win? (To be continued!)
---
5x59 Tie One On! (October 03, 2002)
---
As the Johto League Silver Conference gets underway, Ash will take on Jackson from New Bark Town. Ash is looking forward to the match, but perhaps not as much as his Bulbasaur. Bulbasaur is very anxious to take on Jackson's Meganium and the feeling is mutual. Bulbasaur and Meganium are so eager to test their skills that they get into a fight before the battle and get caught by Officer Jenny. Luckily for Ash and Jackson, Gary and Harrison convince Officer Jenny that the Pokémon had really just een practicing. After all, trainers whose Pokémon fight get disqualified! With all of the drama, the battle is sure to be intense. Ash wins round one, but Jackson's Magneton is really strong, and Jackson wins round two. It comes down to Meganium and Bulbasaur in the final round of the match. They're battling for their honor as grass type Pokémon, and neither is willing to lose. The match ends in a draw. Ash has more points altogether, and so he will proceed in the tournament. But is Ash ready for his next opponent—Gary Oak?
---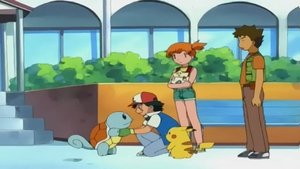 5x58 Love, Pokémon Style (September 26, 2002)
---
Ash begins the Silver Conference Tournament in Division H, against two opponents. The Semi-Finals round-robin style, where a victory gives you three points, a loss gives you no points, and a draw gives each challenger one point. Whoever gets the most points wins! After his usual boast of confidence towards the match, Ash runs into one of his opponents: Macey. She is looking to know all about Ash so that she can crush him in the tournament. Just as they begin an impromptu battle, Team Rocket comes along and grabs Pikachu and Macey's Vulpix! Macey hurts herself running after them, leading Ash to use Bayleef to get rid of them fast. Its Vine Whip throws Team Rocket aside, and frees Pikachu and Vulpix before any harm is done. Macey is more than happy with Ash for "saving her life," and seems to be a bit smitten with him much the chagrin of Misty. She even threatens Ash with a date if she wins their match! Professor Oak sends Ash all his Pokémon for the match, and Ash goes through Macey's data in order to choose the perfect combination. She loves fire types, so Ash goes with Kingler. That is, until Kingler saves a group of Voltorb from falling, and winds up shocked! Kingler will be unable to battle, leaving Ash with a tough decision to make. The decision is made for him, as Officer Jenny and Squirtle arrive to help Ash out! The match begins with Macey's Slugma against Ash's Totodile. Totodile's Water Gun manages to see through Slugma's Double Team, leading Macey to switch it out very quickly. For her next Pokémon she chooses an Electabuzz, to which Ash counters with Phanpy. When Electabuzz's Thunderbolt proves ineffective, she switches back to Slugma, but Phanpy's Takedown finished it off! As her third Pokémon she goes with Quilava, who surprises Phanpy with its Flame Wheel! Phanpy is no match for it, and takes Phanpy out of the picture. Macy switches out for her Electabuzz against Totodile, who gets taken out with one ThunderPunch. Only Squirtle remains, who comes close to defeat at the hands of Electabuzz's Iron Tail. While in mid-air, Squirtle fires a Water Gun and uses Skull Bash to defeat Electabuzz. Quilava is Macey's last hope, and it manages to get Squirtle on its back. Just as it charges in, Squirtle launches a Hydro Pump to take Quilava out for good, giving Ash his first victory! With three points to his name, Ash prepares for his next match, while Macey "cancels" her date to train her newly evolves Magcargo, who evolved during their match!
---
5x57 A Claim to Flame! (September 19, 2002)
---
After arriving at Silver Town, Ash runs into his favorite person: Gary! Gary is set on entering the Silver Conference, and is determined that this time he will be able to make it all the way, and beat Ash! While Gary huffs his way into the Pokémon Center, Brock leads the way to the Athlete's Village. On the way, they bump into Mr. Goodshow, who is giving out balloons to greet the and, as part of his duties as Pokémon League Torch Committee President. Ash promises Mr. Goodshow that he will give it his all in the Silver Conference, which cheers Mr. Goodshow up even further than his normal level of cheer. Meanwhile, Team Rocket are working at a restaurant in order to try and get some money, but wind up eating their way out of a job. Ash, Misty, and Brock make it to the Athlete's Village, where they are treated to a luxury room, with a networked computer. They immediately head to the Trainer Screening, where trainers use their one best Pokémon to try and qualify for the Silver Conference. Ash is called to the floor to take on Salvador from Cherrygrove City, and the computer determines that Ash must draw his Pokémon first. He chooses Pikachu against Salvador's Furret. Furret's Dig seems to get the best of Pikachu, and goes in for a Headbutt to finish things off. Pikachu manages to jump on top of it before Headbutt can land, and performs a powerful Thunderbolt that leaves Furret vulnerable to a Quick Attack. That is enough to win the battle, as Ash gets his first victory. Phanpy and Cyndaquil take out Ash's next two opponents, allowing Ash to move on to the Semi-Finals! Harrison made it through the Screening as well, along with Gary. Mr. Goodshow reminds Ash that only 16 trainers will be able to move from the Semi-Finals on to the Victory Tournament, but Ash is determined to win it all, no matter what! Later that night, Ash is unable to sleep, and takes Pikachu for a walk along the shoreline. They stumble upon Gary, who is also out to clear his head. Gary reminisces about the day he left Pallet Town, which also happened to be the day Ash got his Pikachu. Gary compliments Ash on how he was able to tame Pikachu's wild streak, to the point where they are now best friends. Who knows where they might have ended up is things turned out differently? Gary sees the possibilities awaiting both him and Ash, but that won't let him be stopped from trying to win it all in the Tournament! While continuing their friendship, the rivalry is still strong between the two trainers. Waiting for the Silver Conference torch to arrive in Silver Town, Ash is approached by two people looking to get him to apply for the Footprint Pokémon Panel. When he goes to sign what he believes to be paperwork, the people are revealed to be Team Rocket, who tie Ash up and take Pikachu! Gary finds Ash tied up and goes to stop Team Rocket, who manage to bump into the Torch Runner along the way. Pikachu Thunderbolts Team Rocket, blasting them off, but the Torch Runner is hurt. While Gary cares for the injury, Ash runs the torch for him, lighting the flame in the stadium, signaling the beginning of The Johto League Silver Conference!
---
5x56 Pop Goes the Sneasel (September 12, 2002)
---
With Larvitar returned to its rightful home, Ash and company make their way to Silver Town for the Silver Conference Tournament. On the way, they find a group of people lined up by the Ho-Oh Shrine, where the Silver Conference Torch is ready to be carried! The torch runner appears to be late, and when an attendant goes to tell them the news, Togepi and Pikachu run inside. Ash and the others catch them, but not before they see two trainers leaving in a huff, afraid for their Pokémon's safety. The attendant is saddened that two more trainers have fled the Shrine, and turns to Silver Conference entry Ash Ketchum for help! Before Ash can answer, Harrison, a trainer from Hoenn, appears to help them out. The attendant tells the tale of the shrine and why it is here; a Ho-Oh put a stop to a battle by spreading its flame throughout the area. All weapons burned, and the land was left uninhabitable, until one day, plant and animal life returned. One flame remains, which has been preserved as The Sacred Flame at the Ho-Oh Shrine. At the top of the steps is a Sneasel, which is intent on stopping anyone from approaching the Shrine. Without being able to get close, they will be unable to use the Ho-Oh's flame to light the torch! Ash and crew approach the Secret Flame, just as Team Rocket get approached by the Sneasel, and its Machop and Machoke friends, for invading their space. Sneasel's Faint Attack sweeps Team Rocket into a frenzy and blast off before long. Ash makes his way to the shrine while Misty and Harrison deal with Machop and Machoke, but Sneasel shows up toss top Ash before he can take the flame. Totodile tries to stop the Sneasel, but gets taken out of the match before long by Sneasel's Shadow Ball. Ash and Totodile crash into a tree, but Ash refuses to give up. In the forest, Team Rocket talk about replacing Meowth with Sneasel, believing that Meowth is keeping them down, while Sneasel could help them start winning some battles. Meowth overhears the conversation, and puts a plan into motion to stop them from getting the Sneasel. Ash and Harrison are still trying to stop Machoke and Machoke, and use Phanpy and Houndoom to get the job done. Before Harrison can catch Sneasel, team Rocket come around in a Sneasel shaped balloon! Meowth, dressed in a Sneasel outfit, approaches the wild Sneasel with a smoke bomb, but clues Sneasel in on the trick before it can go off. The bomb goes off anyway, but Team Rocket grab Meowth by accident, who goes and pops the balloon, blasting them off for a while longer. Harrison calls out his Blaziken, a Pokémon Ash's Pokédex has no data on, as it is native to the Hoenn region. Blaziken's Fire Punch manages to knock down Sneasel, long enough for Harrison to catch it! Machop and Machoke are hired to guard the shrine for good, as the torch is lit and carried off to Silver Town. Harrison announces that he too is entered in the Tournament, and cannot wait to meet Ash in the stadium!
---
5x55 Mother of All Battles (September 05, 2002)
---
Now that they have finally gaining Larvitar's trust, the group head towards the Pokémon Reserve on Mt. Silver, as led by Larvitar. While crossing the bridge onto the reserve, the group does not realize they are being watched by three poachers, Braggo, Blurt, and Chico, who are inside a submerged submarine! Ash, Misty and Brock come across a roar in the distance, which belongs to a Tyranitar. Brock notices its scar, which matches the scar from Larvitar's dream, proving that this is indeed its mother. When Ash nudges Larvitar over to meet its mother, Tyranitar misinterprets the gesture and fires a Hyper Beam right at them! It believes Ash, Brock, and Misty are the original poachers, and chases after them in a fit of rage; the problem is enhanced by Larvitar, as it refuses to leave Ash behind! Larvitar's Screech snaps Tyranitar out of it, as it realizes that Larvitar is its baby, and that Ash, Brock, and Misty pose no threat. The threat arrives soon after, as the poachers return, trying to capture Tyranitar by trapping it in a Pokébag! Ash recognizes the poachers from Larvitar's dream, and immediately tries to get Tyranitar back. When the poachers hear Ranger Mason approaching, they trap Ash in one of their bags and head off. Brock calls out Crobat to follow them, while charming up Ranger Mason. Mason informs them that they took the wrong road, as had they have not crossed the bridge, they would have made it right to the Preservation Center. As they work on finding the poachers, Team Rocket beat them to it and ask Braggo if they can join them. Braggo accepts, giving Jessie and James the packing machine in order to draw attention elsewhere, leaving an opportunity to escape with Tyranitar. Crobat reports back to Brock, giving Ash and crew an idea of where the poachers are hiding, but come across Team Rocket instead. Pikachu and Croconaw work together to redirect their attack, blasting Team Rocket off, while the poachers activate their poaching machine by remote to grab Croconaw and Pikachu! Larvitar uses its Screech to awaken Tyranitar, who uses its Hyper Beam to break their remote control. The bags break, freeing Tyranitar and the others, while a combined attack from Tyranitar and Larvitar destroy the machine, and free Pikachu and Croconaw. Ranger Mason thanks Ash and friends for the help catching the poachers, but Ash puts the thanks all on Larvitar's head. Finally reunited with its mother, Larvitar remains at the Reserve, while Ash, Misty, and Brock head towards Silver Town!
---
5x54 Address Unown! (August 29, 2002)
---
A strange energy is emitted from the sky and an Unown pops out, landing right on Misty's head. The Unown appears to be sick and missing its friends. Misty confirms this, as for a moment when their heads knock together, Misty reads its mind! She sees a wonderland filled with Unown, and is amazed by what it looks like. Brock heard a legend that Unown can telepathically connect with human minds, leading Ash to try to reunite the Unown with its friends. That task proves difficult, as scientists believe Unown live in an entirely different dimension! When Unown awakens, Ash reassures the Unown he will get it back home, no matter what. The next day, Unown seems better, due to the help Larvitar gave it; Larvitar understands what it's like to be without family and friends, so it bonds easily with the lonely Unown. Suddenly, Team Rocket step in to try and take Unown! Larvitar's tries to use its Hidden Power to stop them, only to have Wobbuffet Counter the attack. To keep everyone safe, Unown teleports Ash and crew to the Unown Dimension! Togepi and Pikachu appear much larger than normal, or Ash, Misty and Brock are smaller, depending on your point of view. Suddenly, the Electabuzz theme song begins, followed by a trip to Magby and Slowpoke, leading Misty to believe the Unown are creating a dimension off Ash, Misty, and Brock's most recent adventures. When they get to a shot of Ash in color and Brock and Misty in black and white, they discover that this world is taken specifically from Larvitar's memory! The Counter attack accidentally led the Unown to merge with Larvitar's mind. Ash gets sucked into a different part of the mind along with the others, who have all returned to their normal size now. Here, a voice in the background keeps repeating how scared it is, and images of the poachers who originally stole Larvitar's egg show up. They are blown away by Larvitar's mother Tyranitar, who was badly hurt in the process. This explains fully why Larvitar is so afraid of humans. Larvitar then appears amongst a tower of thorns, which represent the pain it went through as an egg. Ash, Brock, and Misty try to get Larvitar out of there along with Pikachu, but the thorns turn into ice encasing it. Ash is able to break the ice, freeing Larvitar from its troubles once and for all. They return to the real world, where Larvitar has finally learned to trust Brock and Misty. Unown is thanked by Ash for the help, just in time for the other Unown to return it to their world!
---
5x53 You're a Star, Larvitar! (August 22, 2002)
---
Ash and friends report back to Professor Elm as they reach the base of Mount Silver, where they hope to return their Larvitar to its birthplace. On their way up the mountain, Ash faces a young trainer in Pokémon battle, pitting his Cyndaquil against the trainer's Magby. This Magby—the pre-evolved form of Magmar—is much stronger that Ash unexpected, and Ash suffers a defeat. Ash makes it up in a subsequent battle, when his Cyndaquil defeats a Quilava—the evolved form of Cyndaquil. Following a few steps behind, Jessie and James note all of the trainers and their rare and valuable Pokémon preparing to battle in the Johto Championship to be held on this mountain. Setting aside their usual plans for capturing Pikachu—and their usual hot-air mode of transport—they capture Larvitar and as many other Pokémon as they can muster and drive off with them in a specially made truck. Only Ash and friends stand a chance of rescuing the Pokémon they hold dear.
---
5x52 Here's Lookin' at You Elekid! (August 15, 2002)
---
A troublesome Elekid begins harassing Larvitar only moments before Team Rocket swoops in and captures both rare Pokémon in a high-tensile steel net. As Ash and friends give chase, they bump into their old friend, Casey, who is looking for her Elekid, a Pokémon she had recently acquired to help her in cheering for her favorite baseball team, the Electabuzz. Ash and Casey manage to rescue their kidnapped Pokémon from Team Rocket's clutches, but in the process lose track of Elekid and Larvitar once again. As Jessie and James move on, they bump into the same Magikarp salesman that has troubled James on many previous occasions. That notwithstanding, James is talked into trading his Victreebel for one of this salesman's Weepinbell. All parties converge as Ash and Casey find their Pokémon at the same time as Team Rocket. In the heat of battle, James's Weepinbell evolves into a Victreebel. This isn't enough to turn the tide of battle, however, and Team Rocket is defeated. Upset by its hapless defeat, James abandons his second Victreebel of the day.
---
5x51 A Crowning Achievement (August 08, 2002)
---
Brock leads Ash and Misty toward a beautiful lake he has read about in his guidebook, but when they arrive at its supposed location, they find nothing but a dried-up stream, surrounded by a number of thirsty Slowpoke. Ash and friends spot a Sumo Crown, but are stopped from approaching it by a young girl and her Slowpoke. The girl explains that she and her Slowpoke are researching legends surrounding the Slowpoke and a supposed Slowking. Long ago, in a time of drought, a chosen Slowpoke had used the Sumo Crown to evolve into a Slowking and then led the other Slowpoke off to paradise. It is her hope that began in this time of drought, a chosen Slowpoke will arise and lead its fellow Slowpoke to safety before it is too late. Numerous Slowpoke attempt to approach the crown, but all are bitten by Shellder and transform into Slowbro before they are able to reach it. The chosen Slowpoke must get by all the Shellder and reach the Sumo Crown before being bitten in order to evolve into a Slowking. Just when it seems all hope is lost, this girl's own Slowpoke darts off toward the Sumo Crown.
---
5x50 Entei at Your Own Risk (August 01, 2002)
---
As Ash and friends continue their travels with Larvitar, it remains wary of all other Pokémon and people, particularly of Misty. They stop briefly at a Hot Springs, and there meet a young trainer who reports that he is there searching for an Entei. Jessie and James disguise themselves as snow cone salespeople and trap Ash and friends, but using their Pokémon these trainers are quick to escape. Ash than challenges the Entei-seeking trainer to a battle in hopes of learning more about the secret attack that this trainer claims his Misdreavus will use to defeat Entei. This secret weapon turns out to be Mean Look, an attack that prevents one's opponent from leaving a battle. Moments after this battle, the enthusiastic young trainer runs off toward a sensor that is detecting the presence of Entei. Ash and friends follow, soon after witnessing a battle between this trainer and Entei. The battle doesn't go exactly as this trainer had planned, but leaves him nonetheless with a renewed respect for Entei.
---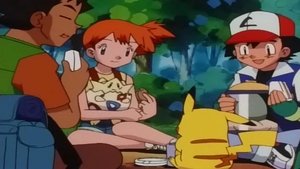 5x49 Hatch Me if You Can (July 25, 2002)
---
Questions as to what Pokémon waits inside the egg Ash and friends have been carrying for Professor Elm are finally answered when it hatches into a Larvitar. Our heroes hardly have time to celebrate, however, as they realize that this Larvitar is unwell, its body temperature much lower than normal for any non-Ice Pokémon. Even at the Pokémon Center, Nurse Joy is unable to do anything to stop this Larvitar's body temperature from dropping even further. Just as she warns Ash that Larvitar's life may be in danger, problems are compounded by a sudden and unexplained blackout. Desperately, Ash and friends set out to restore power to the Pokémon Center in time to somehow treat their ailing Larvitar.
---
5x48 Lapras of Luxury (July 18, 2002)
---
Ash and friends return to New Bark Town, but before Ash is able to register for the Johto League Championship, Professor Elm sends him on an errand to retrieve a Pokémon egg from a nearby marine Pokémon laboratory. At the laboratory, Ash and friends meet up with a young researcher who uses the supersonic waves from a Lanturn to detect the singing voices of traveling Lapras. She hands an egg over to Ash, asking that he deliver it to Professor Elm. When a school of Lapras arrive, one of them begins calling out to Ash. It turns out that this is in fact the very same Lapras that Ash parted ways with in the Orange Islands. Their reunion is cut short when Team Rocket arrives and kidnaps this Lapras along with all of its friends. Unsurprisingly, Team Rocket fails miserably, but when their Magikarp submarine is caught up in a whirlpool, it drags Ash's Lapras's mother and the leader of the Lapras along with it. The researcher's equipment cannot detect the missing Lapras over the roar of the whirlpool, but magically Ash's Lapras and its mother are able to communicate through Lapras-song, allowing Ash's Lapras to find its missing peers.
---
5x47 Just Add Water (July 11, 2002)
---
On the road back to New Bark Town, Ash and friends stop for a rest near the ocean. There they spot a sign advertising a synchronized Pokémon swimming event. They run toward the area where the event is being held, arriving just as it begins. Close behind is Team Rocket, who quickly hatch a plan to steal all of the Pokémon from the swimming show. After the first show, Misty, Ash, and Brock chance to meet the trainer in charge of this event. A rivalry quickly develops between Misty and this Water Pokémon trainer. Before these two trainers have a chance to battle however, Ash steps in and challenges her to a battle in one of her underwater arenas. Due in part perhaps to this trainer's home-court advantage Ash quickly loses. Misty then steps in and challenges the trainer to a three on three Pokémon battle. Misty is hard-pressed to defeat such an experienced trainer on her own field, but will her intimate knowledge of water Pokémon guide her to victory?
---
5x46 Why? Wynaut! (July 04, 2002)
---
Having defeated Clair and earned his eighth gym badge, Ash must now set out for the Johto League championship, which he learns is to be held on Mt Silver in three months time. As Ash heads toward New Bark Town, where he will register for entry in this competition, he is stopped by two reporters who ask for a shot of the trainer making his triumphant return. The reporters turn out to be none other than Jessie and James of Team Rocket. They trick Ash out of all eight of his badges, but the plan backfires when a passing Wynaut steals the badges from Wobbuffet. Remembering each of the eight victories that earned him these badges, Ash sets out after Team Rocket, determined to get back what is rightfully his.
---
5x45 Better Eight Than Never (June 27, 2002)
---
Having finally seen stability restored to the Blackthorn Gym, Ash and Clair face off in a gym battle. Ash opens with a surprise entry, his Snorlax, and defeats Clair's Kingdra to take victory in the first round. Clair quickly comes back, wearing Snorlax down with her Gyarados. Ash sends in Pikachu, hoping its advantage as an Electric Pokémon will be enough to defeat Clair's Water Pokémon. It isn't until he puts Pikachu's speed to use, however, that he emerges victorious. At two to one, Ash is only one win away from earning his final badge, but this last round—against Clair's Dragonair—promises to be the hardest one yet.
---
5x44 Great Bowls of Fire! (June 20, 2002)
---
Immediately after entering an area considered sacrosanct by the Dragon Pokémon that dwell there, Team Rocket sets off a chain of events that enrages the area's Dragonite guardian. Unchecked, this Dragon's rage threatens to destroy the area entirely and all those who dwell within it—including not only Team Rocket, but also Clair, the gym leader, and Ash and party. Facing a Dragon of an opponent, the odds are stacked against Ash, but when an unexpected ally—Ash's own Charizard—makes an appearance, Ash sees a glimmer of hope.
---
5x43 Fangs for Nothin' (June 13, 2002)
---
No sooner has Ash begun what he hopes will be his final gym battle in the Johto League than Team Rocket once again throws a wrench into his plans, making off with the Dragon Fang, an invaluable heirloom long held by the Blackthorn Gym. Ash and friends, along with the gym leader, give chase, but in their flight, Team Rocket leads them deep into a secretive area rarely visited by anyone but the Dragon Pokémon that dwell there. Perhaps angered by these uninvited guests, a large beast flies directly at Ash and friends as soon as they enter this area. Uncertain whether this shape be friend or foe, our heroes raise their guard and wait as it grows closer... and looms larger still.
---
5x42 Beauty is Skin Deep (June 06, 2002)
---
Finally reaching the outskirts of Blackthorn City, Ash pushes to quickly seek out the gym where he hopes to earn his final Johto badge. Before he has the opportunity, he chances into a Dratini and learns that its eager trainer, Clair, is in fact the Blackthorn Gym leader. Ash's attempt to challenge her to a duel—and Brock's attempts at getting her phone number—are both cut short when Team Rocket arrives, intent on stealing the Gym Leader's Dratini right out from under her. After dispatching with these hapless villains, Ash secures Clair's promise to face him in her gym. Cheerfully Ash and friends march the last few miles into the city.
---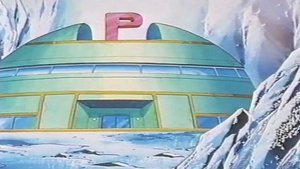 5x41 The Ice Cave (May 30, 2002)
---
On their way through Ice Path, Takeshi gets a cold and cannot proceed.
---
5x40 I Politoed Ya So! (May 23, 2002)
---
When Ash, Misty, and Brock pause for a quaint picnic by a lake, Politoed wanders off and is mistaken by another trainer for her own Politoed, the rhythm leader in her Pokémon cheerleading squad that had gone AWOL. When Ash and friends clear up the misunderstanding, the trainer still begs for them to loan her their Politoed for use in an upcoming cheerleading competition. Meanwhile, her own Politoed returns and, none too pleased to find another Pokémon in its place, immediately runs away again. Not wanting to break up a happy Pokémon cheer team, Misty allows the trainer to borrow her Pokémon for the competition, but promises in the meantime to track down the missing Politoed and convince it to return to active duty.
---
5x39 One Trick Phony! (May 16, 2002)
---
Seeing that Ash just can't get enough battling, a trainer who loses to him suggests as she leaves that he give a local Pokémon battle park a try. She explains that this facility is set up like an amusement park, but with all the attractions built around Pokémon battling. Ash and friends set off enthusiastically toward the park, but get there after Jessie, James, and Meowth, who find the park to be closed for repairs. Always prepared to make the worst of a bad situation, Team Rocket entrench themselves in the park and wait for Ash, plotting to use the park's Pokémon to battle and capture Ash's Pikachu. Ash will have to battle hard: his opponents include Blastoise, Venusaur, and Charizard.
---
5x38 Outrageous Fortunes (May 09, 2002)
---
On meeting up with a proud Pokémon trainer who dares all comers to face his Poliwrath, Misty and Ash quickly rise to the challenge. Misty, in particular, encourages her Poliwhirl to watch closely as it may someday evolve into a Poliwrath. As is often the case, the battle isn't long over before this challenger and Ash and Misty have become fast friends. Meanwhile, Team Rocket, having furtively observed this battle and been convinced that the Poliwrath is a match even for Pikachu, decide to first capture it and then use it to capture Pikachu. Unfortunately, this logic does not hold as they find capturing a Pokémon stronger than Pikachu even more difficult than simply capturing Pikachu. A surprise is in store for Misty, as her Poliwhirl evolves not into a Poliwrath, but into another Pokémon altogether.
---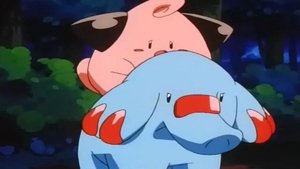 5x37 Wish Upon a Star Shape (May 02, 2002)
---
Ash, Misty, and Brock are traveling along when they notice a strange shape falling from the sky. They run in to investigate, but soon realized that they were not the only witnesses of this event. Two representatives of an organization devoted to uncovering secrets of the Pokémon world arrive just as our heroes discover that the mysterious falling object was a Cleffa. Though these two Pokémon buffs seem a bit eccentric, Ash and friends share their interest in discovering from whence this Pokémon had come, and so they join forces in investigating a mystery that may shed light even on the very origins of Pokémon life on their planet.
---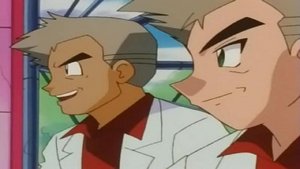 5x36 Will the Real Oak Please Stand Up? (April 25, 2002)
---
Hearing of the posh reception prepared for the host and guest of a radio show to be recorded before a live audience, Jessie and James of Team Rocket quickly announce that they are in fact the long-awaited celebrities. Their mastery of disguise is soon put to the test, as it turns out that the guest in question is to be none other than Professor Oak. James quickly rises to the occasion, creatively answering arcane Pokémon questions from excited fans. When the real Oak arrives, the children find his answers inconsistent with those received from James the day before, and ironically finger the real Oak as a fraud. When the two Oaks finally face off, the real Oak slips up in a Pokémon trivia challenge, leaving onlookers to conclude that James is the real deal. In the final test, it is decided that each of the two professors must compose a poem in the style for which Oak is renowned. Professor Oak is confident that poetry—his second love after Pokémon—will secure him victory, but little does he know that James has a hidden knack for verse as well.
---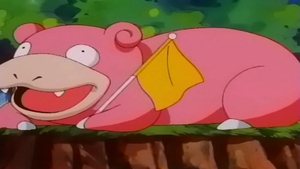 5x35 Enlighten Up! (April 18, 2002)
---
As Ash and friends approach the site where Ash will earn his eighth badge, they fall victim to an unexpected Team Rocket trap. As they prepare to fight, they are interrupted by a mystic and her Slowpoke. This woman explains to them that the Slowpoke's distant expression evidences that it is pondering the meaning of its existence. Ash and friends eagerly volunteer to strengthen their minds through training in this Slowpoke's shrine, and are surprised when Team Rocket does the same. Jessie, James, and Meowth show their true colors soon enough however, reviewing to all that their actual motive is not enlightenment, but rather the valuable gold statues that decorate the shrine.
---
5x34 Same Old Song and Dance (April 11, 2002)
---
In the midst of their travels, Ash and friends meet up with a young girl who, along with her two Igglybuff assistants, stars in her own musical variety television program. Our heroes are content to sit back and enjoy the show, but unfortunately Team Rocket has other plans in mind. Unable to steal the show, Jessie and James content themselves by stealing the young girl's Pokémon instead. As Ash and friends run to her assistance, Jigglypuff shows up, disgruntled at having been left out of the show.
---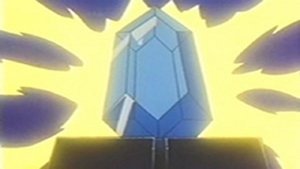 5x33 As Clear as Crystal (March 28, 2002)
---
When a tangle with Team Rocket leaves Pikachu desperately exhausted, a young passerby offers to restore Pikachu's energy, but only if the humans present promise never to reveal to another soul what they are about to see. This trainer then proceeds to guide Ash and friends to a legendary lake that somehow seems to restore energy to the Electric Pokémon that live along its banks. Unfortunately, however, Team Rocket manages to tail the young trainers as they enter. Jessie and James are quick to make plans to lay waste to the serene lake, trading its pristine essence for personal gain.
---
5x32 Hocus Pokémon (March 21, 2002)
---
Brock rarely meets a girl whom he doesn't find bewitching, but on encountering a particular young woman, even Ash and Misty can't deny that there is something magical about her. This is all explained when the young trainer explains that she is a practitioner of Pokémon magic. Excited to see the completion of a spell that promises to allow humans to understand the feelings and thoughts of Pokémon, Ash and friends embark on a quest to gather the hodgepodge of Pokémon-related ingredients required for the spell. Can anyone spare any Gloom nectar? What about iron shavings sorted by a Magnemite?
---
5x31 Some Like It Hot! (March 14, 2002)
---
Ash, Misty, and Brock face many roadblocks on the path to success, some metaphoric and others in the form of gigantic Magcargo that refuse to step aside and let a traveler pass. When Misty's Water tactics fail to move the stubborn Fire Pokémon, a passing trainer taunts her, declaring that Fire Pokémon, his specialty, are far superior to Water. Their rivalry escalates into a full-on Pokémon battle, from which Misty emerges victorious. The Fire Pokémon trainer doesn't hold a grudge for too long, though, and in the end an unlikely collaboration between Fire and Water reopens the path to the Johto League.
---
5x30 Whichever Way the Wind Blows (March 07, 2002)
---
Hardly taking a second to relish his latest gym victory, Ash quickly sets course for the next gym in Blackthorn City. It isn't long, though, before a more immediate challenge confronts his small party. As Ash and friends enter a clearing, they find large numbers of Vileplume and Bellossom preparing to battle. With the help of his Bayleef, Ash is able to settle the disturbance, but afterwards learns from a researcher working in the area that this is a common occurrence. The winds in this area, it seems, carry particulates from the Leaf and Sun Stones that cause Gloom to evolve into either Vileplume or Bellossom. Depending on the wind's direction, different amounts of either stone are scattered over the local Gloom, creating temporary surges in the populations of either of their possible evolutions. Since there is no foreseeable end to this natural state of flux, Ash and friends must end this constant fight for supremacy by convincing these Pokémon to live in harmony despite this trick of the wind that puts one and then the other group in the advantaged position.
---
5x29 Nice Pryce, Baby! (February 28, 2002)
---
Having earned Pryce's respect and permission to face the trainer in a gym battle, Ash makes the unlikely choice of sending out Cyndaquil, a Fire Pokémon, to face his opponent on an Ice battlefield. Fortunately, Ash's strategy pans out as he leads the gym leader to lower his defenses, allowing Ash to take the first victory in a two-on-two match. Next the gym leader sends out his trusty Piloswine, which immediately unleashes a Blizzard attack that completely alters the battlefield, allowing it to make quick work of Ash's defending Pokémon. With one victory each, the round enters sudden death with each trainer playing his oldest, most reliable Pokémon. A seasoned duo, Ash and Pikachu may match the teamwork of the gym leader and his Piloswine, but will this be enough in a slippery ice arena that is second nature to Piloswine, but whereon Pikachu struggles even to stand?
---
5x28 As Cold as Pryce (February 21, 2002)
---
Finally setting foot in Mahogany Town, Ash is anxious to set about winning his next badge. When he finally locates the town gym leader, Pryce, he is surprised to recognize the man, having previously exchanged differing opinions on the proper nature of relationships between Pokémon and trainer. The embittered gym leader maintains his position that Pokémon must be controlled rather than trusted, must remain servants and never friends. When a natural catastrophe sends Ash and Pryce hurtling deep into the depths of the earth—and equally deep into the recesses of this gym leader's mysterious past—the two confront the Piloswine that loyally served Pryce long ago. In this lost Pokémon Ash recognizes the seed that might bring about a change of heart in Pryce.
---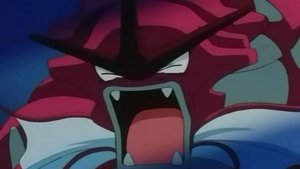 5x27 Rage of Innocence (February 14, 2002)
---
Before they can oppose Team Rocket's evil plan to gain control of the Pokémon of the world, Ash and friends must escape from a Team Rocket holding pen. With their Pokémon rendered unable to fight by a sinister Team Rocket technology, this would be an impossible task—impossible that is if Jessie and James had not been fortuitously chosen to watch over them. When, sure enough, Jessie and James slip up, Ash and friends jump on the opportunity to escape. Together with Lance and his Dragonite, they must not only stop Team Rocket from perfecting their Pokémon Evolution Inducement machine, but also somehow quell the rage of the red Gyarados, as it threatens to destroy a nearby town.
---
5x26 Talkin' 'Bout an Evolution (February 07, 2002)
---
Ash and friends discover a red Gyarados, unknowingly uncovering a plot by Team Rocket to control the secrets of Pokémon evolution. To ensure their silence, Team Rocket attempts to capture the children, but is foiled by a member of an elite Pokémon defense organization, who releases the children with instructions to continue on their way and leave the dangerous job of ending this Team Rocket experiment to adults like himself. Ash and friends assent at first, but before long, unable to ignore the compassion he feels for the red Gyarados that seemed to be in such pain, Ash decides to return and lend a hand.
---
5x25 Xatu the Future (January 31, 2002)
---
Ash and friends meet a Xatu, a Pokémon said to have the ability to see into the future, and the young girl whose job it is to watch over an entire flock of the same and interpret their strange predictions. They meet her at a difficult time in her career, as the locals are just beginning to doubt the accuracy of these Pokémon's predictions, which have guided their community for centuries. The girl herself even finds her own faith waning, but when the Xatu forecast a cataclysm that would endanger all in the village, she must decide whether to trust in her Pokémon or to let age-old traditions fall by the wayside.
---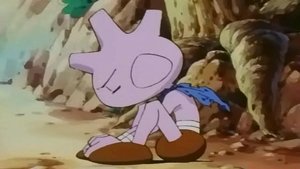 5x24 A Tyrogue Full of Trouble (January 24, 2002)
---
Ash and friends chance into a Tyrogue, nearly falling victim to a ploy it lays out in an attempt to make off with all of their Pokémon food. Just as they tie things up with the Tyrogue, they learn that it is in fact not wild, but owned by a devoted student of Chuck, the Cianwood Gym leader. This student, who prides himself for his martial arts ability, explains that he is now taking his Tyrogue to an exhaustive tournament in which Fighting type Pokémon vie for the title. Meanwhile, though, he is having a terrible time disciplining his mischievous Pokémon. As if to accent this complaint, an angry local arrives, exclaiming that Tyrogue has wrought havoc in town for the last time.
---
5x23 Just Waiting On a Friend (January 17, 2002)
---
Our heroes are traveling over a mountain pass when inclement weather occasions a stay in a lodge located conveniently nearby. Brock is very taken with the hospitable caretaker of the lodge and her Ninetales, but his friends grow increasingly suspicious of her as they notice, and unsuccessfully try to point out to Brock, vague warning signs—her being distant and distracted, her preoccupation with the past, her not reflecting in mirrors—that she is not in fact his dream girl. Brock will have none of it, though, and eagerly accepts her proposal of marriage, even as the lodge itself grows increasingly sinister.
---
5x22 Dues and Don'ts (January 10, 2002)
---
As Jessie, James, and Meowth track Ash and friends, they commiserate over past failures and discuss how they are paired unfairly against these younger trainers with such a superior array of Pokémon. They no sooner decide anew to catch as many Pokémon as possible and strengthen their own forces than a Delibird shows up. After finally capturing it, they are disappointed to learn that the Pokémon already has a trainer—a Team Rocket scout, no less, who is using the Delibird to test the abilities of promising new talent. Sensing their natural aptitudes toward crime, the scout offers Jessie and James positions within Team Rocket. These two assert that they are already members, to which the scout replies by accessing their Team Rocket personnel files and proving that they have been expelled from the organization. Shocked, Jessie and James set desperately to garnering some success that will earn them reentry into their beloved Team Rocket.
---
5x21 Hatching a Plan (December 27, 2001)
---
At long last Ash's egg hatches, a Phanpy emerging to finally put everyone's curiosity to rest. Ash and friends' excitement is matched only by that of Jessie and James of Team Rocket, who see in the newly hatched Pokemon a chance to redeem themselves with Giovanni. Full of youthful vigor, the Phanpy quickly escapes Ash and goes off on its own, now pursued by both Team Rocket and Ash's party. Ash and Pikachu finally set out together after this stray Pokémon and continue to be frustrated in attempt after attempt at its capture.
---
5x20 An EGG-sighting Adventure! (December 20, 2001)
---
The egg—yet to hatch—that Ash had received from a grateful Pokemon breeder turns up missing. Ash and friends are fortunate, however, in that an Officer Jenny famous for her brilliant forensic work appears on the scene. As the investigation proceeds, however, the young Pokemon trainers begin to lose faith in this famous figure—it seems she is only able to correctly interpret clues after someone else (most often Ash, Misty, or Brock, in this case) have sorted things out for her. It seems that if the young trainers are to find the egg before it hatches, they will have to take over the investigation themselves.
---
5x19 Extreme Pokémon! (December 13, 2001)
---
On their way to Mahogany City, Ash, Misty, and Brock run into Gary and his Arcanine practicing for a meet. Ash decides he wants to enter the meet but needs a sleigh, which he receives from a local Pokemon breeder. Team Rocket no sooner gets wind of the meet than do they begin sabotaging it, stealing Gary's Arcanine midway through the race and making off with some Pokemon eggs stored at the local breeding center. After a short battle with Team Rocket, Arcanine is returned to Gary and Ash goes on to win the race, a trophy, and an unexpected gift from the Pokemon breeder.
---
5x18 For Ho-Oh the Bells Toll! (December 06, 2001)
---
When Ash, Misty, and Brock run to investigate a mysterious chorus of bells that spontaneously ring out, they chance to meet their old friend Morty and a Pokémon researcher of his acquaintance. Morty and the researcher discover that the sacred Crystal bells, which are said to ring when a legendary Ho-oh returns, are missing. Since the bells were also used to heal the Bug Pokémon living in that area, these Pokémon lash out against their human neighbors, covering the town with their webs. Ash and friends decide to get to the heart of things and, in the forest, find Team Rocket restrained by webs and hanging from a tree. Ash, Misty, Brock, Morty, and the researcher begin to battle with the Bug Pokémon. Just when it seems as if there is no hope an unsuspected ally appears.
---
5x17 Espeon, Not Included (November 29, 2001)
---
Our heroes meet up with an old friend, Sakura, and her Pokemon—an Espeon that evolved from her Eevee. They lend a hand as Sakura and her sisters prepare for an upcoming dance competition, but meanwhile Team Rocket is hatching a plan to capture a Pokemon from Sakura and each of her sisters, collecting all of the evolved forms of Eevee to present to their boss. When Sakura alone is left to face Team Rocket, she hopes she can prove her mettle once and for all, and gain her sisters' permission to embark upon a journey of her own.
---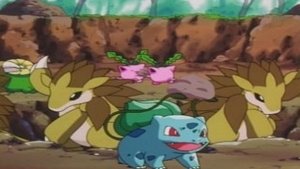 5x16 Bulbasaur... the Ambassador! (November 22, 2001)
---
Ash gets a surprise request from Professor Oak: it seems to Pokémon in the Professor's laboratory have taken to fighting amongst themselves, all of the Professor's attempts to stop them ending in failure. Knowing that Ash's Bulbasaur has much experience peacemaking between Pokémon, Professor Oak enlists this Pokémon's services. Sure enough it isn't long after Bulbasaur's arrival that peace returns to the laboratory, but will the same endure even after Bulbasaur leaves? If not, can Ash bear being separated at length from one of his oldest and best Pokémon friends?
---
5x15 Nerves of Steelix! (November 15, 2001)
---
As Ash prepares for his Olivine Gym battle, he and the others come across a giant Wobbuffet. It turns out to be a Team Rocket "Wobbu Warrior" robot, used for—what else?—trying to capture Pikachu. Jasmine's Steelix comes to the rescue, cracking the robot's shell, freeing Pikachu, and sending Team Rocket blasting off again. At the Gym, Janina sets out the rules of the match: a two-by-two battle. Ash begins the match by using Pikachu against Jasmine's Magnemite. Pikachu takes an attack so it can hit the dodging Magnemite, then follows with Quick Attack to knock Magnemite out! Jasmine then sends out Steelix, which takes an early hit. It then manages to knock Pikachu out with its Iron Tail. Ash sends out Cyndaquil as his last Pokémon, trying to beat the Steel type with fire. Steelix digs itself underground and attacks, but Cyndaquil avoids it by using its Flamethrower against the wall for a quick direction change! Cyndaquil then takes a hit from Steelix's Iron Tail, but refuses to give up. Its Flamethrower turns Steelix's Sandstorm into a flaming whirlwind—knocking it out, and giving Ash the victory and the Mineral Badge! After the battle, Ash and the gang decide where they will go next: Mahogany Town. To get there, they will cut through Ecruteak City. After saying goodbye to Janina and Jasmine, they're on their way!
---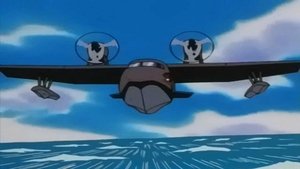 5x14 Throwing in the Noctowl (November 08, 2001)
---
At Transit Town, Ash gives Janina a call to check on Sparkle the Ampharos, and to see if Jasmine is ready for their Gym battle. Janina gives them good news, and Ash and the others set off for the last boat out to Olivine City, but they wind up missing it! Ash asks an old man about the next ferry, and is told that there are no more until tomorrow. The old man directs him to a plane service called the Hoothoot Express that might be able to help them. When they arrive, they find that the old man is actually the owner of the plane, Wings Alexander. Wings used to be a great Pokémon Trainer back in the day, winning many a battle with the help of his Hoothoot. He asks the kids to help him with his chores, and then he will fly them to Olivine City. They get on the plane and find a Noctowl in the co-pilot seat—it's Wings's Hoothoot, now evolved. They take off, only to be hit by an approaching storm. In their balloon, the members of Team Rocket are also caught in the storm, and they ask the pilot for help. Wings invites them on board. It takes the combined power of both Ash and Wings's Noctowl to keep the plane aloft while Pikachu draws the lightning away! Wings notices the lighthouse in the distance, showing him which way to go to avoid the cliffs, while Team Rocket goes blasting off again. Finally, the plane lands in Olivine City, and Ash begins to prepare for his long-awaited battle with Gym Leader Jasmine!
---
5x13 A Promise is a Promise (November 01, 2001)
---
Ash and friends do their best to free the captured Lugia from Team Rocket, but are eventually overwhelmed by a new technology that emotionally manipulates Pokemon, amplifying their rage and enhancing the power of their attacks. This heightened power enables Butch and Cassidy to not only capture the parent Lugia, but to take captive Ash and friends as well. A Team Rocket researcher insists that true power lies in fury, but Ash hopes to prove that trust between man and Pokemon holds the key to a greater power still, and to free himself and his friends in the process.
---
5x12 A Parent Trapped! (October 25, 2001)
---
With the young Lugia in the possession of Butch and Cassidy, Ash and friends set about rescuing it while protecting its parent from itself. The parent Lugia fights desperately to free its child—playing right into Team Rocket's hands. If Ash fails to win the Lugia's trust and convince it not to oppose Team Rocket alone, it seems this Pokemon is fated to end up in captivity along with its child.
---
5x11 The Mystery is History (October 18, 2001)
---
While on their quest to locate a mysterious Pokemon, Ash, Misty, and Brock run into their old friends Richie, and his Pikachu, Sparky. They also meet a young boy and his Lanturn, who has made friends with a baby Lugia. Meanwhile, Butch and Cassidy of Team Rocket are hatching a plan to capture the baby Lugia in hopes of eventually catching its parent. Jessie and James also try to catch the adult Lugia, but are unsuccessful.
---
5x10 Hi Ho Silver... Away! (October 11, 2001)
---
Ash, Misty, and Brock run into a local shopkeeper who introduces them to one of her friends, a jewelry maker who tells them the legend of the fourth Whirl Island. When they first encounter the jewelry maker they find that he and his Sandslash are very ill. After Ash, Misty, and Brock help them to recover, they learn that the jewelry maker is in love with the shopkeper and wants to propose. As usual Team Rocket isn't far behind and up to no good with a plan to try and steal all of the jewelry in the town.
---
5x09 Plant It Now... Diglett Later (October 04, 2001)
---
A village of kind, elderly people prepares a great meal for Ash and friends, and in return requests that the Pokémon Trainers assist them in defending their village against a gang of marauders that invades the village every year and attempts to rustle their sizable herd of Diglett. In explaining this to the children, the village's elderly mayor loses his train of thought numerous times, leaving Ash and friends completely confused by his request, until an unlikely source offers some clarification. The leader of the gang in question appears, succinctly restates the mayor's explanation, promises to return the following day with his gang, and finally excuses himself politely. A bit puzzled by this genteel marauder, Ash and friends nonetheless accept the mayor's request and along with Team Rocket, whose insatiable appetites had brought them to the dinner as well, begin fortifying the town against attack. When our heroes venture into the enemy camp, however, they learn that there is more to the marauders' plot than meets the eye.
---
5x08 The Perfect Match! (September 27, 2001)
---
Ash and Misty each emerge victorious from arduous bouts only to be paired against one another in the next round. As these two square off, Team Rocket plots to steal the tournament's prize using reverse psychology: they leave an anonymous tip with the local police force that the prize is in danger. This tip, Jessie reasons, will lead to heightened security, which will in turn lead to overconfidence and carelessness, effectually making it easier for Jessie and James to sneak in and claim their prize. With Ash already in strong position, Misty accidentally deploys Psyduck to face his Kingler. In a surprise turn, however, Psyduck launches a Confuse attack that wins the match for Misty. Ash takes his place in the stands and cheers for Misty as she begins her next round. Meanwhile Team Rocket watches in shock as—contrary to Jessie's plan—not only is the police presence at the event fortified, but the police show no sign of growing overconfident.
---
5x07 Dueling Heroes (September 20, 2001)
---
As the final round of the Whirl Cup begins, Ash and Misty must each face formidable opponents. Ash has his Kingler transferred from Oak's lab in preparation, but when he and his Totodile begin their first battle, they must face an opponent with a powerful Kingdra. Misty also faces a challenging duel with an experienced opponent and his Qwilfish. Meanwhile, Team Rocket sets about stealing an ancient jewel used in a reward ceremony to be performed for the tournament's victor.
---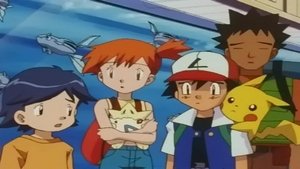 5x06 Octillery the Outcast (September 13, 2001)
---
After reaching the town where the preliminary round of the Whirl Cup is held, Ash and Misty enter and earn the two victories required to continue on to the finals. A friend they had met earlier is not as fortunate. When Misty tries to console him with promises of the next Whirl Cup to be held in three years, he remains depressed, saying that it was not lack of ability but the low spirits of his Octillery that had brought about his defeat. The Pokémon had been depressed ever since it evolved from a Remoraid and was subsequently spurned by its onetime Remoraid friends. If the boy cannot somehow mend these friendships between Pokémon that have now grown different in appearance, he doesn't see any hopes of victory even in three years time. Ash and friends willingly lend their knowledge and enthusiasm to this problem of Pokémon sociology.
---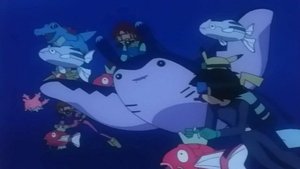 5x05 Mantine Overboard! (September 06, 2001)
---
Our heroes narrowly miss the ferry to Redrock Isle, but are fortunate enough to bump into a Pokémon researcher and a deep-sea diver who offers to carry them across the strait in her boat. En route they learn of a longstanding goal she is just now attempting to reach—her great-grandfather had made a valuable discovery, but been discredited when the find was lost in a shipwreck, the location of which she has only recently discovered. Excited by her tale, the young Pokémon Trainers decide to accompany her in a dive down to the ruined ship and witness as she recovers the article that will restore her great-grandfather's honor in the scientific community. Their attempts to approach the sunken ship, however, are routed by an aggressive Mantine and a number of Remoraid. In order to take up her great-grandfather's legacy, this researcher, with the help of Ash and friends, must first explain the strange defensive behavior of these Pokémon.
---
5x04 A Corsola Caper! (August 30, 2001)
---
Just as Ash and friends arrive at a new island, their ears are met with cries for help. A family had built their house upon a Corsola nesting ground, and when a new, hyperactive Corsola arrived and frightened off the previous Corsola residents, the ground beneath the house weakened and the house was washed out to sea. The father and daughter who had been outside during the catastrophe now look on helplessly as another daughter—trapped inside the house—is washed out toward a large whirlpool. Ash and Misty call their Pokémon to action and manage to save the young girl, but this proves to be only the first challenge of the day. As Ash and friends set about recollecting the Corsola that had reinforced the foundation of this family's home, Team Rocket soon arrives and attempts to steal not only the needed Corsola, but also collections of local artwork made from Corsola horns, which these Pokémon shed regularly. While assisting this local family, Misty waits not so patiently for an opportunity to catch the Corsola that had first driven the others away, and make it her own.
---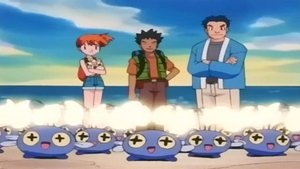 5x03 Takin' It on the Chinchou (August 23, 2001)
---
On their way to the Whirl Cup competition, Ash and friends are fortunate enough to pass a small mountain village just as an annual Chinchou migration is about to occur. Long ago seismological forces had combined to lift the mountain out of the depths of the sea, bringing along with it the undersea nesting ground of these Chinchou. Guided by instinct, these sea Pokémon continue to lay eggs there even though the land is now above water. Ash and friends join a father and son appointed this year by the village to protect the Chinchou on their journey—and it's a good thing these Pokémon Trainers were along because it turns out Team Rocket has designs on the migrating Chinchou as well.
---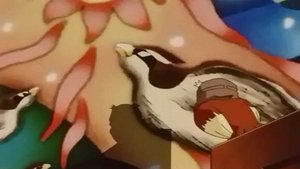 5x02 Fly Me to the Moon (August 16, 2001)
---
Our heroes discover an island on which the Pidgey population—long protected by environmental regulation and free from predators—has grown to unusually stout proportions and virtually abandoned any desire for flight. There Ash and friends find one Pidgey, however, in which the desire to soar through the heavens burns more fiercely than even in Pidgey from beyond this island. Anxious to see this Pidgey achieve its dreams, the young trainers join with the Pidgey's trainer and follow the Pokémon in a jet-assisted hot air balloon, tracking its flight as the Pidgey climbs higher into the stratosphere than any Pokémon in history.
---
5x01 Around the Whirlpool (August 09, 2001)
---
In a scuffle with Team Rocket, Ash and friends are thrown from the ship bearing them to the Whirl Islands. As powerful whirlpools draw them toward impending doom, a mysterious form under the sea shifts the powerful undertow, drawing them to safety. Shortly thereafter, a Corsola comes skipping over the sea's surface and guides the children back to a ship wherein awaits their old friend, Professor Elm. They ride the ship to a bustling harbor in the first of the Whirl Islands. There they learn of an upcoming competition in which Water Pokémon trainers will vie for the title of Whirl Island champion.
---