Pokémon
XYZ
Pokémon
XYZ
First Air Date: October 29, 2015

| | | |
| --- | --- | --- |
| First Aired on | : | 2015 |
| Episodes | : | 49 episodes |
Follow Ash, Pikachu, and their friends as they explore the deepest mysteries of the Kalos region! Team Flare has plans for the Legendary Pokémon Zygarde and the secret it holds. Alain's ongoing search for the source of Mega Evolution intersects with our heroes' adventures. And true to Gym Leader Olympia's prediction, Ash and his Frogadier will work together to reach surprising new heights!
Want to see ?
Trailer: Pokémon the Series: XYZ Season Trailer
Episodes
19x49 The Ultimate Duo! Citron and Dent!! (November 10, 2016)
---
---
19x48 The Legend of X, Y, and Z! (November 03, 2016)
---
Professor Sycamore and Alexa explore some ruins, where they discover a stone statue of a woman named Aila, and a legend emerges. A collection of Kalos records reveals that Aila's true love, Jan, attempted to vanquish the Destruction Pokémon Yveltal. When he failed, the land was drained of all life as Yveltal became a cocoon and turned Aila to stone.
---
19x47 Till We Compete Again! (October 27, 2016)
---
With their journey in Kalos finally over, Ash and his friends decide to part ways in order to walk their own respective paths. At the airport, the group promises to meet each other again someday, but when it is almost time to board the plane, Dedenne runs away as he doesn't want to part ways with everyone. Meanwhile, what is Team Rocket up to?
---
19x46 Facing the Needs of the Many! (October 20, 2016)
---
Ash and the others came back at the wetlands and after saying goodbye to Goodra, they run into the plants that were raging wildly during the Team Flare incident, but manage to drive them back with help from Ash-Greninja. But then Team Flare scientist Xerosic returns and abducts Clemont. After officially winning, they reunite with Squishy and Zygarde, who needs Greninja's powers, leaving Ash to choose for Greninja's destiny.
---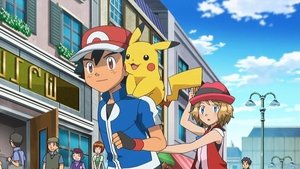 19x45 The First Day of the Rest of Your Life! (October 13, 2016)
---
After Lumiose City is getting rebuilt, Serena organizes a special Showcase performance in order to cheer up the residents that are feeling down because of what happened. And even though Serena is torn on what to do next, the eyes of the people she is making smile through her performance sends her thoughts in a specific direction. And after an unexpected turn of events leads to her having a battle with Ash, she makes a choice.
---
19x44 Battling With a Clean Slate! (October 06, 2016)
---
Citron successfully repaired Citroid. Due to Citroid's memory core being destroyed, it has no memory of its past and consequently no experience. Meanwhile, a returning Pokémon trainer asks for a rematch with Citroid.
---
19x43 Forming a More Perfect Union! (September 15, 2016)
---
As the Kalos Gym Leaders are trying to stop the crystal, Ash and Alan are successful in saving Harimaron. The Crystal Zygarde is still able to function without Harimaron. They realize that Fleur-De-Lis is taking control of the crystal. With no other option, Puni-chan and Z-2 join forms with every Zygarde Cell in the world to transform into the 100% Zygarde Complete Form. The Zygarde Complete Form is able to destroy the Crystal Zygarde and kill Fleur-De-Lis in a devastating Core Enforcer move. The Zygarde Complete Form repairs the damage caused by the battle. Puni-chan shares a tearful goodbye with Eureka before returning to the planet with Z-2.
---
19x42 Rocking Kalos Defenses! (September 15, 2016)
---
Ash and Alain continue their battle against Lysandre. They were successful in defeating Lysandre. Meanwhile, Chespie was absorbed by the Megalith Crystal in Lysandre Labs, which transforms into a giant Megalith Zygarde. The Megalith Zygarde was headed towards Anistar City to absorb the power from the Anistar sundial. This will result in a planetary apocalypse. Ash, Clemont, Alain, Malva, Steven Stone, the Kalos Gym Leaders, and the Kalos League Champion join forces to defeat the Megalith Zygarde.
---
19x41 The Right Hero for the Right Job! (September 08, 2016)
---
---
19x40 Coming Apart at the Dreams! (September 01, 2016)
---
---
19x39 A Towering Takeover! (August 25, 2016)
---
---
19x38 Down to the Fiery Finish! (August 18, 2016)
---
---
19x37 Finals Not for the Faint-Hearted! (August 11, 2016)
---
---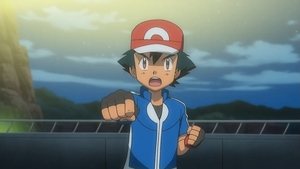 19x36 Kalos League Passion with a Certain Flare! (August 04, 2016)
---
---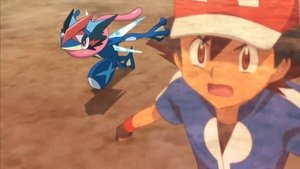 19x35 A Riveting Rivalry! (July 28, 2016)
---
---
19x34 Analysis Versus Passion! (July 21, 2016)
---
---
19x33 Valuable Experience for All! (July 07, 2016)
---
---
19x32 A League of His Own! (June 30, 2016)
---
---
19x31 A Gaggle of Gadget Greatness! (June 16, 2016)
---
---
19x30 A Diamond in the Rough! (June 09, 2016)
---
---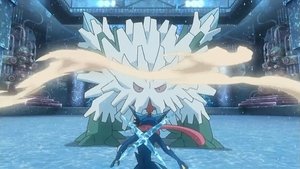 19x29 A Real Icebreaker! (June 02, 2016)
---
Ash issues a rematch battle against Wulfric to obtain his eighth Kalos Gym Badge. He has a big challenge in front of him as he has to battle against Mega Abomasnow. With the help of Ash-Greninja, Ash defeats Wulfric and receives his eighth and final Kalos Gym Badge.
---
19x28 Seeing the Forest for the Trees! (May 26, 2016)
---
Ash feels very bad after losing to Wulfric. While his friends search for him, an encounter with a certain Pokémon sparks a memory from Ash's past that reignites his passion.
---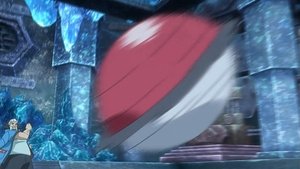 19x27 All Hail the Ice Battlefield! (May 19, 2016)
---
Ash battles against the Gym Leader Wulfric of Snowbelle City. Ash uses Hawlucha, Talonflame, and Greninja. Wulfric uses Abomasnow and Avalugg. However, the battle ends in a disastrous loss for Ash, who heads off by himself to answer the doubts in his heart.
---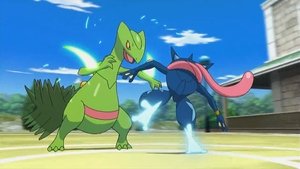 19x26 A Full-Strength Battle Surprise! (May 12, 2016)
---
Ash battles against Sawyer once again, who has earned all eight Gym Badges.
---
19x25 Championing a Research Battle! (May 05, 2016)
---
Champion Diantha visits Ash and his friends in order to discuss the prophecy foretold by Olympia. Diantha's Mega Gardevoir pushes Ash and Greninja to their limit.
---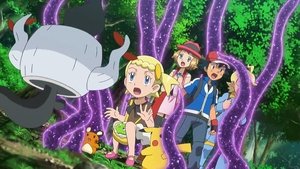 19x24 Making Friends and Influencing Villains! (April 28, 2016)
---
The gang helps an alternately-colored Phantump find its way back home after Team Rocket had separated it from the other Phantump.
---
19x23 The Synchronicity Test! (April 21, 2016)
---
Alain encounters the gang at the Pokémon Center. Ash and Alain once again have a battle.
---
19x22 Battling at Full Volume! (April 14, 2016)
---
Ash comes down with a fever. Serena decides to stand in for him when Jimmy the guitarist challenges Ash to a Pikachu vs Pikachu battle.
---
19x21 A Keeper for Keeps?! (April 07, 2016)
---
A new friend who gets along well with Clemont makes Bonnie feeling left out and jealous.
---
19x20 Performing a Pathway to the Future! (March 24, 2016)
---
After making it through the Master Class past her rivals, Serena finds out that she has to challenge Aria in order to become the future Kalos Queen.
---
19x19 Master Class is in Session! (March 17, 2016)
---
Serena and her Pokémon are ready to perform in the Master Class for first place. She faces a tougher challenge when her rivals, Miette, Shauna, Jessie, and Nini are also competing in the Master Class for first place.
---
19x18 Unlocking Some Respect! (March 10, 2016)
---
The gang come across a jewelry store manager and a thief who share the same Pokémon known as Binacle.
---
19x17 An Electrifying Rage! (March 03, 2016)
---
The gang travels to the mountains, where an encounter with the Legendary Pokémon Zapdos led to Noibat evolving into Noivern in order to prove himself by saving Hawlucha from Zapdos.
---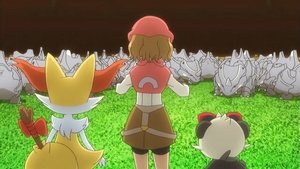 19x16 Master Class Choices! (February 25, 2016)
---
Serena gets ready for her next Pokémon Showcase. She hopes to win her third and final Princess Key required for the Master Class. However, a new Performer appears and poses to be the greatest test of Serena's performance skills. Meanwhile, Palermo watches Serena in the Pokémon Showcase.
---
19x15 A Watershed Moment! (February 18, 2016)
---
While traveling in the wilderness of a valley, the gang are confronted by a boy named Henny and a Chesnaught.
---
19x14 An Explosive Operation! (February 11, 2016)
---
Team Flare chase another Zygarde Core, who has a more powerful part. However, Team Rocket is also pursuing the other Zygarde Core. To capture the other Zygarde Core, Team Flare gets assistance from Alain the Mega Evolution Trainer.
---
19x13 A Meeting of Two Journeys! (February 04, 2016)
---
Ash battles Sawyer again. Another trainer named Alain, accompanied by his Mega Charizard, sees the unique power of Ash's Greninja and challenges him to a battle.
---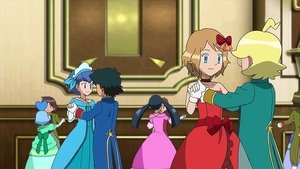 19x12 Party Dancecapades! (January 28, 2016)
---
Serena, Ash, Bonnie, and Clemont go to a dance party, where they meet up with Kalos Queen Aria and Miette for a magical ball.
---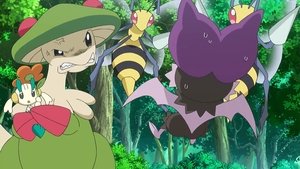 19x11 A Windswept Encounter! (January 21, 2016)
---
Noibat meets a Breloom and accidentally messes with its flowers, which causes Breloom to be mad at Noibat. Noibat also meets a Floette, which it becomes friends with quickly. However, Breloom is angrier at Noibat, and they both get into a fight.
---
19x10 A Cellular Connection! (January 14, 2016)
---
After Squishy runs off during the battle in Terminus Cave against Team Flare, Bonnie is worried about it. Ash and the gang cheer her up by searching for it.
---
19x09 Meeting at Terminus Cave! (December 24, 2015)
---
Ash and the gang arrive at Terminus Cave, but Team Flare appears and attacks the gang in an attempt to retrieve the Zygarde Core.
---
19x08 A Dancing Debut! (December 17, 2015)
---
Serena gets ready for her next Pokémon Showcase performance and hopes to get her third and final Princess Key along with her Eevee.
---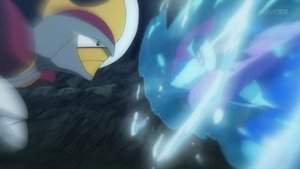 19x07 A Festival of Decisions! (December 10, 2015)
---
As the gang fight off against the evil ninjas, help soon starts to rise when Ash's Greninja retrieves a power.
---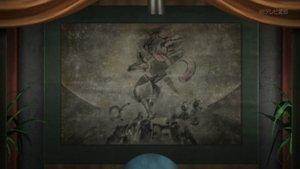 19x06 The Legend of the Ninja Hero! (December 03, 2015)
---
The gang meet up with their ninja friend Sanpei, who invites them to his village for a festival, but they soon get interrupted when an army attacks and kidnaps the head of the town.
---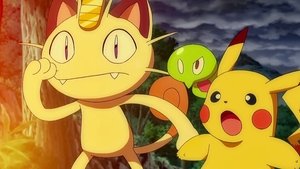 19x05 Dream a Little Dream from Me! (November 26, 2015)
---
As the heroes and Team Rocket go to sleep, a Darkrai appears and casts dream spells on them, placing Pikachu and Meowth in Squishy's dreams. The two begin to see the past and future of Squishy as well as the gang's Pokémon.
---
19x04 A Fiery Rite of Passage! (November 19, 2015)
---
The gang come across a Litleo arguing with a Pyroar. When they learn it is time for Litleo to become independent, they decide to watch it from afar. Team Rocket has other plans however.
---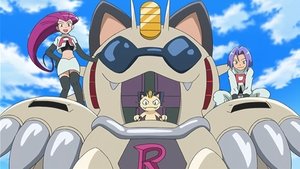 19x03 A Giga Battle With Mega Results! (November 12, 2015)
---
Ash and his friends run across Nurse Joy, who is stuck in a crevice. After helping Nurse Joy get back to the Pokémon Center they find out that Nurse Joy and her Audino don't always get along, and that Nurse Joy hopes that the Mega Stone that she found will help create a deeper bond between the two.
---
19x02 Love Strikes! Eevee, Yikes! (November 05, 2015)
---
As the gang continue their travel with their new Pokémon friend, "Squishy", a Quilladin appears and falls head over heels for Eevee.
---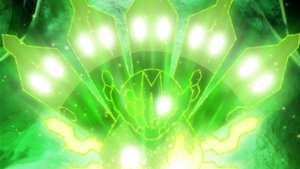 19x01 From A to Z! (October 29, 2015)
---
While travelling through the woods, Ash and friends discover a small green Pokémon in Bonnie's bag that the Pokédex cannot identify. Bonnie decides to name the Pokémon "Squishy", but they are soon interrupted by a mysterious team with strange eyewear, who seem interested in taking Squishy for themselves.
---