Pokémon
XY: Kalos Quest
Pokémon
XY: Kalos Quest
First Air Date: November 13, 2014

| | | |
| --- | --- | --- |
| First Aired on | : | 2014 |
| Episodes | : | 45 episodes |
Ash and Pikachu continue their epic journey in the next exciting season of Pokémon the Series: XY! While Ash continues his quest to win eight Gym badges so he can enter the Kalos League, he and his traveling companions will make new friends, forge new rivalries, and, of course, meet some brand-new Pokémon! Serena, with her partner Fennekin and new friend Pancham, will take on the Pokémon Showcase world; Clemont will continue to create inventions and hope some of them are a hit; and Bonnie, as ever, will try to find someone to take care of her big brother!
Episodes
18x45 All Eyes on the Future! (October 22, 2015)
---
The time for Ash's Gym Battle has finally arrived. He gets prepared to win his next Gym Badge.
---
18x44 Cloudy Fate, Bright Future! (October 15, 2015)
---
With the Showcase a success for Serena, Ash and his friends continue their visit to Anistar City for Ash's next gym battle with Olympia. After meeting her and learning about Frogadier's past, the Anistar sundial seems to be in trouble.
---
18x43 A Performance Pop Quiz! (October 08, 2015)
---
The time has come for Serena's third Pokémon Showcase. Serena gets ready to begin her next performance hoping to obtain her second key in the Showcase.
---
18x42 Tag Team Battle Inspiration! (October 01, 2015)
---
While Serena helps her newly captured Eevee, Tierno and Shauna, along with their newly evolved Blastoise and Ivysaur, appear and help her to attempt to address Eevee's shyness.
---
18x41 A Frolicking Find in the Flowers! (September 24, 2015)
---
Serena finds an Eevee who loves dancing and performing, but it turns out to be shy and afraid of people. Serena sets out to bond with it.
---
18x40 A Trip Down Memory Train! (September 17, 2015)
---
After defeating Team Rocket, Clemont and Bonnie tell Ash and Serena a story of how they first met Bunnelby.
---
18x39 The Tiny Caretaker! (September 10, 2015)
---
When Team Rocket tries and fails to capture a Tyrunt, Ash and the gang help to protect it.
---
18x38 A Legendary Photo Op! (August 27, 2015)
---
Ash and the gang reunite with Trevor. He explains his interest in snapping a picture of the legendary Moltres rumored to have been spotted nearby on Mt. Molteau.
---
18x37 Mending a Broken Spirit! (August 20, 2015)
---
When Braixen accidentally breaks her branch while practicing for the next Pokémon Showcase, Serena seeks help after seeing that the branch meant so much to her Pokémon.
---
18x36 Adventures in Running Errands! (August 13, 2015)
---
When a Pokémon Center suddenly loses power, Clemont sends Chespin and Bunnelby on an errand to pick up a part so he can fix the generator.
---
18x35 Over the Mountain of Snow! (July 30, 2015)
---
While continuing on their next adventure, Ash and his friends ride on Mamoswine through the hills as it has heavy snow and come across an Abomasnow, who asked for their help to help his sick Snover.
---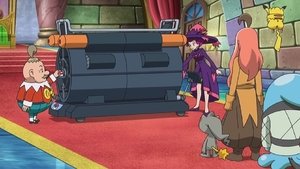 18x34 A Festival Trade! A Festival Farewell? (July 23, 2015)
---
Ash, his friends, and Team Rocket arrive at a costume festival to have fun. During the festivities, Jessie witnesses a Pumpkaboo falling in love with her Pumpkaboo and decides to do something to help it.
---
18x33 Rotom's Wish! (July 09, 2015)
---
Ash and the others spend the night at a run-down hotel and find it under the control of a gang of thugs who wager Pokémon as prizes for battles. However, when they meet a timid Rotom, they learn that the hotel was not always so dark.
---
18x32 Performing with Fiery Charm! (July 02, 2015)
---
The time has come for Serena's second Pokémon Showcase. Only this time, she faces a tougher competition when a familiar face also appears entering the Showcase to back Serena into a corner.
---
18x31 A Frenzied Factory Fiasco! (June 25, 2015)
---
When Ash and his friends arrive at a factory where workers make Poké Balls, Team Rocket appears in another plot to steal all the Poké Balls made in the Poké Ball Factory as well as the gang's Pokémon, including Pikachu.
---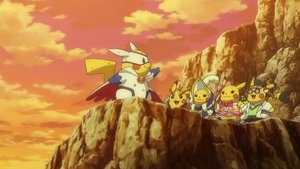 18x30 Lights! Camera! Pika! (June 18, 2015)
---
Ash and his friends arrive at a village, where they meet a group of Pikachu and their owners, Frank and Jean. Impressed with Ash's Pikachu, Frank wants to cast him in a movie with the Cosplay Pikachu.
---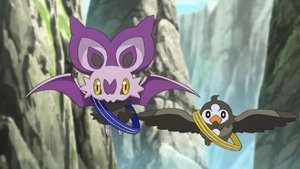 18x29 A Relay in the Sky! (June 18, 2015)
---
While training Noibat to fly, Ash and the gang learn about a competition called the Pokémon Sky Relay. Ash decides to compete in it with his three Flying-types in hopes for Noibat to fly properly. Team Rocket has other plans up their sleeve when they enter as well.
---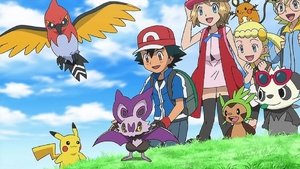 18x28 A Not-So-Flying-Start! (June 11, 2015)
---
The gang helps a newly hatched Noibat learn how to fly, but Team Rocket tries to take it for themselves, leaving Hawlucha to keep Noibat safe.
---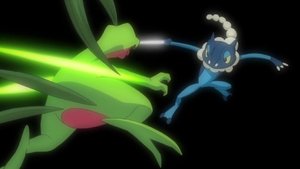 18x27 Rivals: Today and Tomorrow! (June 04, 2015)
---
Before parting ways, Ash and Sawyer decide to have a three on three battle where the former helps give the novice trainer gain useful experience.
---
18x26 Fairy-Type Trickery! (May 28, 2015)
---
Ash challenges Valerie to a battle for the Fairy Badge and finds that appearances aren't everything when he faces her Fairy-type Pokémon.
---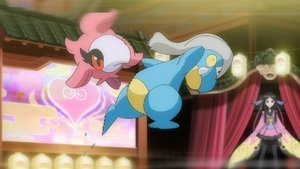 18x25 A Fashionable Battle! (May 21, 2015)
---
Ash and his friends finally arrive in Laverre City and immediately head over to the Gym only to find that it's closed due to its seasonal Fashion Show. They instead meet Sawyer, who had a Gym battle with Clemont recently and gets to challenge the Gym Leader Valerie during the show.
---
18x24 Scary Hospitality! (May 14, 2015)
---
Ash and his friends find themselves lost in the forest and happen upon a creepy house of folklore. They are invited in by its host Lon and despite his warm welcome, something else lurking in the house intends to give them the scare of their lives.
---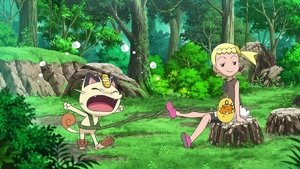 18x23 So You're Having a Bad Day! (May 07, 2015)
---
After an ambush by Team Rocket and a group of Pangoro, the gang gets separated from each other and Bonnie finds herself lost in the forest with Meowth.
---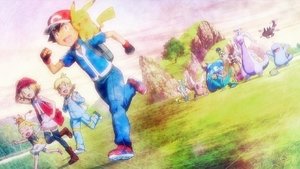 18x22 Beyond the Rainbow! (April 30, 2015)
---
Team Rocket deceives Florges into an alliance and then double crosses it when they attempt to drain all of the Spring water of the wetlands.
---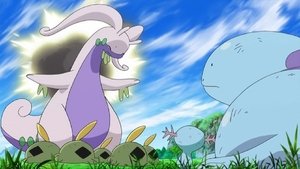 18x21 Defending the Homeland! (April 23, 2015)
---
Ash and his friends meet a man named Keanan while on their way to Laverre City and they learn about Goodra's history. At the same time, they encounter a Florges and its army of Bug-type Pokémon who had once terrorized Goodra's home in the wetlands.
---
18x20 Garchomp's Mega Bond! (April 16, 2015)
---
Ash and the others visit Professor Sycamore to observe his experiment with a Key Stone and a Mega Stone. However, when Team Rocket crashes the experiment and gets away with the Mega Stone and Garchomp.
---
18x19 The Moment of Lumiose Truth! (April 09, 2015)
---
Ash and Clemont finally begin their promised Gym battle at the Prism Tower and show off their strategies for countering the other's unique battle style.
---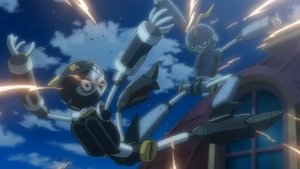 18x18 Confronting the Darkness! (April 02, 2015)
---
Ash and the others arrive in Lumiose City and reunite with Clemont and discover that a mad scientist, Belmondo, had invented a Dark Clembot robot, which he had been using to commit crimes all over the city. Teaming up with Officer Jenny, the gang try to get to the bottom of the occurrence and clear Clembot's name.
---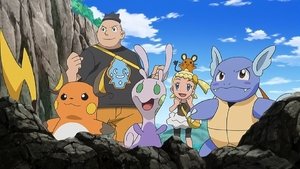 18x17 Good Friends, Great Training! (March 26, 2015)
---
Ash reunites with Tierno and decides to prepare for his Lumiose Gym match by challenging his friend to a double battle. When Team Rocket attacks with their new mecha, Sliggoo summons a new power.
---
18x16 Battling with Elegance And a Big Smile! (March 12, 2015)
---
Pancham and Fennekin start fighting while training with Serena for their next Pokémon Showcase, and she inadvertently yells at them. However, a person calling herself Ariana offers to teach Serena a thing or two about performance battling.
---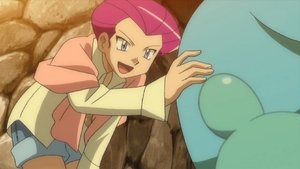 18x15 A Fork in the Road! A Parting of the Ways! (March 05, 2015)
---
Jessie and Wobbuffet are separated from James and Meowth after being sent flying by Pikachu's Thunderbolt. A doctor named White then saves Jessie from drowning in a river, and she seems to fall in love with him.
---
18x14 The Future Is Now, Thanks to Determination! (February 26, 2015)
---
Clemont and the others arrive at the Kalos Power Plant and discover Team Rocket is manipulating the Electric Pokémon in the area.
---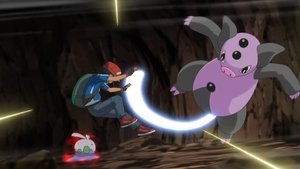 18x13 An Oasis of Hope! (February 19, 2015)
---
The gang encounters a Grumpig in the badlands, which uses its superior strength to dominate the Spoink in the area's oasis. When they end up getting captured by Team Rocket, Goomy steps up to the plate to defend its friends.
---
18x12 Showcase, Debut! (February 12, 2015)
---
The day of the Coumarine City Showcase arrives, and the group reunites with Shauna. Serena makes a step towards her dream but quickly learns that first times can be tough.
---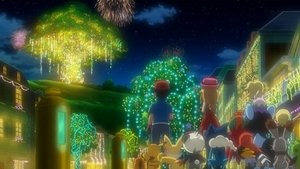 18x11 Under the Pledging Tree! (February 05, 2015)
---
Coumarine City holds an annual festival to celebrate the bond between trainer and Pokémon. However, when Ash has trouble deciding on a present for his Pokémon, Serena helps inspire him on their shopping trip.
---
18x10 Green, Green Grass Types of Home! (January 29, 2015)
---
Ash challenges Ramos for the Plant Badge and gets backed into a corner by his powerful Grass-type Pokémon.
---
18x09 Thawing an Icy Panic! (January 22, 2015)
---
Ash and his friends team up with the Coumarine City's Gym Leader to stop Team Rocket from stealing a Vanillite, which incurred the anger of its fellow Pokémon, Vanillish and Vanilluxe.
---
18x08 One for the Goomy! (January 15, 2015)
---
Team Rocket kidnaps Goomy, but Dedenne manages to track them down to save its new friend.
---
18x07 A Slippery Encounter! (January 08, 2015)
---
Ash and his friends encounter an extremely timid but friendly Goomy, which finds itself in a slippery situation when Team Rocket sets their eyes on Pikachu.
---
18x06 Facing the Grand Design! (December 25, 2014)
---
Clemont and James must work together to save their friends from the evil Malamar that they last encountered when it controlled Officer Jenny and made her assume the role of "Madame X."
---
18x05 A Race for Home! (December 18, 2014)
---
When Serena's mother Grace visits the group on their journey and learns of her daughter's new goal of becoming a Pokémon Performer, Grace wonders if her daughter is truly dedicated to her goals and challenges her to a Skiddo race to prove her determination.
---
18x04 A Stealthy Challenge! (December 11, 2014)
---
Ash and his friends meet up with Sanpei and his Greninja who comes to them for help in dealing with another Ninja Trainer. They help Sanpei out, but something happens to Ash's Froakie.
---
18x03 When Light and Dark Collide! (November 27, 2014)
---
Ash with the intention of helping a Snubbull disrupts a play rehearsal. This sends its star Gallade out of commission. Ash's Hawlucha and the Pokemon Theatre Director Carl's shiny Hawlucha must work together to get the play back on track while trying to deal with Team Rocket.
---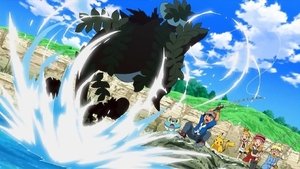 18x02 An Undersea Place to Call Home (November 20, 2014)
---
The episode begins with Ash and his friends taking an excursion to the Muraille Coast before heading out to the Cyllage City for Ash's Gym battle with Grant. After lunch, Ash decides that they should work on their strategy for countering Grant's Rock Tomb, and Pikachu, Froakie, and Fletchling are all ready to train. However, Serena decides that they should do some fishing since they're at the beach and doing too much training will stress Ash out.
---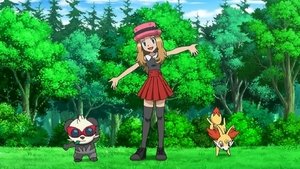 18x01 Pathways to Performance Partnering! (November 13, 2014)
---
After Pancham and Chespin get into a fight, Ash, Serena, Clemont, and Bonnie meet Nini, a Pokémon Performer preparing for the Pokémon Showcase. Serena becomes inspired to add performances to her battle style as well and has to use it quickly when Team Rocket kidnaps Chespin, Fennekin, Pancham, and Nini's Pokémon: Smoochum and Farfetch'd.
---