The Simpsons
Season 12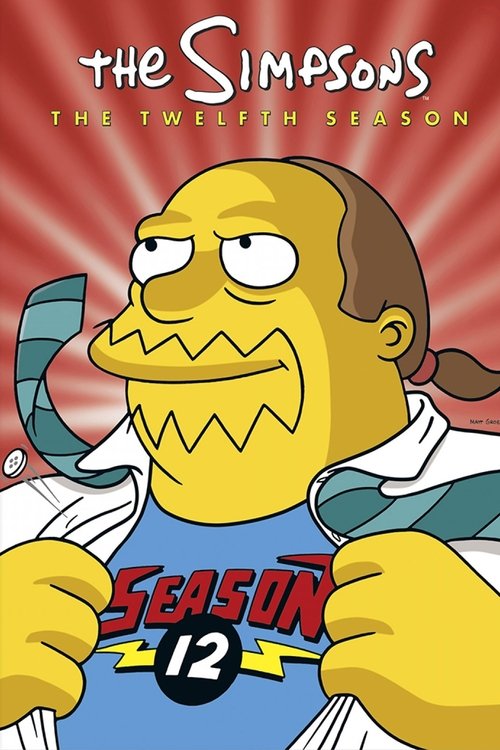 The Simpsons
Season 12
First Air Date: November 01, 2000

| | | |
| --- | --- | --- |
| First Aired on | : | 2000 |
| Episodes | : | 21 episodes |
The Simpsons' 12th season began on Wednesday, November 1, 2000 with "Treehouse of Horror XI". The season contains three hold over episodes from the season 11 production line. The show runner for the twelfth production was Mike Scully. The season features three episodes that were produced for the eleventh season which was also run by Scully. The season won and was nominated for numerous awards including two Primetime Emmy Awards wins and an Annie Award.
Episodes
12x21 Simpsons Tall Tales (May 20, 2001)
---
The family wins a trip to Delaware, but Homer refuses to pay the tax on the ticket, so they ride the rails and meet a hobo who sings and tells them some tall tales. The first is the tale is about "Paul Bunyan" and here we are treated to Homer playing the role of Paul as a giant doofus, a natural role for him. The next tale shows us Lisa as "Connie Appleseed," who tries to convince the pioneers to eat apples instead of buffalo. The third tale isn't really tall, it's a Mark Twain tale about Tom Sawyer (Bart) and Huckleberry Finn (Nelson), whom go on the run when Huck won't marry Becky (Lisa).
---
12x20 Children of a Lesser Clod (May 13, 2001)
---
The Simpsons go to see if they would like to take any of the classes at the YMCA. Homer tries out the basketball class but he tears the ACL in his knee. He can't go to work while he recovers from surgery. He is bored at home. He tries unsuccessfully to breed the dog and the cat to each other, and then Homer takes care of Rod and Todd one evening. When he finds that he is pretty good at it, he starts a daycare center. He still neglects Bart and Lisa, making them jealous. He becomes eligible for a Good Guy award for his service to the community. A film crew follows him as he does good deeds. Bart and Lisa devise a plan to show the world that he is a neglectful father. At the awards ceremony, they show home movies of him. When he ends up choking Bart, everyone is outraged. Homer flees the ceremony with the kids in a stolen car. The police catch him and later he apologizes to Bart and Lisa for his behavior.
---
12x19 I'm Goin' to Praise Land (May 06, 2001)
---
When he can stop thinking of her and to help him stop living in the past, Ned gets the Simpson family to help remove all the reminders of Maude he has around the house. Only one item misses getting thrown into the chipper, a sketchbook that contains Maude's vision of a Christian amusement park called "Praiseland." Ned goes on a quest to build this amusement park, which, opens to lackluster reviews; describe as the "height of tedium". When suddenly a miracle occurs, as a Maude mask floats in front of the Maude statue. It is quickly discovered that anyone who stands in front of the statue has visions. Is it truly a miracle, or just the passing of gas?
---
12x18 Trilogy of Error (April 29, 2001)
---
Homer's thumb is cut off following breakfast and the episode follows three different paths. Homer's day: as he and Marge race to get his thumb reattached. Lisa's day: as she misses the bus and tries to get to school so that she can win the science fair, but finds herself at one point at West Springfield Elementary. Bart's day: as he and Milhouse make use of a stash of fireworks that Fat Tony has illegally smuggled into the country. In the end their respective paths come together.
---
12x17 Simpson Safari (April 01, 2001)
---
Maggie eats a magazine and Marge takes her to the hospital, leaving Homer to do the food shopping. Homer abuses a bag boy, which leads to the bag boys going out on strike. With them on strike, the family does not go grocery shopping. When their food runs out, Homer searches the house for food and he finds 30+-year-old animal crackers. When he opens the box, he finds it contains a golden giraffe; the token, which indicates the recipient, has won an African safari. The manufacturer honors the prize and sends the Simpson family to Africa. Their tour of the African wilderness is very strange. A local tribe treats them to a concert. Later, when a hippo tries to attack Homer, the Simpson family escapes on a makeshift raft. They sail down river and end up having to fend for themselves in the wilderness. They come across a scientist who is researching monkeys. When poachers come to take the monkeys, the Simpson family helps him to fight back. Lisa soon discovers that the researcher actually runs a chimp diamond mine and the poachers are actually Greenpeace. The Simpsons fly back home.
---
12x16 Bye Bye Nerdie (March 11, 2001)
---
A new kid comes to Springfield Elementary and Lisa attempts to make friends with this new girl, but for all her trouble she just winds up the victim of this female version of Nelson. Lisa discovers the cause; pheromones given off by nerds are what attract bullies and she presents her findings where there needed most, the "12th Annual Big Science Thing". Meanwhile, after a visit from a baby safety consultant gets the Simpson home safe, Homer decides to go into the safety industry, making Springfield safe for all children.
---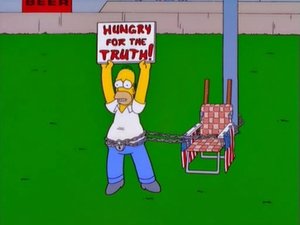 12x15 Hungry, Hungry Homer (March 04, 2001)
---
The Simpson family goes to "Blockoland". When Lisa gets ripped off, Homer sticks up for her and is successful. He vows to start helping the little guy. He helps Bart get a girlfriend and helps Marge get her hair streaked. He even tries to help Lenny get a refund from the Springfield Isotopes' owner, H.K. Duff VIII. In doing so, he discovers that the owner is moving the baseball team to Albuquerque. He tries to tell the media about it, but they don't believe him. He vows to go on a hunger strike to call attention to the situation. This seems hopeless, because of Homer's voracious appetite. He chains himself to a lawn chair and starts getting a lot of attention. Then management, seizing an opportunity, begins exploiting him until the truth finally comes out about the Albuquerque deal.
---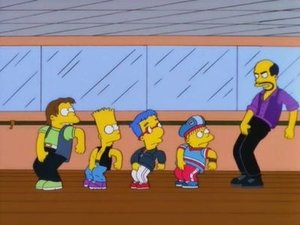 12x14 New Kids on the Blecch (February 25, 2001)
---
Homer "runs" in the Springfield marathon, but when Bart crashes the end of the race an unruly mob is ready to lynch him. A passing stranger rescues him and offers Bart the opportunity to join a new boy band "Party Posse" as the bad boy. Other members of this new band include, Milhouse, Nelson and Ralph. Using NASA technology to enhance their voices they might just make it. And they will, until it is revealed that their videos and music are rigged to brainwash people into joining the Navy. Their manager goes crazy when the government cuts off his funding, but with a little help from N' Sync, the boys of Party Posse try to save the staff of "Mad Magazine" from certain destruction.
---
12x13 Day of the Jackanapes (February 18, 2001)
---
Krusty feels pressure from the network to change his show, so he decides to retire for the fifth and final time. Meanwhile, in prison Sideshow Bob becomes outraged when he finds out that Krusty has erased his past by taping over all his old episodes. He gets released from prison and begins plotting his revenge. First he gets an assistant janitor job at Springfield Elementary and then he begins turning Bart into a Krusty killing machine. During the Krusty's final bow, he expresses his regret for what he did to Sideshow Bob just a Bart is about to kill him…
---
12x12 Tennis the Menace (February 11, 2001)
---
The Simpsons go to an old folks' talent show. Homer looks into getting a casket for Abe, but instead decides to build a tennis court. He doesn't really like tennis; he got it confused with foxy boxing. All the locals want to use the tennis court. The Simpsons are the L.A. Clippers of tennis. Everyone mocks them behind their backs. Marge is horrified and starts to become competitive. She enters Krusty's tournament without Homer, her partner is Bart. This sets up a situation similar to that of Oedipus. Homer enters the tournament with Lisa as his partner. He turns her against Marge. At the tournament, there are a number of tennis pros in the stands. The stakes rise when Homer recruits Venus Williams and drops Lisa. Marge cries foul, so she is allowed to have Serena Williams as a partner. Serena then dumps Marge and successfully recruits Pete Sampras. Then Venus dumps Homer and successfully recruits Andre Agassi. The Simpson family then makes up. With the tennis court in their backyard, they will resume playing tennis together, right?
---
12x11 Worst Episode Ever (February 04, 2001)
---
Despite being banned for life from the comic book store, Bart and Milhouse take over its management when the Comic Book Guy suffers from a cardiac episode, "the worst episode ever". Their management of the shop is fairly successful, until they discover the Comic Book Guy's secret stash of illegal video clips and begin charging admission for their viewing. Meanwhile, the Comic Book Guy on the road to recovery receives tips from Homer on making friends to no avail. Until a chance meeting with Principal Skinner's mother sparks an unusual relationship.
---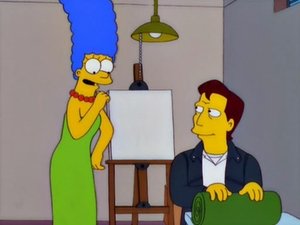 12x10 Pokey Mom (January 14, 2001)
---
The family attends a prison rodeo and Marge sees artistic potential in one of the inmates after she sees some of his work hanging in the prison infirmary. She volunteers to teach art at the prison and then vouches for her artistic inmate at his parole hearing. Now back in the real world, the inmate needs a job and Marge gets him one at the school, painting a picture depicting school spirit. His take on school spirit and Principal Skinners are at odds. Meanwhile Homer, whose back was injured at the rodeo, seeks the help of chiropractor. He soon discovers that his old trashcan is just as effective as the chiropractor, so he dubs it "Dr. Homer's Miracle Spinal Cylinder" and goes into business for himself. Until the chiropractors take their revenge.
---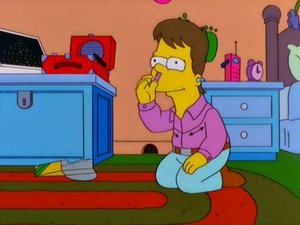 12x09 HOMR (January 07, 2001)
---
The Simpson family goes to an animation convention. Homer falls in love with a new product there and invests the family's life savings in a company that soon declares super-duper bankruptcy. To gain their life savings back, he sells his body for medical testing. The doctors find something odd in his head x-ray. Homer has a crayon lodged in his brain. This explains why he is such a moron. He thinks it is because he shoved crayons up his nose as a child. When the doctors remove the crayon, he gets smarter. This allows him to bond with Lisa. In fact Homer proves to be even smarter than she is. He is so smart that he accidentally proves there is no God. He also blows the whistle on the plant's nuclear safety violations. So the nuclear plant has to close and everyone hates him. He can't find happiness in things he used to like and he can't fit in with the people of Springfield. He decides to have Moe (a licensed surgeon) shove another crayon into his brain and he goes back to being a blissful idiot. Lisa understands why he did it and doesn't hate him for it.
---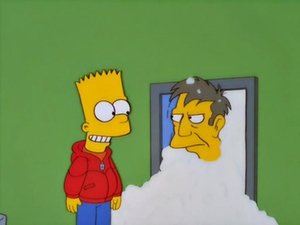 12x08 Skinner's Sense of Snow (December 17, 2000)
---
The Simpson family goes to a French circus. While watching the show a freak snowstorm hits the circus tent. It's a relentless snowstorm; everything closes, except for Springfield Elementary; Principal Skinner doesn't want to ruin his "Cal Ripken-like streak of school openage." With the teachers at an "emergency caucus," Skinner has the kids sit through a terrible film. When they go to leave at the end of the day, they find that the school is snowed in. The kids start to revolt against Skinner, so he gets tough with them. Meanwhile, Homer and Flanders go to save the kids, but get stranded in a snow bank. Skinner loses control of the school to the kids, led by Bart and he ends up trapped in a bag. The kids go through the schools records. Skinner sends a hamster out in the snow in an attempt to save himself. Homer and Flanders pass out due to carbon monoxide poisoning and Homer has bizarre fantasies about ranch dressing. The hamster saves them, leaving them free to save the kids. Skinner and Bart agree never to discuss the day again.
---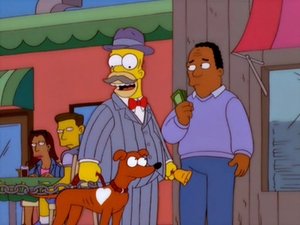 12x07 The Great Money Caper (December 10, 2000)
---
Bart gets a magic set and with it he and Homer try street performing to make money. When it doesn't work out, Homer leaves Bart on his own, fending for himself. Being abandoned by his father makes Bart into a charity case and people just start giving Bart money. So Bart and Homer start working this angle and then get some advice from the man who wrote the book on grifting, Grampa Simpson. When they get busted pulling a scam, they manage to scam their way out of the situation; but Groundskeeper Willy may wind taking the fall, unless Homer or Bart confesses their guilt.
---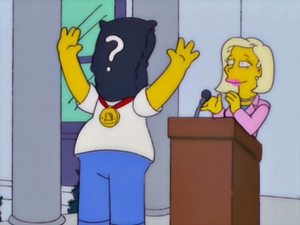 12x06 The Computer Wore Menace Shoes (December 03, 2000)
---
As Mr. X Homer starts his own web page where begins revealing Springfield's secrets. He ultimately wins the Pulitzer Prize for his work so he reveals himself to the public. When everyone knows that he is Mr. X his ability to obtain secrets disappears. So he begins making up stories. When one of those stories turns out to be the truth, he is kidnapped and taken to "The Island," a place where those who know too much are taken out of society.
---
12x05 Homer vs. Dignity (November 26, 2000)
---
Bart gets an A in astronomy, so Homer takes the family out for a celebration dinner. Homer's credit card is declined. He and Marge realize that they are broke, so Homer asks Mr. Burns for a raise. With Smithers away in New Mexico mounting his play about Malibu Stacy; Mr. Burns gives Homer a promotion. Homer has to make Mr. Burns laugh. Homer becomes a clown for him with Homer's life becoming an episode of MTV's "Jackass." As the title indicates, he has no dignity. After a panda rapes him, he begins to hate the job. Lisa discovers his secret and tries to get him to retrieve his dignity. Mr. Burns eventually fires him, so he becomes a department store Santa (again?). He is in a parade as Santa when Mr. Burns offers him $1,000,000 to pull one more prank. When Homer refuses, Mr. Burns does it himself, pouring fish guts onto the children.
---
12x04 Lisa the Tree Hugger (November 19, 2000)
---
Bart wants the new Gamestation 256, so he tries to get a job to earn the money, but his job as a menu boy causes a great deal of paper litter to be strewn about the city making Lisa lament the plight of the trees. Then Lisa falls for a meat protester, which inspires her to join their environmental protection group. Later, when an old redwood tree is danger of being cut down, she begins living in the tree, but her desire to return home becomes to great and she leaves for just a little while. However it's too late because when she returns the next morning the tree has come down. During the night the tree was struck by lightning and the city thinks that Lisa is dead.
---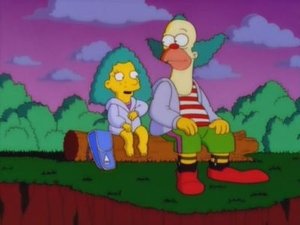 12x03 Insane Clown Poppy (November 12, 2000)
---
Homer and Bart fix things around the house using fireworks. They destroy Lisa's room on her birthday, so help make it up to her, the family goes to a book fair, where among other things Krusty is signing his new book. A little girl named Sophie is in line and she tells Krusty that she is his daughter. Krusty flashes back to his role in the Gulf War. Sophie's mother now hates Krusty. Krusty tries spending time with Sophie at the beach, but they don't bond very well. He sees Homer interacting with his kids and gets some parenting advice from his. Krusty gambles away Sophie's violin in a poker game with Fat Tony. She gets very upset with Krusty, so he (with Homer's help) try to steal back the violin. There is a big Mafia summit at Fat Tony's place and Krusty manages to escape with the violin and a bunch of cash. He wins back Sophie's love, but the mob goes after Homer for his role in the caper and shoots at him. Somehow Homer escapes.
---
12x02 A Tale of Two Springfields (November 05, 2000)
---
When the phone company gives Springfield a new area code, Homer revolts taking the part of Springfield with the new area code (the poor side of town) with him. Soon it's Olde Springfield versus New Springfield. As mayor of New Springfield Homer runs it haphazardly and soon the population of New Springfield moves over to Olde Springfield, leaving the Simpson family as the only residents. It takes a Who concert to bring the two parts of Springfield together.
---
12x01 Treehouse of Horror XI (November 01, 2000)
---
a). "G-G-Ghost D-D-Dad" Homer dies because he's eaten the deadliest plant on Earth, broccoli. When he arrives at the Pearly Gates of Heaven he finds he cannot get in because he hasn't done one good deed all his life. St. Peter gives him 24 hours to perform at least one. b). "Scary Tales Can Come True" Bart and Lisa are abandoned to the deep dark woods. With a book of Fairy Tales to guide them, the pair navigates their way past a troll and three bears eventually arriving at the house of the witch who lives in the gingerbread house. Meanwhile, Homer and Marge change their minds and he goes in search of the children giving Rapunzel a haircut along the way. c). "Night of the Dolphin" Lisa lets a dolphin go free but it turns out this particular dolphin is the dolphin's king. Now that he has his freedom he plots to take his revenge on the land dwelling humans. Soon the dolphins are back on land where they've belonged all along and the humans are banished to the sea.
---