Call the Midwife
Series 5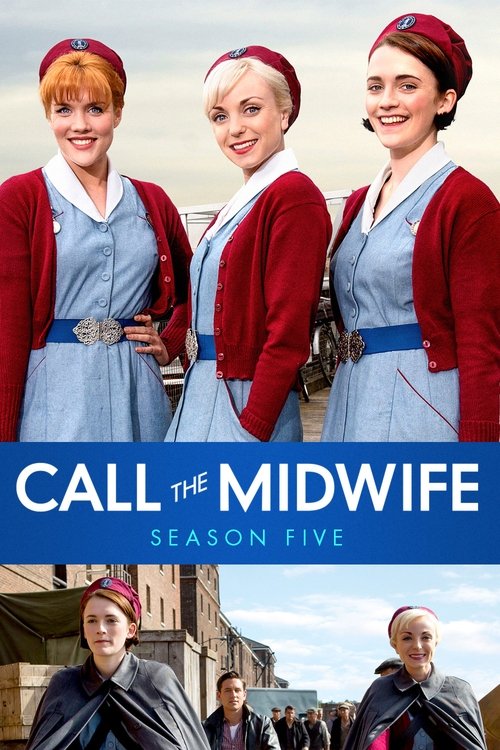 Call the Midwife
Series 5
First Air Date: January 17, 2016

| | | |
| --- | --- | --- |
| First Aired on | : | 2016 |
| Episodes | : | 8 episodes |
In season five, Sister Monica Joan goes missing at Christmas time leaving the nuns and nurses distraught. Shelagh rushes to put together a children's choir in time for a BBC broadcast from the church. Elsewhere Trixie, having battled through her issues with alcohol, finds a new purpose in her keep fit classes. And could friendship blossom into something more for vicar Tom Hereward and Barbara?
Episodes
5x08 Episode 8 (March 06, 2016)
---
Dr Turner is horrified to realise he may be partly to blame as the cause of the recent rise in birth deformities comes to light, and tries to prevent further cases. Sister Evangelina returns to work, but has clearly been affected badly by her stroke, and her health continues to deteriorate. A pregnant bride goes into labour during her wedding reception, while her mother is forced to come to terms with her grandchild being conceived out of wedlock.
---
5x07 Episode 7 (February 28, 2016)
---
The introduction of the contraceptive pill is welcomed by Dr Turner, but some of his colleagues are less keen on the idea. Patsy tries to help a bargee who wants to give birth among her own community rather than in a maternity ward. Nurse Crane deals with an emergency during a storm, and a familiar face returns to Nonnatus House - but has been changed by her time away.
---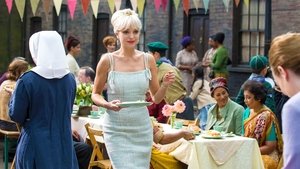 5x06 Episode 6 (February 21, 2016)
---
Poplar is rocked by a series of violent attacks on women, and a prostitute is too ashamed to report what she knows - but her actions lead to a dangerous man roaming the streets, with devastating consequences for the residents of Nonnatus House. A mother tries to keep her daughter's pregnancy a secret to avoid gossip, putting her life in danger. The Turners go on a long overdue holiday, but the weather ruins their plans.
---
5x05 Episode 5 (February 14, 2016)
---
Turner and Shelagh are at the forefront of the advances in medical technology, and begin a campaign to ensure better respiratory health for their patients. However, Timothy fears their own lifestyle is not good for them and tries to encourage his parents to give up smoking. Violet injures her back and is forced to leave the shop in Fred's hands, a decision that strengthens their relationship but which proves to have other, unforeseen consequences. A new mother's past comes to light, with devastating repercussions for her family. Nurse Crane draws on her own experiences to help her.
---
5x04 Episode 4 (February 07, 2016)
---
Sister Julienne is seconded to a maternity ward, and is impressed by how modern technology is being used to help the mothers - but is left with a moral dilemma after assisting on a traumatic birth. A young man from Poplar is delighted to be accepted into university, but his mother is less than happy. His dreams are jeopardised when his girlfriend gets pregnant, a development that puts pressure on the whole family.
---
5x03 Episode 3 (January 31, 2016)
---
A outbreak of typhoid erupts, and suspicion over who the carrier could be threatens to break apart a closely knit family. Sister Winfred faces a personal dilemma when a local teacher is revealed to be pregnant by a married man. When the woman takes matters into her own hands, Sister Winifred is forced to consider the role her own prejudices may have played. Meanwhile, Barbara inadvertently agrees to go to dinner with Tom, but is wracked with worry about how Trixie will react.
---
5x02 Episode 2 (January 24, 2016)
---
Barbara treats a pregnant woman whose dockworker husband is struggling to support her as opportunities for work dry up. She is forced into a difficult decision that leaves Barbara facing the biggest test of her career. Nurse Crane meets a kindred spirit when she learns to speak Spanish, and Sister Evangelina helps a woman with breastfeeding, leading to unforeseen consequences.
---
5x01 Episode 1 (January 17, 2016)
---
When a baby is born with severe deformities of the kind later identified as caused by the drug thalidomide, the midwives find it difficult to handle the situation, and the baby's father rejects her completely, to his wife's dismay. Trixie's new sideline as a keep fit instructor brings her into conflict with Sister Julienne, and she also becomes suspicious of the relationship between Barbara and Tom. Rather than return to Wales as her mother wishes, Delia moves into Nonnatus House.
---