American Dad!
Season 7
American Dad!
Season 7
First Air Date: October 03, 2010

| | | |
| --- | --- | --- |
| First Aired on | : | 2010 |
| Episodes | : | 19 episodes |
It's a time once again to let it all hang out with an all-new volume of animated outrageousness! From the disturbed comic minds of Mike Barker, Matt Weitzman, and Family Guy creator Seth MacFarlane, comes the always insane adventures of CIA operative Stan Smith and his wonderfully twisted family. In the 100th episode, Hayley elopes with Jeff! Other episodes include Stan on jury duty, Steve walking in on his amorous parents, Roger dating Steve's best friend, and yet another American Dad Christmas classic. Plus, there are serial killers, Turkish amphetamines, and evil clones! So, you know, the usual!
Episodes
7x19 Gorillas in the Mist (May 22, 2011)
---
Bonding with Steve at the zoo causes Stan to lose Steve in the gorilla cage.
---
7x18 Flirting With Disaster (May 15, 2011)
---
Francine gets a job at Stan's office, which cramps Stan's style and his ability to flirt with co-workers. When Francine retaliates with a little flirting of her own, war breaks out at work.
---
7x17 Home Wrecker (May 08, 2011)
---
Stan and Francine fight over how to redecorate the house. It goes so far that they split the house down the middle and try to live without each other. Meanwhile, Principal Lewis discovers a talent of Barry.
---
7x16 Jenny Fromdabloc (April 17, 2011)
---
After Snot professes his love for Hayley and gets shot down, Steve and Roger devise a plan to cheer him up. Roger dresses up as Steve's cousin from New Jersey, Jenny Fromdabloc, and Snot falls hard for her. Meanwhile, Stan wants to live like a gentleman of the 1960s, complete with dark suits and dry martinis.
---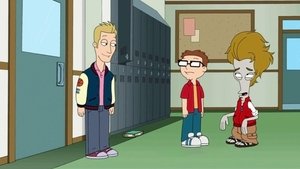 7x15 License to Till (April 10, 2011)
---
When Steve has trouble crossing over into the "cool kids" social circle, Klaus and Roger place their bets to see how quickly Roger can make him cool. Everything they try backfires until Steve becomes the in-crowds designated driver. Meanwhile, Stan and Francine take turns pranking each other.
---
7x14 School Lies (April 03, 2011)
---
In an attempt to advance in the CIA, Stan enrolls Steve in the same private school as Senator Buckingham's daughter. After Steve quits and joins a Latina street gang, Roger fills in & things are going well until Roger accidentally sells the senator's daughter to a drug lord.
---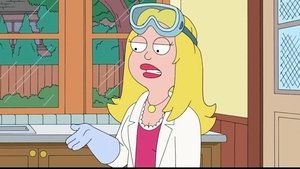 7x13 I Am the Walrus (March 27, 2011)
---
When Steve challenges Stan for family dominance, Stan does everything he can to prove to Steve that he is the alpha male of the Smith house. Meanwhile, Hayley and Jeff seek marriage counseling when the honeymoon phase wears off.
---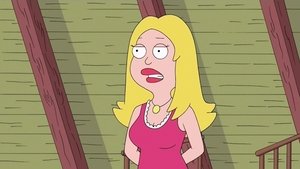 7x12 You Debt Your Life (February 20, 2011)
---
After an argument with Stan, Roger moves out of the house and is subsequently replaced. Meanwhile, Steve acquires a new job at Pearl Bailey High School.
---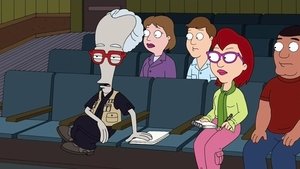 7x11 A Piñata Named Desire (February 13, 2011)
---
With a flair for the dramatic, Roger invites Stan to attend one of his acting classes. However, tempers flare when they both audition for the same role, leaving them to duke it out for top dog. Meanwhile, Steve and his friends get into a pillow fight when they try to plan the greatest slumber party ever.
---
7x10 Stanny Boy and Frantastic (January 23, 2011)
---
Stan and Francine have trouble keeping up with a younger couple's lifestyle.
---
7x09 Fart-break Hotel (January 16, 2011)
---
After Roger releases lethal gas into the Smith residence, the family moves into a hotel while the fumes clear. With no housework to do, Francine finds herself with a lot of free time on her hands. After befriending the hotel concierge (guest voice Elizondo), she soon finds herself working in the construction business, but realizes that perhaps she is better suited for family life. Meanwhile, Steve travels back in time to 1981 to meet the artist who painted a portrait of his dream girl.
---
7x08 For Whom the Sleigh Bell Tolls (December 12, 2010)
---
Despite Francine's warning, Stan gives Steve a gun for Christmas; Steve accidentally shoots Santa.
---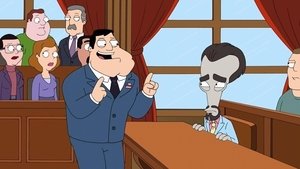 7x07 The People vs. Martin Sugar (December 05, 2010)
---
If there's one thing that Stan Smith loves, it's a good jury trial. He anxiously awaits his annual jury summons. But when Roger is the defendant in the trial where Stan is the foreman, he is finally in a position to make Roger accountable for his misdeeds. Meanwhile, Jeff and Hayley move in with the Smiths, and Francine tries to get Jeff to clean up his act.
---
7x06 There Will Be Bad Blood (November 28, 2010)
---
It's Thanksgiving in Langley Falls, and as usual, Stan invites his half-brother, Rusty, over to show off his cornucopia of wealth and good fortune. But when Stan finds out that Rusty is far wealthier than he led on, Stan tries to take from Rusty what he feels is rightfully his. Things don't go well, and the Smith family nearly loses it all.
---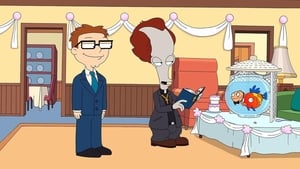 7x05 White Rice (November 21, 2010)
---
After an argument between Stan and Francine breaks out, Stan suggests they go see a counselor, who hypnotizes Francine and reawakens her lifelong dream of being a comedian. Meanwhile, back in Langley Falls, Steve brings home a potential love interest for Klaus.
---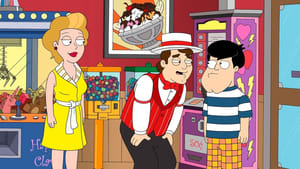 7x04 Stan's Food Restaurant (November 14, 2010)
---
Stan is ecstatic when Roger offers to help him live out his lifelong dream of opening a restaurant to rival his favorite childhood haunt - until their different visions for what the eatery should be cause havoc. Meanwhile, Steve meets Ashley, the new girl in school who invites him over while her parents are out of town.
---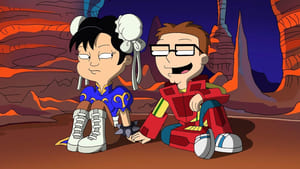 7x03 Best Little Horror House in Langley Falls (November 07, 2010)
---
Wanting to have the scariest haunted house on the block, Stan comes up with a ''killer'' setup; Steve competes to win the heart of his overprotective friend's younger sister.
---
7x02 Son of Stan (2) (October 10, 2010)
---
Francine and Stan compare parenting skills after Stan creates a clone of Steve; Roger searches for the missing bride and groom.
---
7x01 100 A.D. (1) (October 03, 2010)
---
Stan offers a reward to the person who can stop Hayley and her old boyfriend from eloping.
---