American Dad!
Season 6
American Dad!
Season 6
First Air Date: September 27, 2009

| | | |
| --- | --- | --- |
| First Aired on | : | 2009 |
| Episodes | : | 18 episodes |
Trigger-happy CIA operative Stan Smith will stop at nothing to defend everything that makes this country great – from strip bars to that most sacred of American institutions, crack cocaine! Whether he's trading brains with a racehorse or rescuing Roger from bloodthirsty revolutionaries, Stan will do whatever it takes to secure the blessings of liberty in this over-the-top salute to the greatest nation on Earth.
Episodes
6x18 Great Space Roaster (May 16, 2010)
---
It's Roger's birthday, and he begs to be roasted, but when he ends up devastated by the jokes, he vows to pull his life together. Things take a turn for the worse when Roger takes it one step too far, causing the Smith family to go on the run
---
6x17 An Incident at Owl Creek (May 09, 2010)
---
In preparation for a neighborhood pool party, Stan tells his family to get in tip-top shape. But when an accident ruins the Smith family name, a humiliated Stan fakes his family's deaths and moves everyone out of Langley Falls to escape his shame
---
6x16 Bully for Steve (April 25, 2010)
---
Roger studies crime scene photography; Stan bullies Steve in hopes of toughening him up.
---
6x15 Merlot Down Dirty Shame (April 18, 2010)
---
When Roger and Francine go wine-tasting, Roger plants a big kiss on Francine in a drunken moment. Francine decides to tell Stan about this incident, but when they sit down to talk, Roger convinces Stan that Francine started it all.
---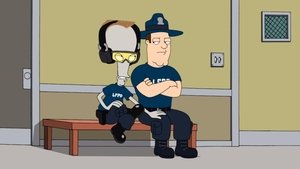 6x14 Cops & Roger (April 11, 2010)
---
After Roger and Francine are victims of a mugging, Roger joins the police academy so he can learn how to defend himself and his loved ones (including Stan and Steve), but he falls in with a corrupt cop (guest voice Cannavale) who leads him astray. Meanwhile, Hayley's new friendship threatens her long-term relationship. Chaz kidnaps and leaves Stan tied up and tape-gagged. Meanwhile, Roger kills Chaz and rescues Stan, who makes his boss happy.
---
6x13 Return of the Bling (February 21, 2010)
---
When Stan admits that his heroes include the 1980 U.S. Olympic hockey team, Roger confesses that he played on the team; Reginald tries to win over Hayley by taking her to a concert.
---
6x12 May the Best Stan Win (February 14, 2010)
---
Stan gives Francine "love coupons" for Valentine's Day, but refuses to honor them once he becomes preoccupied with his very own CIA cyborg. Meanwhile, Roger helps Steve and his friends remake a classic '80s movie.
---
6x11 A Jones for a Smith (January 31, 2010)
---
Stan puts down liberal social programs because he thinks they are a waste of money and gives Francine a hard time for lending a helping hand at the local homeless shelter. When Stan develops a nasty addiction and needs help, he suddenly has a change of heart.
---
6x10 Don't Look a Smith Horse in the Mouth (January 03, 2010)
---
When Stan gets told by Francine to get rid of his gas-guzzling SUV, he and Roger hatch up a plan at the local horse track to avoid losing his car. Meanwhile, Steve and his friends help an old friend.
---
6x09 Rapture's Delight (December 13, 2009)
---
When the Smith family goes to church on Christmas Day, Stan is furious when he can't get a good seat. While Francine tries to ease his frustration, a moment of divine intervention occurs. Upset that he has been left on earth with Francine during the ultimate fight between good and evil, Stan ditches his wife to get into the pearly gates of heaven, but when Francine is kidnapped, Stan fights to get her back.
---
6x08 G-String Circus (November 29, 2009)
---
Upset that Hayley no longer wants his advice, Stan decides to prove that she is missing out on his sage counseling. After meeting a stripper on an important CIA mission, Stan takes it upon himself to improve her life and show Hayley that his advice works. But when he opens a new business, hoping to prove Hayley wrong, he finds himself dancing for cash to cover up his failures.
---
6x07 My Morning Straitjacket (November 22, 2009)
---
When Hayley goes to a My Morning Jacket concert against Stan's wishes, he crashes the show to bring her back home, but when he hears their music for the first time, it calls to him and he's smitten. Stan becomes obsessed with the band and decides to follow them on the road as a groupie.
---
6x06 Shallow Vows (November 15, 2009)
---
Upset that Francine has let herself go, Stan takes drastic measures when she asks him to renew their wedding vows.
---
6x05 Man in the Moonbounce (November 08, 2009)
---
Steve must become the man of the house when Stan re-lives his childhood.
---
6x04 Brains, Brains and Automobiles (October 18, 2009)
---
Francine teaches Roger to be self-sufficient so he can get his own place; at camp, Steve and his friends fall prey to a scheme.
---
6x03 Home Adrone (October 11, 2009)
---
Steve is left home as the family plan a trip to Boston hoping to locate a college for Hayley. When his friends arrive they convince him to break the rules, resulting in them finding the controls to a military drone in Stan's study. Meanwhile, after Stan leaves the plane to return home for his painkillers, Roger changes disguise from a little girl to a Stan constume so he can get served alcohol. When an air marshal notices that the girl is missing, he grounds the plane and investigates.
---
6x02 Moon Over Isla Island (October 04, 2009)
---
In order to get a promotion at work, Stan has to convince the dictator of Isla Island to sign a treaty. Stan meets the general and accidentally kills him and has Roger pose as the leader of the small island nation. Meanwhile, Steve and Snot become competitive to see who can get farther with the other's mom.
---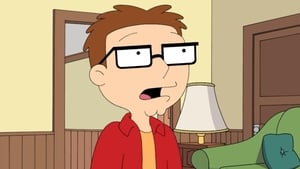 6x01 In Country... Club (September 27, 2009)
---
When Steve is selected to sing the national anthem at the Langley Falls Veterans' Day celebration, he gets some heat from Stan who doesn't think he's ready for such an undertaking. Unimpressed with Steve's vocal talents, Stan decides Steve needs to experience real war in order to sing about our country's military prowess. But things quickly go south when Roger gets involved and Steve goes bananas.
---