Arrow
Season 6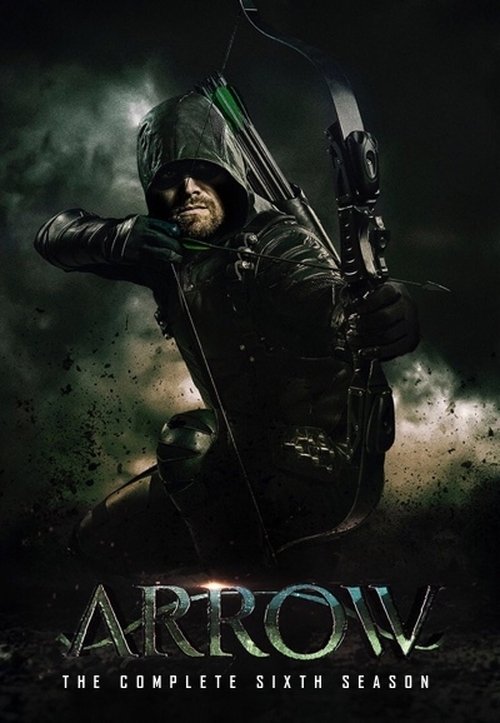 Arrow
Season 6
First Air Date: October 12, 2017

| | | |
| --- | --- | --- |
| First Aired on | : | 2017 |
| Episodes | : | 23 episodes |
Episodes
6x23 Life Sentence (May 17, 2018)
---
With a new ally on his team, Oliver engages Diaz in an epic final battle.
---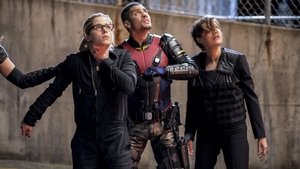 6x22 The Ties That Bind (May 10, 2018)
---
Diaz targets Team Arrow and their loved ones. Oliver struggles with Felicity putting herself in danger when she gets the chance to stop Diaz for good.
---
6x21 Docket No. 11-19-41-73 (May 03, 2018)
---
The pressure mounts for Oliver who begins to wonder if he will lose everything in his battle to save Star City. A familiar face returns.
---
6x20 Shifting Allegiances (April 26, 2018)
---
Oliver turns to an old friend to help battle Diaz; Rene is out of the hospital but has a hard time readjusting to life as Wild Dog; Lance discovers something shocking about Black Siren.
---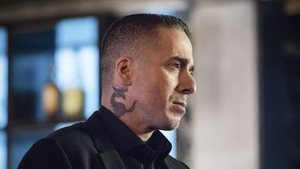 6x19 The Dragon (April 19, 2018)
---
Looking to expand his empire, Diaz and Laurel meet with The Quadrant, a coalition of mafia families who run national organized crime. Meanwhile, after Oliver's recent decision, Felicity and Curtis double their efforts on building Helix Dynamics.
---
6x18 Fundamentals (April 12, 2018)
---
In his darkest place yet, Oliver wonders if he has failed at everything – being a father, a mayor and a hero. His frustration rising, Oliver lashes out at Felicity and William. A surprising visit from an old friend has Oliver questioning his next move.
---
6x17 Brothers in Arms (April 05, 2018)
---
Oliver and Diggle face their biggest challenge yet. Curtis is disappointed to find out his new boyfriend has a firm anti-vigilante stance.
---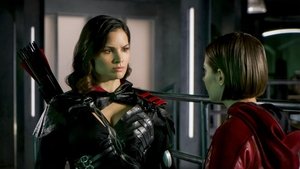 6x16 The Thanatos Guild (March 29, 2018)
---
Nyssa Al Ghul returns to Star City to warn Thea that a group of renegade League of Assassins members are planning to attack her. This group, led by Athena, is intent on finding a mysterious box that Malcolm left behind and will stop at nothing to get it. Nyssa helps Oliver come to a life-changing realization.
---
6x15 Doppelganger (March 08, 2018)
---
Oliver and Thea are shocked to hear that Roy Harper is back in Star City. However, when they discover the circumstances of Roy's return, Oliver and Thea realize that Roy is in trouble and jump in to save him. Black Siren makes a shocking decision.
---
6x14 Collision Course (March 01, 2018)
---
Oliver, Diggle and Felicity disagree with Dinah, Curtis and Rene on how to handle Black Siren. The two teams face off and a fight ensues.
---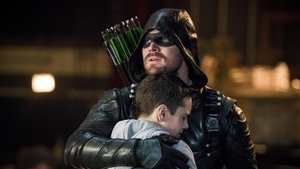 6x13 The Devil's Greatest Trick (February 08, 2018)
---
Cayden James discovers a secret about the Green Arrow that pushes him over the edge. Knowing everyone and everything he loves is in danger, Oliver must decide if he can do this alone or if he needs to turn to his old teammates for help. William starts to demand more of Oliver's time.
---
6x12 All for Nothing (February 01, 2018)
---
Oliver continues his battle with Cayden James. Dinah and Oliver have a major disagreement that endangers the life of one of their own.
---
6x11 We Fall (January 25, 2018)
---
Cayden James ups the ante by launching his plan to take control of every aspect of the city. Despite the scope of Cayden's plan, Oliver is determined to foil it with just the Original Team Arrow – and without the aid of Rene, Dinah, or Curtis. But things get complicated when William is endangered as a result of Cayden's handiwork.
---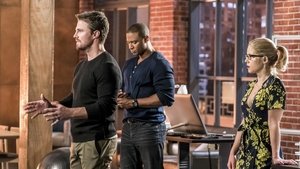 6x10 Divided (January 18, 2018)
---
Despite losing half his team, Oliver remains confident that he, Felicity and Diggle can stop Cayden James and Black Siren. However, when he discovers one of Cayden's secrets, he decides to team up with an unlikely ally. Meanwhile, Dinah spends time with Vince.
---
6x09 Irreconcilable Differences (December 07, 2017)
---
Quentin Lance is kidnapped by Black Siren and Cayden James, who are looking to trade Lance's life for a weapon of mass destruction. Oliver and Team Green Arrow must figure out a way to save Lance while still keeping the city safe.
---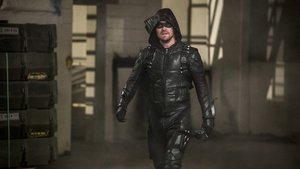 6x08 Crisis on Earth-X (II) (November 27, 2017)
---
Barry and Iris's wedding brings the gang together, but things go awry when villains from Earth-X attack the ceremony. All of the superheroes band together with help from their super friends like Citizen Cold, The Ray, Felicity Smoak, Iris West and Alex Danvers to take on their most formidable villains yet. Earth's mightiest heroes – Green Arrow, Supergirl, The Flash and White Canary – lead their teams into battle to save the world. The crossover starts on Supergirl S03E08 Crisis on Earth X (I). It continues on The Flash S04E08 Crisis on Earth-X (III) and DC's Legends of Tomorrow S03E08 Crisis on Earth X (IV).
---
6x07 Thanksgiving (November 23, 2017)
---
Oliver celebrates Thanksgiving with his family but the happy moment is interrupted. Meanwhile, Black Siren returns to wreak havoc on the holiday.
---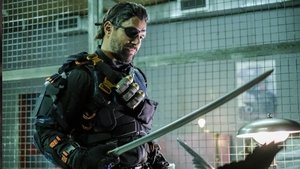 6x06 Promises Kept (November 16, 2017)
---
As Slade continues to uncover clues about his son's last few years, Oliver makes a big decision. Meanwhile, the Green Arrow leads the team into battle against "The Dragon," a villain who is stealing valuable tech in Star City.
---
6x05 Deathstroke Returns (November 09, 2017)
---
Slade returns and asks Oliver for help in tracking down his son. When they learn Joe has been taken hostage by mercenaries, their mission to save him gets complicated by a terrible revelation that could shatter Slade's hopes of reunion forever. Meanwhile, Vigilante reappears in Star City.
---
6x04 Reversal (November 02, 2017)
---
Just as Oliver starts to get things in order, Black Siren launches another attack on the citizens of Star City.
---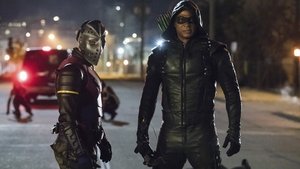 6x03 Next of Kin (October 26, 2017)
---
A rogue black ops team led by Onyx breaks into Kord Industries and steals something lethal. Oliver struggles to connect with William so he reaches out to a surprising source for help.
---
6x02 Tribute (October 19, 2017)
---
Oliver tries to balance being the mayor, Green Arrow and a father to William. Anatoly returns to Star City with a deadly agenda.
---
6x01 Fallout (October 12, 2017)
---
Oliver deals with the fallout of the explosion on the island.
---