Marvel's Agents of S.H.I.E.L.D.
Specials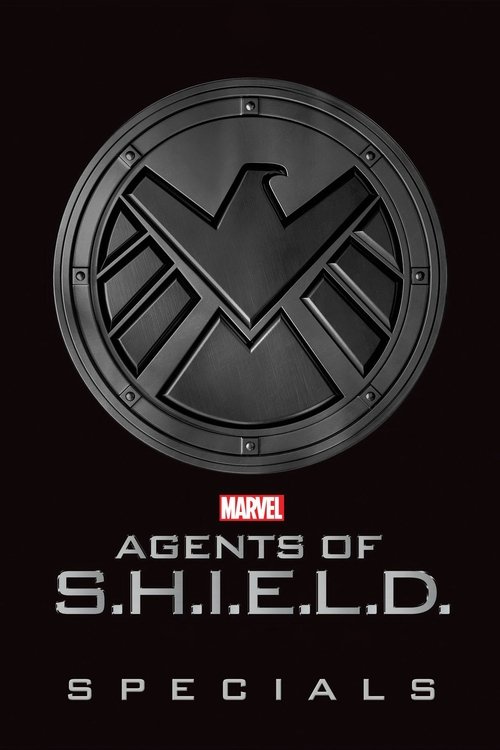 Marvel's Agents of S.H.I.E.L.D.
Specials
First Air Date: August 25, 2013

| | | |
| --- | --- | --- |
| First Aired on | : | 2013 |
| Episodes | : | 18 episodes |
Episodes
0x18 Academy: Commencement (May 04, 2016)
---
The Academy Recruits join Clark Gregg and the cast and crew of Marvel's Agents of S.H.I.E.L.D as they prepare for their big day playing agents on an episode of the hit show. Get a behind-the-scenes look as the Recruits go through hair, make-up, wardrobe and props before rehearsing their scene.
---
0x17 Academy: Inhuman Adaptation Challenge (April 20, 2016)
---
In this simulation, the Recruit assumes the role of a newly reborn Inhuman on the run from Hydra. The Recruit must race through an obstacle course and recover coordinates to a S.H.I.E.L.D. extraction point before his time expires. Luke Mitchell (Lincoln Campbell) encourages the Recruit along the way, but Brett Dalton (Hive) adds a high-speed twist to the challenge.
---
0x16 Academy: Skydive Challenge (April 06, 2016)
---
The Recruit must prove that they are courageous enough for field work as a S.H.I.E.L.D. Agent by completing this high-altitude challenge inspired by Director Coulson's perilous skydive in the episode "Closure". Ming-Na Wen (Agent Melinda May) and Henry Simmons (Agent Alphonso "Mack" Mackenzie) introduce the mission. Brett Dalton (Hive) makes a surprise visit and raises the stakes with a devious twist.
---
0x15 Academy: Sci-Tech challenge (March 23, 2016)
---
Elizabeth Henstridge (Agent Jemma Simmons) puts the Recruit's intelligence to the test inspired by the episode "Beginning of the End." The recruit must quickly solve a complex series of equations before time expires in order to rescue Fitz, who's trapped underwater.
---
0x14 Academy: Recruitment (March 09, 2016)
---
Three diehard fans attend a casting session only to find that they have actually just enrolled at the Marvel's Agents of S.H.I.E.L.D.: Academy. Clark Gregg welcomes the new recruits and sends them off to begin the rigorous evaluation process. Do these recruits have what it takes to be a S.H.I.E.L.D. agent?
---
0x13 Slingshot: Justicia (December 14, 2016)
---
Rodriguez chooses not to kill Ramon, who is inadvertently vaporized by the Inhuman weapon as S.H.I.E.L.D. arrives. Back in the present, Rodriguez has Johnson erase any trace in S.H.I.E.L.D.'s system that she was in Baltimore.
---
0x12 Slingshot: Deal Breaker (December 14, 2016)
---
Held captive by Ramon, Rodriguez realizes that he is attempting to sell an Inhuman weapon to members of the terrorist organization called the Watchdogs. Rodriguez is rescued by Johnson, who had come for the weapon, and holds off the Watchdogs attacks for Rodriguez to go after Ramon, who had tried to escape.
---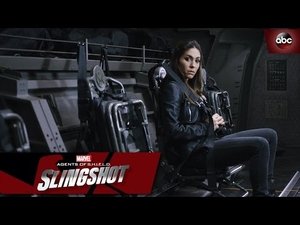 0x11 Slingshot: Reunion (December 14, 2016)
---
Agent May accuses Rodriguez of stealing Mace's credentials, with Rodriguez reluctantly returning his access card. May advises Rodriguez to be mindful of her "sloppy" work and that she would not tell Mace. Instead, May grants Rodriguez access to another Quinjet headed to Baltimore, allowing her to move forward with her mission. Rodriguez finds Ramon and botches his plans to leave the city. She reminds him that he is responsible for her cousin's murder. As their encounter intensifies, one of Ramon's henchmen knocks out Rodriguez.
---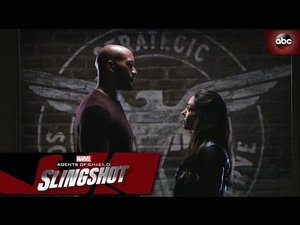 0x10 Slingshot: Progress (December 14, 2016)
---
Leo Fitz and Jemma Simmons examine Rodriguez, during which she secretly learns Ramon is in Baltimore, Maryland. As she sets forth with the mission, she runs into Mack, who is on a mission with Coulson to track down Johnson. As Coulson and Mack's Quinjet takes off, Melinda May informs Rodriguez that Mace's credentials have been reported missing. Rodriguez realizes that May is aware that she took them.
---
0x09 Slingshot: John Hancock (December 14, 2016)
---
Director Mace sets a meeting with Rodriguez to have her sign the Sokovia Accords. As she does, she informs Mace about Ramon, who tells her that under the agreement of the Sokovia Accords, Rodriguez has to follow a certain procedure before going after Ramon. Unsatisfied, Rodriguez steals Mace's S.H.I.E.L.D. access card to help her get more information on Ramon.
---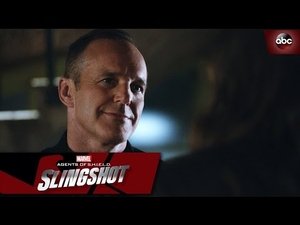 0x08 Slingshot: Vendetta (December 14, 2016)
---
Elena Rodriguez meets with Daisy Johnson privately. The two discuss a secret mission they shared around the time Johnson went rogue from S.H.I.E.L.D. Now that Johnson has returned, Rodriguez wants to make sure their stories are consistent in efforts of throwing off Director Jeffrey Mace. In a flashback, Rodriguez meets with Phil Coulson as he clears out his office after stepping down as director of S.H.I.E.L.D. Rodriguez contemplates signing the Sokovia Accords, but is hoping to seek out Victor Ramon, the man responsible for the death of her cousin.
---
0x07 Double Agent: The Mastermind Is Revealed (May 06, 2015)
---
On the run with a stolen copy of the Marvel's Agents of S.H.I.E.L.D. finale, the Double Agent finds himself in a desperate car chase with Marvel Security. The Mastermind's true identity is revealed and our adventure culminates in a startling conclusion. Special appearance by Clark Gregg (Director Coulson).
---
0x06 Double Agent: Post Heist (April 22, 2015)
---
The Double Agent is tasked with finding the Season 2 finale, but his mission does not go as planned. In the process of evading Marvel Security, he runs into Chloe Bennet (Agent Skye) and Post Producers Chris Cheramie and Robert Parigi.
---
0x05 Double Agent: Security Alert (April 01, 2015)
---
The Mastermind gives the Double Agent his most dangerous mission yet. After a run-in with Brett Dalton (Grant Ward), the set is put on lockdown by Marvel Security. While in the midst of a desperate cat and mouse chase, our Double Agent has an unexpected interaction with Elizabeth Henstridge (Agent Simmons).
---
0x04 Double Agent: Searching For Secrets (March 18, 2015)
---
The Double Agent visits various production departments. He uses the opportunity to secretly gather intel for the Mastermind and in the process meets Adrianne Palicki (Agent Bobbi Morse), Costume Designer Ann Foley, and Prop Master Scott Bauer. But Marvel Security is always watching...
---
0x03 Double Agent: Infiltrating the Set (March 04, 2015)
---
In the digital series premiere, a Double Agent infiltrates the set of Marvel's Agents of S.H.I.E.L.D. Working for a shadowy figure known only as the Mastermind, he encounters series regular Ming-Na Wen (Agent May) and show co-creator Jed Whedon as he works to stay ahead of Marvel Security and uncover secrets of the show.
---
0x02 Marvel Studios: Assembling a Universe (March 18, 2014)
---
Marvel's first television special documents the exciting story behind Marvel Studios and the Marvel Cinematic Universe, featuring exclusive interviews and behind-the-scenes footage from all of the Marvel films, the Marvel One-Shots and Marvel's Agents of S.H.I.E.L.D. Viewers will walk a clear path through this amazing and nuanced universe, featuring sneak peeks at the future of Marvel's Agents of S.H.I.E.L.D.on ABC, new footage from Marvel Studios upcoming theatrical releases, Captain America: The Winter Solider and Guardians of The Galaxy, and a sneak peek at the upcoming Marvel's The Avengers: Age of Ultron.
---
0x01 Special Look (August 25, 2013)
---
Teaser of Joss Whedon's new TV Show where the cast present their characters and Joss Whedon (Executive producer/Director/Writer) outlines the premise.
---