What is Watchrs Club?
A site to find all the info you need
A site where you can find all the info about your favourite Films and TV Shows: trailers, details, reviews, ratings, similar Films or TV Shows to watch.
A club to share your love for Films and TV Shows
A club where all members can rate and share their love ♥ for Films and TV Shows with their friends or others.
A social place to find what to watch next
A social place where you can find new Films and TV Shows to watch based on recommendations, or simply help you decide which Film or Tv Show to watch based on Genres, categories, themes and other features
A place to plan Cinema or TV events
A place where you can organise events with your friends or other club memers to watch a Film or TV Show.
Find any Film or TV Show
Find any Film or TV Show. Check all the details about it like: ratings, trailers, reviews and similar movies. Watch films via iTunes or Amazon.
Create & share lists
Create and share lists of films: films you loved, films you have seen, or a watchlist of films you want to see.
Follow your friends
Follow your friends or others to see what they watched or planning to watch. Recommend Films or TV Shows to friends, or let us recommend you one based on yours and your friends history or similarities
Plan Cinema or TV events
Plan and organise events with your friends or other club memers to watch a Film or TV Show.
Not Sure what to watch? Check our
random picks of the day

: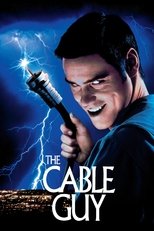 Release Date: June 10, 1996
When recently single Steven moves into his new apartment, cable guy Chip comes to hook him up—and doesn't let go. Initially, Chip is just overzealous in his desire to be Steven's pal, but when Steven tries to end the 'friendship', Chip shows his dark side. He begins stalking Steven, who's left to fend for himself because no one else can believe Chip's capable of such behaviour.
First Air Date: April 06, 1993
ECW Hardcore TV is a professional wrestling television program of Philadelphia-based promotion Extreme Championship Wrestling composed of footage from live shows and recorded interviews. It ran in syndication from 1993 until 2000. Even after ECW gained a nationally-available television program on The Nashville Network, Hardcore TV was considered ECW's flagship program. The rights to the show now belong to World Wrestling Entertainment. The show was voted as Best Weekly Television Show in the 1994, 1995 and 1996 Wrestling Observer Newsletter Awards.